Enrich 2019
August 30, 2019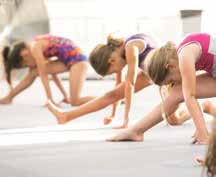 MONARCHS GYMNASTICS, PARKOUR, AND PRESCHOOL
5331 Derry Ave., #C-I
Agoura Hills, 91301
818.889.3634
monarchsgym.com
Monarchs is a children's center dedicated to inspiring kids to grow through developing their minds and bodies. Visit them at Agoura Hills or Newbury Park or catch a Mobile Gym bus around town. Monarchs offers curriculum-based, physical-instruction programs designed to cultivate your child's active lifestyle through kinder gym, recreational and competitive gymnastics, tumbling, cheer, trampoline, flips and tricks, parkour, and free running, all for children ages 15 months to adult. They also offer daily preschool.
Additionally, the non-curriculum-based programs are geared towards fostering learning through fun. Camp is also offered year-round during the summer, winter, spring, and holidays. Monarchs offers private birthday parties in addition to weekly themed Friday-night "Parent's Night Out." They also have Open Play offered daily. MonarX Parkour, a specially designed indoor parkour complex, for budding traceurs ages 6+, provides curriculum-based and freestyle options. Monarchs Mobile brings the gym to you! They help kids grow motor skills through foundational gymnastics, sports, and life skills. Happy Kidz Preschool is a full-service preschool open 9:00 a.m. to 3:00 p.m. weekdays.
---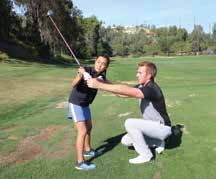 JUNIOR GOLF ACADEMY CALABASAS COUNTRY CLUB
4515 Park Entrada
Calabasas, 91302
818.444.5547
calabasasgolf.com
Calabasas Country Club offers the perfect environment for young golfers of all ages and abilities. The Junior Golf Academy program is the only program in Southern California with certified Hank Haney instructors. Hank Haney is a professional golf instructor best known for coaching Tiger Woods. The Junior Golf Academy program is structured using the Operation 36™ Junior Development Framework. The mission is to provide a programming roadmap to progress juniors towards shooting par or better –and to play the game from a hole-out perspective. With the main focus on scoring, juniors progress through 6 divisions and compete against themselves by trying to shoot 36 or better for 9 holes.

The Junior Golf Academy welcomes all ages 5 and up with players varying in ability from beginners to college bound competitive players. Classes are offered for different levels Tuesday – Saturday. They also offer an elite training program that is designed for dedicated tournament players ages 12 and older. The program follows a systematic approach which helps direct each players' progression from middle school, to high school, and on to collegiate golf.
---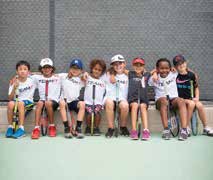 TEAM G TENNIS
CALABASAS HIGH SCHOOL
22855 W. Mulholland Hwy.
Calabasas, 91302
323.979.8417
teamgtennis.com
Team G seeks talented athletes and tennis players from all backgrounds who have the passion and desire to achieve national recognition. They are given the support and skills needed to achieve their dreams. Gerald Mathews is head tennis coach at Calabasas High School and owner of Team G Tennis, where he works with nationally ranked junior and college players. Gerald has established a system of training that equips athletes with the skill set to move and perform at an elite level. Going on its ninth season, he offers season clinics year-round for different levels and ages. Team G Tennis Camp creates players that achieve consistently at the top levels in the sport through movement training and tennis fundamentals.

Team G tennis is currently accepting players ages 7-12 who play competitively & want to improve their USTA SoCal Rankings. They offer a beginner class for kids aged 5-9 looking to learn tennis in a fun but technically sound environment. Team G has a unique and successful way to properly introduce kids to this amazing sport!
---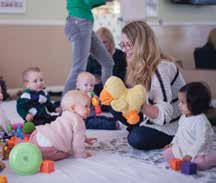 THE PUMP STATION & NURTURY
Mommy & Me classes
Calabasas Pediatrics
Wellness Center
23586 Calabasas Rd., #107
Calabasas, 91302
310.998.1981
pumpstation.com
The Pump Station & Nurtury® is now facilitating Mommy & Me classes for new parents at Calabasas Pediatrics in Calabasas. Based on a mindful and conscious parenting philosophy, the team of credentialed experts utilizes evidencebased information to educate parents on everything they need to know to help their baby and family thrive. Other services offered include breastfeeding consultations, postpartum doula services, and sleep support. Their mission is to nurture, support, and empower all new parents with compassionate service, quality information, and outstanding products. In addition to the great classes and services offered, they have a huge selection of curated products for baby and mom.

The concept for The Pump Station and Nurtury began 30 years ago as a "Baby Bootcamp" to provide support for parents of newborns. Since then, the company has helped thousands of parents in Southern California and has become a sanctuary for expectant parents, new parents, and their precious babies at this challenging and rewarding time of life.
---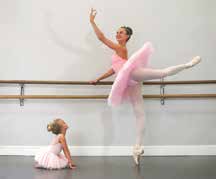 CALIFORNIA DANCE THEATRE
2282 Townsgate Rd., #4,5,6
Westlake Village, 91361
818.707.3267
805.906.2087
californiadancetheatre.com
Founded in 1985, California Dance Theatre (CDT) celebrates 34 years of dance excellence. Recently moving to Westlake Village, their beautiful new facility houses five studios spanning 10,000 square feet. With 30 instructors teaching students of all ages and levels–from beginners to professionals–CDT encourages and trains both recreational students as well as career-minded dancers. California Dance Theatre seeks to inspire dreams of movement, dance, and performing style in boys and girls. The school offers a full curriculum in classical ballet, jazz, lyrical, contemporary, modern, tap, musical theatre, and hip-hop, with a special emphasis designed to introduce these dance forms to young children.
The daily pre-professional ballet program grooms the advanced dancer for a future career or an exclusive university dance program. California Dance Theatre offers a highly credentialed faculty with experience in international ballet companies, Broadway credits, television, and film backgrounds. In addition, select students perform with Pacific Festival Ballet, the resident ballet company at the Thousand Oaks Civic Arts Plaza Performing Arts Center.
---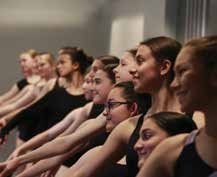 DANCE DIMENSIONS PERFORMING ARTS CENTER
23241 Ventura Blvd.
Woodland Hills, 91364
818.999.3262
mydancedimensions.com
Dance Dimensions Performing Arts Center (DDPAC) is a place where the love of dance is fostered in a supportive and enthusiastic environment. DDPAC offers beginning through advanced classes for all ages. Their vision is to enrich the community through the discipline of dance, building self-confidence and creativity to help you succeed in life. They offer a wide variety of classes, from aerial silk, hammock, trapeze, and harness to acro, ballet, tap, contemporary, musical theatre, jazz, pointe, hip hop, Latin, and Bollywood. DDPAC has an award-winning competitive dance team. Auditions are every spring. Acting coach and talent manager Wendee Cole teaches acting classes for children and teens.

DDPAC also offers a master class series throughout the year featuring well-known choreographers who bring their unique talents directly to the students. At DDPAC, the idea is instilled that dance is not only movement but a way of life, with lessons that can be applied to an ever-changing and culturally diverse society. View the 2019-2020 schedule online and register through their website.
---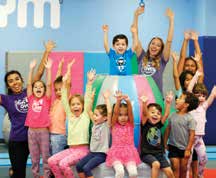 MY GYM
22027-B Vanowen St.
Woodland Hills, 91303
818.702.6946

2701 Thousand Oaks Blvd.
Thousand Oaks, 91362
805.494.4154
mygym.com
Founded in 1983 by Susi and Yacov Sherman and Bill Caplin, My Gym Children's Fitness Center began with six locations and has grown to over 600 locations worldwide. Susi and Yacov's son, Ceevan, now owns the Thousand Oaks location, following the family passion. My Gym establishes a safe and loving place where children can grow, explore, and learn while having a blast. Every day, enriching classes are offered in gymnastics, sport skills, relays, puppet shows, songs, dancing, and more to keep each child engaged.
Originally created to get kids moving, Susi and Yacov combined their backgrounds in dance, gymnastics, acrobatics, physical and special education, and movement to foster a lively, fun-filled environment for children ages 3 months to 13 years. Adults looking to join in the fun can join FitFab fitness classes. And there are always plenty of smiles for everyone at kids' birthday parties featuring action-packed activities, games, puppets, and songs.
---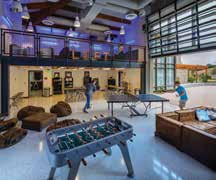 AGOURA HILLS TEEN CENTER
29900 Ladyface Ct.
Agoura Hills, 91301
818.597.7361
AHteens.org
The City of Agoura Hills offers a teen program for its neighbors and surrounding communities. The teen program currently encompasses Teen Hangout, teen trips, teen nights, and annual teen events. Teens can get a teen membership for a one-time annualfee of $10. Membership gives access to registration for all teen activities and early notice on all upcoming programming. A big part of the program is the teen center. It is a two-story space with a loft, perfect for studying, and a game center that includes two TVs, Wii U, Nintendo Switch, an Xbox console, a Foosball table, an air-hockey table, and a ping-pong table, perfect for friendly competition. The teen center provides both indoor and outdoor spaces that help create memorable and lasting experiences.
Things you don't want to miss:
Teen Hangout, every M/F.
Teen Nights 10/4, 12/6.
Workshops, 11/7, 12/4.
Fall Fest Event featuring The Silent DJ, 9/20.
Reign of Terror Halloween Maze trip, 10/18.
Santa Barbara College Night trip, 10/30.
Neon Retro Arcade trip, 11/16.
*Additional fees apply per program.
Follow us on Instagram @AHTeens.
---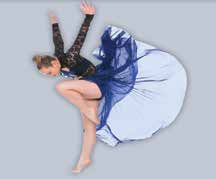 ACADEMY OF DANCE WESTLAKE VILLAGE
30125 Agoura Rd., 2nd Floor
Agoura Hills, 91310
818.889.1515
academyofdancewestlake.com
Academy of Dance Westlake is a fullservice dance studio dedicated to providing top-quality instruction in their new state-of-the-art facility. The ADWV family wanted to create a space where all dancers felt safe and eager to find their true voice. All dancers are trained with the same encouragement, respect, and quality regardless of where they come from, what they look like, or how far they want to take their training. The faculty consists of highly skilled working dancers and career dance teachers who are all focused on giving their students the best dance education possible.

In their ninth year of business, ADWV attributes much of their success to the incredible families who have continued to believe in the studio, the curriculum, and the dancers throughout the years, sharing their vision of strong training in a positive environment. With the most versatile curriculum in the area, ADWV offers classes in ballet, contemporary, jazz, tap, hip hop, lyrical, acro, musical theater, jazz funk, technique, tumbling and hip hop, pointe, pop stars, heels, breakdance, flamenco, Bollywood, yoga, and ballroom.
---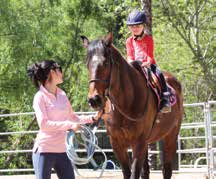 BELL CANYON RIDING ACADEMY
29 Baymare Rd.
Bell Canyon, 91307
818.346.9879
bellcanyonequestriancenter.com
The Bell Canyon Riding Academy (BCRA) at the newly refurbished Bell Canyon Equestrian Center (BCEC) can teach anyone, from first-time riders to experienced riders ready to get back in the saddle. Their goal is to create a fun, educational environment where the correct principles are taught from the beginning and where safety is a top priority. The BCRA program is designed to build a solid foundation from the ground up, beginning with private lessons to ensure all students have a common baseline of strength and skill level before moving into semi-private or group options. In addition to learning riding techniques, students also learn the fundamentals of horse care, riding equipment, and equine behavior.
The BCEC's serene and picturesque setting also limits distractions—students unplug from the world and concentrate on learning to ride and care for the horses. Boasting award-winning trainers chosen for their experience and passion, BCRA takes pride in the riders that they create and the relationships gained in the process. Schedule a lesson with Kelly, Dakota, or McKenzie today.
---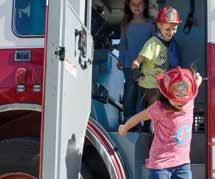 PARTYCARZ
818.681.1311
partycarz.com
If you are looking to host the coolest kids' party ever, look no further! Party Carz makes it possible for kids to get up close and personal with their favorite fantasy vehicles. Party Carz will deliver a real fire engine or police car straight to the party.

Every rental comes with a friendly, certified Party Carz attendant that stays with the vehicle, ensuring a fun and safe time for all. The fire engines and police cars are state of the art, clean, and fully loaded with all the gadgets kids love to explore.

And talk about the ultimate photo op! Kids can climb inside these amazing vehicles and imagine what it's like to be a real-life hero. Party Carz makes renting super easy and convenient. Just tell them where and when, and they'll do the rest.

For a small additional fee, you can have a uniformed policeman or fireman attend the party to meet the kids and answer all their questions. Kids will have a blast becoming their own superhero with this cool party offering.