Stonewood Kitchen and Bath
May 10, 2023
Bringing Dream Designs to Life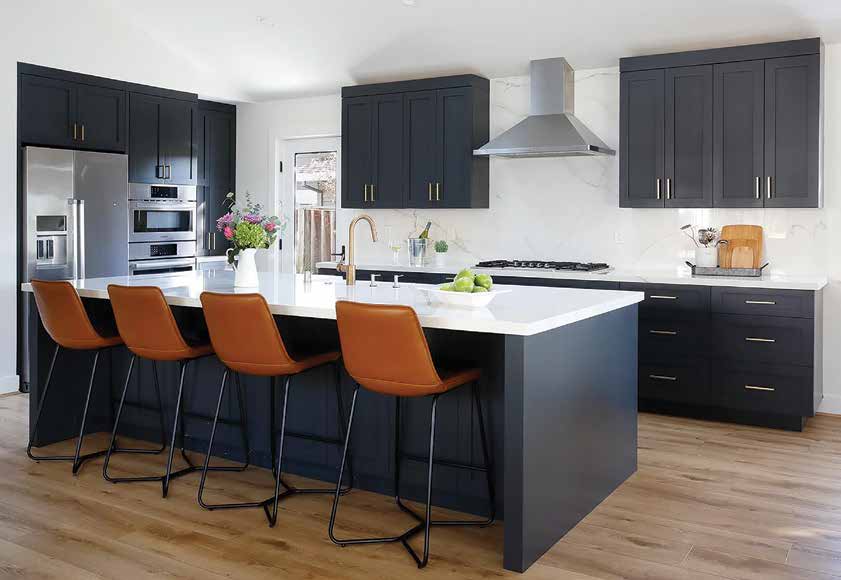 Julie Holland, the owner and CEO of Stonewood Kitchen and Bath, has found passion and purpose in transforming inter iors to improve the lives of her clients. With more than two decades of design and construction exper ience, Holland built upon her well-rounded expertise to establish her business 15 years ago in Northern California and subsequently opened her second location in Westlake Village in 2021. Holland grew up in the Westlake community, and her grandparents had a home on the lake. So, when choosing a location for her SoCal office, Holland gravitated to the Westlake Landing where some of fondest childhood memories are rooted.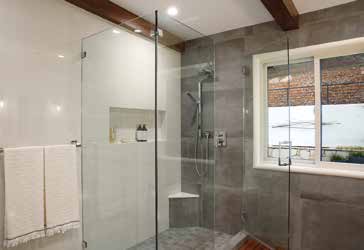 The Stonewood team works with clients on all areas of their homes, however they specialize in kitchens and bathrooms. The concierge-level design process commences with a complimentary consultation to discuss each client's budget and goals. Then, measurements are taken, materials are selected, plans are developed, and project construction details are laid out. Along the way, Holland and her team meticulously oversee each detail from choosing paint and finishes for cabinetry to selecting tile, counter tops, lighting, floor ing, shower doors, and mirrors to, ultimately, overseeing the final installation. They strive for lasting beauty in cabinetry, offer ing multiple product lines to meet a range of budgets, with thousands of door styles, wood types, and finish combinations.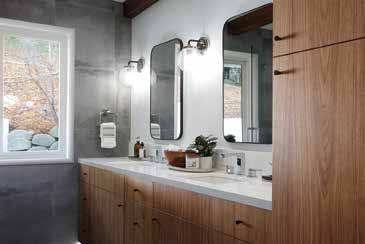 "At Stonewood, we are visionaries working with clients to establish functionality in their homes," says Holland, "and then elevate their rooms into spaces of beauty and comfort. We believe it's vitally important to invest the time to get to know our clients well. This personal approach allows us to understand their needs for their home in order to transform their current space into a custom one created especially for their lifestyle."

Stonewood creates aesthetically inspiring spaces by blending beauty with function. By layering textures, choosing colors that evoke joy and comfort, and adding natural elements, Holland keeps designs fresh and inspiring. "At our suggestion, many clients are selecting thin shaker-style doors with a flat inside panel. Pairing light-stained, rift-sawn white oak wood elements with off-white cabinets offers a classic, soft look. We also love adding decorative wood beams to living rooms, kitchens, and even bathrooms. Reeded or fluted wood panels on walls, cabinets, doors, and the backs of islands also brings interest and texture to spaces."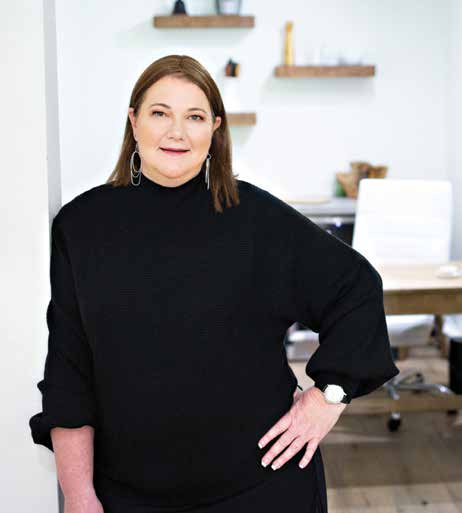 Stonewood Kitchen and Bath continues to garner prestigious awards from such organizations as the National Association of the Remodeling Industry (NARI) and Best of Houzz, the leading platform for home remodeling and design. They've also repeatedly won Reader's Choice awards from Oakland Magazine, and Holland has been recently featured in LA Style Magazine in recognition for her leadership as an entrepreneur.

Holland and her team's unique personal approach with each client is what sets them apart. Armed with details extracted from clients on how they desire to live in their space, Stonewood's designs can change lives. When clients get back into their homes, the rooms are customized, more functional, and aesthetically inspiring. The partnership between Stonewood and clients creates homes where memories are made by elevating spaces that are used daily and transforming them to stylish rooms for gathering and enjoyment.
32123 Lindero Canyon Rd., #207
Westlake Village
818.851.9589
stonewoodwc.com