My Favorite Space
April 27, 2018
Omar & Melina Madha: Patio
Omar and Melina Madha's favorite space is their outdoor patio area, with its huge Buddha-head fountain, restful lounging benches, and colorful flowerbeds. "Omar wanted somewhere to cool his feet," notes Melina, "and coming from a rainy place (England), he feels happier with running water nearby." The family loves sitting around, listening to the flowing water from the fountain as soft breezes waft through the trees. They were quite impressed by designer Josh Chesler, who helped create their ideal outdoor environment. "It feels like we could be in Bali," the couple joyfully notes, "without ever leaving Calabasas."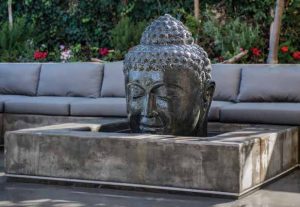 photography by Ivonne Hive
---
Ray Parker, Jr.: In-Home Recording Studio
There is no better space for a musically talented family to get their creative juices flowing than a recording studio. So, it is no wonder that Ray Parker Jr.'s recently completed in-home recording studio is his favorite space. Dan O'Brien of Arcform Design brought Ray's vision of a warm, retro vibe to life with help of his wife, Elaine, who found the finishing touch to the studio from artist Barbara Domsky of Domsky Glass. "It is a gorgeous sundial of blown glass. It lights up the studio! I call it the 'Center of the Universe' and hope that it inspires me and others that come here to create!"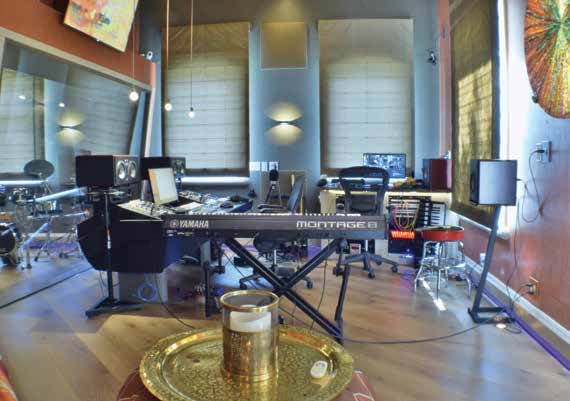 photography by Zac Wasserman
---
Naomi Hecht: Kitchen
"Taking in the mountains, treetops, and ever-changing sky while I cook is a joy," shares interior designer Naomi Camille Hecht. Dramatic Italian fixtures and gleaming glass hardware enliven the subdued texture of her home's kitchen cabinetry, which mimics the pale bark of aspen trees, in her restful, view home. The overall effect is calming, a signature of her design style. "Understated interiors allow fine art to fully shine," says Naomi, whose Calabasas and Hidden Hills residential projects often showcase artwork that she curates for her clients as well as her own original, large-scale paintings and her handmade, mixed-media works on paper. Naomi enjoys a circle of collectors in America and abroad.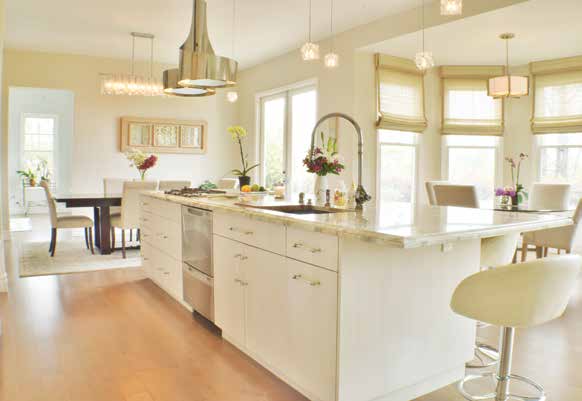 photography by Zac Wasserman
(Kitchen appliances/fixtures: PIRCH)
---
Andrea & Simon Chernin: Outdoor Patio
Andrea and Simon Chernin love the lake surrounding their Calabasas property. This idyllic backdrop inspired them to create an outside patio that is cozy, inviting, and extremely livable. They especially enjoy sharing good times with friends over wine and s'mores beside the fire pit. The Chernins feel fortunate to live in such a serene space and love to watch curious ducks waddling around their patio. One of the couple's favorite memories is "celebrating the Fourth of July, cheering on the Lakeside Fun Run from our patio, and listening to the Summer Concert Series with family and friends."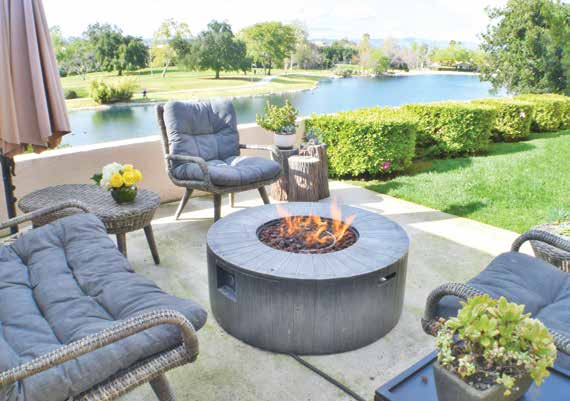 photography by Zac Wasserman
---
Maya Williams: Family Room
Interior Designer Maya Williams always keeps clients' personal preferences in mind when designing their rooms. Recently, one of her clients fell in love with the turquoise waters of the Mediterranean following a trip to Capri, Italy. "For a family room, it's all about comfort and durability," notes Maya. To give her a daily reminder of her favorite place, Maya used bold patterns in turquoise and teal surrounded by vibrant splashes of color plus ocean-inspired pieces made of natural stones and shells. She also custom built a daybed nook for added comfort using bright Italian fabrics to complete the room's sunny look.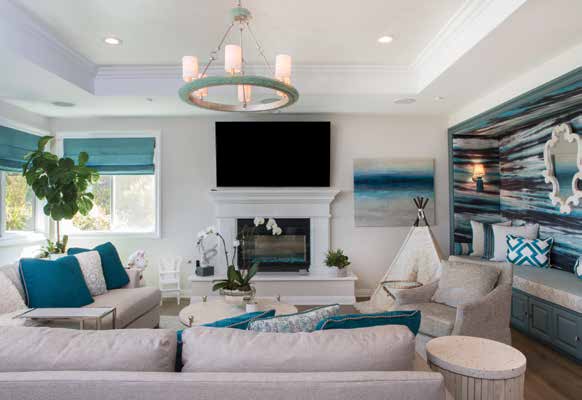 ---
Erica & Josh Friedman: Kitchen
When Erica and Josh Friedman first moved to Calabasas in August 2016, they knew they had a little work ahead of them to turn their dream home into a palace. With help from a decorator, they enhanced each room with the perfect accents. First, they lightened the walls from all brown to white with touches of natural color. Then, they addressed their favorite room, the kitchen. "We wanted to update it without dating it," noted the Friedmans. "We love the room's features, such as the metallic tile backsplash." They especially enjoy gathering here with family, cooking meals and sharing stories.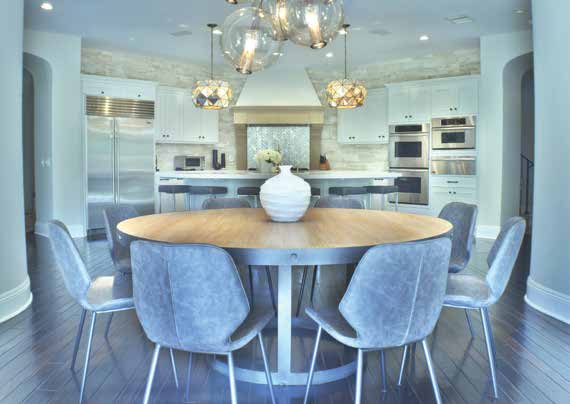 photography by Zac Wasserman
headshot by Andrew Kitchen
---
Laura & Charlie Goldwasser: Dining Room
The Goldwassers have lived in their Hidden Hills home for the past 17 years. Throughout that time, their dining room served as a special gathering place for family and friends. The room was originally designed with alcoves to house antiques from the 1870's, adding a touch of elegant Old World charm. They transformed the all-white room with a custom rug, plush window treatments, textured paint and ceiling stencils surrounding two chandeliers. An oversized oval dining table remains the room's centerpiece. The family recalls one especially fond memory "hosting 20 young guests at an Alice In Wonderland/ Mad Hatter Tea Party to celebrate our daughter's fourth birthday."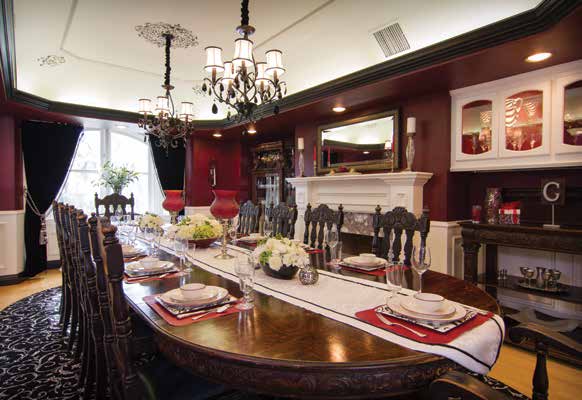 photography by Marvin Steindler
---
Joni & Morrie Reiff: Kitchen
Joni and Morrie Reiff love sharing their home with family and friends. "During the past 21 years in this house, we have learned that everyone ends up in the kitchen." Two granite-top islands, fittingly titled "Golden Dream," first grab guests' attention. With their unique brushed-leather finish, they are truly eye-catching pieces of art. What an inviting new space they have created to eat, laugh, and entertain in. The Reiffs are very grateful for the creative assistance of Yvonne Randolph Lifestyles, Kris Sigsby Design, California Designers Choice, and JOR Development.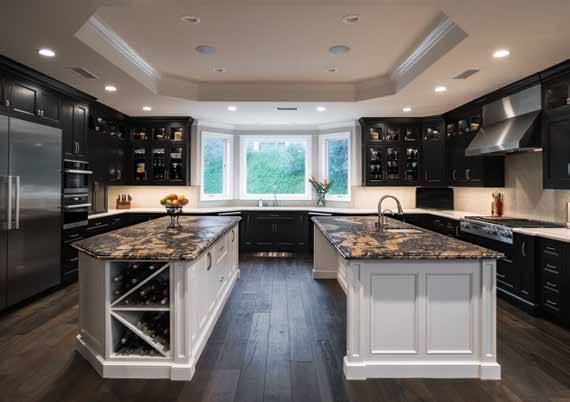 photography by Maxx-Kaitlynn
---
Beth Jagtiani: Children's Art Studio
A former elementary school teacher turned mom, Calabasas resident Beth Jagtiani prides herself on letting children act like children. She loves watching their young dreams come to life. In keeping with her vision, this proud parent designed an informal art studio for her two kids. "I love how happy they are to see their finished artwork hanging on the wall as they relay the story of its creation," says Jagtiani. One of the family's favorite memories occurred when daughter Maya turned one-year-old. "We bought her an easel and paint and watched her get blissfully messy while she and sibling Shane created a lovely painting."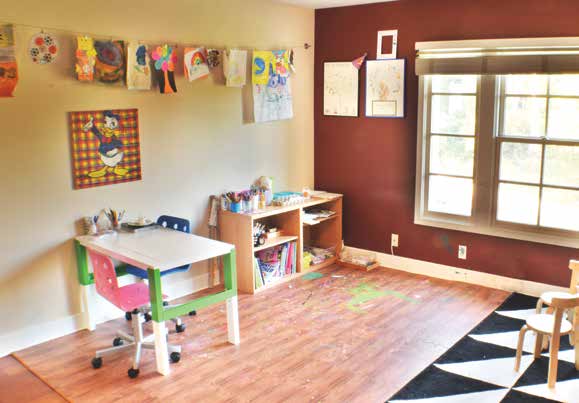 photography by Zac Wasserman
---
Ian Shrago & Stella Havkin: Backyard Patio
Ian Shrago and Stella Havkin fell in love with the backyard patio area of their Bell Canyon home. They truly appreciate the peaceful surroundings, especially after positioning the patio furniture just right for the best possible sight lines. Although Ian and Stella have only lived in their home for two years, they've already planted roots here. They enjoy spending time with family and friends looking out at the surrounding hillsides amidst a lush array of colorful plants and flowers in their
garden. The couple notes, "The views make you feel like you are far away from the real world." And everyone who visits agrees.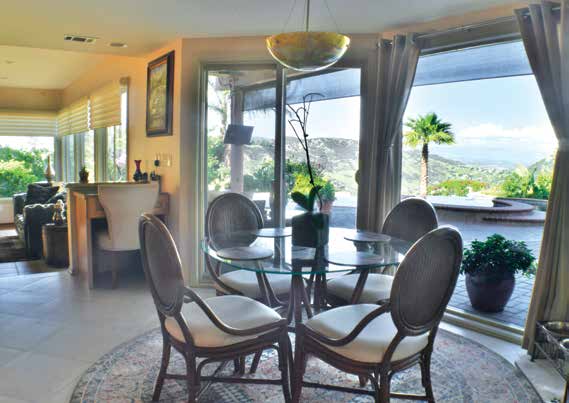 photography by Zac Wasserman
---
Katherine Stark: Dining Room/Kitchen
Upon entering their Bell Canyon home, one is drawn straight into the Stark family dining room and kitchen, which is by far their favorite space. They recently renovated the kitchen with a mixture of honed-black absolute granite and Carrara marble. They also installed dark hardwood floors and worked around the existing, brick center island and planter to keep the flow traditional. The kitchen and dining room capture sweeping valley views, and the space is open, making it the perfect place to enjoy gatherings with family and friends.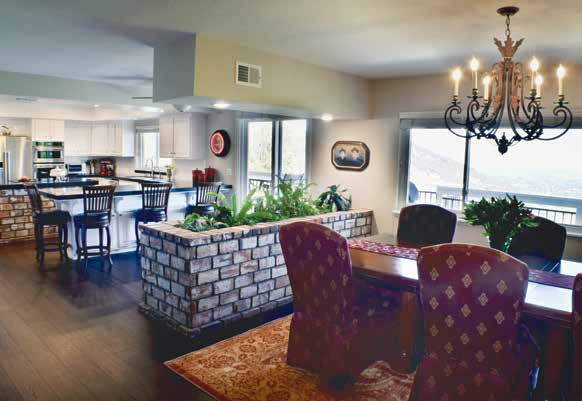 photography by Zac Wasserman
---
Marcella Navarria Heubusch: Kitchen
Marcella Navarria Heubusch loves her kitchen. She also adores the Turkish backsplash marble that adorns it. "The entire kitchen is a reflection of my personality and sense of living…bright, airy, and
uncluttered," she says. "It feels clean and unpretentious while seeing lots of action." Born and raised in Italy, her extended family have lived together in her Hidden Hills home since August 2016. It's the third house she and her husband renovated. "Between my mother and me, there's always something cooking on the stove," says Marcella. She loves gathering her family around the big island. "It's my absolute happy place."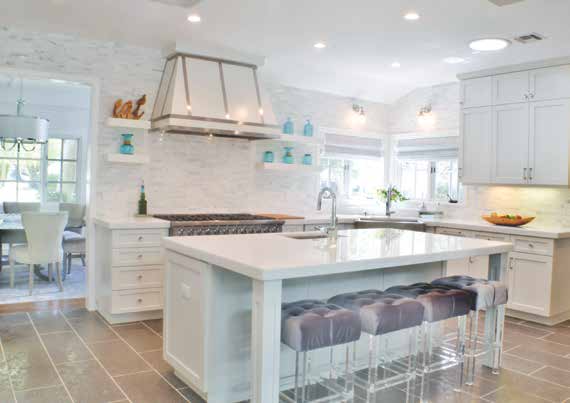 photography by Zac Wasserman
---
Alan Lazar: In-Home Recording Studio
Renowned film and television composer Alan Lazar needed a great music studio when he and his family moved to Calabasas nearly three years ago. "I wanted an elegant and stylish space that would be relaxing and inspiring to write music in," says Lazar. It also had to include the latest technology. His favorite element is actually an old upright piano he'd played since childhood. It was a wedding present from his grandmother, whose eight brothers and sisters were also musicians. Lazar truly believes that "the physical space in which one lives and works has a profound impact on one's happiness, creativity, and productivity. Make it beautiful!"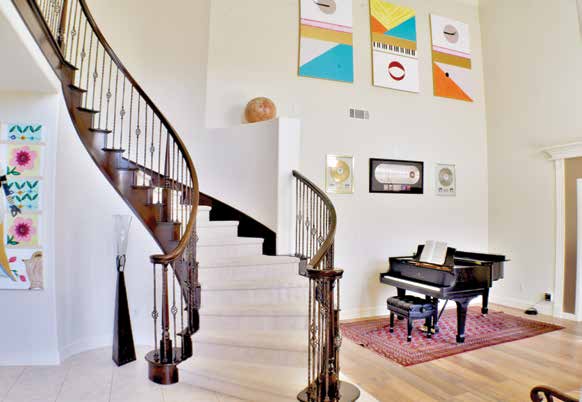 photography by Zac Wasserman
headshot by Julian Kelly-Gross
---
Joe Maddalena: Study
Rhode Island transplant, Joe Maddalena, CEO of Profiles in history, maintains ties to his past in the study of his Calabasas home. "I wanted to preserve and keep a piece of that place in my life so I opted to collect American Impressionism and artists of the Hudson River School," explains Maddalena. The room clearly reflects his eclectic tastes, from the vintage stainless-steel pool table and 19th-century art to the contemporary art by Warhol and favorite new artist Christopher Martin. Style-consultant Tracy Hutson, from ABC's Extreme Makeover TV show, helped him realize his vision. "She is the best," he exclaims.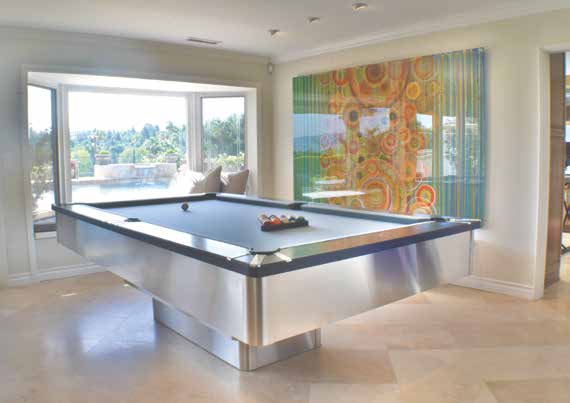 photography by Zac Wasserman
---