Health Check
January 4, 2018
Physician & Healthcare Provider
Directory
2018
Good health and well-being are our most important resources.
Without them, nothing else matters. Fortunately,
we live in an area where we have access to some of the
best hospitals, doctors, dentists, and heath care professionals
in the country, dedicated to helping us achieve
the health and wellness goals for ourselves and our families.
Calabasas Style is proud to present you with this
medical resource guide to help you learn more about
some of the great medical professionals living and working
in our community. As we enter into a new year, we
hope that you will find this resource guide helpful on your
healthy and happy journey!
WEST HILLS HOSPITAL & MEDICAL CENTER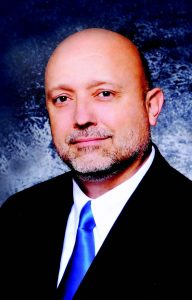 Douglas Long | President and Chief Executive Officer
7300 Medical Ctr. Dr., West Hills
818.676.4000 | westhillshospital.com
West Hills Hospital & Medical Center is one of the most valuable resources available to our community. Its "Quality Care, Close to Home" is a well-documented fact that impacts the quality of life for people who reside in the western part of the San Fernando Valley.
Ranked among the top hospitals in Los Angeles County for heart attack treatment response, West Hills Hospital is the first accredited chest-pain center in Los Angeles. It still ranks in the top 10% nationwide in response time for heart attack victims. The medical center is also designated as an advanced-stroke center and accredited for sepsis care by the Joint Commission. The hospital is also home to the renowned Grossman Burn Center, the Center for Bariatric Surgery, the West Hills Regional Heart & Vascular Institute, and the New Beginnings Center for Maternal & Newborn Care.
The 30-bed ER is available 24/7, features a state-of-the-art helipad, and is pediatrics approved. West Hills Hospital has some of the fastest ER wait times in the area, with an average speedy wait time of five minutes — a significant difference from other hospitals in the community that have average wait times as high as 78 minutes.
With 450 expert physicians and a staff of more than 900 that brings outstanding service to every bedside, the hospital offers a full complement of advanced technology, compassion, and responsive care for the improvement of human life. For more information on quality care, close to home, visit westhillshospital.com.
CALWEST HEAD & NECK SURGICAL INSTITUTE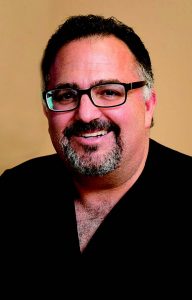 Marc Kerner, MD, FACS
696 Hampshire Rd., #110, Westlake Village
18350 Roscoe Blvd., #318, Northridge
818.349.0600 | calwestent.com
The Calwest Head and Neck Surgical Institute is the premiere Center of Excellence for Comprehensive Head and Neck Medical and Surgical problems in Southern California. All of the surgeons are board certified and fellows of the American College of Surgeons and treat a wide variety of ear, nose and throat disorders, and excel in delivering the highest level of surgical care in head and neck surgery, facial plastic surgery, spine surgery, and pain management. The team is led by Medical Director, Marc Kerner, MD, FACS. Dr. Kerner is double board certified by the American Board of Facial Plastic and Reconstructive Surgery and The American Board of Otolaryngology-Head and Neck Surgery and is one of only 850 surgeons who have achieved this designation.
Dr. Kerner has developed a number of cutting-edge surgical techniques and instruments in his field. He was the first to use computer-aided image-guided technology for sinus surgery in Southern California. He was the first to introduce powered instrumentation in sinus surgery to UCLA and the community and balloon sinus technology, as well as platelet gel technology in maxillofacial and facial plastic surgery. Dr. Kerner is a clinical professor of surgery at Geffen-UCLA School of Medicine, and adjunct professor of communication sciences at California State University, Northridge. He is the director of head and neck cancer surgery and the Head and Neck Tumor Board at Northridge Hospital.
BELLA SKIN INSTITUTE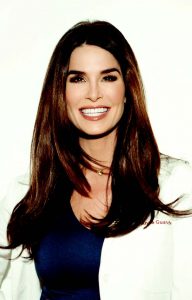 Anna Guanche, MD
23622 Calabasas Rd., #339, Calabasas
818.225.0117 | bellaskininstitute.com
Anna Guanche, MD, is a board-certified dermatologist and dermatologic surgeon specializing in cosmetic procedures. Her practice, Bella Skin Institute in Calabasas, is where she has assembled her "derm dream team" of professionals to care for the concerns of celebrities, CEOs, and supermoms. The state-of-the-art facility is warm and engaging and provides clients with the most innovative procedures available to perfect skin. Bella Skin Institute is dedicated to combining medical science and cosmetic beauty to provide each client with customized treatments to meet their needs, from dermatology services to minimally invasive cosmetic procedures performed at the facility. Procedures include resurfacing, hair removal, Fraxel™ and other laser treatments, platelet-rich plasma for collagen rejuvenation, Thermage CPT™, KyBella injectables for reduction of double chin, Voluma injections for cheek augmentation, Ultherapy for skin tightening, and the latest injectables for wrinkle reduction. Aesthetic services include microdermabrasion and dermalinfusion, dermaplaning, facials, and waxing.
General dermatology services include skin-cancer screening and surgery and acne, rash, and eczema treatments. Dr. Guanche is a fellow of the American Board of Dermatology, a member of the dermatology staff at UCLA Medical Center, and a clinical instructor for UCLA's David Geffen School of Medicine. Dr. Anna Guanche and her staff approach their work with absolute joy and infectious enthusiasm, which is felt throughout the practice.
CARLOS GUANCHE, MD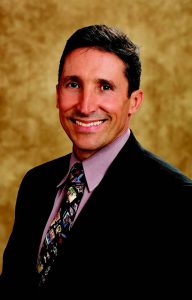 Southern California Orthopedic Institute
6815 Noble Ave., Van Nuys
818.901.6600|carlosguanchemd.com
Carlos Guanche, MD, is a world-renowned expert in hip and shoulder arthroscopy and complex shoulder reconstruction. Over the past 20 years, he has treated thousands of patients whose professional lives depend on his skilled hands to bring them back from debilitating injury to center stage and court. Faced with career-threatening conditions, professional athletes and world-famous entertainers have entrusted their well-being to Dr. Guanche. The majority of his patients, however, are average people working a regular job and participating in sports at many levels.
Since 2003, Dr. Guanche has been a partner at the Southern California Orthopedic Institute, a tertiary referral center for complex sports medicine and shoulder problems. He has devoted his career to his patients by constantly striving to innovate and make procedures less invasive, with smaller incisions, less pain, and shorter downtime. He is committed to advancing his field of specialty and has two orthopaedic- device patents to his name. He has also trained medical students and resident doctors in sports medicine and arthroscopy procedures. Dr. Guanche is the instructional course director at the prestigious Orthopaedic Learning Center in Chicago, as well as the American Academy of Orthopaedic Surgery. Dr. Guanche specializes in many types of treatments for hip and shoulder injuries, including labral repairs, femoroacetabular impingement, hamstring repairs, rotator cuff repairs, and the management of arthritis of the shoulder and hip (including anterior total hips). He is one of only a small group of surgeons in the country that perform reverse total shoulders on a regular basis.
HEAR CLEAR HEARING AIDS, INC.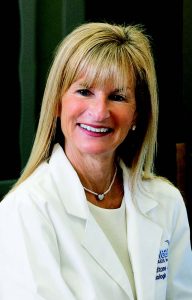 Iris Stone, AuD., FAAA, Doctor of Audiology| Diagnostic Clinical | Dispensing Audiologist
4764 Park Granada, #109, Calabasas
818.222.HEAR | 818.222.4327 | hearclearhearingaids.com
Iris Stone, AuD, FAAA, Doctor of Audiology, earned her degrees from New York University, St. John's University, and A.T. Still University in education, health administration, and audiology. She is a Fellow of the American Academy of Audiology, the Academy of Doctors of Audiology, and the California Academy of Audiology. She sits on the board of directors of the Calabasas Chamber of Commerce and was the United Chambers of Commerce San Fernando Valley's recipient of the 2016 Small Business Award. Her clinical expertise is in diagnostic testing, including comprehensive audiological evaluations, tinnitus evaluations, and management with a specialty in hearing-aid fittings and rehabilitation. Her unique style is her ability to listen to the concerns of each individual and find a solution based on patients' budget acoustic, and cosmetic needs. Her focus is on her patients' lifestyles, always delivering thorough care with complete follow-up.
Hear Clear Hearing Aids, Inc., offers a completely new approach to a hearingcare facility. Appointments start on time and last as long as needed. Despite the fact that hearing loss is the third most common health problem in the country, technology has become so advanced that it is possible to restore a person's hearing almost 100% if they are properly diagnosed and fitted correctly with the right product. Dr. Stone uses state-of-the-art technology to test, counsel, and complete the needs of her patients, as well as provide the best quality care. Hear Clear Hearing Aids has offices in Calabasas and Ojai, California.

GLASER PAIN RELIEF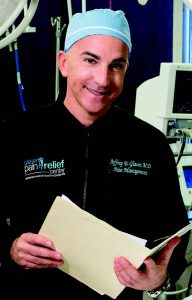 Jeffrey B. Glaser, MD, Interventional Pain Management
16311 Ventura Blvd., #518, Encino
818.501.PAIN (7246) | glaserpainrelief.com
Dr. Jeffrey B. Glaser is a UCLA-trained, double board certified, interventional pain-management physician specializing in the diagnosis and treatment of disorders which cause pain. Certified by the American Board of Pain Medicine and the American Board of Anesthesiology, Jeffrey B. Glaser, MD, has successfully treated thousands of patients suffering from conditions that cause pain, with minimally invasive techniques. Often, Dr. Glaser can help patients avoid painful, invasive surgeries which frequently have a long recovery time and don't guarantee pain relief. In addition to his outstanding credentials, Dr. Glaser is a highly sought-after speaker and receives repeated outstanding-recognition awards by professional societies, his peers, and his patients based on reviews and accolades. In fact, Dr. Glaser's name is all the buzz amongst the Hollywood elite who need and seek care for management of pain. A large focus of Dr. Glaser's practice is on spine-mediated pain due to conditions such as herniated discs, arthritis of the spine, spondylolisthesis, and failed back surgery syndrome. He also treats other conditions, including migraines, peripheral neuropathy, and complex regional-pain syndrome. Crucial to developing a comprehensive treatment plan is the initial diagnosis and work-up to determine the source of the condition causing pain. Treatment plans are usually multi-modal and may include minimally invasive procedures, medication management, physical therapy, and lifestyle modifications.
Dr. Glaser completed medical school at the prestigious Jefferson Medical College of Thomas Jefferson University and his internship and residency at the world-renowned University of California at Los Angeles. He resides in Calabasas.
RENEE COTTER, MD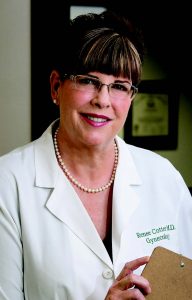 7320 Woodlake Ave., #160, West Hills
818.887.5008 | reneecottermd.com

Dr. Renee Cotter is a board certified gynecologist, providing quality care to women the in West Hills community since 1991. Although Dr. Cotter no longer practices obstetrics, she continues to provide advanced, minimally invasive gynecologic surgery and office well woman care as well as aesthetic laser treatments for her patients. Dr. Cotter is considered one of the top gynecologic surgeons in the West San Fernando Valley. Her passion is to provide individualized care to each patient. In addition to minimally invasive outpatient surgery such as hysterectomy, myomectomy, or surgery for pelvic organ prolapse, she also offers treatment for heavy periods, painful periods, contraception, hormone replacement, endometriosis, PMS. She is a solo practitioner, who along with her nurse practitioner, offers a welcoming office experience.
Dr. Cotter and her nurse practitioner, Deborah Turturro, offer cosmetic procedures for her patients. Dr. Cotter offers laser liposuction, in office, without general anesthesia, in addition to laser treatment of cellulite, sagging chins, and even underarm perspiration. New to her office are vaginal laser treatments to improve painful intercourse, minor urinary incontinence, or improve vaginal tone and sexual enjoyment. Her nurse practitioner has over 10 years of experience with Botox, Juvaderm, Voluma, and Belotero as well. Dr Cotter grew up in Southern California. She received her BS from the University of California, Santa Cruz and completed medical school at Saint Louis University School of Medicine in 1987. After completing her internship and residency training at Whiter Memorial Hospital in Los Angeles, she established her private practice in West Hills, where she remains today.
VITALITY INSTITUTE OF AGOURA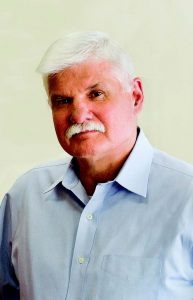 Michael Sarti, MD
30200 Agoura Rd., #110, Agoura Hills
818.735.0904 | vitalityinstituteofagoura.com
Dr. Michael Sarti is a board-certified physician specializing in emergency medicine and non invasive anti-aging treatments. After 28 years of serving as the medical director of one of L.A.'s busiest trauma centers, he established the Vitality Institute of Agoura in 2012 to cultivate his other career passion: aesthetic medicine.
The Vitality Institute of Agoura is a medical spa offering top-of-the-line laser treatments and esthetician services to individuals of all colors and skin types. They specialize in laser skincare treatments such as fractional CO2 laser resurfacing, acne laser treatments, laser hair removal for all skin types, laser tattoo removal for all colors, and sun damage and red face repair. In addition, Dr. Sarti offers several types of premier services, including SmartGraft hair restoration, Silhouette Instalift, The Secret – RF Fractional Micro-needling, and laser fat removal and body-sculpting techniques using Vanquish and Exilis ULTRA. All of these treatments are noninvasive, and patients typically resume normal activities immediately after a procedure.
Dr. Sarti and his staff work with you individually to establish a treatment plan that suits your desired outcome, timeframe, and budget. Your progress is systematically monitored with the Canfield VISIA camera system so you can see the visible results after each treatment. At the Vitality Institute of Agoura, you can expect professionalism, friendly service, and results!
CALABASAS DENTAL SPA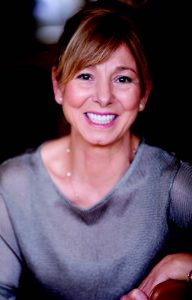 Tania Baker, DDS
4937 Las Virgenes Rd.,#203, Calabasas
818.880.5520 | calabasasdentalspa.com
Dr. Tania Baker is one of the few dentists in the area who offers the Invisalign® procedure for adults looking for a way to straighten their teeth without metal braces or wires. The Invisalign® aligners are removable and virtually invisible, so you can keep living your life and caring for your teeth throughout treatment. Dr. Baker is also committed to eliminating the fear and anxiety that many patients experience when going to a dentist. Her serene, spa-like cosmetic and laser dental practice provides high-quality dentistry and spa pampering. With more than 30 years of clinical experience, she takes great satisfaction in helping patients maintain optimal oral health with the most technologically advanced and minimally invasive procedures available. Her practice is devoted to holistic dental care, including teeth cleaning, teeth whitening, veneers, periodontal disease treatment, cosmetic dentistry, laser dentistry, dental implants, CEREC same-day crowns, oral cancer screenings, and innovative services for sleep apnea treatment.
Dr. Baker successfully established her professional credentials and received her dental degree at Loma Linda University in 1990. Since opening Calabasas Dental Spa, she has treated thousands of patients with her unique gentle style and holistic approach. Her smile makeovers use the most advanced technologies and minimally invasive strategies to bring the most natural aesthetic results while maximizing comfort during the procedure. Calabasas Dental Spa also offers a membership club program for patients who do not have dental insurance that includes an affordable package for children, adults, and patients with periodontal disease.
CALIFORNIA SPINE AND PAIN INSTITUTE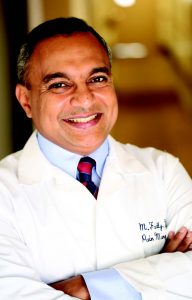 Magued R. Fadly, MD, QME
7325 Medical Ctr. Dr., #103, West Hills
818.225.0045 | CaliforniaSpineAndPain.com
Magued Fadly, MD, QME is an accredited fellowship-trained and board certified pain- management physician who has dedicated his practice to the diagnosis, treatment, and comprehensive management of pain disorders and pain disability. He completed his residency in anesthesiology at Yale University and obtained his accredited fellowship in pain management at the world-renowned Cleveland Clinic. Dr. Fadly established his pain management practice in the San Fernando Valley and for the past decade has become the community's choice for pain-management.
Dr. Fadly performs procedures involving the cervical, thoracic, lumbar, and pelvic regions. He treats spine pain and pain-related symptoms and is an expert on pediatric pain, bladder pain, and vulvodynia. He also treats patients suffering from fibromyalgia and migraines and all sports-related injuries. Dr. Fadly has remained dedicated to developing and teaching the most innovative pain management techniques, including the use of ozone revolution therapy to treat joint pain and the use of lasers for nerve ablations and percutaneous discectomy. His use of these state of the art practices means patients can return to their regular activities as quickly as possible. He has a recorded 95% personal success rate for pain relief within the first week of treatment and is dedicated in offering comprehensive pain care in a compassionate and nurturing environment.
Dr. Fadly has been published in a range of academic journals and is the official educator of the Providence Tarzana Medical Center podiatry residency program for pain management and anesthesiology. He also lectures to multiple pain management fellowships throughout the country.
SOUTHERN CALIFORNIA SINUS INSTITUTE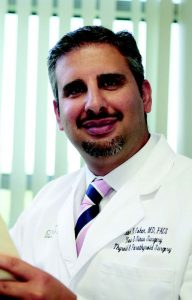 Alen Cohen, MD, FACS, FARS
7345 Medical Ctr. Dr., #510, West Hills
818.888.7878 | socalsinus.com

Anyone who has suffered through the pain and discomfort of severe sinus infections knows just how debilitating they can be. The good news is that these conditions are not just treatable but actually curable now. Dr. Alen Cohen is a board-certified nose and sinus surgeon and assistant clinical professor of surgery at the David Geffen School of Medicine at UCLA. He is also the founder and director of the Southern California Sinus Institute (SCSI), which has become one of the premier sinus centers in Southern California. He has also been named a 2013-2018 Los Angeles Magazine Super Doctor and a national 2017 Castle-Connolly Top Doctor.
As such, thousands of patients have benefitted from Dr. Cohen's life-changing procedures, which include the medical and surgical treatment of patients with all nasal and sinus disorders, including nasal obstruction, deviated septum, environmental allergies, acute and chronic sinusitis, nasal polyps, and sinus headaches. One of the most common procedures Dr. Cohen routinely performs is the revolutionary in-office Balloon Sinuplasty™ procedure, for which he is one of the top three performers on the West Coast. This amazing procedure dilates the sinus openings with a balloon so the sinuses can drain, thus preventing sinus infections, and so the patient can breathe better. As such, patients routinely come to him from all over Southern California for management of their chronic nose and sinus problems and definitive relief.
MATT HERSHCOVITCH, MD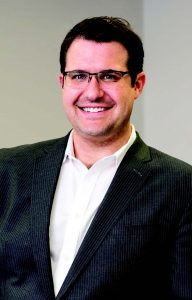 Double-Board-Certified Facial Plastic & Reconstructive Surgeon | ENT/Head & Neck Surgeon
7345 Medical Center Dr. #510, West Hills, CA 91307
818.888.7878 | facebydrh.com

Renowned, double-board-certified, facial plastic surgeon Dr. Hershcovitch possesses the unique expertise to tackle a myriad of surgical procedures. Utilizing his years of training and deep knowledge of facial aesthetics and rhinoplasty (nose surgery), he creates natural results for clients throughout Calabasas, Hidden Hills, and West Hills. Dr. Hershcovitch guides each patient with care and understanding to make informed decisions and maintain peace of mind. Every aspect of this transformation, beginning with the initial consultation through the plastic surgery and subsequent recovery, is personalized. Dr. Hershcovitch is passionate about matching his patients' inner and outer beauty and continually creates subtle, natural results. From modern medical offices to a compassionate, professional staff, the doctor ensures that his patients feel supported throughout the entire process.
After completing his degree in nuclear engineering from the Massachusetts Institute of Technology (MIT), Dr. Hershcovitch pursued a medical degree from the State University of New York. He performed his residency training in head and neck surgery at the University of Cincinnati Medical Center and completed his fellowship from the prestigious Mittelman Plastic Surgery Center at Stanford University. He is double board certified by the American Board of Facial Plastic and Reconstructive Surgery and the American Board of Otolaryngology. He's been honored many times during his illustrious career. His work has also been published in numerous well-known scientific publications as he continues to present his research to the medical community.
CALABASAS MED SPA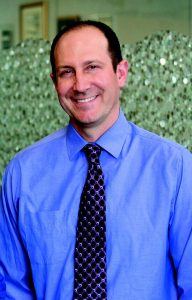 Lawrence Osman, MD
23659 Calabasas Rd., Calabasas
818.225.0122
18546 Roscoe Blvd., #306, Northridge
818.885.0455 | calabasasmedspa.com
Board-certified dermatologist and owner of Calabasas Med Spa, Dr. Lawrence Osman, has been treating patients for over 15 years. Having trained with some of the pioneers in the fields of dermatology and minimally invasive rejuvenation, Dr. Osman offers comprehensive treatments ranging from skin-cancer exams and acne treatments to lasers and injectables.
With more than 25 years combined experience, Dr. Osman and his team at Calabasas Med Spa employ cutting-edge treatments, including minimally invasive liposuction under local anesthesia, noninvasive CoolSculpting body sculpting, and advanced facial rejuvenation. A recipient of the Health Beat Elite award, Dr. Osman helps maintain a high safety rating. He is also a Black Diamond Provider of Botox, which places the practice in the top 1% of Botox cosmetic injectors in the entire United States.
Dr. Osman earned his medical degree from the University of Southern California – Keck School of Medicine and completed his residency in 2002. Since then, he has received numerous awards, including the Physician's Recognition Award from the American Medical Association for his outstanding dedication to learning. He continues to serve the educational community on the faculty of UCLA. He also belongs to the American Academy of Dermatology, American Academy of Cosmetic Surgery, and many other esteemed medical organizations. Caring and meticulous, Dr. Osman and his colleagues offer minimally invasive, quality care. Believing less is more, the doctor employs his keen eye for aesthetics and expert training to provide optimal results specifically tailored to fit each individual patient.
CALABASAS PEDIATRICS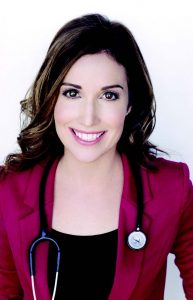 Tanya Altmann, MD, FAAP
23480 Park Sorrento, #109A, Calabasas
818.914.4429 | calabasaspeds.com
Dr. Tanya Altmann is a UCLA-trained pediatrician and the founder of Calabasas Pediatrics, a concierge practice providing personalized pediatric healthcare with an emphasis on integrative medicine, nutrition, and a healthy lifestyle.
As a spokesperson for the American Academy of Pediatrics and an assistant clinical professor at UCLA Mattel Children's Hospital, Dr. Tanya has a broad understanding of the most recent medical developments. She is the author of several bestselling parenting books and a child-health expert for numerous news programs and talk shows. With more than 20 years of experience helping families with everything from day-to-day health concerns to choosing the best preschool to gathering experts from around the country to solve unusual cases, Dr. Tanya is the go-to pediatrician in Calabasas, seeing children from birth through college.
Calabasas Pediatrics offers longer appointments, after-hours availability, nutrition, and lactation consultations in their beautiful, state-of-the-art office or in the comfort of your own home. Skype visits, email, and text communications are regularly used 24/7 to make it easier for today's busy family to reach the office when needed, even while traveling abroad. Using new medical technology, including the GeneSight test and BrainSpan assessment, photo-vision screening, and ImPACT testing, Calabasas Pediatrics is able to help paint a thorough picture of your child's current and future health. After all, raising happy, healthy, well-adjusted, successful children is the goal at Calabasas Pediatrics!
WESTLAKE WOMEN'S HEALTH SPECIALISTS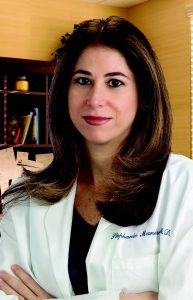 Stephanie Mandelman, MD | Board-Certified Obstetrics and Gynecology
1250 La Venta Dr., #101B, Westlake Village
805.496.0880 | Stephanie-mandelman-md.com
Dr. Stephanie Mandelman has a unique approach to conventional medicine which includes traditional methods as well as the most modern solutions in all areas of women's obstetrical and gynecological health. Her priority is to use the most appropriate methods for the best healthcare for women of all ages while maintaining warm and caring relationships with her patients. Dr. Mandelman provides complete women's healthcare including obstetrics, surgical and office gynecology, infertility, and menopausal management. Her obstetrics practice is an intimate environment where patients receive the highest level of care for themselves and their unborn baby, with state of the art facilities and the most up-to-date prenatal testing. She also offers a full range of gynecologic services — from annual check-ups and routine Pap smears, to gynecologic problem visits and surgeries and treats all types of menopausal problems.
She is also one of the few locally based board certified gynecologists performing the MonaLisa Touch procedure – the first FDA approved laser treatments for vaginal dryness and painful intercourse. She attended the Chicago Medical School and did her OB/GYN internship at UCLA and completed her residency training at the University of New Jersey (UMDNJ). She has been practicing since 1999 and started her own practice in 2006 in Westlake. She is currently active on staff at Los Robles Hospital in Thousand Oaks and West Hills Hospital. She is affiliated with Thousand Oaks Surgical Hospital and the Los Robles SurgiCenter.
MOUNTAIN VIEW DENTISTRY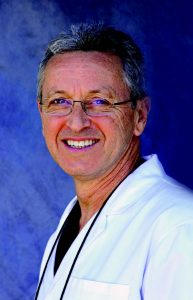 Jeffrey Schechter, DDS
26560 Agoura Rd., #102, Calabasas
818.880.4023 | forabeautifulsmile.com

Dr. Jeffrey Schechter is the Calabasas and Agoura Hills dentist that people have learned to trust for the health of their teeth, gums, and body. The primary goal at Mountain View Dentistry is to get your teeth and gums to their healthiest state as quickly and gently as possible. Whether you are looking for preventative dentistry, cosmetic dentistry, implants, or other restorative procedures, the team at Mountain View Dentistry has the expertise and non-invasive techniques you're looking for.
Dr. Schechter's philosophy is to focus on preventative dentistry which he believes can save his patients a considerable amount of costly oral health problems over time. He and his team use the most current technology and techniques for your safety and health, including digital x-rays to greatly reduce the amount of radiation his patients are exposed to. Dr. Schechter also specializes in non-toxic tooth-colored fillings instead of mercury-containing silver amalgam fillings. He uses state of the art equipment including dental lasers and digital photography to care for his patients in a way that is healthy, safe, and as stress free as possible.
Dr. Schechter received his Bachelors of Science in Biology from the University
of California at Berkeley and his Doctor of Dental Surgery degree from the
University of Southern California School Of Dentistry in 1983. He and his friendly
team have been in the practice of general and cosmetic dentistry and the art
of beautiful smiles for over 30 years. Dr. Schechter is a member of the American
Dental Association, the California Dental Association, and the San Fernando
Dental Society.
RUMACK-HARMER PEDIATRIC DENTISTRY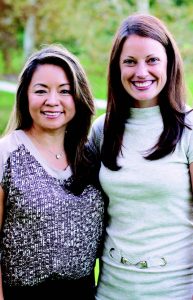 Elena Rumack, DDS & Lecia Harmer, DDS Owners
16542 Ventura Blvd., #506, Encino
818.943.8228 | encinotoothfairy.com
23622 Calabasas Rd., #119, Calabasas
818.222.4543 | calabasastoothfairy.com
Drs. Elena Rumack and Lecia Harmer met 10 years ago at UCLA Dental School and have been fast friends ever since. Both dental care providers are board certified specialists in pediatric dentistry and are co-owners of Rumack Harmer Pediatric Dentistry, in Calabasas and Encino.
Dr. Elena Rumack obtained her DDS degree from UCLA. After completing a residency specializing in caring for patients with special needs, she completed a second residency in pediatric dentistry. Dr. Rumack has been a lecturer and clinical instructor at UCLA for the past ten years. Affectionately called the "Tooth Whisperer" by parents, Dr. Elena is known for her gentle ways in treating children and comforting their parents. Dr. Lecia Harmer attended the University of Michigan and graduated with a B.S. in biochemistry with high honors. She obtained her DDS degree from UCLA, concurrently with a M.S. in oral biology. Dr. Harmer actively participates in many community outreach programs, both locally and internationally.
Both Dr. Elena and Dr. Lecia are known for their gentle way of putting children at ease when it comes to dental treatment. They strongly believe in preventive dentistry, focusing on nutrition, education, and positive reinforcement in a nurturing environment. To encourage early prevention of dental disease, both doctors encourage parents to bring their children in for their first dental visit by age 1, as recommended by the American Academy of Pediatric Dentistry.
PAIR ORTHODONTICS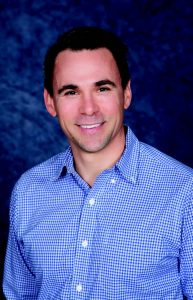 Jason Pair, DDS
23622 Calabasas Rd., #119, Calabasas
818.222.4543 | pairorthodontics.com
After graduating from UC Los Angeles with a B.S. in physiological sciences, Dr. Pair traveled north to dental school where he attended UC San Francisco. He then completed his orthodontic residency in 1999 at UCLA, where he was chief resident. His research project was published in the American Journal of Orthodontics & Dentofacial Orthopedics, the leading peer-reviewed journal in the profession. He has had multiple case reports published since that time.
Dr. Pair is a member of the San Fernando Valley Dental Society, where he was president for the year 2007. He is currently a peer review committee member. He is a lecturer and clinical instructor in the UCLA Orthodontics Residency Program. He is a member of the American Association of Orthodontists, the American Dental Association, the California Dental Association, and the Pacific Coast Society of Orthodontists. In addition to lecturing  at UCLA, he has lectured to the California Society of Pediatric Dentists, the California Dental Assistant Society and the San Fernando Valley Dental Assistant Society, the ROP program of Santa Clarita and at the University of Francisco Marroquin in Guatemala. He has participated in various volunteer dental organizations, traveling to Guatemala, Mexico, and Israel.
Dr. Pair is dedicated to creating beautiful and healthy smiles and offers orthodontic services for children and adults. He is proud to be associated with Dr. Rumack and Dr. Harmer, serving the community where he resides. Services include all forms of braces, the Damon System, Invisalign, and Surgical and accelerated orthodontics for children, teens, and adults.
MATTHEW SAFAPOUR, DPM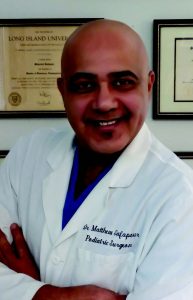 Advanced Medical and Surgical Treatment of the Foot and Ankle
7301 Medical Center Drive, #302, West Hills
16661 Ventura Blvd., #714, Encino
818.986.9898 | drsafapour.com
Dr. Matthew Safapour, DPM, an accomplished, seasoned, board-certified (ABMSP) podiatric surgeon with more than 20 years of experience, is dedicated to helping patients strengthen the crucial foot/ankle foundation and maintain pain-free, healthy lives. After graduating with a Bachelor of Science degree from the State University of New York and a master degree from Long Island University, Dr. Safapour attended podiatric medical school at CCPM, an affiliate of the University of California, San Francisco (UCSF). He completed his internship and residency at CCPM, USC/LA County Medical Center and pursued a fellowship in biomechanics. The doctor has been in private practice since 1997, performed thousands of foot surgeries, and is currently an attending podiatric physician for a major IPA/HMO organization.
Dr. Safapour helps resolve such painful issues as bunions, caused by excess bone growth and joint inflammation, and hammertoes, produced by a muscle imbalance surrounding the joints. He also treats diabetic foot ulcers and diabetic neuropathy, which occurs when metabolic and neurovascular factors result in nerve damage and poor circulation. This often causes loss of feeling or the sensation of pins and needles or sharp pain in the toes, feet, and legs, allowing infections in the region to go unnoticed. Treating these issues and more during their early stages helps ensure successful outcomes. Dr. Safapour and his staff offer excellent medical and surgical options for overcoming foot pain and other podiatric issues in a caring, healing environment.
IZADI FAMILY PRACTICE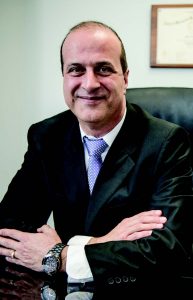 Mehdi Izadi, DO
7301 Medical Center Dr., #302, West Hills
818.888.3387 | izadifamilypractice.webs.com

Dr. Izadi, a board-certified physician in family practice and geriatric medicine, decided to open his own private practice in West Hills in 2013 after 27 years of practicing medicine. He has lived in Calabasas for 17 years, and previously, he owned and operated a large medical group in the high desert. Dr. Izadi's philosophy of practicing medicine has always been to put the well-being of every patient first, those who entrust him with their health. In addition to providing traditional disease management, Dr. Izadi has extensive expertise in preventive medicine and manipulations. There is no doubt that all of our bodies have self-healing mechanisms in place that work to keep us well every day. Dr. Izadi views his role as "The Facilitator" of that process by any and all means available today.
The services offered at Dr. Izadi's new practice include well-care and disease management for both men and women. The facility is equipped to make your visit as convenient and timely as possible. They perform minor office surgeries, inject medications, and do heat treatment and adjustments if needed. The practice is for adolescents and adults on an outpatient basis and by appointment only. Almost all private insurance and Medicare are accepted, and very reasonable prices are offered for self-paying patients. Attention to detail and punctuality are very important to Dr. Izadi as he respects your time as well as your trust in him to care for your most precious commodity: your health and well-being.

CALABASAS PHARMACY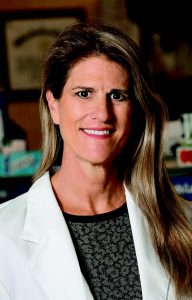 Brenda Johnson, R. Ph. | Inside Gelson's Market
22277 Mulholland Hwy., Calabasas
818.223.8656 | calabasaspharmacy.com
Calabasas Pharmacy celebrates over 20 years in the community. PharmacistBrenda Johnson opened the pharmacy because she wanted to practice pharmacy by getting to know her patients and providing comprehensive care in an efficient manner. Consumer Reports states that independent pharmacies make fewer errors, offer swifter service, and are more likely to have medications ready for pickup when promised – which holds true for Calabasas Pharmacy.
Brenda was one of the first pharmacists to become certified to administer immunizations= 19 years ago. She is certified in all immunizations, including the shingles, pneumonia, and Tdap, and travel medications and vaccines. Brenda is also trained in hormonal contraception and can conveniently furnish birth control to patients. Calabasas Pharmacy provides medication synchronization, which means they will synch all your medications so they can be picked up together, once a month, before you run out of anything. Your prescriptions and vitamins can be prepackaged into a blister packaging system to remind you to take them at the correct time each day. Calabasas Pharmacy has started to provide strep and influenza testing so patients can quickly determine if they have either of these acute infections. The pharmacy takes most insurance plans, including Medicare Part D, and works with your doctor to get your medications approved. Calabasas Pharmacy is open seven days a week. It is very easy to transfer existing prescriptions by calling directly at 818.223.8656.
SMILE BRIGHT PERIODONTICS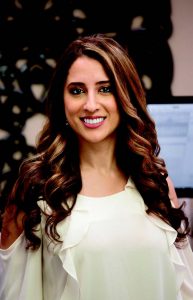 M. Natalie Dianati, DDS/Periodontist
28040 Dorothy Dr. #102, Agoura Hills
818.584.1841 | smilebrightperio.com
Dr. M. Natalie Dianati earned her Bachelor of Science in Neuroscience from the University of California, Los Angeles (UCLA), and graduated with Departmental Honors. Dr. Dianati continued her education and received her Doctor of Dental Surgery at UCLA School of Dentistry with dental board scores among the top 1% in the nation. While at UCLA, she was extensively involved in research, and her efforts led to publication in the prestigious Developmental Biology journal. Throughout her education, she was on the dean's list and the recipient of multiple scholarships, including the Newfield Scholarship and the Ruth G. White Scholarship for excellence in academic achievement and leadership. Dr. Dianati completed a three-year residency and received her Certificate in Advanced Periodontics from the West Los Angeles Veterans Hospital-UCLA. During her specialty training, she conducted advanced research on "Maxillary Sinus Augmentation Using Allograft, Xenograft, and Calcium Sulfate Hemihydrate for Improvement of the Implant Site."
Dr. Dianati is a Diplomate of the American Board of Periodontology, which is a periodontist who has made significant achievements beyond the mandatory educational requirements of the specialty. Dr. Dianati is a member of numerous dental associations, including the American Academy of Periodontology, Academy of Osseointegration, California Society of Periodontists, California Dental Association, and American Dental Association. Dr. Dianati enjoys going to basketball games, watching movies, traveling, and spending time with her family.
MALIBU CANYON MED SPA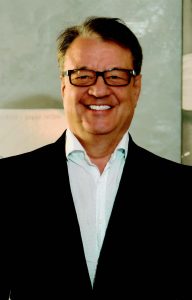 David Vesco, MD
4937 Las Virgenes Rd., #104, Calabasas
310.903.2784 | malibucanyonmedspa.com
For nearly three decades, Dr. David Vesco, MD, has served as director for the Canyon Medical Center and Malibu Canyon Medical Spa in Calabasas. The doctor incorporates his training in both internal medicine and surgery to help patients in such holistic areas as anti-aging, regenerative medicine, stem-cell treatments, sports medicine, neurology, and medical counseling. Since 2012, he has administered stem-cell and plateletrich plasma (PRP) treatments, which utilize one's own blood to stimulate healthy cell regeneration and healing, to more than a thousand clients seeking facial cosmetic rejuvenations and joint treatments. His specialties include stem-cell nano-fat grafting, facial lifts, PRP hair restoration, PRP face and lip rejuvenation, and Smart CO2 Laser technology for facial resurfacing.
Born and educated in Bulgaria, Dr. Vesco holds an impressive array of scientific, business, and scholarly achievements, including academic appointments at both the University of Michigan and University of California. He was the first medical doctor to recognize how hyperbaric-chamber oxygenation could benefit stroke patients. The doctor also wrote several highly regarded books and even coined the term "antioxidant." He has since based much of his research on the topical application of bioflavonoids, laying the foundation for a whole new generation of skincare products. His award-winning discoveries have also led to some of the world's most effective holistic skincare approaches utilized today at such innovative facilities as Malibu Canyon Medical Spa and beyond.
OAK PARK DENTISTRY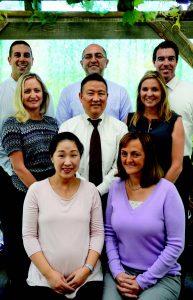 FOR CHILDREN & ORTHODONTICS
1115 Lindero Canyon Rd., Westlake Village | 818.889.5440
1188 Roadrunner Way, Simi Valley | 805.526.1188 | oakparkdentistryforchildren.com
Yazdan Alami DDS, Jennifer Barry DDS, Faina Gelman DDS, Joey Pedram DDS, Matthew
Bruno DDS, MS, Jane Yu DDS, Jelson Yalung DDS, MS, Alisha Paletsas DDS,
Wayne Ozaki MD, DDS, FACS
Oak Park Dentistry for Children and Orthodontics has been providing comprehensive and preventative dental care to the children, teens, and young adults of Conejo Valley and the surrounding areas for over 35 years. For decades, we have been striving to raise our first and second generation of patients without cavities and gum disease by way of education and incentives for excellent oral hygiene. We truly believe that early implementation of great oral habits is key to a lifetime of healthier and brighter smiles. Our focus is to deliver an outstanding and conservative level of Pediatric Dentistry, Orthodontics, and Oral/Plastic Surgery. Our board certified providers are highly trained to address all of our patient's needs using the latest techniques and equipment in a fun, friendly, and unparalleled environment. Children with special needs will benefit from our specialists who have extensive training in treating children with various special needs, particularly those on the autism spectrum.
Our newest location in Westlake Village has been described as a "children's wonderland" by many dental publications. We recommend our "Peek- a- Boo" complimentary visit for children under 3 years of age. We are available evenings and Saturdays in addition to our regular daily schedule.