MOVE!
January 4, 2018
HELPING YOU STAY FIT & fabulous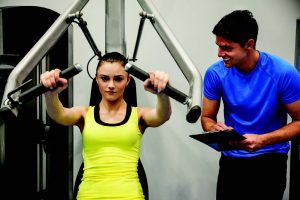 CALABASAS COUNTRY CLUB
Health & Fitness Center
4515 Park Entrada, Calabasas
818.222.8111 Ext. 122 | calabasasgolf.com

The Calabasas Athletic Club is a world class health and fitness complex designed to inspire a healthier, more balanced lifestyle. In this fitness paradise, you will find the best in weight training and cardiovascular equipment including treadmills, elliptical trainers, stationary bikes, and more. The functional training area is designed to improve range of motion, core strength, and balance. Stability balls, foam rollers, kettle bells, and battling ropes are readily available. Dynamic and popular instructors lead group exercise program. Classes include indoor spinning, total body conditioning, Pilates mat, kickboxing, golf, and a full mind-body program including yoga and more.

CYCLEBAR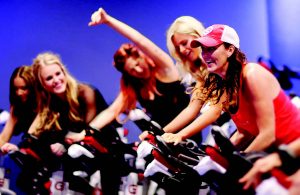 2200 E. Thousand Oaks Blvd., #20&30, Thousand Oaks
747.334.6465 | thousandoaks.cyclebar.com
Andrea and Marlon Byrd are bringing the best of indoor cycling to our community! CycleBar creates a fun and accessible experience for riders of all ages and fitness levels. Each ride in this studio is fueled with amazing music, energy-enhancing video graphics, and rider specific performance data in a state-of-the-art CycleTheatre. At CycleBar, the mission is to rock the ride, each and every time! If you are new to the cycling world, intro rides are offered every other week. And don't fret if you don't have your own shoes, as free cycling shoes are offered with every ride. To register and schedule your first class, simply visit
thousandoaks.cyclebar.com.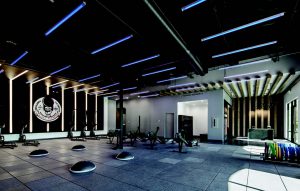 FLOAT FITNESS
5575 Las Virgenes Rd., #A, Calabasas
747.334.6004 | floatfitnessstudio.com

Float Fitness is a boutique fitness studio offering specialized Functional & Body Awareness training, as well as training in Kettlebell Sport. The fitness studio focuses on personal group training and private classes for both kids and adults, with an emphasis on proper technique and form. Owner Marlon Byrd not only has a myriad of credentials in the fitness field, but he is a retired 15-year MLB player. Having trained with elite athletes and trainers around the country, he has worked with pioneers in the health and fitness industry and seeks to bring all of his acquired knowledge to the Float Fitness studio.
WARRIOR&CO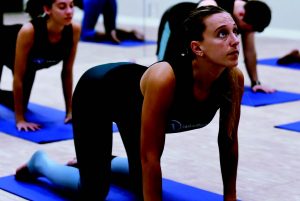 21015 Oxnard St. Woodland Hills
818.912.6855 | warriorandcoyoga.com
WARRIOR&CO. is a family-owned and operated yoga studio in the heart of Woodland Hills. This yoga studio aims to bridge the gap in family health and wellness by offering a space where parents and kids can exercise simultaneously but still get an individualized experience. In the hot studio, classes differ from heated Power Vinyasa to Hot Mat Pilates, all which help to detox and build strength. The non-heated studio also offers Power Vinyasa in addition to Wise Warrior (for seniors), Tranquil/Restorative yoga, and kids and tween yoga. All of the certified instructors have dynamic and extensive backgrounds in yoga, exercise science, health, and fitness.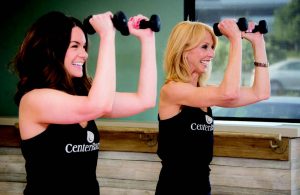 CENTERBARRE
Whizin Market Square
28878 Roadside Dr, Agoura Hills
818.852.7273 | centerbarre.com
CenterBarre is a boutique exercise studio offering a better way to be your best self. We offer a unique workout program to get you lean, limber, and strong in a class you'll actually like — combining the best of barre, Pilates, yoga, and cardio. Our program is designed to challenge you regardless of age, weight, or fitness level. "I've designed a program that is safe, efficient, effective, and fun," says Janet Katleman, owner and creator of the CenterBarre program. "Every movement in our workout has meaning so you can get maximum results in a minimum amount of time. Bodies change at CenterBarre, and they change quickly."
I LOVE KICKBOXING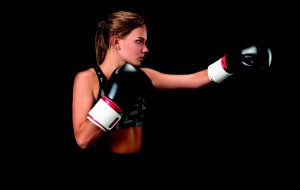 5875 Kanan Rd., Agoura Hills
818.292.8863 | ilovekickboxing.com

iLoveKickboxing fitness studio has brought a community to Agoura Hills that really cares and encourages its members to improve and fight for the best body possible. They have continued to grow since their opening over two years ago, with multiple fitness studios across the United States. The inspirational instructors hold you accountable and bring their high energy to every class to motivate you to build muscle, increase endurance, boost energy, and lose weight all at the same time. These bag-hitting, adrenaline-flowing workouts engage and challenge. There is never a dull moment at iLoveKickboxing Agoura Hills!