Health Check 2023
January 1, 2023
Physician and Healthcare Provider Directory
Our local medical professionals are always on the
front lines and all deserve our deep appreciation
for continuing to provide us with the medical care
and services we need. We are fortunate to have
access to some of the best hospitals, doctors, dentists,
and healthcare professionals in the country,
dedicated to helping us achieve the health and
wellness goals for ourselves and our families. Calabasas
Style is proud to present you with this medical
resource guide to help you learn more about some
of the incredible medical professionals living and
working in our community. As we enter into a new
year, we hope that you will find this resource guide
helpful on your healthy and happy journey!
---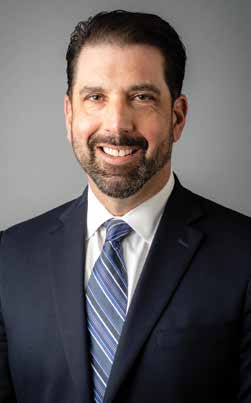 PROVIDENCE CEDARS-SINAI TARZANA MEDICAL CENTER
Nick Lymberopoulos | Chief Executive
18321 Clark St., Tarzana | 818.881.0800 | providence.org
Nick Lymberopoulos is Chief Executive of Providence Cedars-Sinai Tarzana Medical Center, an award-winning hospital nearing completion of a major $644 million Tarzana Reimagined expansion and renovation. In 2019, Providence and Cedars-Sinai Health System agreed to a joint venture to own and operate the Tarzana hospital. The partnership coincided with construction of a new five-story patient tower and renovations throughout the existing hospital. The centerpiece of the new hospital is the five-story Friese Family Patient Tower featuring all private rooms and the latest in sustainable, energy-efficient design. The Emergency Department is being expanded to more than double its capacity. State-of-the-art technology will be added throughout the hospital, and there will be a healing garden offering a tranquil experience to patients, visitors and staff. U.S. News & World Report ranked Providence Cedars-Sinai Tarzana one of the top hospitals in Southern California and in the top 40 across California for quality care. It was lauded as high performing for performance in 10 procedures and specialties, including neurosurgery and treatment of COPD, heart attack, kidney failure, pneumonia, and stroke. In 2022, the hospital was the first in the San Fernando Valley to perform a robotic-assisted lobectomy to remove an aggressive earlystage lung cancer. The hospital was also the first in the Valley to perform leading-edge Aquablation therapy for the treatment of an enlarged prostate. By year's end, physicians performed more than 100 of the latter procedure. In 2023, Providence Cedars-Sinai Tarzana is celebrating 50 years serving the community and will open the new patient tower in October.
---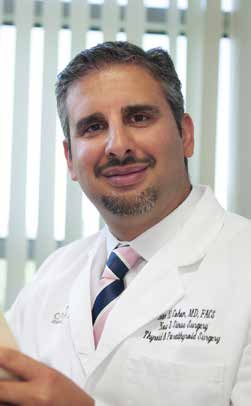 SOUTHERN CALIFORNIA SINUS INSTITUTE
Alen N. Cohen, MD, FACS, FARS
7345 Medical Ctr. Dr., #510, West Hills
818.888.7878 | socalsinus.com
Anyone who has suffered through the pain and discomfort of severe sinus infections knows just how debilitating they can be. The good news is that these conditions are not just treatable but actually curable now. Dr. Alen Cohen is a board-certified nose and sinus surgeon and assistant clinical professor of surgery at the David Geffen School of Medicine at UCLA. He is also the founder and director of the Southern California Sinus Institute (SCSI), which has become one of the premier sinus centers in Southern California. He has also been named a Los Angeles Magazine Super Doctor annually since 2013 and a national Castle-Connolly Top Doctor since 2017.
As such, thousands of patients have benefited from Dr. Cohen's life-changing procedures, which include the medical and surgical treatment of patients with all nasal and sinus disorders, including nasal obstruction, deviated septum, environmental allergies, acute and chronic sinusitis, nasal polyps, and sinus headaches. One of the most common procedures Dr. Cohen routinely performs is the revolutionary in-office Balloon Sinuplasty™ procedure, for which he is one of the top three performers on the West Coast. This amazing procedure dilates the sinus openings with a balloon so the sinuses can drain, thus preventing sinus infections, and so the patient can breathe better. As such, patients routinely come to him from all over Southern California for management of their chronic nose and sinus problems and definitive relief.
---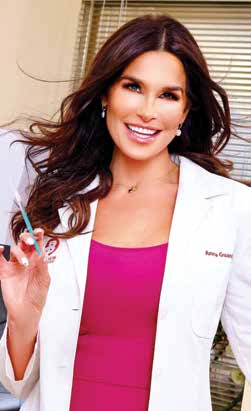 BELLA SKIN INSTITUTE
Anna Guanche, MD
23622 Calabasas Rd., #339, Calabasas
818.225.0117 | bellaskininstitute.com
Anna Guanche, MD, is a board-certified celebrity dermatologist and author specializing in cosmetic procedures. Her practice, Bella Skin Institute in Calabasas, is where she has assembled her "derm dream team" of professionals to care for the concerns of celebrities, CEOs, and supermoms. The state-of-the-art facility is warm and engaging and provides clients with the most innovative procedures available to perfect skin. Bella Skin Institute is dedicated to combining medical science and cosmetic beauty to provide clients with customized treatments to meet their needs, from dermatology services to minimally invasive cosmetic procedures performed at the facility. Procedures include the fifteen minute filler facelift called the GuancheLift(TM), Fraxel laser resurfacing, Bella FX RF microneedling for skin tightening, Bella Microgold skin perfecting facial, platelet rich plasma for collagen rejuvenation and hair growth, Thermage CPT™, Ultherapy™, non-invasive body contouring with KyBella™, CoolSculpting™, and EmSculpt™ procedures, and the latest injectables for wrinkle reduction. Aesthetician services include Diamond Glow, dermaplaning, acne facials, waxing, and so much more!

General dermatology services include skin cancer screening and surgery and acne, rash, and eczema treatments. Dr. Guanche is a fellow of the American Board of Dermatology, was a member of the dermatology staff at the UCLA Dermatology department for 13 years, and continues to teach physicians and residents in her office. Dr. Guanche and her staff approach their work with absolute joy and infectious enthusiasm, which is felt throughout the practice. Follow Dr. Guanche on social media @annaguanchemd and @bellaskininstitute.
---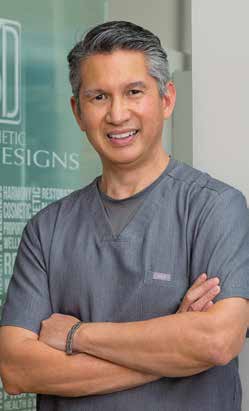 AESTHETIC SMILE DESIGNS
Bernie B. Villadiego, DDS
23622 Calabasas Rd., #119, Calabasas
818.341.1345 | powerofthesmile.com
Cosmetic, functional, and restorative dentist Dr. Bernie Villadiego is an accredited member of the American Academy of Cosmetic Dentistry, which recognizes him as being among the top cosmetic dentists in the world. It is this accreditation that separates him from other dentists.

Unlike dentists who focus on short-term fixes, treating one tooth at a time, Dr. Villadiego focuses on long-term solutions. To do this, he uses a functional corrective dentistry approach which focuses on the chewing system as a "whole" and how that relates to the overall health of the body. Part of this approach uses a unique restorative technique called Biorejuvenation, which incorporates esthetic and functional long-term practices in order to give patients a stable, natural, and pain-free smile.

As one of only 480 dental professionals in the world to be accredited, Dr. Villadiego's devotion to the art and science of cosmetic dentistry means patients will have a beautiful smile that will last. Dr. Villadiego teaches advanced techniques in cosmetic dentistry to other dentists at the world-renowned Spear Education Center in Scottsdale, Arizona. Additionally, he is a participating dentist for the national Give Back a Smile program, providing esthetic dentistry to victims of domestic violence.
---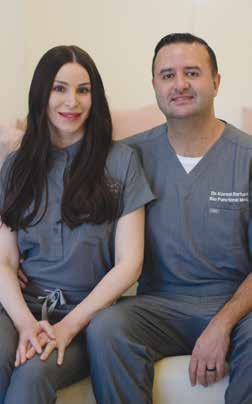 SKIN BIO
Cristina Borhani, MSN, NP & Korosh Borhani, D.O.
22263 Mulholland Hwy, Calabasas
818.222.9797 | skinbio.co
Cristina Borhani, NP, and her husband, Dr. Korosh Borhani, bring a unique approach to their latest endeavor, Skin Bio, which rebranded a well-known Calabasas med spa in 2018 to offer the same aesthetic services in addition to cosmetic dermatology and functional medicine. With over 10 years of experience in medical dermatology, Cristina is an expert in all things related to skin. She completed her Masters of Science in Nursing from Azusa Pacific University as a family nurse practitioner. Her specialties include creating a natural yet youthful appearance using injectables and anti-aging lasers. Korosh completed his medical doctorate at Arizona College of Osteopathic Medicine. His post-graduate training and board certification was in emergency medicine at Michigan State University–St. John's Providence Hospital, where he graduated as Chief Resident. In 2019, he completed his advanced fellowship in anti-aging and regenerative medicine from the American Academy of Anti-Aging Medicine. His comprehensive medical approach allows him to use individually tailored testing and in-depth analysis of each patient's mind and body, creating a personalized treatment plan. Dr. Borhani also treats critically ill patients at West Hills Hospital. The husband and wife team, both alumni of Calabasas High School, feel incredibly fortunate to serve the community that shaped them.

The team at Skin Bio is dedicated to developing creative solutions in skincare and wellness to help their patients look and feel their best.
---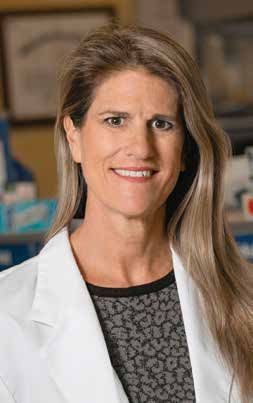 CALABASAS PHARMACY
Brenda Johnson, R. Ph.
22277 Mulholland Hwy., Calabasas| Inside Gelson's Market
818.223.8656 | calabasaspharmacy.com
Calabasas Pharmacy has been proudly caring for customers since 1996 when the pharmacy first became a cornerstone of healthcare for the community. Pharmacist Brenda Johnson opened the pharmacy because she wanted to practice pharmacy by getting to know her patients and providing comprehensive care in an efficient manner. Consumer Reports states that independent pharmacies make fewer errors, offer swifter service, and are more likely to have medications ready for pickup when promised–which holds true for Calabasas Pharmacy.

Brenda was one of the first pharmacists to become certified to administer immunizations over 25 years ago. She is certified in all immunizations and offers COVID vaccines in addition to shingles, pneumonia, flu, Tdap, and many more. Brenda is also trained in hormonal contraception and can conveniently furnish birth control to patients without a prescription. Calabasas Pharmacy provides medication synchronization, which means they will synch all your medications so they can be picked up together once a month before you run out of anything. Your prescriptions and vitamins can also be prepackaged into a blister packaging system to remind you to take them at the correct time each day. Home delivery is available. They take most insurance plans, including Medicare Part D, and work with your doctor to get your medications approved. Calabasas Pharmacy is open seven days a week. It is very easy to transfer existing prescriptions by calling directly at 818.223.8656.
---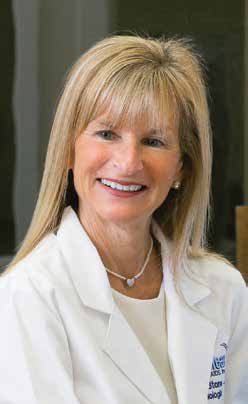 HEAR CLEAR HEARING AIDS, INC.
Iris Stone, AuD., FAAA, Doctor of Audiology | Diagnostic Clinical Dispensing Audiologist
4764 Park Granada, #109, Calabasas
818.222.HEAR (4327) | hearclearhearingaids.com
Iris Stone, AuD, FAAA, Doctor of Audiology, earned her degrees from New York University, St. John's University, and A.T. Still University in education, health administration, and audiology. She is a Fellow of the American Academy of Audiology, the Academy of Doctors of Audiology, and the California Academy of Audiology. She sits on the board of directors of the Calabasas Chamber of Commerce and was the United Chambers of Commerce San Fernando Valley's recipient of the 2016 Small Business Award and the 2017 Chamber of Commerce Chairmans' Award for service in the Calabasas community. Her clinical expertise is in diagnostic testing, including comprehensive audiological evaluations, tinnitus evaluations, and management with a specialty in hearing-aid fittings and rehabilitation. Her unique style is her ability to listen to the concerns of each individual and find a solution based on patients' budget acoustic, and cosmetic needs. Her focus is on her patients' lifestyles, always delivering thorough care with complete follow-up. Hear Clear Hearing Aids, Inc., offers a completely new approach to a hearing care facility. Appointments start on time and last as long as needed. Despite the fact that hearing loss is the third most common health problem in the country, technology has become so advanced that it is possible to restore a person's hearing almost 100% if they are properly diagnosed and fitted correctly with the right product. Dr. Stone uses state-of-the-art technology to test, counsel, and complete the needs of her patients, as well as provide the best quality care. Hear Clear Hearing Aids office is conveniently located on Park Granada across from the Commons at Calabasas.
---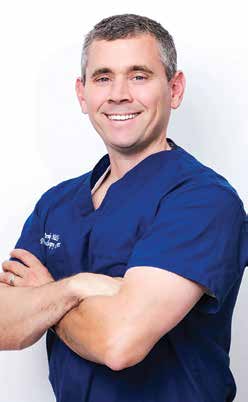 HOEFFLIN PLASTIC SURGERY
Jeffrey Hoefflin, MD FACS | Calabasas Surgery Center
23621 Park Sorrento, #102, Calabasas | 818.617.9713
8929 Wilshire Blvd., Penthouse Suite, Beverly Hills | 310.273.5100
hoefflinplasticsurgery.com
Dr. Hoefflin completed his plastic surgery training at some of the country's most prestigious hospitals, including Cornell and Columbia-Presbyterian Hospitals and Memorial Sloan Kettering in New York City. Dr. Hoefflin has garnered a reputation for his surgical excellence and expertise in plastic surgery. He is frequently complimented for his natural and rejuvenated results. Dr. Hoefflin has maintained an established practice for close to two decades in Beverly Hills and has recently joined the esteemed group of surgeons at the new Calabasas Surgery Center to better serve his patients in the greater Calabasas area. Dr. Hoefflin is often sought out for the most innovative and safest surgical techniques in facial, breast, and body rejuvenation. He frequently combines the newest skin-tightening lasers and techniques with his plastic surgery operations. Dr. Hoefflin's highly visible patients have appeared in magazines, including Cosmopolitan, Vogue, Playboy, Vanity Fair, GQ, and Elle magazines. Dr. Hoefflin is a diplomate of the American Board of Plastic Surgery and a fellow of both the American College of Surgeons and International College of Surgeons. In addition, he is a member of the Los Angeles Society of Plastic Surgeons. Dr. Hoefflin holds admitting and operating privileges at the UCLA Medical Center. He has lectured extensively worldwide on a diverse array of plastic surgery topics, including safety in the operating room, facelifts, laser liposuction, and combination procedures. Dr. Hoefflin works with numerous medical specialists to offer his expertise in plastic surgery. As a resident at The Oaks of Calabasas, he looks forward to working with his patients closer to home.
---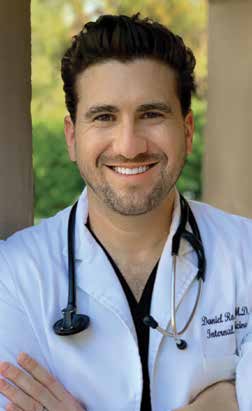 CALABASAS MEDICINE
Daniel Rosen, MD | Internal Medicine Specialist
23621 Park Sorrento, #102, Calabasas | 818.797.8000 | calabasasmed.com
Daniel Rosen, MD, is a board-certified internal medicine physician and the founder of Calabasas Medicine. He opened his concierge practice to allow his patients to experience a new paradigm of health—one without long office wait times or feeling rushed at appointments. At Calabasas Medicine, Dr. Rosen and his experienced team offer personalized concierge medicine to make his patient's healthcare experience as enjoyable, educational, and convenient as possible—all with a level of personalized care above and beyond traditional medical practices.

Dr. Rosen specializes in adult outpatient and hospital medicine, managing both common and complex illnesses of young adults, adults, and the elderly. Dr. Rosen's philosophy is to merge the best of "old-school medicine" with modern technology. As a concierge physician, Dr. Rosen organizes care, focusing on prevention and lifestyle treatments as well as needed medications. He offers acute and chronic disease management, diagnostic testing, comprehensive physical exams, and personalized treatments that get patients on the road to recovery quickly. He utilizes the most innovative, advanced technologies, recommending the least invasive options first.

While Dr. Rosen currently has a wait list for new patients, he recently expanded his practice with the addition of Dr. Jacob Cohen and Dr. Nathan Alyesh, who are also board-certified Internal Medicine physicians offering the same concierge healthcare services. Both doctors look forward to welcoming new patients to Calabasas Medicine Group, where patients are treated with the respect and dignity they deserve and who have a voice in their own care.
---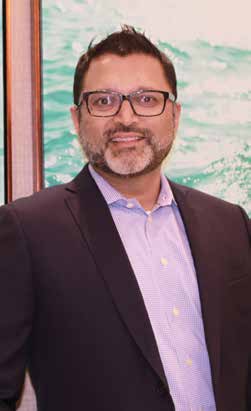 CALABASAS SURGERY CENTER
Mayank V. Patel, MD | Medical Director | Calabasas Surgery Center
23621 Park Sorrento, #100, Calabasas | 818.746.1444
Genesis Healthcare Partners | Urologist
18321 Ventura Blvd., #150, Tarzana | 818.776.0660
Mayank Patel, MD, is the medical director of the Calabasas Surgery Center, where he oversees the clinical and administrative staff and helps to maintain and improve the quality of care for all patients. Dr. Patel specializes in minimally invasive surgery for urologic diseases. Following his desire to pursue medicine, Dr. Patel moved from Zambia and graduated from Boston University with his undergraduate degree before attending Tufts University School of Medicine, where he received his medical degree in 2006.

Dr. Patel completed an internship in general surgery and then began his urology residency at UCLA, where he was awarded the prestigious Willard E. Goodwin Resident Teaching Award. In addition to his role as medical director at the Calabasas Surgery Center, Dr. Patel sits on the Cedars-Sinai Valley Network Medical advisory board and is actively involved in the robotic surgery program at Providence Cedars-Sinai Tarzana Medical Center.
Dr. Patel is also a physician at Genesis Healthcare Partners, an affiliate of Unio Health Partners. Genesis Healthcare Partners is a multi-specialty physician practice dedicated to the diagnosis and treatment of urologic conditions, digestive health issues, and many cancers. They have integrated offices throughout Southern California and provide access to cutting-edge technology and minimally invasive treatments.
---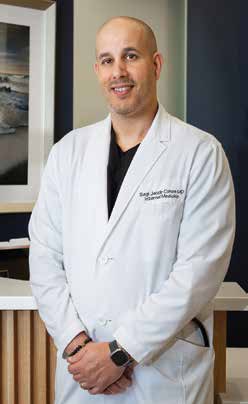 CALABASAS MEDICINE GROUP
Sagi Jacob Cohen, MD | Internal Medicine Specialist
23622 Calabasas Rd., #122, Calabasas | 818.881.8252
Dr. Sagi Jacob Cohen is a board-certified internal medicine physician in Calabasas. Dr. Cohen completed his internal medicine residency at UCSF Fresno in 2014 and has been a full-time clinician while also teaching students. He is affiliated with and has maintained his privileges with Providence Cedars-Sinai Tarzana Medical Center since 2014.

Dr. Cohen offers personalized concierge medicine to make his clients' experience welcoming, efficient, and convenient. The focus is on timely, compassionate, preventative care and a patient-centered approach. With a gentle bedside manner, Dr. Cohen and his team are dedicated to their clients' health and well-being and strive to provide the highest level of care. He believes that patients deserve longer visits with minimal waiting time, expedited access to top specialists, and access to thier doctor outside of regular office hours.

Dr. Cohen sees a limited number of patients to ensure non-rushed visits and enable a comprehensive understanding of each patient's health needs. Dr. Cohen offers management of acute and chronic conditions, in-office diagnostic testing, comprehensive physical exams, and personalized treatment plans utilizing the most innovative and advanced technologies.

The Calabasas Medicine Group is a fully equipped practice with a variety of the latest diagnostic modalities and treatments for convenience and faster results.
---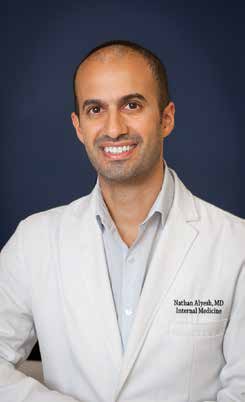 CALABASAS MEDICINE GROUP
Nathan Alyesh, MD | Internal Medicine Specialist
23622 Calabasas Rd., #122, Calabasas | 818.881.8252
Dr. Nathan Alyesh is a board-certified internal medicine physician and has opened a new concierge practice in Calabasas. Dr. Alyesh is affiliated with and has maintained privileges at Providence Cedars-Sinai Tarzana Medical Center, Cedars-Sinai Medical Center, and the California Rehab Institute. In his concierge practice in Calabasas, Dr. Alyesh can schedule new patients with extended appointment visits to address all their health and wellness needs.

He is a skilled physician, who is kind, compassionate, and has excellent bedside manners. Dr. Alyesh strongly believes in shared decision making between patient and doctor. He understands that no two patients are alike and devises a plan unique to each individual. Dr. Alyesh encourages patients to ask questions about their medical care to allow each visit to be educational and enjoyable. He focuses on preventative care and offers management of acute and chronic diseases. As a concierge medical physician, Dr. Alyesh limits the number of patients he works with to ensure each patient receives ample time for each visit and top-quality care.

Dr. Alyesh offers management of acute and chronic conditions, in-office diagnostic testing, comprehensive physical exams, and personally treatment plans, utilizing the most innovative and advance technologies. He looks forward to welcoming new patients to his Calabasas practice.
---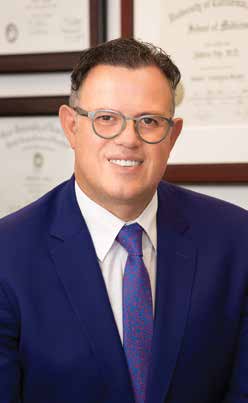 TOTAL SPINE INSTITUTE
Andrew Fox, MD
23632 Calabasas Rd., #100, Calabasas
4849 Van Nuys Blvd., #203, Sherman Oaks
818.616.4429 | totalspineinstitute.org
With more than two decades of specialized experience and clinical expertise, Andrew Fox, MD, employs the most advanced solutions for spine pain and injuries. In his role as a surgeon at Total Spine Institute, Dr. Fox helps patients review all non-surgical options before exploring spine surgery. If surgery is the best solution, Dr. Fox uses modern, minimally invasive techniques that only require small incisions and reduce risks for the patient. His specialties include minimally invasive surgery, outpatient procedures, artificial disk technology, cervical and lumbar procedures, motion preservation technology, and techniques for a quicker and easier recovery.

Dr. Fox earned his medical degree at Rosalind Franklin University of Medicine and Science (formerly Chicago Medical School and the Finch University of Health Sciences) in North Chicago, Illinois. He completed his internship at Brookdale University Hospital and Medical Center in Brooklyn, New York and completed his neurosurgery residency at the University of California Davis Medical Center in Sacramento. Dr. Fox is also a fellow of the American Association of Neurological Surgeons and is an instructor and consultant for the FDA-approved Coflex® Interlaminar Stabilization® device. Dr. Fox, a board-certified neurological spine surgeon, treats patients at Total Spine Institute and serves as the chief of neurosurgery for Tarzana Providence Cedars-Sinai Medical Center. Many of his minimally invasive surgeries can be performed at the new Calabasas Surgery Center located in the same complex as his Calabasas office.
---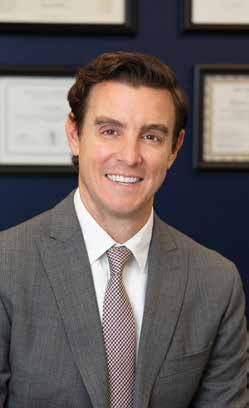 TOTAL SPINE INSTITUTE
Ryan Mattie, MD
23632 Calabasas Rd., #100, Calabasas
4849 Van Nuys Blvd., #203, Sherman Oaks
818.616.4429 | totalspineinstitute.org
Dr. Ryan Mattie is an interventional spine and pain management specialist with more than 10 years of experience. He offers advanced treatments, including image-guided injections, spinal stabilization devices, spinal cord stimulation, and regenerative medicine therapies to address acute, chronic, or cancer-related pain. Throughout his career, Dr. Mattie has helped countless patients with back and neck pain, musculoskeletal injuries, and nerve-pain disorders like complex regional pain syndrome. Dr. Mattie earned his medical degree from the University of Miami School of Medicine, where he received the Physician Commendation for Exceptional Professionalism and Service. Dr. Mattie completed his internship at the University of California, Irvine and his residency at Stanford University School of Medicine, serving as chief resident. After residency, Dr. Mattie continued his training in advanced interventional pain management at one of the top fellowships in the country at the University of California, San Francisco School of Medicine.

Dr. Mattie is board certified in both pain management and physical medicine and rehabilitation. He has published more than 40 peer-reviewed articles in renowned pain, spine, orthopedic, and sports medicine journals. Dr. Mattie serves on the board of directors for the Pacific Spine and Pain Society and is the chair of their research committee. He also serves as vice chair of the standards division for the Spine Intervention Society. Additionally, Dr. Mattie is the associate editor for the Minimally Invasive Surgery section of the Interventional Pain Medicine journal.
---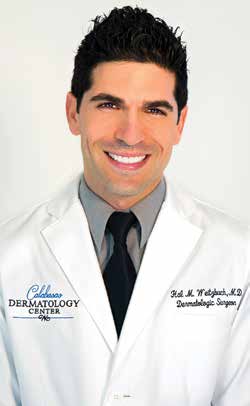 BRILLIANCE DERMATOLOGY
Hal Weitzbuch, MD
23501 Park Sorrento, #216, Calabasas
818.222.7495 | brilliancedermatology.com
Dr. Weitzbuch is an award-winning, double board-certified dermatologist and Mohs surgeon. An adjunct professor of medicine at UCLA, he specializes in diagnosing and treating diseases, cancer, and age-related changes of the skin, hair, and nails. Dr. Weitzbuch received a Bachelor of Science in Biomedical Engineering from Northwestern University, followed by a Master's Degree in Applied Physiology at the Chicago Medical School, where he also went on to obtain his medical degree. Dr. Weitzbuch then undertook a oneyear internship working at Harbor-UCLA Medical Center, training exclusively in surgery. After successfully finishing a dermatology residency at the famed Cook County Hospital, he completed specialty training with an extended Mohs surgery preceptorship. Dr. Weitzbuch's vast training in cosmetic and aesthetic surgery combine to provide his patients with extraordinary results beyond their expectations. Dr. Weitzbuch has presented at numerous national and local meetings and has been published in multiple peer-reviewed journals. He obtained a patent and grant for prior research and has received many awards throughout his extensive career. A Calabasas native, Dr. Weitzbuch completed his formative education at Calabasas High School, A. E. Wright Middle School, and Round Meadow Elementary. Funny enough, his wife did as well, but they didn't meet until much later in life at just the right time! After 12 years of training in Chicago, Dr. Weitzbuch loves being back home in Southern California spending time with his wife and daughters, coaching them in soccer, and of course, they are always wearing sunscreen!
---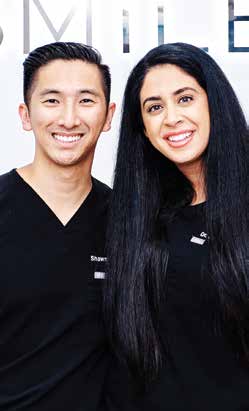 THE SMILE SPA
Shawn Nguyen, DDS | Joelle Abed Elahad, DDS
27509 Agoura Rd., #200, Agoura Hills | 818.699.9377
agourahillscosmeticdentists.com | IG: @thedentalcouple
Warmly known as "The Dental Couple," Dr. Joelle Abed Elahad and Dr. Shawn Nguyen have created a unique and comprehensive dental experience for their patients at their beautifully modern Agoura Hills office. While providing pristine technique and evidence-based dentistry, they also pride themselves on the ability to cater to each patient's unique concerns and needs. Their ultimate purpose is to create a friendly and stress-free environment where their patients feel heard and confident that they are receiving the best care possible. Dr. Joelle and Dr. Shawn both attended the University of Detroit Mercy School of Dentistry after completing their undergraduate studies at the University of California, San Diego. They enjoy sharpening their skills and expanding their knowledge by participating in additional continuing education courses as often as possible. Dr. Joelle's compassionate personality and enthusiasm for life make her an approachable and trustworthy clinician as evidenced by her happy and ever-growing patient family. Her love for dentistry and human connection go hand in hand. Dr. Shawn is a strong advocate for volunteering and loves giving back to underserved communities both domestic and foreign and has been fortunate enough to travel with the U.S. Navy on dental humanitarian missions in countries such as the Philippines, Singapore, Vietnam, East Timor, Cambodia, and the Dominican Republic. When they aren't curating beautiful and healthy smiles, Dr. Joelle and Dr. Shawn enjoy traveling and being with their family, especially their two young sons. Find them on social media @thedentalcouple.
---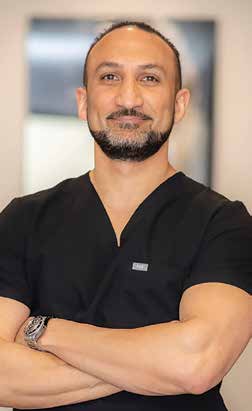 ALLURE MEDICAL AESTHETICS
Pedram Bagheri, MD
540 N. Moorpark Rd., #6, Thousand Oaks | 805.870.5848
ama-medspa.com | IG: @ama_medspa
Pedram Bagheri, MD, completed his internal medicine residency training in Phoenix, Arizona in 2007 and subsequently earned his board certification by the American Board of Internal Medicine (ABIM). Since then, he moved back to his home state of California to be close to the most important people in his life—his family and friends. He partners with local hospitals, including West Hills Hospital and Los Robles Hospital, to care for critically ill patients in the Conejo Valley and surrounding areas and heads a large private hospitalist group in the community.

After training with some of the top injectors in Southern California, Dr. Bagheri's longtime passion for aesthetic medicine inspired him to open Allure Medical Aesthetics (AMA), a top-notch med spa in the heart of Thousand Oaks. The doctor brings his expertise in many aesthetic procedures to AMA, including Botox and other neuromodulators, hyaluronic acid (HA) injectable fillers, radiofrequency (RF) devices for skin tightening (Morpheus8), Y lift and PDO thread lift procedures, Cortessa Tetra CO2 and Aerolase Neo Skin lasers, and Magnym male penile enhancement. He has selected highly trained aesthetic specialists with years of experience in their field to complete AMA Med Spa's team.

Dr. Bagheri prides himself on creating a subtle aesthetic improvement that accentuates each person's signature look. He continuously seeks out new training opportunities for himself and his staff to provide his patients with the most up-to-date technology and procedures.
---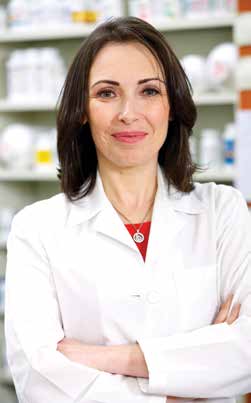 COURTYARD PHARMACY
Greta Goldshtein, PharmD, APh
23693-B Calabasas Rd., Calabasas
818.403.3072 | courtyardpharmacy.com
Courtyard Pharmacy's founding pharmacist, Greta Goldshtein, is an advanced practice pharmacist who earned her doctor of pharmacy from USC School of Pharmacy in 1997. Greta honed her skills as an inpatient pharmacist at Cedars-Sinai Medical Center and then as an outpatient pharmacist and owner of Roxbury Pharmacy in Beverly Hills. She based Courtyard Pharmacy's services on a collaborative-care model that includes a pharmacist who can augment physician-provided care, deliver medication therapy management, provide preventative care services, such as vaccinations and travel health, and facilitate transitions of care. Greta believes that patients should have the opportunity to engage in meaningful partnerships with caring and knowledgeable health professionals who work together to simplify the process involved in receiving medical care. The pharmacy's staff can steward the care of your family members to alleviate the burden on busy caregivers having to navigate medication therapy on their own.

Greta and her staff strive to build strong relationships with their neighbors so that they can get a full understanding of every patient's needs, meet their expectations, and keep them involved in their care at every phase. They invite all potential patients to call the pharmacy or stop by to find out how the team can support you. State-of-the-art healthcare and wellness support are now available to all age groups at your doorstep in Calabasas.
---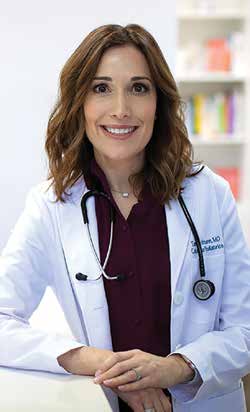 CALABASAS PEDIATRICS WELLNESS CENTER
Tanya Altmann, MD, FAAP
23586 Calabasas Rd., #107, Calabasas
818.914.4429 | calabasaspeds.com
Dr. Tanya Altmann is a UCLA-trained pediatrician providing personalized, concierge pediatric healthcare with an emphasis on integrative medicine, nutrition, and a healthy lifestyle. As a spokesperson for the American Academy of Pediatrics and Adjunct Clinical Professor at Children's Hospital Los Angeles, Dr. Tanya has a broad understanding of the most recent medical developments. She is the author of several best-selling parenting books, including Baby and Toddler Basics, and is a sought-after child-health expert for numerous local and national news programs and talk shows.

With more than 25 years of experience helping families with everything from day-to-day health concerns to choosing the best preschool to gathering experts from around the country to solve unusual cases, Dr. Tanya is the goto concierge pediatrician in Calabasas and surrounding areas, seeing children from birth through college. Her clean, modern office is conveniently located in old town Calabasas.

Calabasas Pediatrics offers comprehensive convenient appointments, virtual visits, home visits, coordination of care with specialists, email and text access, and 24/7 availability for today's busy families to reach their pediatrician when needed, even while traveling. In addition to top-notch pediatric medicine, the wellness center also offers an advanced newborn care specialist for lactation and feeding support, mommy and me classes, parent education, and nanny training.
---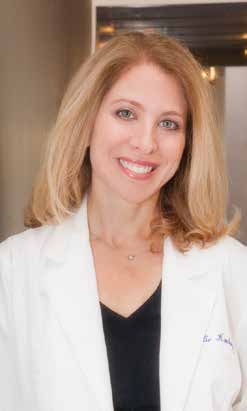 ADOLESCENT AND YOUNG ADULT MEDICINE
MEDICAL CARE FOR EATING DISORDERS
Leslie Kaplan, MD | Calabasas Pediatrics Wellness Center
23586 Calabasas Rd., #107, Calabasas
818.739.0330 | drlesliekaplan.com
Dr. Kaplan is a pediatrician specializing in adolescent and young adult medicine with over 20 years of experience treating and helping guide the medical treatment of patients with eating disorders such as anorexia nervosa, bulimia nervosa, binge eating disorder, avoidant restrictive food intake disorder, and related disorders. She now offers her unique medical expertise in a concierge-type practice at the Calabasas Pediatrics Wellness Center, one of only a handful of doctors in the country with a private practice specializing in eating disorders. In this ideal setting, she is unfettered by time constraints and can devote as much time and attention as is needed for optimal care of her patients. After receiving her medical degree from UCLA, Dr. Kaplan went on to pediatric residency and an adolescent medicine fellowship. Since then, Dr. Kaplan has treated adolescents and young adults in a variety of primary care settings and has worked with countless eating disorder patients at Pepperdine University and elsewhere. She also helped establish the Eating Disorder Treatment Team at KPMG, Woodland Hills, and served as supervising physician at a local eating disorder treatment center.
Dr. Kaplan works in conjunction with community therapists, psychiatrists, and nutritionists to offer the gold standard of eating disorder treatment team care. In addition, she provides general medical care to adolescents and young adults in the Calabasas Pediatrics Wellness Center model, which couples the best of conventional medicine with a holistic, integrative approach.
---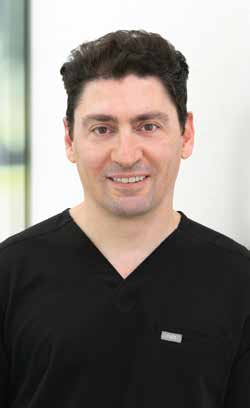 CALABASAS DENTAL INSTITUTE
Armen Galustian, DDS
4764 Park Granada, #107, Calabasas
818.224.2420 | calabasasdentalinstitute.com
Dr. Armen Galustian has been a dentist since 2002 and is a graduate of USC School of Dentistry. He comes from a family of dentists, where both his father and brother share the same passion for dentistry. Dr Armen has many years of experience as a cosmetic dentist, offering the most comprehensive treatments to get the best smile makeover for his patients. He has extensive training in the use of digital imaging and photography and offers comprehensive cosmetic, restorative, and preventive care, including top-quality porcelain veneers, dental implants, Invisalign®, and dental bonding. Dr. Armen is committed to going the extra mile by educating his patients and making sure they are as comfortable as possible during their treatments while providing them with the smile they deserve.

Dr. Armen's goal at Calabasas Dental Institute is to provide a one-stop shop for all his patients' dental needs. From preventive-care check-ups to cosmetic and restorative procedures, his staff can provide the whole family's complete dental care. This eliminates having to be referred to a specialist or driving around to different offices for multiple issues. Dr. Armen is a standing member of the American Dental Association, Los Angeles Dental Society, California Dental Association, and University of Southern California Dental Association. Dr. Armen is a professional travel photographer and enjoys spending time with his family and playing piano.
---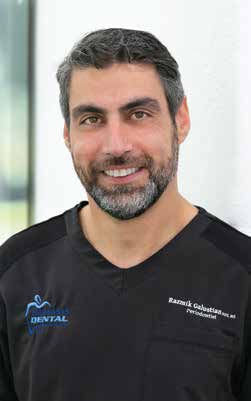 CALABASAS DENTAL INSTITUTE
Razmik Galustian, DDS
4764 Park Granada, #107, Calabasas
818.224.2420 | calabasasdentalinstitute.com
Razmik Galustian, DDS, has been a dentist since 2003 and is a periodontist specializing in gum disease. After moving to the United States, he received his DDS degree from University of California, Los Angeles (UCLA). He continued his education to achieve his specialty certificate in periodontics and dental implants and his master's in oral biology from Temple University. Dr. Razmik is a Diplomate of the American Board of Periodontology and a fellow of the Misch Implant Institute in both surgical and prosthetic modules. He is an active member of the American Academy of Periodontology, Academy of Osseointegration, American Dental Association, the California Dental Association, and the San Fernando Valley Dental Society. He is a Diplomat of International Congress of Oral Implantologists and is also part-time faculty in the periodontology program at the USC School of Dentistry.

Dr. Razmik places tremendous value in a courteous and gentle chair-side manner in addressing all aspects of periodontics, including but not limited to surgical and non-surgical treatment of periodontal diseases; surgical placement of dental implants; root coverage and gum grafting; bone regeneration, including sinus augmentation; and minimally invasive tooth extractions. His goal is to provide his patients with the highest quality, thorough, and state-of-the-art periodontal and dental implant therapy. Dr. Razmik is married and enjoys traveling the world with his wife to expand their horizons.
---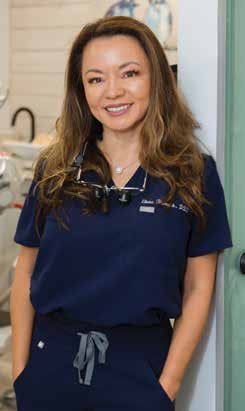 CALABASAS PEDIATRIC DENTISTRY
Elena Rumack, DDS
23622 Calabasas Rd., #101, Calabasas
818.222.4543 | calabasastoothfairy.com
Dr. Elena Rumack is a board-certified pediatric dental care provider. She obtained her Doctor of Dental Surgery degree from UCLA and completed her residency specializing in caring for patients with special needs. Dr. Rumack furthered her experience by completing a second residency in pediatric dentistry and continues to lecture and provide clinical instruction at UCLA.

Affectionately called the "Tooth Whisperer" by parents, Dr. Rumack is known for her gentle touch in treating children and her comforting communication with parents. She is also known among pediatricians, lactation consultants, and peers as an expert in laser frenectomy procedures for infants as well as children. These procedures are performed to assist with breast feeding, palatal development, and speech. Dr. Rumack has been successfully performing frenectomies for over eight years.

Dr. Rumack is known for her calm demeanor that puts children at ease pre, during, and post dental treatment and strongly believes in preventive dentistry. Dental visits include focus on nutrition, education, and positive reinforcement in a nurturing environment to encourage early prevention of dental disease. As recommended by the American Academy of Pediatric Dentistry, Dr. Rumack encourages parents to bring their children in for their first dental visit by 1 years old.
---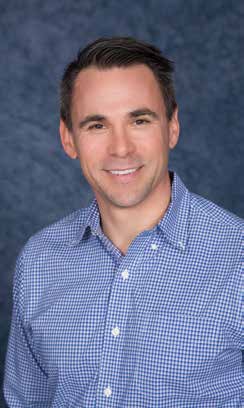 PAIR ORTHODONTICS
Jason Pair, DDS
23622 Calabasas Rd., #119, Calabasas
818.222.4543 | pairorthodontics.com
After graduating from UC Los Angeles with a B.S. in physiological sciences, Dr. Pair traveled north to dental school where he attended UC San Francisco. He then completed his orthodontic residency in 1999 at UCLA, where he was chief resident. His research project was published in the American Journal of Orthodontics & Dentofacial Orthopedics, the leading peer-reviewed journal in the profession. He has had multiple case reports published since that time.

Dr. Pair is a member of the San Fernando Valley Dental Society, where he was president for the year 2007. He is a lecturer and clinical instructor in the UCLA Orthodontics Residency Program. He is a member of the American Association of Orthodontists, the American Dental Association, the California Dental Association, the Pacific Coast Society of Orthodontists and the Angle Society of Orthodontists. He is currently serving as Vice President of the Southern California Component of the Angel Society. In addition to lecturing at UCLA, he has lectured to the California Society of Pediatric Dentists, the San Fernando and San Gabriel Valley Dental Assistant Societies, and the ROP program of Santa Clarita and at the University of Francisco Marroquin in Guatemala. He has participated in various volunteer dental organizations, traveling to Guatemala, Mexico, and Israel. Dr. Pair is dedicated to creating beautiful and healthy smiles and offers orthodontic services for children and adults. He is proud to be associated with Dr. Rumack, serving the community where he resides. Services include all forms of self-ligating braces, Invisalign, and surgical and accelerated orthodontics for children, teens, and adults.
---