World of Wine
August 3, 2023
Wines of Monterey County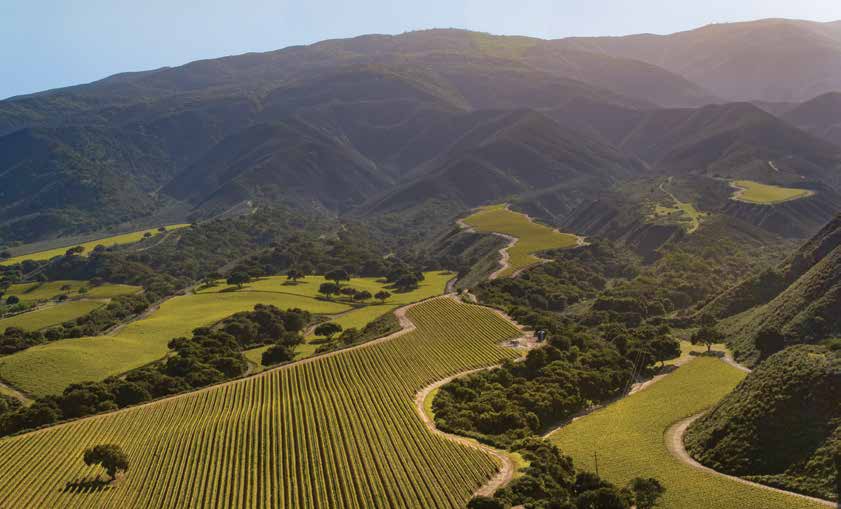 Sure Monterey County has a spectacular coastline and is home to picturesque towns like Carmel-by-the-Sea, the rugged Big Sur shore, and the tony 17-mile drive, but in the past couple of decades, the county has drawn acclaim for its distinctive wines as well.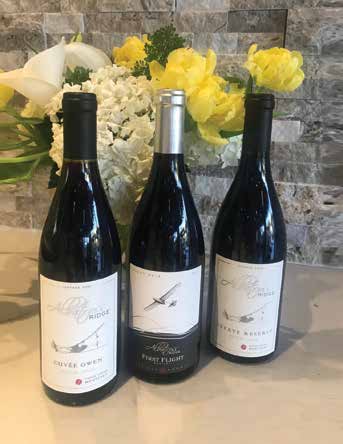 Monterey County sits at the most northern part of the larger Central Coast AVA that stretches from the southern end of San Francisco down to the southern part of Santa Barbara County.
In this wine region, framed by the Gabilan and Santa Lucia mountain ranges, weather patterns vary dramatically from the cooler, fog-shrouded northern part to the warmer southern end that meets the San Luis Obispo County line. These varied micro-climates combined with diverse soil types offer the perfect landscape for some 53 wine-grape varieties, with Chardonnay leading the pack by making up half of the county's total output.
Other popular varieties include Bordeaux and Rhône-style wine grapes; Portuguese varieties, such as Tinta Cao and Touriga Nacional; Italian varieties, such as Sangiovese and Nebbiolo; the popular Spanish Tempranillo and Graciano grapes; and Pinot Noir and Chardonnay from Santa Lucia Highlands appellation.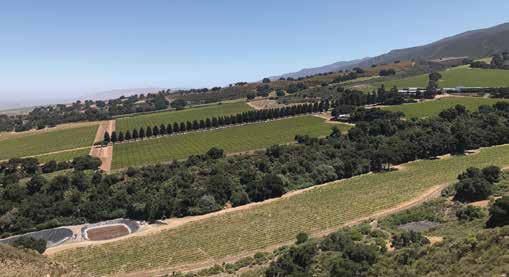 AVAs
Of the 10 AVAs (American viticultural areas), Monterey is the largest, and Chalone and Carmel Valley are the smallest. The latter two were the first to be granted AVA status in 1982. In 1984, the Monterey AVA was established, covering 40,000 acres.
Covering much of the entire length of the county, Monterey offers a range of climate patterns and, therefore, diversity in grape varieties. The cooler northern part is where Riesling and Pinot Noir thrive; the warmer southern part is well suited to Bordeaux and Rhône-style varieties and Zinfandel.
Other AVAs, such as Arroyo Seco, San Bernabe, and San Lucas, are also noted for Bordeaux and Rhône-style varieties. Hames Valley and San Antonio Valley, both tucked in the region's southernmost part, are known for Spanish and Portuguese grape varieties. The newest area to be granted AVA status is Gabilan Mountains, which straddles both Monterey and San Benito counties.
While all the AVAs reflect their distinctive characteristics, it's Santa Lucia Highlands (SLH), established in 1991, which has made its mark as the county's prime Pinot Noir and Chardonnay zone.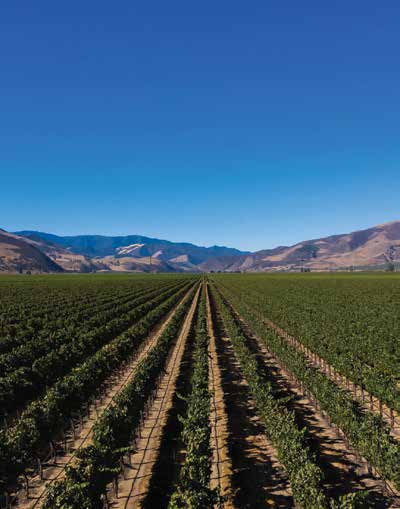 Santa Lucia Highlands (SLH)
This unique wind-swept environment, which allows for a longer hang time on the vines, thus deepening the flavor in grapes, sits atop terraces of its namesake mountain ridge that stretches from Monterey Bay to Salinas River Valley. Covering 22,000 acres, SLH is home to some 50 vineyards tucked around mesas and arroyos while others are perched on hillsides scaling up to 2,300 feet in elevation.
Wineries are few, lined along the River Road Trail, and many are not open to the public. With an air of bespoke ambiance, this region is off the beaten track, home to a handful of multi-generational Swiss-Italian farming families dating back to the 1800s.
The SLH fruit has an iconic status with winemakers across California and Oregon who crave access to such pedigreed vineyards as Pisoni, Rosella's, Sierra Mar, Double L, Hahn Hook, Tondre, McIntyre, and Boekenoogen—vineyards synonymous with SLH appellation's artisanal wines.
Among the pioneers, Gary Pisoni has made a mark by establishing three prized vineyards—Pisoni, Sobranes, and Garys' (the latter planted with his childhood friend and another local pioneer, Gary Franscioni). Driving up to the rugged and sprawling 288-acre Pisoni ranch, I met with Gary's son, Mark Pisoni. "When my dad planted grapes here 40 years ago, no one knew about him or Pinot Noir or SLH," Pisoni recalls. Gary began as a home winemaker, with initial plantings of Pinot Noir and Bordeaux varieties, and fared well selling his wines at local fairs. "But it was a struggle to get people to try Pinot Noir from our area," he adds.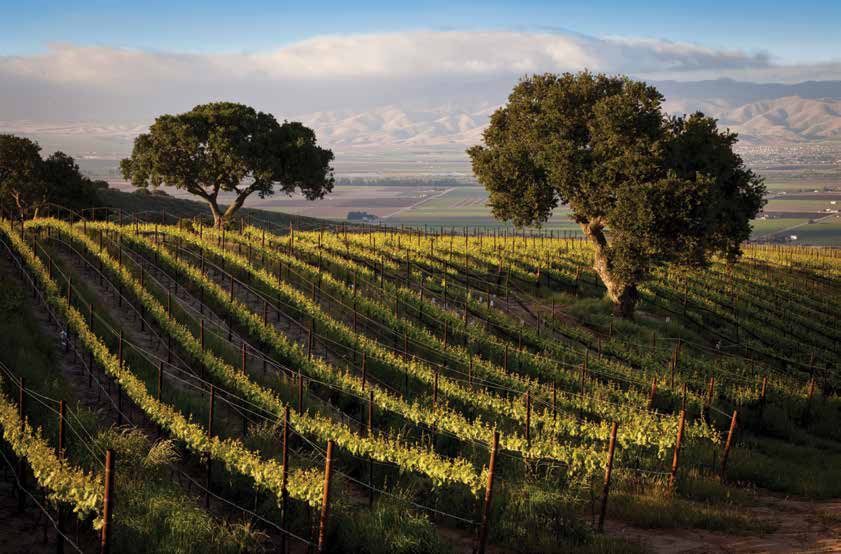 Of the handful of six varieties planted at the time, Pinot proved to be the best, but selling the fruit was tough. Pisoni eventually sold it to larger wineries who blended it into a California red. It wasn't until the early 1990s, when noted winemaker Adam Tolmach, founder of Ojai Vineyards, began making Pinot from Pisoni vineyards, that Pisoni got media attention. And then, from that time on, not just Pisoni vineyards but also SLH garnered the attention of consumers and trade alike.
To savor Monterey's diversity of wines, the tasting experience for visitors is designed in user-friendly enclaves and routes: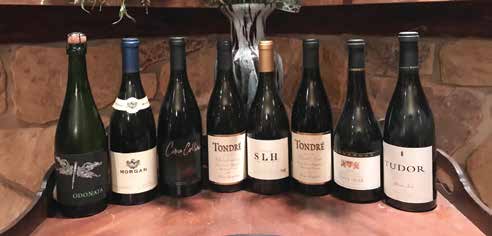 Route 1—The Coastal Connoisseur: Carmel-by-the-Sea & Monterey 
Some 18 tasting rooms are tucked along the flower-lined streets of coastal Carmel. Among them are Galante Cellars, Kori, Windy Oaks, Talbott, and Wrath. Another half dozen in Monterey include Puma Road, Comanche Cellars, and Albatross Ridge.
Route 2—Country Charm: Carmel Valley
The valley exudes a rustic charm with cafes and two dozen tasting rooms. Among them are Bernardus, Georis, Joyce, Seabold, and Cowgirl.
Route 3—Vineyard Venture: Monterey Wine Country Trail
The trail goes along the scenic River Road flanked by SLH vineyards. Over a dozen wineries and tasting rooms include McIntyre, Odonata, Hahn, CRÜ, and Pessagno.