Casa Pacifica's Yummie Top Chef Competition
July 30, 2023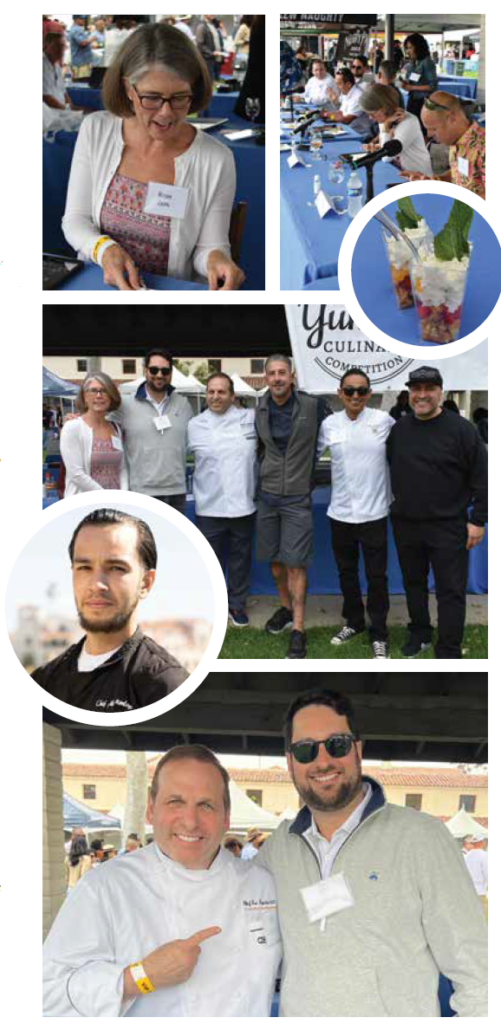 The popular Yummie Culinary Competition returned for its 14th year at Casa Pacifica's 30th Annual Angels Wine, Food & Brew Festival on June 4 on the campus of CSU Channel Islands in Ventura County. Mambo, of the popular Mambo in the Mornings & The 805 Locals radio program, served as the emcee for the competition, which showcased 23 participating local chefs' dishes.
Judges, including Executive Chef Eric Kopelow, vice president of CedarLane Natural Foods, Inc.; Chef Nic Manocchio, University Auxiliary Services at CSU Channel Islands; Alison Costa, owner of Ventura Food Tours; Chef Adam Hart, culinary arts instructor and sommelier at Oxnard College; Executive Chef Abu Romero of Birnam Wood Golf Club; Masa Shimakawa, SOKO Chef, Fairmont Miramar Hotel & Bungalows; Chef Michelle Hernandez, Chefs on a Mission; and private chef Karl Holst crowned winners for the best of two categories: savory and sweet. Dishes were judged on flavor, presentation, innovation, and quality.
In the savory category, Chef Alex Montoya of Water's Edge took home first prize for the second year in a row with his shrimp lumpia with Szechuan ponzu foam, pickled red onion pearls, and cilantro. Runners-up included Chef Phil Adler of Freda's woodfired pizza for his El Diablo pizza and Chef Danielle Saleh of Onyx Bistro for her wild mushroom gemelli.
The Yummie winners in the sweet category included second-time dual-category winner in both the sweet and savory, Chef Alex Montoya, representing his second business venture, Honeycup Coffeehouse & Creamery, for his unique El Pastor ice cream, a blend of guajillo chai ice cream with grilled pineapple and honey cilantro pearls. This continued his reign as the most awarded Yummie Competition chef with eight wins, including five in first place. Also awarded were Chef Damien Giliberti of Ox & Ocean for his sumptuous cheesecake pudding and Chef Jackie Rome of Cocoa Rome Chocolate Company for her wild strawberry chip chocolate.
All winners received special awards and recognition on the festival's main stage.