Saddle Peak Lodge: Experience Legendary Dining
July 1, 2018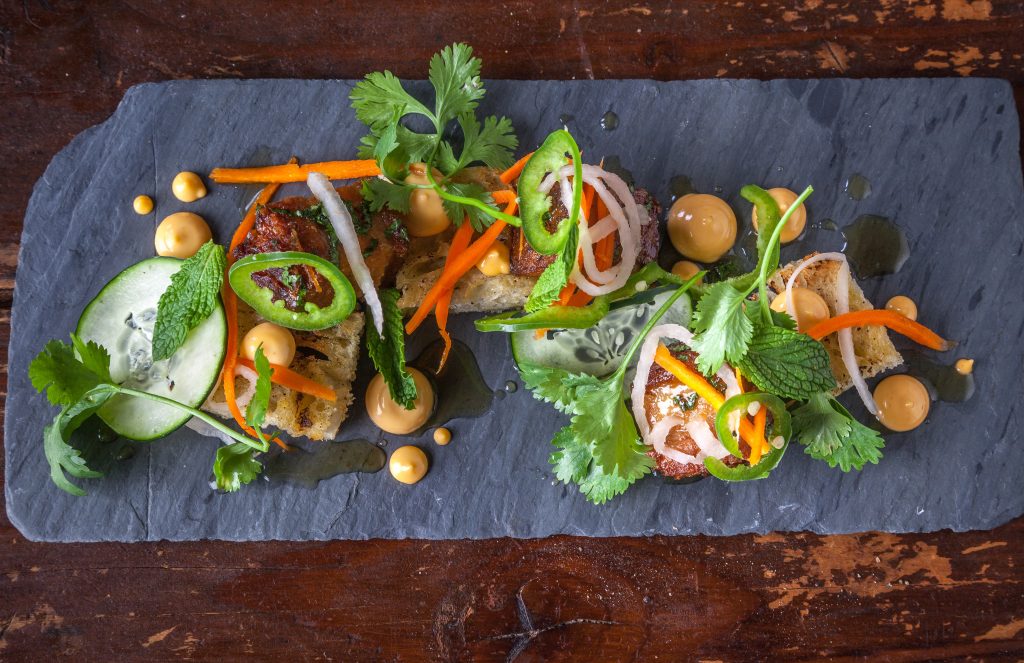 Hungry carnivores and culinary explorers seeking to appease their exotic appetites should head to Saddle Peak Lodge for their next romantic dinner or Sunday brunch. Located in the stunning foothills of the Santa Monica Mountains in Calabasas, Saddle Peak Lodge has been the go-to spot for epicureans on the go for more than 100 years.
Nestled beneath a legendary rock formation known as Shadow Peak, this renowned watering hole provided a cozy hideaway for cowboys, fishermen, gold miners, and travelers seeking refuge en route to their latest adventure. It was developed into a summer resort called Crater Camp, boasting rustic cabins, fishing camps, and clean mountain air. Eventually discovered by Hollywood's elite, this out-of-the-way locale became the darling of such megastars as Clark Gable, Charlie Chaplin, and Errol Flynn. To this day, movie moguls, musicians, actors, and locals can still discover a distinctive dining experience amidst the lodge's rustic, romantic ambiance.
Serving dinner nightly from 5:00 p.m. to 10:00 p.m. and scenic Sunday brunch from 10:00 a.m. to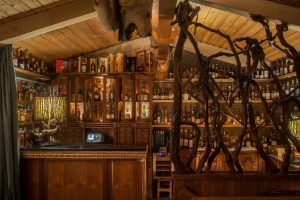 2:30 p.m., Saddle Peak Lodge offers a variety of unique fare focused on wild fish and game, plus gluten-free and vegetarian options. Its log-cabin look is adorned with the trappings of a posh hunting lodge, replete with antler door handles plus a cornucopia of quaint memorabilia. There's a private patio plus four distinctive rooms that are ideal for weddings and special occasions of all kinds. An additional cozy patio comes alive each night with shimmering lights, providing the perfect setting for any event or romantic dinner beneath the stars.
The real stars are former owner Ann Graham Ehringer, who revitalized the restaurant in 1992 before passing the baton to current proprietor Deep Septhi of Bombay Palace and Nirvana in Beverly Hills. Executive Chef Adam Horton's captivating menu includes elk, emu, bison, water buffalo, and other tasty meat, fish, and vegetarian items. Sample the Saddle Peak Sour, made with Jack Daniel's No. 7, lemon juice, simple syrup, Peychaud's Bitters, and egg whites (yes, that's right), plus notes of vanilla and ginger. For an historic treat, try their Johnny Cake, a sweet pre-Columbian specialty presented in an iron skillet.
Named one of Gayot's Top 5 Rising Chefs, Chef Horton graduated from Le Cordon Bleu California in Pasadena. He apprenticed at Saddle Peak Lodge before moving to Europe to train with some of the world's most renowned chefs. Horton worked with Chef Gordon Ramsay in London and gained additional experience at several acclaimed Michelin-starred restaurants, including Le Moulin de Mougins, La Palme d'Or, Taillevent, and Troisgros.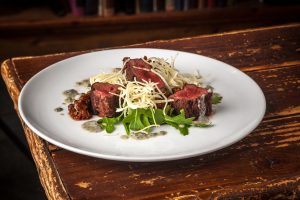 From perfectly cooked salmon to juicy venison, Chef Horton cooks up an array of mouthwatering dishes worthy of the lodge's legendary past. There's no time like the present to try their delightful Seared Venison Carpaccio appetizer, followed by a renowned game trio, sporting an assortment of elk, buffalo, and choice of emu or venison served atop cooked spinach, cauliflower, and mashed sweet potatoes. Or head down under and sample the kangaroo. The New Zealand lamb chops are also spectacular. Top off the meal with some decadent banana huckleberry bread pudding and vanilla ice cream.
Guests can hang out before and after their meal at the small copper-top bar. Don't forget to visit their upstairs Double Barrel Room to sample some exceptional whiskies in their dedicated whiskey bar. Drink in the ambiance amidst the majestic mountain scenery. Guests can experience a wide variety of whiskeys or purchase a bottle and become a Double Barrel Member to get exclusive perks. If you're fortunate enough to come for Sunday brunch, stroll the wooded grounds before sampling the sublime goat cheese and broccoli quiche,  wagyu beef burger topped with zesty blue cheese and a fried egg, salmon or bacon eggs Benedict, hearty flat-iron steak served with eggs, French toast, and buttermilk waffles. Keep the Bellinis, Bloody Marys and Mimosas flowing before tasting their homemade sorbets or cappuccino pots de crème. Then head down Malibu Canyon to the beach or take a hike in Malibu Creek State Park and celebrate another perfectly delicious Calabasas day.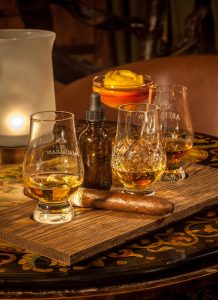 Saddle Peak Lodge
419 Cold Canyon Rd., Calabasas
818.222.3888 | saddlepeaklodge.com