Davenport's on the Boulevard
April 27, 2018
An Elegant, Family Owned Restaurant

Guests immediately feel right at home at Davenport's, from the friendly smiles at the door to the restaurant's classic yet cozy vibe. They've even managed to reduce the noise to a purr rather than a loud roar with their well-thought-out use of sound dampening decor. The carefully chosen staff is clearly dedicated to providing exceptional service. Original art work by Chris Davenport, Nigel's sister, further captures the essence of the colorful California lifestyle.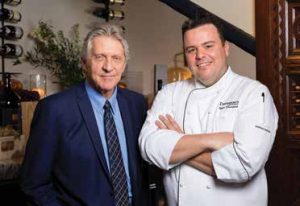 Chef Nigel Davenport discovered his passion for cooking early on, lending his talents to more than a dozen restaurants over his 25-year career. He partnered with his father, Carl, to create Davenport's family-run, sophisticated-yet-comfortable eatery in September of 2017. The two decided to keep this prime spot all in the family, serving mouthwatering steaks, seafood, and other quality American fare. Popular items include the Signature Lobster Bites with Parmesan-Havarti crust and the Tuna Duo sushi appetizers. Mouthwatering entrees, such as USDA-prime filet mignon, bone-in ribeye, and whiskey-glazed Faroe Island salmon speak for themselves. Decadent desserts include banana cream pie with a Biscoff cookie-crumb crust and blueberry lemon pie. Sensational drinks boasting such tempting names as Honey Bloom and Blackberry Whiskey Sour may leave diners speechless, but not for long…because they're soon telling friends and family about their newest find on Ventura Boulevard.
The pair jumped at the opportunity to open their namesake restaurant when a prime location on Ventura Boulevard in Encino was suddenly available. They transformed the locale from the ground up to create an elegant, inviting place to relax and enjoy good food. The warm and friendly atmosphere draws guests into the space, while the unique quality of each dish keeps them returning for more. Hungry patrons can enjoy a quick lunch at the bar, a celebratory dinner in the main dining room, an al fresco party on the patio, or an intimate event in the private dining room.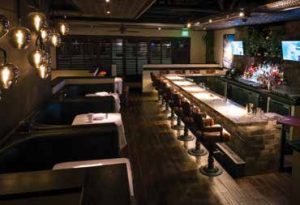 The vibe at Davenport's says that you have arrived at a real destination restaurant. The staff has been carefully chosen because of their dedication to amazing service. You know you are in the right place to have a great experience from the time you are greeted with a smile at the door. The excellent service team does not disappoint.
Seafood lovers looking for the real deal will find it amidst the restaurant's sexy marble raw bar. Enjoy the Lobster Cobb and Blackened Salmon Spinach Salad and a tasty assortment of sushi. Try the flavorful Filet Medallion Sliders capped with wild mushrooms and caramelized shallots. The juicy Baby Back or Texas Style Barbeque Ribs prepared lovingly on a mesquite and oak grill will keep meat lovers hungering for more. The  Vegetable Stew, Vegan Chili and amazing new Vegan Impossible Burger are delicious meatless options.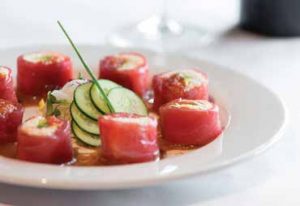 Relax in comfort and elegance amid the restaurant's plush, black, cushioned booths and let the bustling world outside on Ventura Boulevard fade away. Take a virtual trip to New Orleans with some mouthwatering crab beignets, the perfect marriage of southern-style fritters and New England crab cakes served with a zesty remoulade. You can almost taste the sea as you bite into the butter-poached Lobster on a Roll. Head to the desert Southwest with the apple-glazed Tomahawk Pork Chop or spicy, marinated Southwestern Skirt Steak. The Italian-inspired Cioppino overflows with shrimp, clams, lobster, crab, halibut, mussels, and scallops. Clearly, there's no limit to the culinary possibilities.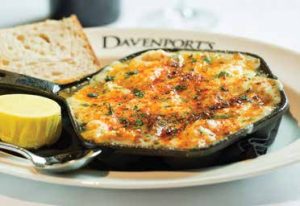 One of the area's hottest restaurants, Davenport's offers a unique blend of sophisticated elegance and easygoing comfort. Executive Chef Nigel Davenport's eclectic menu perfected over 25 years in the industry is clearly the star. Appetites for delicious cuisine served in a refined, friendly atmosphere are satisfied daily beyond their expectations.
Davenport's Restaurant
16120 Ventura Blvd.
Encino
818.855.1203
davenportsrestaurant.com
FB: davenportsrestaurant
IG: davenportsrestaurant
By Lori Berezin
Photographed by Marvin Steindler