The Stonehaus
September 4, 2018
Transports Your Taste Buds to the Heart of Tuscany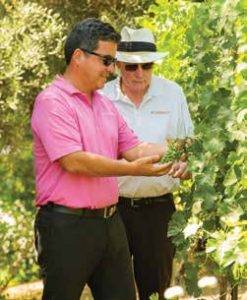 No one could have imagined that when The Stonehaus at the Westlake Village Inn first opened it would become the most popular wine tasting and communal gathering place in the entire Conejo Valley. This year marks two important anniversaries—the 50th Year Celebration of the Westlake Village Inn and the 6th Anniversary of The Stonehaus, where family and friends are transported to the vineyards of Tuscany and Provence in a unique setting.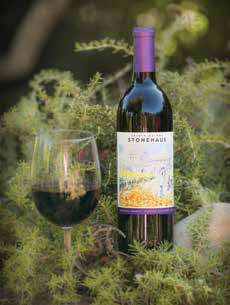 Surrounded by 17 pristine acres of vineyards, waterfalls, and lakes at the renowned Westlake Village Inn, The Stonehaus enoteca sends all your senses to the stunning vineyards of Tuscany and Provence. Conceived six years ago by the boutique inn's owner, philanthropist John Notter, and Chief Operating Officer Chris Cuilty, this local favorite is truly a labor of love. Their decision to create a vineyard amid an urban setting and the pristine hotel grounds sparked the restaurant's creation. Today, the vineyard boasts rows of cabernet, cabernet franc, Grenache, and Syrah grapes. Built on the grounds of the former herb garden for the Inn's adjacent Mediterraneo restaurant, The Stonehaus boasts 3,100 square feet of indoor and outdoor space replete with a bocce ball court, romantic fire pits, and rustic picnic tables perfectly suited for wine tasting and casual dining. Its 500-bottle wine cellar and private tasting room that seats 50 people provide the ideal venue for anniversary parties, wedding receptions, and other festive occasions. The piece de resistance is its private wine cave, which seats 30 guests, features stone floors and walls, and captures the feel of an authentic cave. The room is complete with a concealed state-of-the-art audiovisual and sound system.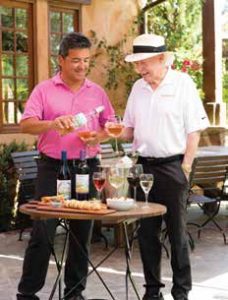 Since opening six years ago, the restaurant continues to offer a popular mingling and dining spot for family and friends in Westlake Village. Patrons can sample artisan fare, including such Italian favorites as charcuterie, fresh salami, prosciutto, fromaggi, and thin-crust pizzas made to order in their authentic outdoor oven. Plus, the spot is dog friendly, so diners can share their experience with their best pals, too.
In the morning, the aroma of freshly brewed private-label coffee and scrumptious pastries wafts through the air. The chef offers seasonal delicacies for lunch and dinner plus a host of local and international wines. The outdoor French limestone fireplace and vineyard provide a mesmerizing ambience full of European flair. Live music on Thursday through Saturday evenings and during the day on Sunday further entertains. They also offer a wine club, where members can be first to sample an array of limited and small-production wines as they participate in festive gatherings and tasting events with fellow connoisseurs.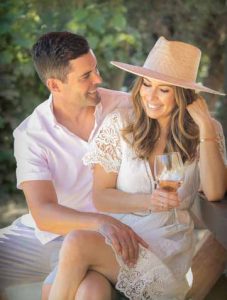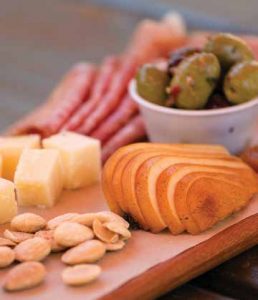 Owner John Notter, a native of Zurich, Switzerland, clearly succeeded in bringing a slice of the European countryside to the Conejo Valley. The restaurant's rustic wood, stucco, and limestone façade, designed by the renowned Aarons Architects of Westlake Village, evokes the feeling of an Italian villa in Tuscany. A 100-year-old oak tree, lush waterfall, bocce ball court, and enticing picnic area complete the picture.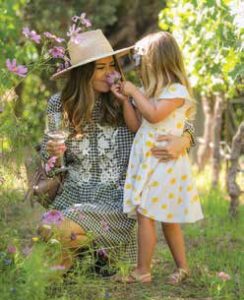 Those seeking the perfect venue for their wedding or special event will find the restaurant's indoor and outdoor spaces complement any type of celebration, large or small. From the enticing tasting room to the festive outdoor patio and adjacent wine cave, there's a spot for any occasion. If you're simply looking for an intriguing locale for your next meal, The Stonehaus is also the place to sip and sup. From mouthwatering fig, goat cheese, and prosciutto paninis to build-your-own pizzas freshly baked in an outdoor oven, they offer the perfect palate-tempting menus for breakfast, lunch, and dinner. Charcuterie items include such authentically delicious fare as Moliterno black-truffle cheese and prosciutto di Parma from Italy, St. Agur bleu and pave d'affinois cheeses from France, and sweet and nutty Manchego sheep's milk cheese from Spain. Pair your charcuterie with a flight of wine from the hillsides of California and Oregon or from France, Spain, and Italy for the perfect repast.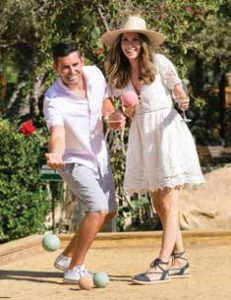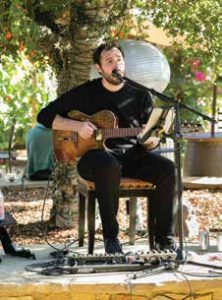 Feast your eyes on the idyllic scenery reminiscent of the Tuscan countryside. Strains of guitar music fill the air as you share la dolce vita, the sweet life, with friends and family at The Stonehaus in Westlake Village. It simply doesn't get much better than this.
By Lori Berezin 
Photography by Marvin Steindler
The Stonehaus
32039 Agoura Rd. | Westlake Village
818.483.1152 |the-stonehaus.com