Epicurious? 2019
November 1, 2019
Local chefs share their favorite holiday recipes
---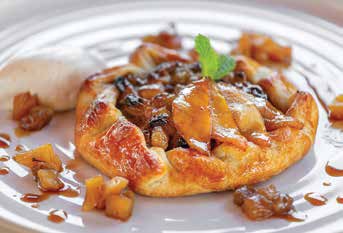 MEDITERRANEO: Apple and Golden Raisin Crostata
Ingredients
Pie crust:
1 cup pastry flour
1/4 lb. or 1 stick butter
1/3 cup granulated sugar
1/3 tsp. salt
1/2 tsp. vanilla extract
2 tbsp. ice water
Extra 2 tbsp. melted butter to brush sides

Filling:
2 apples, peeled small and diced
1 tbsp. lemon juice
2 tbsp. sugar
1 tsp. vanilla extract
1/2 cup golden raisins, rehydrated in Marsala wine

Mascarpone whipped cream:
1/2 cup mascarpone cheese
1/2 cup heavy cream
1/4 cup confectioners sugar
1/4 tsp. vanilla extract
1/4 tsp Chinese five spice

Directions
Crostata dough: Combine dry ingredients in mixer for 5 seconds on low. Add butter, mix on medium. Add ice water, mix until dough forms. Form disk, cover with plastic, chill for 1 hour. Preheat oven to 450. Filling: Add apples, sugar, butter, and lemon juice. Cook until apples begin to caramelize. Add raisins and soaking liquid, reduce. Chill. Crostata: Roll 4 oz. dough into circle. Fill middle with 2/3 cup filling. Fold outside to cover ¼ in. of filling. Brush border with melted butter. Bake 15-20 min. Chill 5 min. Whipped cream: Put all ingredients in mixer and whip on low for 2 min. Raise to high until medium peaks form.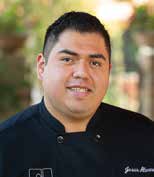 Mediterraneo
3037 Agoura Rd.
Westlake Village
818.889.9105
med-rest.com
Chef Jesus Alvarez
---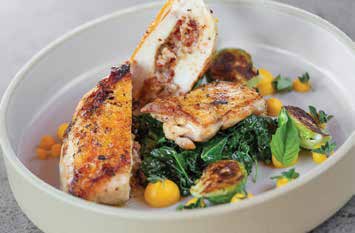 THE STONEHAUS: Stuffed Chicken Breast with Butternut Squash Puree
Ingredients
Serving size: 1
1 free range chicken breast
1 cup feta cheese
3/8 cup cooked bacon
3/8 cup onion, caramelized
1 pinch fresh thyme, chopped
10 cranks fresh black pepper
3 pcs Brussel sprouts, halved
1 1/2 cup trimmed and washed Tuscan kale
1 pinch garlic, caramelized
1 pinch minced shallot, caramelized

Butternut squash puree
2 cups butternut squash; cleaned, peeled, and diced
2 tbsp. butter
Fresh micro greens to garnish

Directions
Add butternut squash to a pot of water. Bring to a boil. Once the butternut squash is fork tender, remove from pot. In blender, add squash and 3/8 cup cooking liquid with 2 tbsp. of good quality butter for a velvety richness to your final product. Caramelize shallots and garlic first before adding kale to your sauté pan. Season to taste. Mix bacon, onions, chopped thyme, and black pepper in a bowl. Put filling into a piping bag. Make an incision on the top corner of the breast with boning knife, creating a deep pocket for your piped filling. For Brussel sprouts, start off with a cold pan and olive oil. Place Brussels sprouts face down. The trick is to bring the Brussels up to heat with the pan so they cook all the way through and get really crispy without having to put them in the oven. Blot Brussels on paper towel and season with salt and black pepper.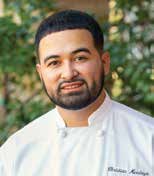 Stonehaus
32039 Agoura Rd.
Westlake Village
818.483.1152
the-stonehaus.com
Chef Christian Mendoza
---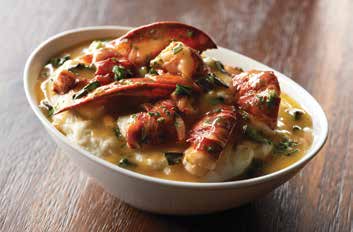 MASTRO'S: Lobster Mashed Potatoes
Ingredients
16 oz. garlic mashed potatoes
One each 1 1/4 lbs. live Maine lobster, fully cooked
1 oz. heavy cream
3 oz. whole salted butter, softened
2 tsp. Old Bay seasoning
2 tbsp. charred scallions (we recommend taking scallions and putting them on the grill to char them, it really adds to the flavor)
2 tsp. fresh chopped parsley
Directions
Start with 16 oz. of garlic mashed potatoes, and keep hot until serving. Remove the shell from the cooked lobster, reserving all the edible meat. Chop up the lobster meat and add it to a medium sauté pan over medium-high heat. Add 1 oz. heavy cream and 3 oz. whole salted butter. Add 2 tsp. of Old Bay seasoning, and bring the lobster to a low simmer, until the butter has melted and the seasoning has been incorporated completely. The mixture should be hot and frothy, creamy and still emulsified. Add 1 tbsp. of the charred scallions.
Place and mound the hot garlic mashed potatoes into a large bowl for serving. Spoon the hot pieces of lobster meat and pour melted butter sauce over the top of the garlic mashed potatoes using all the lobster and all the butter sauce. Garnish with the remaining 1 tbsp. charred scallions, sprinkle with chopped parsley, and serve immediately.
Mastro's
2087 E. Thousand Oaks Blvd.
Westlake Village
805.418.1811
mastrosrestaurants.com
Other locations in Malibu and Beverly Hills
---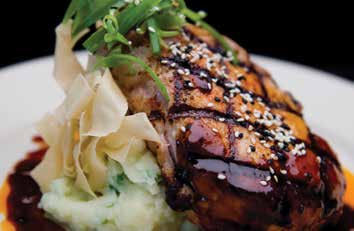 PEARL DISTRICT: Seared Pork Medallions with Mango, Green Peppercorn, Tarragon Sauce
Ingredients
2 – 3oz. pork sirloin medallions
Copious amount of rice flour
Salted butter
Fresh tarragon, chopped for garnish
Kosher salt
Black pepper
White pepper

Pan Sauce
2 tsp. chopped shallots
1/2 tsp. chopped garlic
Madeira wine to deglaze pan
1 tsp. brined green peppercorns
1/2 cup of mango puree
Pork or chicken stock

Directions:
Season pork with kosher salt and black pepper. Dredge each medallion lightly in rice flour. Sauté pork in clarified butter and sear to a golden brown on both sides. Remove from the pan. For pan sauce, add all ingredients in to same pan and use pork or chicken stock to adjust consistency. Reduce sauce. Finish off pork with salted butter on top, fresh tarragon to garnish, lemon juice, salt, and white pepper to taste.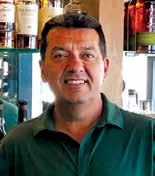 Pearl District
982 S. Westlake Blvd., #8
Westlake Village
805.230.9944
pearldistrictrestaurant.com
NEW LOCATION IN SHERMAN OAKS
Peyman Afshar
---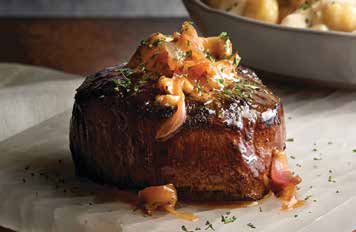 MORTON'S THE STEAKHOUSE: Truffle & Procini Crusted SRF Wagyu Filet
Ingredients
Serving Size: 1 steak
1 ea. 7 oz. SRF Wagyu filet mignon
1 tsp. olive oil
1 tbsp. black truffle & porcini crust (recipe follows)
1 oz. caramelized shallot & balsamic butter
1/8 tsp. parsley, minced

Black Truffle & Porcini Crust
Yields: 2 cups
2 oz. truffle zest (powder)
3 oz. porcini powder
1/4 cup granulated sugar
1/2 cup seasoned salt
2 tbsp. black pepper, table ground
1/2 tbsp. crushed red pepper flakes

Directions
Rub the filet with olive oil and generously encrust top, bottom, and
all sides with the truffle mixture. Grill to desire temperature. Be careful
not to handle the steak too much. Cooking times are approximate and will vary based on the cooking surface: Rare, 3 minutes
each side; medium rare, 4 minutes each side; medium, 5 minutes each side; medium well, 6 minutes each side; well (butterflied), 7 minutes each side. Remove from grill and allow steak to rest for 3 to 4 minutes before serving. Place filet on the middle of warm plate. Place 1 oz. of caramelized shallot butter on top of warm filet. Garnish with minced parsley. Serve immediately.

Combine all crust ingredients in a food processor and blend for 20 seconds. Transfer to a storage container and keep at room temperature.
MORTON'S THE STEAKHOUSE
6250 Canoga Ave.
Woodland Hills
818.703.7272
mortons.com/woodlandhills
---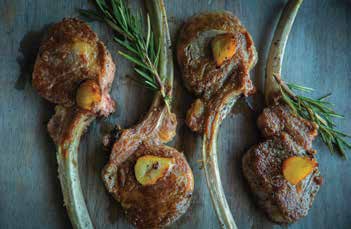 H.O.M. ITAERY: Lamb Chops with Au Jus
Ingredients
12-16 oz. rack of lamb
4 tsp. extra virgin olive oil
5 cloves garlic
3 sprigs fresh rosemary
Salt & pepper to taste (reccomended 1 tsp. each)

Veal au jus
Stock of roasted veal bone
10 bay leaves
1/2 cup flour
Water
1 oz. extra virgin olive oil
1/2 stick butter
Salt & pepper to taste

Directions
Australian rack of lamb should sit refrigerated, in olive oil, garlic, rosemary marinade for 24 hours. Once marinated, season rack of lamb with salt and pepper. Sear over high heat, meaty side down, about 6 min. Turn the rack so that bones point up and grill until meaty sides are nicely browned on bottom, about 3 min. Turn bone side down and lower heat to moderately low. Cover grill and continue cooking until thermometer inserted in center of the meat is 130° for medium-rare, about 20 min. Transfer lamb to a carving board and let rest for 10 min. Prepare au jus reduction sauce by combining ingredients in a sauce pan, bringing to a boil and then slowly simmering as necessary. Using a sharp slicing knife, carve racks of lamb into chops and serve with Roasted Veal au jus reduction and grilled asparagus.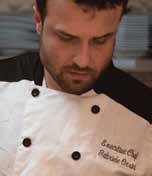 H.O.M. Itaeary
21136 Ventura Blvd.
Woodland Hills
818.313.9500
letsgohom.com
Executive Chef Gabriele Orsini
---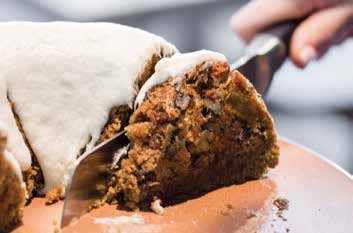 HATCH CAFÉ & MARKET: Gluten-Free Carrot Cake
Ingredients
1 1/2 cup Bobs Red Mill gluten free flour
1 1/2 tsp. ground cinnamon
1/4 tsp. ground cloves
1/4 tsp. ground nutmeg
1 1/2 tsp. baking powder
1 tsp. baking soda
1 1/4 cup extra virgin olive oil
1 1/2 cup granulated sugar
4 large eggs
3 cups carrots, grated
3/4 cup pecans, toasted and coarsely chopped
1/2 cup walnuts (toasted & coarsely chopped)
2 tbsp. hot water

Cream Cheese Glaze
4 tbsp. unsalted butter, softened
6 oz. cream cheese, softened (preferably Philadelphia brand)
¾ cup heavy cream
3 tbsp. confectionary sugar
1 tsp. fresh lemon juice
½ tsp. vanilla extract

Directions
Preheat oven to 350. Grease 9" Bundt pan. Sift flour, cinnamon, cloves, nutmeg, baking powder, baking soda. With mixer beat oil and sugar until smooth, add eggs. Stir in flour mixture on low. Add carrots, pecans, walnuts, raisins, and water. Pour batter into pan. Bake on center rack 40-45 minutes, until skewer inserted into center comes out clean. In mixer blend softened butter until creamy. Add cream cheese, beat until smooth. On slow, beat in cream, confectionary sugar, lemon juice, vanilla until smooth and pourable. Invert the cooled cake onto stand and remove pan. Drizzle cake with glaze. Let stand until set, then serve.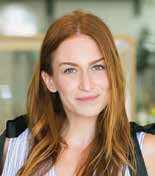 Hatch Café & Market
30651 Thousand Oaks Blvd.
Agoura Hills
818.575.9000
hatcheatery.com
IG: @hatcheatery
Owner Jordan LaValle
---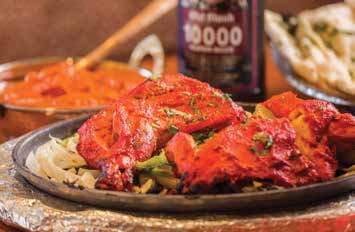 LAL MIRCH: Tandoori Chicken
Ingredients
1 tsp. ground coriander
1 tsp. ground cumin
1 tsp. ground turmeric
1 tsp. cayenne
1 tbsp. garam masala
1 tbsp. sweet paprika
1 cup plain yogurt
2 tbsp. lemon juice
4 cloves garlic, minced
2 tbsp. fresh ginger, minced
1 tsp. salt
4 whole chicken legs (drumstick and thigh), skinless with bone-in

Directions
Heat spices in oil over medium heat until fragrant. Let cool completely. Whisk spices into yogurt, add lemon juice, garlic, salt, and ginger. Cut deep slashes into chicken, coat with marinade, and chill. Prepare grill so that one side is hot and one side is cooler. Shake off excess marinade, place chicken on hot side of grill. Cook 2-3 mins. before checking. Turn chicken pieces so they are brown on all sides. Move to cool side of grill, cover and cook for at least 20 mins. but up to 40 mins. Chicken is done when juices run clear. Let sit for 5 mins. Serve with naan.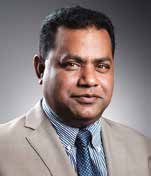 Lal Mirch
5146 Kanan Rd.
Agoura Hills
818.312.9690
lalmirchagourahills.com
Owner Naz Alam
---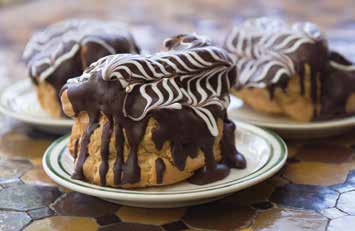 BRENT'S DELI: Éclairs
Ingredients
Serving Size: 12
9 3/4 cups milk
14 eggs
1 cup egg yolk
5 cups chocolate chips
1 tbsp. butter
2 tbsp. corn syrup
3/4 cup corn starch
2 oz. butter
3/4 lbs. butter
2 1/4 cups sugar
3 tbsp. vanilla
3 cups water
3 cups flour

Directions:
In a sauce pan: Add 9 cups milk, corn starch, egg yolks, and sugar (save the left over ¾ of milk for later). Bring to boil and do not stop stirring for 10-15 minutes. Remove from fire. Add vanilla and butter. Mix with spatula until creamy. Set pan into large bowl with ice and let cool. In a separate pan, add water and ¾ lbs. butter. Bring to boil. Slowly add flour and continue mixing with large spoon until thick. Remove from fire and put into a large mixing bowl on #3 paddle for 20 seconds. Add 7 eggs and mix for additional 20 seconds. Add another 7 eggs and mix for 1 additional minute. Scrape the sides with a rubber spatula and mix for another minute. Prepare a cookie sheet with pan liners. Using a pastry bag, make each about ½" by 6", making 3 passes to complete (12 on each sheet). Cook at 400 degrees for 40 minutes. Let cool and remove the top of the éclair to fill with cream. Replace top. In a separate bowl, add chocolate chips, 1 tbsp. butter, ¾ cups milk. Melt in the microwave and brush on top of each éclair. Let cool.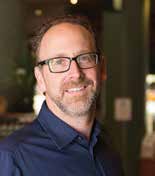 Brent's Deli
2799 Townsgate Rd.
Westlake VIllage
805.557.1882
brentsdeli.com
Other location in Northridge
Partner Marc Hernandez
---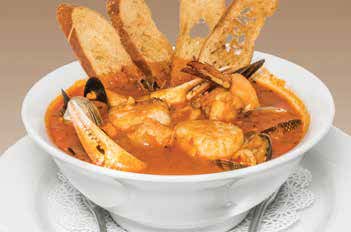 ZIN BISTRO AMERICANA: Cioppino
Ingredients
2 onions, diced
1 green bell pepper, diced
1/4 cup olive oil
4 large cloves garlic, minced
1 bay leaf
1/2 tsp. black pepper
1 tsp. dried oregano
1 tsp. dried thyme
28 oz. can whole tomatoes
1 1/2 cup white wine
1 tsp. dried red pepper flakes
1 tsp. paprika
1 cup clam base
Cloves
Shrimp
Calamari
Scallops
Mussels
Clams
Fish trio (salmon, halibut, white fish)

Directions
Over medium-low heat, sauté onions, bell pepper, and garlic in large stockpot. Cook slowly, stirring occasionally until onions are soft. Add canned tomatoes to the pot (break them into chunks as you add them). Add wine and clam broth, bay leaves, basil, thyme, and oregano. Mix well. Cover and simmer 30 minutes. Stir in the shrimp, calamari, scallops, clams, and mussels. Stir in fish trio, if desired. Bring to boil. Lower heat, cover and simmer 5 to 7 minutes until clams open. Ladle soup into bowls and serve with warm, crusty bread!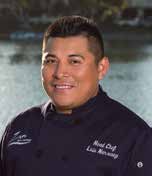 Zin Bistro Americana
32131 Lindero Canyon Rd., #111
Westlake Village
818.865.0095
zinwestlake.com
Chef Luis Narvaez
---