Zin Bistro Americana
August 29, 2019
Where Everyone Knows Your Name
Cheers to owner Rouz Yazdanyar and his charming restaurant, Zin Bistro Americana, overlooking the lake in Westlake Village. Named after the grape itself, Zin Bistro offers a friendly, upscale ambiance where you can socialize with friends and family over a glass of wine or cocktail and Chef Luis Narvaez's latest culinary creations.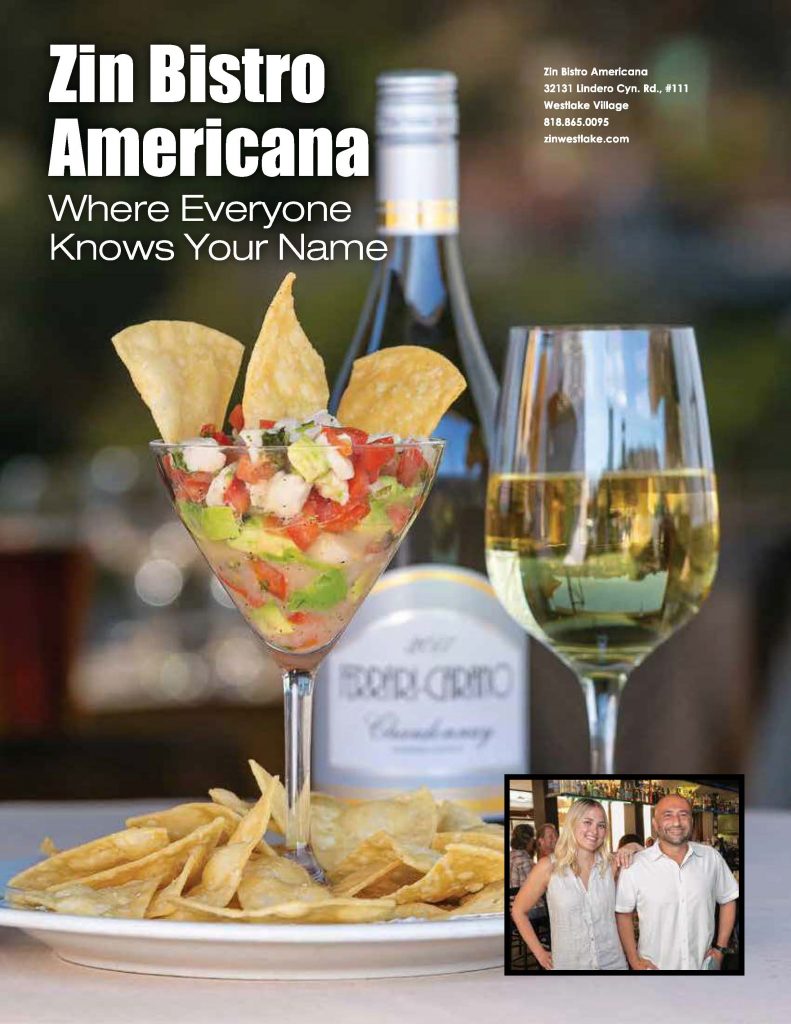 Growing up in Westlake Village, Rouz hoped to someday own a spot on the lake. Once the location opened up in 2006, he pursued his dream to everyone's delight. He and his staff want each diner to feel like both an extension of their family and a treasured guest at their own party.

Just as the zinfandel grape is distinctively American, Zin Bistro Americana offers a menu that reflects the nostalgic cuisine and melting pot of cultures that makes America unique. Guests can enjoy a scenic fire-lit patio, spacious bar, and lounge and delightful lakefront dining where they can share great food and good times beneath the stars or sunny Southern California skies.

Their ever-popular Sunday brunch, held lakeside from 11:00 a.m. until 3:00 p.m., includes your choice of build-your-own omelets; assorted seafood, Mexican, Norwegian (with smoked salmon), and protein-packed omelets; crab cake benedicts; a hearty Hangover with steak, potatoes, and eggs; and more. Take a virtual trip with Moroccan eggs baked with zesty mushrooms, spinach, tomatoes, onions, potatoes, and Parmesan cheese. Or head south of the border with a wet breakfast burrito stuffed with eggs, ham, bacon, tomatoes, onions, peppers, and pepper jack cheese, topped with tangy, homemade tomatillo salsa.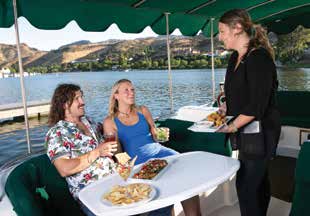 They say you eat first with your eyes. From the expansive views of the lake to the colorful plating, Zin Bistro looks delightful. Enjoy a refreshing lobster cobb salad, piled high with rich Maine lobster meat, egg, cucumbers, tomatoes, avocado, asparagus, and blue cheese crumbles atop a trio of lettuce and spinach, tossed with piquant champagne dressing. Or try their authentic Cuban Cohiba sandwich, made with pulled pork, ham, provolone, pickles, red onion, black beans, and zesty chipotle mayonnaise.

Dinners begin with appetizing starters, such as lamb lollipops, crispy shrimp and calamari, or a chilled seafood platter overflowing with tender lobster, shrimp, king crab legs, and oysters. Continue the ocean theme with some mouthwatering shrimp scampi over angel hair pasta or live Maine lobster ravioli swimming in creamy gorgonzola Alfredo sauce. Or choose from a variety of turf options, such as juicy filet mignon, chicken cordon bleu, or the special Zin burger, made from the finest Kobe beef, covered with pepper jack cheese, crisp onions, sherry dressing, and mayo. Can't decide? Chef Luis Narvaez can cook up a classic surf and turf combo of filet mignon paired with jumbo shrimp.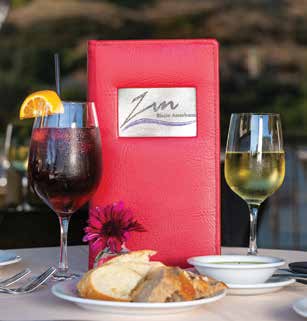 Those with a sweet tooth should try the apple tarte tatin with vanilla bean ice cream and caramel; authentic New York-style cheesecake, or generous Zin banana split. Finish your meal with the decadent Death by Chocolate for a truly delicious ending. Top it all off with unique dessert drinks, including a blacktruffle latte with Godiva dark, Seagrams vodka, and café latte, a white chocolate caramel mocha with Godiva white chocolate, café mocha, and caramel, or specialty of the house, Zin cappuccino, blended with Baileys, Frangelico, and cappuccino and a touch of amore. It doesn't get much better than this. Plus, there's a full calendar of live music every Thursday through Saturday.

If you're looking for a special venue for your wedding, rehearsal dinner, shower, engagement party, corporate event, birthday party, or anniversary celebration, Zin Bistro can accommodate from 20 to 200 people in four private rooms, each seating between 20 to 60 people. Angelica—a general manager and party planner who's worked here since 2009—will help organize your event.

At Zin Bistro Americana, they believe the "best dishes are crafted to reflect the beauty of life, art, and the community." Whether you're hungering for a romantic dinner à deux or a festive party of 20, Zin Bistro provides the perfect spot to relax, recharge your batteries, and celebrate the good life with family and friends. They serve lunch and dinner seven days a week starting at 11:00 a.m. lakeside in Westlake Village.
Zin Bistro Americana
32131 Lindero Cyn. Rd., #111
Westlake Village
818.865.0095
zinwestlake.com