Crucial Financial Dialogue
July 9, 2018
All of us want to successfully educate and raise our children, have profitable investments, have a successful career, have sufficient money in our budgets, plan a comfortable retirement, have fulfilling relationships, and most importantly, achieve and maintain good health. But beyond these familiar personal aspirations, most clients of financial professionals seldom discuss their deepest wishes, fears, desires, and feelings.
Financial professionals are accustomed to asking their clients the standard questions about goals, objectives, and risks and occasionally less-common questions about estate planning, wills, trusts, taxes, and insurance. However, great financial professionals also ask "life issues" questions to discover the sometimes subtle, sometimes crucial issues clients are reluctant to communicate. A more personal survey often evokes anecdotes from a client's lifetime of experience and a deeper understanding of the unique challenges that consume a client's time, emotions, and attention. Client-discovery questions consider not just the numbers that measure clients' financial situations, but also the stories that define them as unique and interesting people.
Perceptive financial professionals delve into clients' past experiences that have defined them as the individuals they are today and, not coincidentally, shaped how they approach money matters currently. Their successes, failures, and concerns in the present and their hopes and visions for the future compel them to plan with whatever financial assets they possess, to provide not just for themselves, but also their families. Great financial professionals could ask some "life issues" questions, such as:
• How would you live your life if you had all the financial security you need?

• How do you feel about money? What is its purpose now and for the future?

• What are your expectations for your financial future and can you accept outside guidance?

• How are you doing with your financial picture at this stage in your life and what would you change?

• If you could wish away three problems in your life, what would they be and would money be the answer?

• Have you written a biography and how would you like to be remembered by friends and family?

• What do you feel is your purpose in life and how will money be a part of fulfilling that purpose?
Sometimes during the "life issues" discovery process, the financial professional can even uncover problems, inconsistencies, or misunderstandings that might disastrously affect the likelihood of meeting goals and which may diminish the added value an advisor brings to a client over the course of a long-term relationship. This personal information brought to light also helps the client realize and the advisor define what is expected of the client in the relationship.
Discovering a client's essential goals, values, and history early in a relationship rarely intrudes on the client's privacy, but often serves to nurture a closer understanding and mutual respect between client and advisor. For the financial professional, understanding personal "life issues" provides the satisfaction of helping fulfill the client's highest expectations beyond mere figures on an account statement. For the client bewildered by the multitude of financial options available today, it provides not just the guidance of a great financial professional, but also the reassurance that comes from communicating meaningfully with a trusted advisor.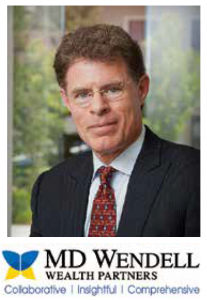 Copyright © Mark Wendell
2018 All Rights Reserved.
MD Wendell Wealth Partners:
A preeminent personal
wealth enhancement
boutique for select clients.
mark@mdwendell.com
mdwendell.com
805.402.8642