5 Tips to Help Women Become More Confident Investors
April 27, 2018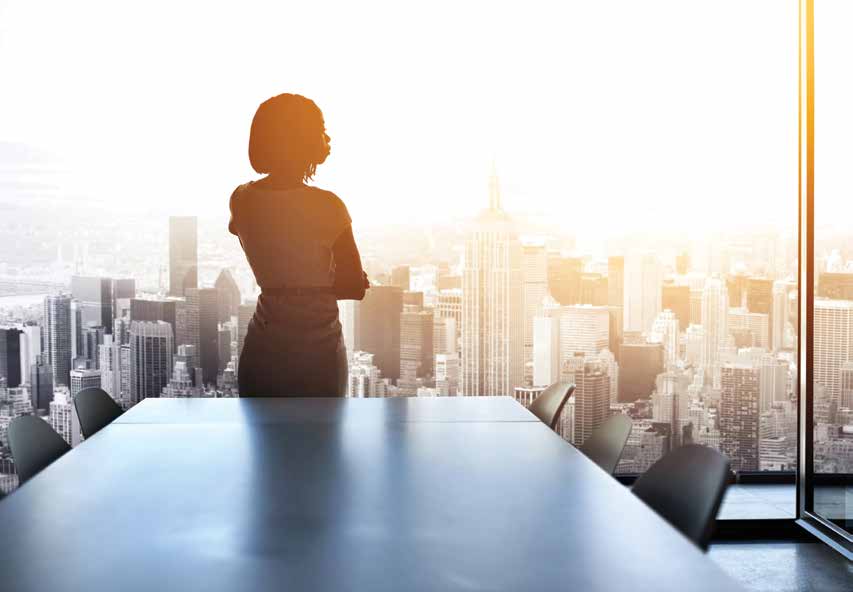 In more than 90 percent of families, women are either solely responsible for financial decisions, or make those decisions in conjunction with their partner.1 And by 2022, women are expected to control more than 60 percent of the wealth in the United States—giving women immense power over the financial health of not only their own situation, but the country as a whole.2
Since the vast majority of women – 80 to 90 percent3 – will be solely responsible for their finances at some point in their life, preparation is imperative, especially in the event of unforeseen circumstances. Here are 5 tips that women can follow to better prepare themselves in advance of a life-changing event:
1. Don't undervalue yourself. It's so important to understand that while being a woman means thinking about investing differently, it should not be looked at as a setback or an obstacle to overcome. Women are just as capable at investing as men when it comes to math and finances.4 In fact, women actually tend to be more decisive than men when it comes to figuring out their retirement expenses, how much health care coverage they will need once they retire, and other critical financial decisions.5
Start by familiarizing yourself with your or your family's financial situation, from income to expenses, investments to IRAs. Get all that information in one place, so that it's easily accessible if you need to refer to it. Schedule a meeting with your financial advisor to talk about "what-if" scenarios like death or divorce, and talk through how you or you and your partner/spouse might want to tweak your portfolio to account for unexpected life changes. Also take advantage of any "financial wellness" programs that might be offered through the workplace—these are easy, low stress ways to become familiar with the ins-and-outs of investing and financial planning, and you don't have to take time away from the office to make it happen.
2. Surround yourself with a strong team of experts. You don't have to navigate the entire process of planning for the future alone. Financial planning—especially for uncertain events— can often seem overwhelming at first. If you decided that you wanted to learn how to swim, would you simply jump in the water without any advice? Or would you seek out an expert who knows how to safely navigate the water? The same goes for getting started with financial planning: start by finding an expert—or a team of experts—who can help you navigate the process from the beginning. You need to make sure that you have a team of decision-makers, so start by identifying who you need to talk to in order to make decisions. At a simple level, it's probably an accountant and somebody in the financial services industry. But your team can also involve people outside of the industry. Do you have a family member you trust, for instance? Identify who's on your team.
3. Plan for an uncertain future by thinking about the short-term. One of the most important tips for ensuring financial success in the midst of an unexpected event—like illness, divorce, or death—is to keep some cash reserves accessible in stable investments or bank accounts, which can be easily accessed should you need to make an unplanned withdrawal. Work with your financial advisor to make sure you and your family members have the right kind of life insurance or disability insurance to supplement your finances immediately in the event of a tragedy.
4. Don't be afraid to take some risks. It has become generally accepted based on the results of numerous studies that women tend to be more risk-averse and that's one factor that hurts them from the get-go. Since women tend to be more risk-averse than men, they are less likely to take chances with their investments. And while that's not necessarily a negative, it can leave women further behind than their male counterparts when it comes to saving for the future.
To avoid missing out on potential investments because of a fear of risk, work with your financial advisor to understand how much risk your portfolio can take while still achieving your baseline goals. Talking with a professional can help overcome some fear associated with investing, while
helping you find a balance between too much risk and not enough. They can also help you break down the decision-making into what you need to know to overcome that fear.
5. Start planning for the future early. It's crucial that women begin planning for long-term financial success early, not only because women tend to live longer, but also because they tend to
make less than men. Saving for retirement as a woman, for instance, means needing to save an average of 26 percent more than men to make up for wage gaps and differences in life expectancy.6 The retirement gap between men and women is a real thing, but it's not
insurmountable with a little advanced planning. Make a list of long term financial goals, and visualize the kind of life you want to lead in your retirement years. Then, make a plan for getting there.
Everybody thinks that saving for retirement is buying the hot stock. That's not how life works. The key is understanding what asset allocation is, which helps you design your blend of investments. And you need to also understand diversification, which is about buying various kinds of investment forms under different conditions.
THE BOTTOM LINE
Whatever unexpected events life might throw at you, it's important you're surrounded by a team of experts to help you protect the wealth that you've worked so hard to attain. The right team will help you create a plan so that you can enjoy the present knowing that whatever comes your way, your financial future will be protected.
Whether you're the steward of family assets or want to protect the wealth you've worked so hard to build, The Private Bank can help. To learn more, please contact Holly Arellano, Private Banker, at 818.706.4823 or holly.arellano@unionbank.com.
unionbank.com/private

1 Ameriprise Financial, "Women and Financial PowerSM study" June 2014.
2 The Wall Street Journal, "Clients from Venus" April 2012.
3 ICMC "Why we need to bridge the financial literacy gap between women and men" September 2016.
4 NCBI, "Gender differences in mathematics performance: a meta-analysis." March 1990.
5 Personal Money Service, "Men vs. Women in Questions of Personal Finance"
6 https://www.financialfinesse.com/wp-content/uploads/2016/01/2015-gender-gap-report.pdf
By Lisa Roberts, Managing Director
Private Wealth Management – The Private Bank at Union Bank