Sanctuary on Camelback Mountain Resort & Spa
March 12, 2018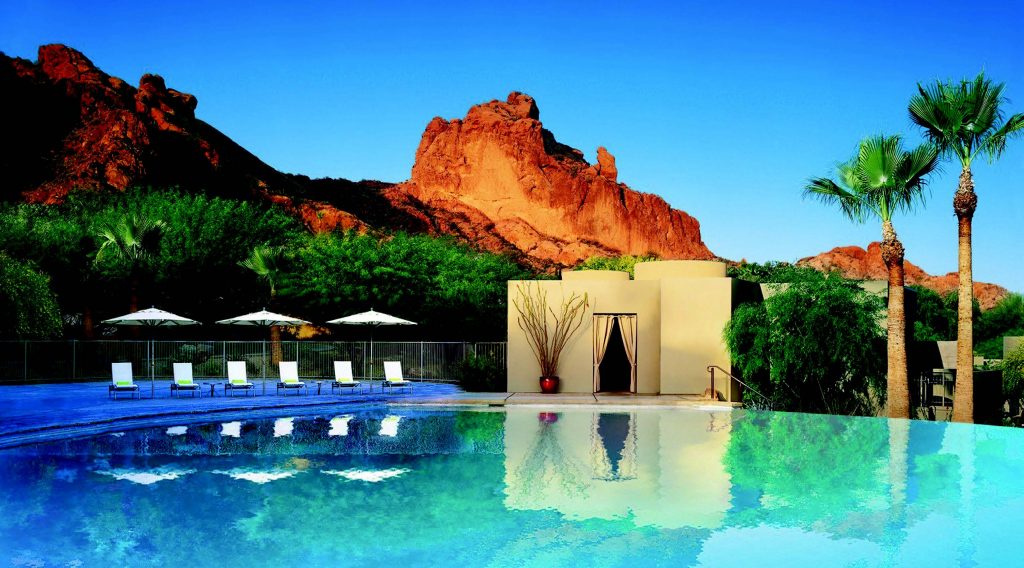 The name itself perfectly describes this magical oasis built into the majestic, rocky terrain of Camelback Mountain in Scottsdale, Arizona. This ultimate getaway is only a short hour-and-a-half plane flight from Southern California. Known for its endless sunshine, sublime desert scenery, vibrant sunsets, and abundance of sports and cultural activities, Scottsdale possesses something for everyone. The stunning Southwestern contemporary-Asian theme of the boutique Sanctuary on Camelback Mountain Resort & Spa makes it stand out from the crowd, garnering such awards as Architectural Digest's "The Most Beautiful Hotel in Every State of America – Arizona." Although children are certainly welcome, the resort, which recently underwent a multimillion-dollar renovation, is geared more towards a tranquil, rejuvenating adult vacation.
Spa-tacular accommodations
The first thing you notice as you enter your spacious casita, spa suite, or private estate home is the spectacular view of either Camelback Mountain or Paradise Valley's skyline. The largest casa has five bedrooms and can sleep up to 10 people. Multi-level spa suites provide a fireplace for cool, cozy days or romantic ambiance any night of the year. Private, outdoor, candlelit deep-soaking tubs are a perfect way to unwind with a glass of wine. To remain grounded, visit the Zen garden, reflection pond, and infinity pool, which are reserved for adults only on Fridays, Saturdays, and Sundays.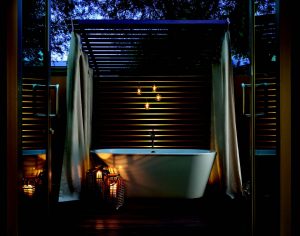 American cuisine with an Asian flare
Renowned celebrity chef Beau MacMillan makes it clear why his cuisine reigned supreme on the Food Network's popular Iron Chef America television show. His seasonal menu at the resort's exquisite elements restaurant offers such delectable dishes as lobster carbonara, roasted oyster Rockefeller, escargot pot pie, and tuna tartare, all served amidst breathtaking panoramic views. The jade bar presents live music every Sunday from 1:00 to 5:00 p.m. and Fridays and Sundays from 7:00 to 11:00 p.m. Guests can dine inside or al fresco on the patio as they savor unique drinks such as the Grapefruit Basil Martini or traditional Old Fashioned. There are even Mixology 101 classes for those looking to combine a little education with their cocktails.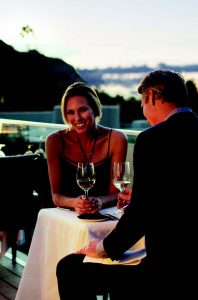 Asian-inspired
Sanctuary Spa Relax body and soul in one of the newly renovated Sanctuary Spa's twelve indoor and outdoor treatment rooms and outdoor Watsu® pool, where you can experience a nurturing aquatic massage. For the ultimate indulgence, try their personalized Satori Wellness Retreat, based on the Japanese ideal of satori, meaning "enlightenment" or "awakening." There's also an array of signature treatments, from the exotic Thai massage and Sumatra Coconut Body Ritual to the soothing Wakai facial and relaxing Harmony massage. The options are nearly as endless as the clear, blue desert skies.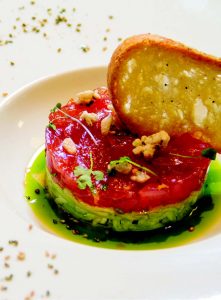 Making fitness fun
The fitness center offers a range of classes and activities, including a unique stand-up paddleboard yoga class, as well as meditative stretch, sunrise yoga, and Pilates. Burn off calories in the refreshing 25-foot lap pool. Tennis enthusiasts will appreciate the history of the tennis retreat, which dates back to the star-studded glamour of the 1950s. Originally known as the Paradise Valley Racquet Club, and then John Gardiner's Tennis Ranch in 1965, the popular Scottsdale locale hosted international tennis stars and celebrities. Guests can still be part of this continuing legacy as they are coached by top professionals or star in their own games on the Sanctuary's championship courts.
Endless options
Go beyond the Sanctuary and visit nearby museums, shop in Old Town Scottsdale and Scottsdale's Fashion Square, and hike in the local mountains. Treat yourself to a narrated horse-and-carriage ride through Old Town or rent a bike for a do-it-yourself tour. Play a round or two at one of the area's premier golf courses. Stroll along the riverwalk-type waterfront. There are also plenty of activities onsite during upcoming festivals, like the Nirvana Food & Wine Festival in April featuring celebrity chefs and the resort's own Executive Chef Beau MacMillan. Visit during cooler springtime months and experience some of Arizona's most idyllic weather, still a well-kept secret. Year-round, you'll discover that the Sanctuary on Camelback Mountain Resort & Spa in Scottsdale provides a delightfully rejuvenating destination.