Escape to Lanai: Ultimate Island Luxury
November 27, 2017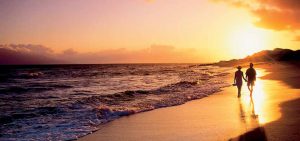 The Hawaiian Islands are a favorite vacation destination for many people. Most find their favorite islands, beaches, or resorts, and some even fall victim to a "Hawaiian rut" of sorts. We opted to do something a little different on this trip, so we journeyed to the picturesque island of Lanai. We fell in love with the beauty of the rugged lava cliffs, pristine white-sand beaches, stunning blue waters, and the serenity we found there in our own private paradise.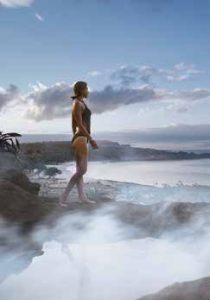 On Lanai, you feel as though you are on a private island, and you are. Larry Elliston purchased the island of Lanai in 2012 and has spared absolutely no expense. He immediately embarked on a major renovation of the Four Seasons Resort Lanai and made significant improvements to beautiful Lanai City, beloved home to many locals. Lanai is the smallest of the uninhabited Hawaiian Islands  and a very well-kept secret. While visiting this exclusive paradise, choose to be pampered at the  newly remodeled Four Seasons beach resort with its luxurious first-class amenities. Then, venture out past the walls of the resort and explore the island by way of its rugged back roads to secluded beaches and other treasures. Lanai may feel as if it is worlds away, but this gorgeous island can be reached via a half-hour flight from Honolulu or a 45-minute ferry ride from neighboring island Maui.
With only 30 miles of paved roads on the island, no stoplights, and an abundance of red-dirt roads, there is no better place to feel like a true explorer with a four-wheel- drive Jeep adventure.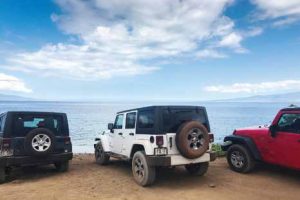 Even a novice off-road driver will find these bumpy roads manageable and a truly unforgettable experience. While cruising off the beaten path, the GPS web-enabled smartphone app called Lanai Guide will make sure you always find your way.
The red-dirt roads perfectly contrast green trees and a sparkling blue ocean. Deer and turkeys roam freely on the drive to Kaiolohia, nicknamed "Shipwreck Beach," where a ghostly WWII tanker lies just offshore, among other wrecked ships. Keahiakawelo, also known as the "Garden of the Gods," is home to mysterious red lands with rock formations that transport island explorers to a different land entirely. A slightly more technical drive is to the secluded Polihua Beach, yet it is completely worth it. A gorgeous white-sand beach that feels like a private oasis, Polihua Beach is known for green sea turtle and humpback whale sightings among other awe-inspiring wildlife.
ATV adventures, helicopter tours, clay shooting, archery, and horseback riding are just a few of the incredible experiences to take part in while visiting Lanai. Some of the best snorkeling on the island is on Hulopoe Beach, right by the Four Seasons Resort Lanai in Manele Bay. The calm waters in this protected marine reserve are home to a variety of delicate, colorful tropical fish. There are daily snorkel catamaran excursions available along the coastline near the second highest sea cliff in the world. For scuba divers, Lanai does not disappoint. "The Cathedral" is known for its lava formations and its awesome marine life. With natural holes in the lava that let the light shine through like a stained glass window, this ethereal structure takes on the look of its namesake, a glorious cathedral. 
After a long day of adventure, there is nothing quite like coming back to the Four Seasons beach resort to be pampered by the attentive staff. Always quick to your side with a cold towel, an ice cold water, or even a mouthwatering, tropical, frozen-peach concoction, the hotel staff continues to come through before you even realize you are in need. The grotto-style pools are complete with waterfalls and everything you would expect from a magnificent tropical Hawaiian resort. Lunch is served poolside on trays if you wish, by California favorite "Malibu Farm," which is well-known for its fresh ingredients. The on-property spa is the perfect place to relax with such local treatments as the "Pineapple Citrus Body Polish," which leaves the skin energized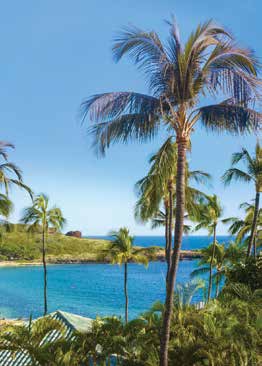 The Four Seasons Resort Lanai, overlooking the breathtaking ocean and private
beach, is rich in natural tones with teak and slate throughout. The contemporary Hawaiian décor perfectly complements the lush greenery, waterfalls, and koi ponds and includes a whole new look from the recent remodel, with many brand-new suites and the ultimate-dream three-bedroom suite. This new spread, called Ali'i, will set you back a mere $21,000 a night for the definition of a Hawaiian Island dream. Standard rooms come equipped with top-of-the-line, in-room technology,  including a 75-inch-flat-screen television, an iPad Air, a wristband key system, and even Toto washlet toilets.
There are six restaurants to choose from at the hotel, however Nobu and One Forty are synonymous with panoramic ocean views and authentic Hawaiian flavors, local ingredients, and international influences. Nobu, known for its famed chef Matsuhisa, offers a delectable Black Cod Miso and Wagyu Beef. One Forty specializes in steaks, seafood, and lobster-mashed potatoes.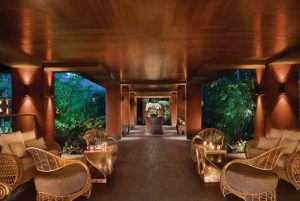 After an amazing island getaway, we can honestly say that Lanai is for everyone. From family trips to honeymoons to anniversaries, group retreats, and friend trips, there is something on this island for everyone. The second Four Seasons property on the island, The Lodge at Keole, is closed for renovations at this time and will reopen late 2018 with a spa and wellness concept. Aloha!