Explore Sedona: Land of Enchantment
January 29, 2021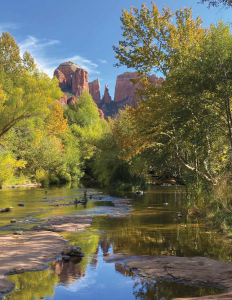 An eight-hour drive from Calabasas or short plane flight from L.A., Sedona offers a feast for the senses. Located just two hours from the Grand Canyon to the north and Phoenix to the south, this land of enchantment is a world away from ordinary.

The first things you'll notice are the majestic, red rock formations and contrasting azure-blue skies. Visit in the spring when purple, red, and yellow wildflowers burst into life, or visit in the fall when leaves turn gold and crimson and temperatures remain mild. Whatever the season, Sedona offers something for everyone. Hikers can explore such renowned areas as Devils Bridge or the awe-inspiring Bell Rock. The West Fork Trail, located along shady, tree-lined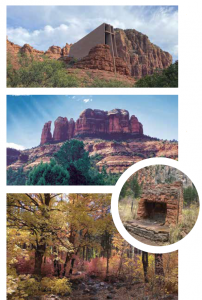 Oak Creek Canyon and considered one of the 10 best hikes in the country, provides more than a dozen creek crossings.

You'll also want to experience Sedona's unique vortexes, believed by many to possess energetic healing powers. Decide for yourself. Vortex sites include Bell Rock, Boynton Canyon, Cathedral Rock, and Airport Mesa. Some also believe the Chapel of the Holy Cross, seamlessly woven into the red rock landscape, is a vortex.

Whether shopping at the colorful Mexican-styled Tlaquepaque outdoor village, taking a rollicking jeep tour, hiking amidst the red rocks, enjoying the lingering fragrance of Pinon pines, feasting on authentic southwestern cuisine, or watching a brilliant sunset at the top of Airport Road overlooking the entire town, Sedona never fails to dazzle.