The Wong Family: Creating Lifelong Ties in Calabasas
March 1, 2022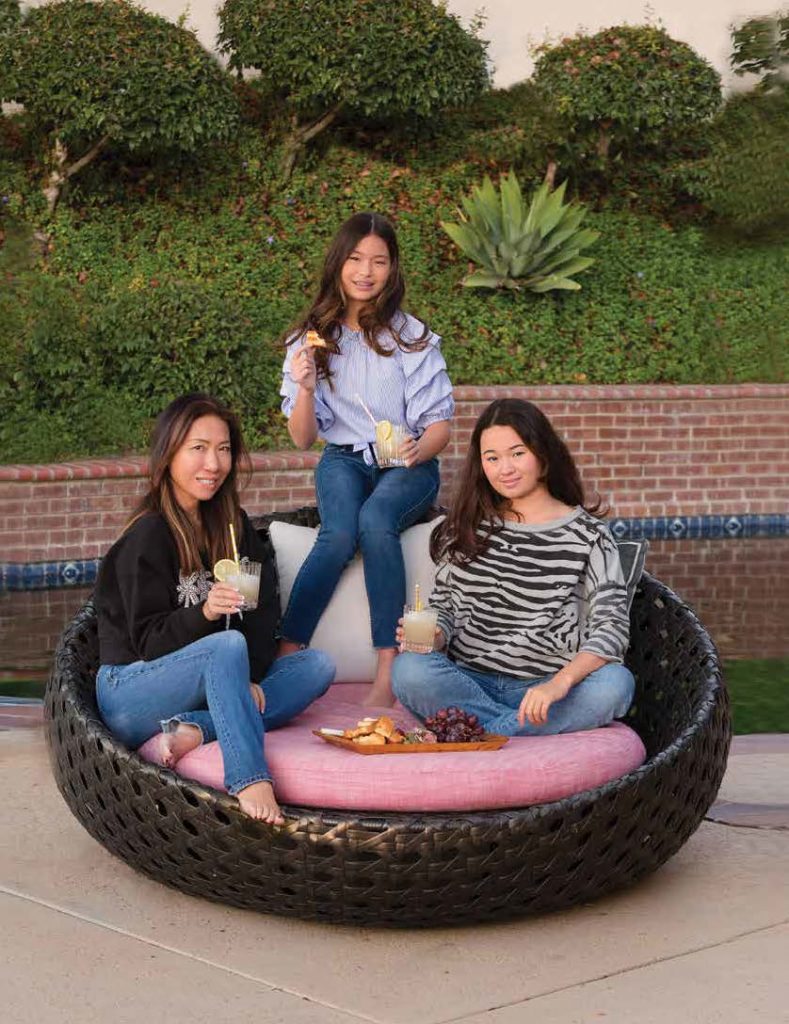 Interior Designer Julia Wong and her two daughters, Isabel and Chloe, traveled all over the globe, from her birthplace in London to France, Italy, and Japan. They especially adore Calabasas, where Julia and her family moved 21 years ago.
Ever since then, she and her children have made lifelong friends within the community. "On the weekends, we often enjoy brunch at Porta Via, oysters at Kings, and dinner at Shibuya," shares Julia. Their Calabasas home provides a modern spin on the classic Italian villa, built with structure yet comfortable and informal. The view from their living room pays tribute to the magnificent Calabasas mountain views she first fell in love with 21 years ago. They especially enjoy waking up to gorgeous Calabasas vistas and dining together under the Magnolia tree in their yard.
Julia runs a highly creative and demanding full-service interior design company, Julia Wong Designs. "Some of my design disciplines come from my travels," says Julia. "I was transfixed by even the smallest gestures, such as the gift-wrapping in Japan, meticulous visual presentation in France. and sublime architecture of Italy." She utilizes that same meticulous attention to detail, passion for refined finishes, and excellent workmanship to inspire others to reimagine their dream homes.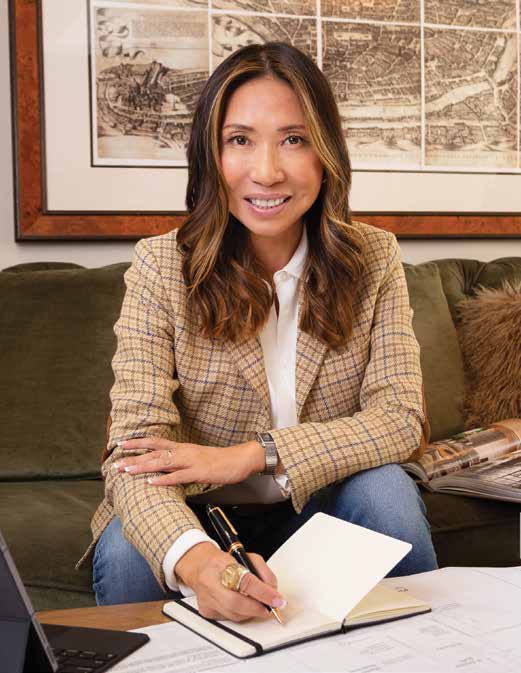 This multi-talented interior designer and mom began her career in the fashion industry with Galliano at Dior. Looking to create designs that were more permanent, Julia transitioned to interior design. Her interior design clients range from the Ritz-Carlton Residence to the local Sherwood Estates. She also serves as an active member of ICAA (Institute of Classical Architecture and Art) and SIA Projects (Save Iconic Architecture), which supports the landmark process to protect historic structures.
Julia's youngest daughter, Isabel, attends Alice C. Stelle Middle School. She enjoys gaming, playing tennis, and drawing. The entire family shares a passion for art, sports, food, and travel. They love experiencing different cultures and destinations through their cuisine, later recreating the dishes in their own indoor/outdoor kitchen in Calabasas.
"On our last family trip, prior to the pandemic, we attended a wedding in Puglia, Italy," explains Julia. "We traveled from Puglia to the Amalfi Coast. Isabel learned to make handmade Orecchiette pasta during the summer fiesta night in the antique square of Masseria Torre Coccaro while her grandparents sat nearby beneath 1000-year-old olive trees serenaded by live music."
Music plays a wonderful part in their lives. "During some of the toughest times of the pandemic, Isabel relaxed by playing the piano," notes Julia. "My favorite 15 minutes in the morning is when Isabel plays her favorite song, 'One Summer's Day', from Spirited Away, while I prepare her school lunch."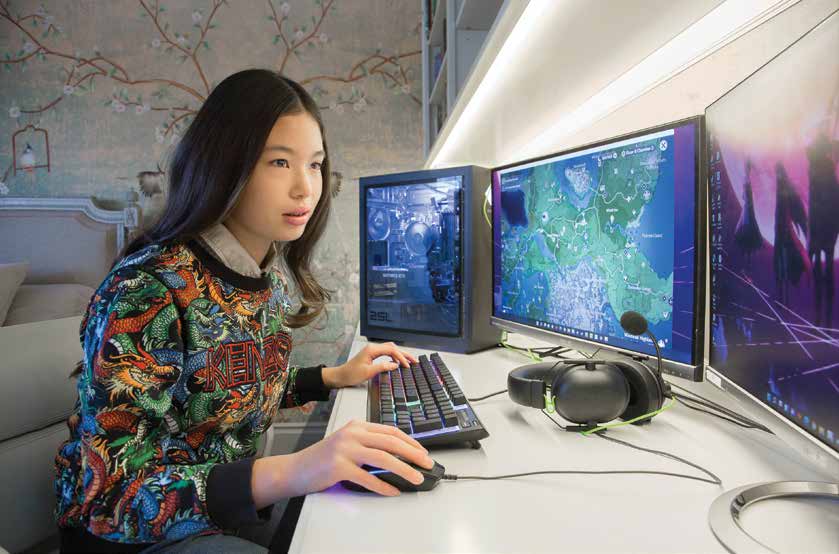 Julia's oldest daughter, Chloe, attended Calabasas High School, graduating with honors. She's currently a proud UCLA Bruin. Prior to starting college, Chloe visited Japan with her mom. Their amazing two-week trip included stops at Japan's unique art island of Naoshima and the renowned Bamboo Forest of Kyoto. "Chloe's favorite food is sushi," notes her mom, "and what better place than Tokyo's famed Tsukiji Fish Market to experience it."
Currently active in UCLA's Pre-Law Society, Chloe belonged to the Eta Sigma Pi Classics National Honor Society and the Bruin Women in Business club. She also skis in Big Bear and is determined to become more comfortable skiing black diamonds. Chloe inherited her mom's artistic talents and especially enjoys drawing with colored pencils, "because they're not as messy as paints, and you can still achieve a wonderful depth of color," she says. Chloe has also worked as a professional teen model for such companies as Forever 21.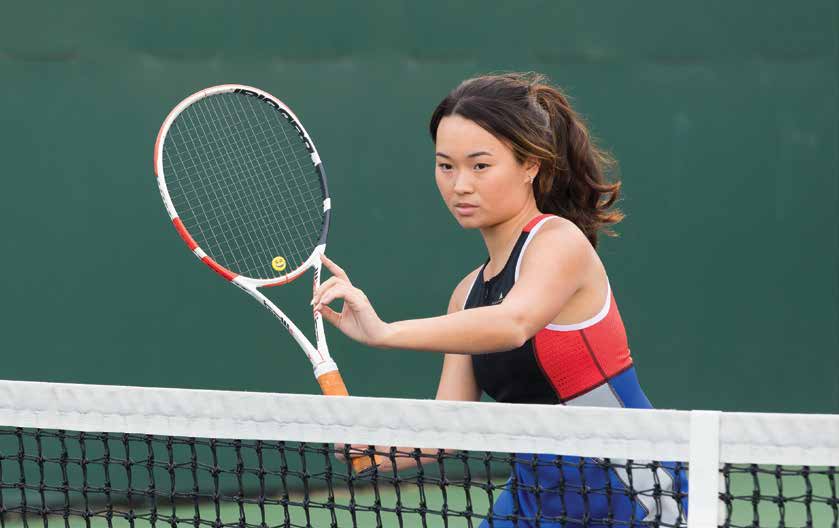 Julia's daughters also possess a talent for tennis. Chloe served as captain of Calabasas High's tennis team. They both spent summers at the Calabasas Tennis and Swim Center, where they formed some of their closest friendships. They all attend Indian Wells and Wimbledon tennis tournaments, another favorite family tradition. Chloe, a UCLA senior, still plays in tennis tournaments on her own time. "I prefer singles because it's a lot easier to stay in tempo and maintain consistency," she says. "I don't mind playing doubles sometimes. Volleys and net play are extremely fun."
When not traveling or designing homes, you'll discover Julia either jogging around the lake or swimming at the Calabasas Tennis and Swim Center. An internationally acclaimed interior designer, Julia combines beauty and sophistication with functionality and comfort. For more than two decades, she's employed her artistic sensibilities to fashion-timeless retail, residential, and hospitality interiors. Fluent in French, Mandarin, Cantonese, and Japanese, Julia studied design at London's Ravens-Bourne School of Art and Design. Fusing European tradition with American culture, Julia transforms spaces with her elegant yet effortless interior designs. We look forward to seeing what Julia and her talented offspring create next.