The Tirsch Family: Enjoying Triple the Fun
August 30, 2022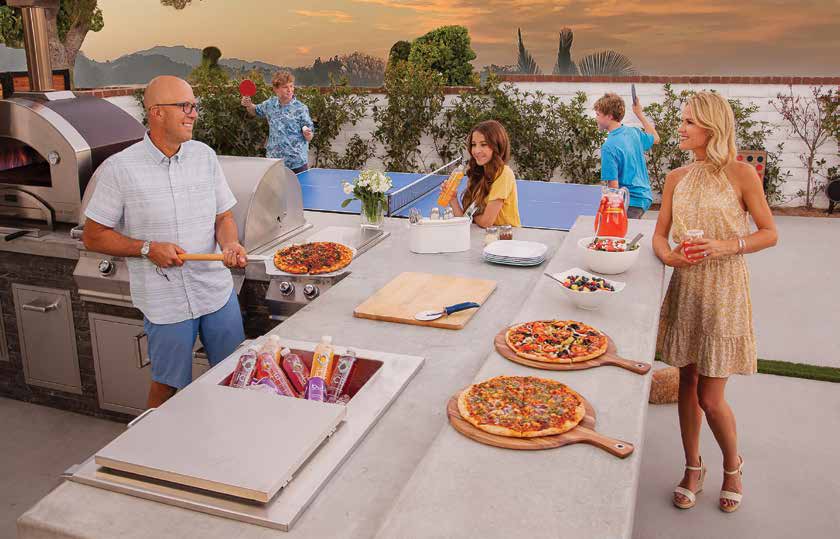 Raising triplets sounds like a daunting task. The Tirsch family of Agoura Hills, however, manages to do it with a whole lot of love.

"Having three kids at once—everything else in our lives took a backseat as 100% of our focus was on the babies," says Wendy Tirsch. "My husband, Dave, and I had to purchase everything in multiples of three. It was over three years before they all slept through the night. Once one woke up, it was an instant middle-of-the-night party for all. I would go to bed at 10 PM and wake up three hours later to start my day. Dave would sleep for a few hours before all our babies woke up. Prepping and cleaning 24 bottles and changing countless diapers was part of our routine."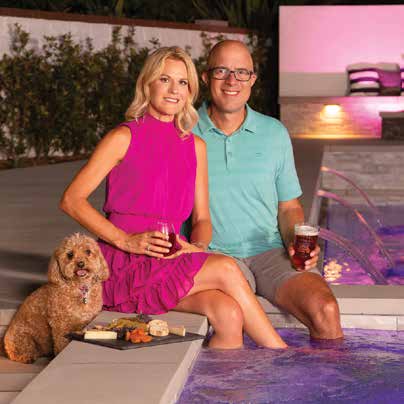 None of this fazed Wendy and Dave very much. They were just thankful that their sweet babies defied medical odds. Born 14 weeks early, at a little over 1½ pounds each, Hannah, Jake, and Zach, now 14 years of age, continue to thrive.

Wendy and Dave's love story began more than two decades ago when they met at Wendy's sorority sister's birthday party in Santa Monica. The two sat next to each other at dinner and clicked right away. Dave asked Wendy out a couple days later to teach her how to golf. She beat him, and the golf date extended to dinner, a movie, and dessert; and the rest is history. While Wendy was in graduate school in Los Angeles, she received a job offer from a company in Arizona. The young newlyweds decided to try something new. "We loved our first few years in Arizona," explains Dave, "and were so happy when Wendy's sister bought a house nearby." Once the kids were 3, however, they returned to Southern California to be closer to both sets of grandparents and escape the desert heat. They still visit Scottsdale each year to spend time with Wendy's sister's family and visit the NICU staff who took such good care of their babies.

Both Dave and Wendy grew up in the San Fernando Valley. Returning to Los Angeles, they moved to Agoura Hills to be near family and a great educational system. They love the community, the people, and the family-friendly neighborhoods. "We're active in the community, coaching sports teams and volunteering at school," says Wendy. The Tirsch kids are involved with sports, orchestra, and robotics. Hannah participates in Model United Nations, and the boys recently joined Boys Team Charity. All three are now in their school's GATE (Gifted and Talented Education) program.

The couple's jobs fortunately offer plenty of flexibility. Dave graduated with a business degree from CSUN and started a company 28 years ago selling ergonomic office chairs at local computer shows. The company, based in Agoura Hills, has since grown into a nationwide business offering myriad products and services. Wendy graduated from USC and began her career as an international trade consultant at KPMG and Ernst & Young. She earned her MBA from UCLA and transitioned into aerospace. She moved up quickly within the industry until she became pregnant with the triplets. After their birth, Wendy was given the opportunity to work flexible hours from home, allowing her to remain actively involved with her children.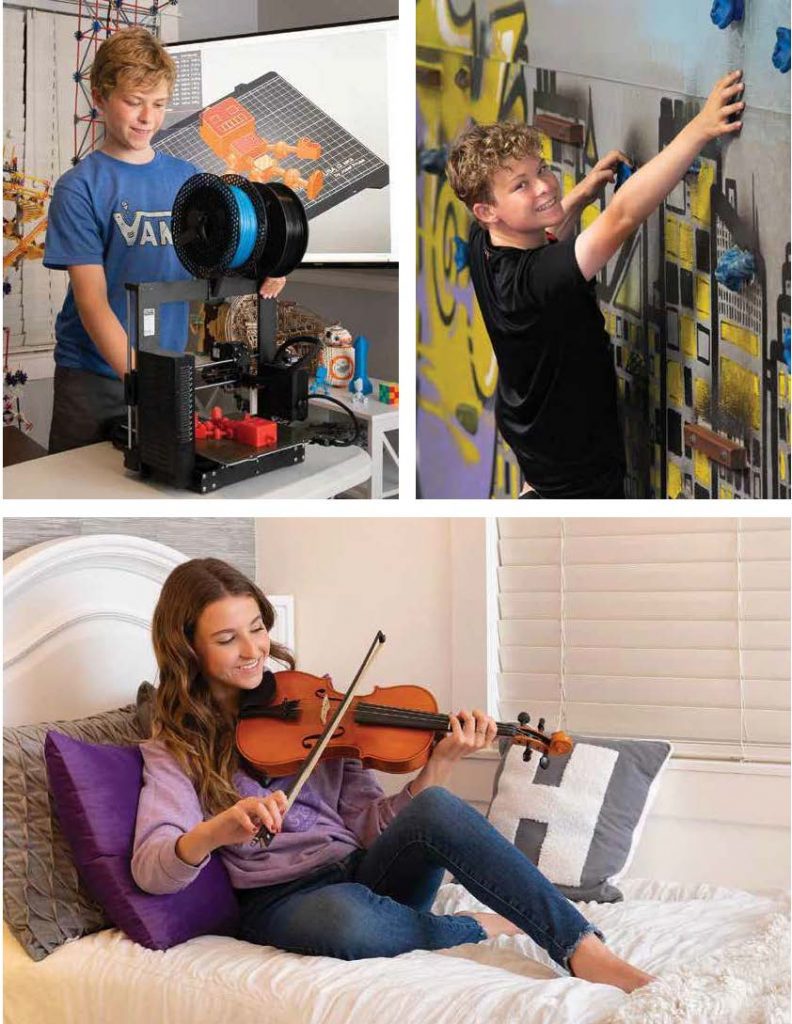 "Since the triplets were born," explains Wendy, "we made it a priority to have as much fun as possible with our kids. We went to Disneyland, for instance, every Wednesday when the kids got out of school at 11:30. If we weren't at Disneyland, we were at Legoland, the Santa Barbara Zoo, or another fun-filled adventure." Now, they especially love the adrenaline rush of roller coasters, waterslides, and ziplining. Their favorite family activity is breaking out of an escape room.

"Raising triplets is a lot of fun, without any downtime," says proud papa Dave. "Our household is always busy with activities and friends. When the kids started crawling and walking, things got busier. We would be changing one toddler's diaper while another toddler was unrolling toilet paper and a third was climbing for snacks in the pantry."

"Through all the chaos, we loved every minute," adds Wendy with a smile. "The constant belly laughs, built-in playmates, and joy in the house were worth every sleepless night. And once the kids started pre-kindergarten, having triplets gave us a huge advantage. We have three kids but one schedule—a single school drop off/pickup and many of the same extra-curriculars. We can be completely hands-off with schoolwork since they hold each other accountable. Hannah easily hangs out with the boys' friends and vice versa, so they end up socializing together quite often. As they grow older, it's really nice for them to have each other to confide in." The triplets even shared a single B'nai Mitzvah at Congregation Or Ami in Calabasas last March. It was a magical day with family, friends, and four of their nurses from the Scottsdale NICU.

Hannah plays club soccer and tennis. Jake and Zach play soccer, baseball, and golf. They love parkour obstacle-course training and competitive robotics. The family spends most weekends on the soccer or baseball fields. They also love travelling together, especially to Hawaii and wherever a Disney Cruise can take them. Locally, Wendy and Dave relish Plata Taqueria & Cantina for a quick lunch date while the kids are at school. The Tirschs are also regulars at Agoura Deli.

Whether dining on delicious Italian food at Vincitore or playing with their micro mini goldendoodle pup, Cuddles, the Tirsch family continues to thrive as they navigate life together in the beautiful sun-drenched Calabasas area.