The Chanana Family: Shining a light of positivity across the globe
June 30, 2022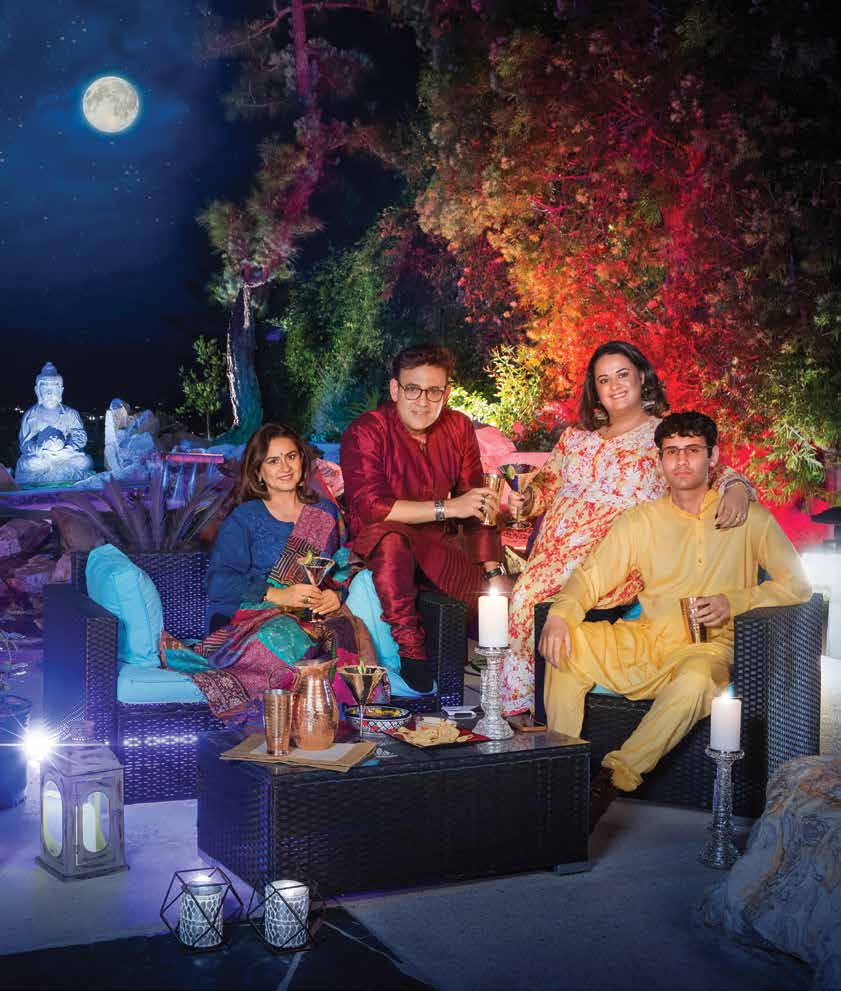 International filmmaker Aashish Chanana; his wife, Anju, a former Bollywood actress and model; and their two children, daughter Muskaan and son Aryaman, aspire to make the world a better place with their creativity.

After relocating from Mumbai, India, to Calabasas more than a decade ago, the family fell in love with the area's vibe. "We cherish the mountains, the beautiful sunsets, the Commons…everything," says Anju. "We bought our home in Vista Pointe, Calabasas, in 2010, after two years of house hunting. As soon as we walked into the house, we knew this could be our home. We truly appreciate the views, clean lines, Zen look, contemporary and unique architecture, and attention to detail that went into designing this house."

Anju currently channels her creativity into yoga, meditation, painting, designing, and crafting jewelry. She has also sketched and designed her own clothes since fourth grade. After her second child, Aryaman, was born, she decided to follow her passion for fashion design. "I started modeling in high school and acting in movies while in college," explains Anju. "I began early and gave it up early, too. I was way too young to realize the struggle others had to go through, as work came easily to me. No regrets. I'd never have met my wonderful husband if not for movies. Ash signed me for his first directorial venture and the rest is history."

With over 20 years of experience in the film industry, Aashish is CEO of the international film production and visual effects studio Media Factory International, with offices in Vancouver, Canada, and Mumbai, India. In 2009, desiring a base in California, the Chananas initially moved to Napa Valley, where they had family, before relocating to Los Angeles to be closer to the film industry.

An award-winning film director, Aashish believes that powerful films bring awareness of important stories in our world, contributing towards positive change. One of the few film directors who has won over 100 awards and nominations from across the globe, his recent films, Afreen (on anti-terrorism) and Emily (about human trafficking), shed light on extremely dark subjects. His newest film, Obsessions, combines love, passion, and thrills with his flamboyant style—using beautiful, breathtaking visuals.

Artistic sensibilities clearly run in the family. Daughter Muskaan's talents include painting, which she adores. She presently works as a hair and make-up artist in Mumbai, bringing such international brands as Smashbox and GLAMGLOW to India. "I grew up around movies, watching them and spending time at my dad's opulent studios," says Muskaan. "Feeling proud of my mom and dad's hard work and achievements inspired me in so many ways. Growing up, I really loved to dress up, like most girls my age…that lasted through my teenage years. I soon realized how much I enjoyed making a difference in the world. Makeup enabled me to express myself, and I wanted to help others feel the same way. Plus, my mom's a great painter, which inspires me. In many ways, makeup is a lot like painting." Muskaan hopes to break into the film industry as a makeup artist, following in her mom's footsteps in Bollywood. She currently does bridal makeup and assists photographers at fashion shoots.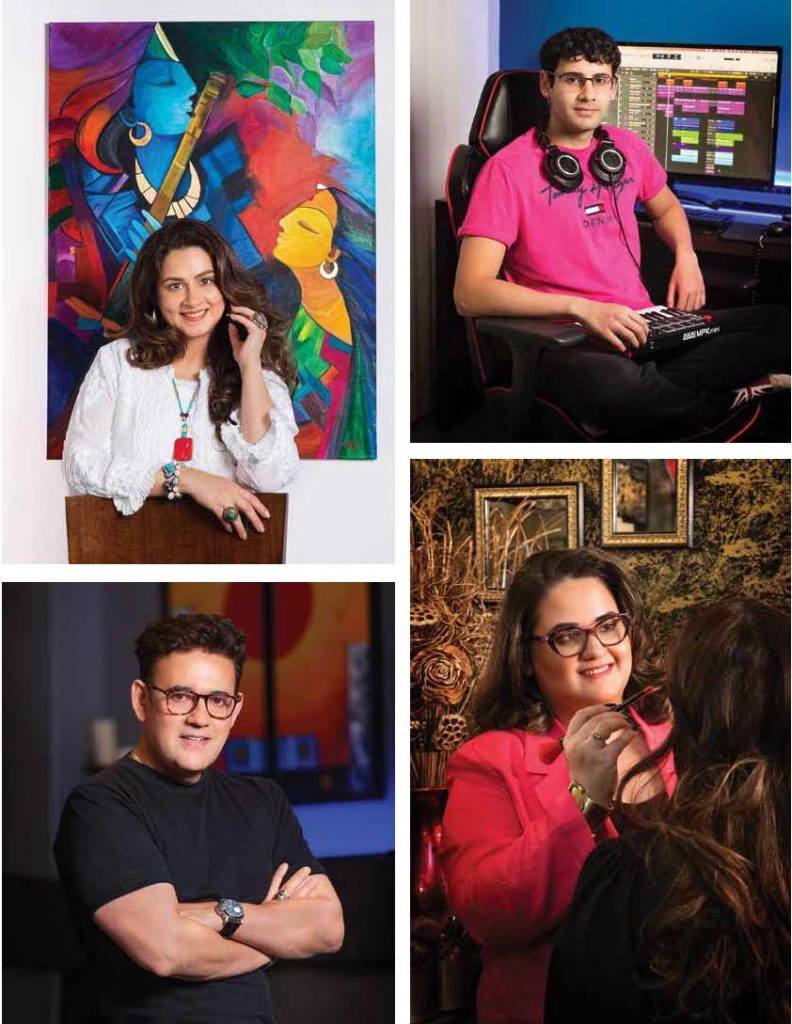 Muskaan's younger brother, Calabasas High School graduate Aryaman, aka 'Ace', loves creating music. "I hear my dad tell his friends that I make music 40 hours a day," says Aryaman. "Honestly, I wish days were longer, and I could really do that. I think what's different in my music is the 'diversity' I bring in my compositions. I'm very fortunate to have traveled the world at such a young age. Those experiences help me bring multiple colors into my music palette. Everyone in my family is an artist in one way or another. My sister does makeup. Dad's an awesome filmmaker. My beautiful mom is an artist, a yoga instructor, and a jewelry designer—all rolled into one—and the best chef ever!"

Originally from India, the Chanana family lived at the heart of Bollywood where they were deeply involved in the Indian film industry. Aashish's father, a professor at Harvard and MIT, with a PhD in economics, served as a cabinet minister in the Indian government. While in high school, Aashish designed India's first electric car and was awarded the prestigious Gold Medal from the country's President. Although he was offered scholarships from Columbia University in New York, Loughborough in London, and Toyota in Japan for automobile engineering, his passion for filmmaking drove him in another direction.

The family still finds time to travel. They especially enjoyed a recent road trip to the Canadian Rockies, including Lake Louise and Banff. "We found it absolutely spectacular," says Anju. "We didn't want to leave Western Canada completely so we bought a beautiful home in Vancouver where we get to spend a few months every year. The province of British Columbia is stunning and one of the best places on earth for those who relish nature as much as we do." They also enjoy spending quality time together in Calabasas, like going to the gym or for a swim. Aryaman also runs and works out regularly. "We love heading to The Landing to soak up a little sun on the patio while overlooking the lake at Westlake Village," notes Aashish. "Aryaman loves the sushi, so we go there all the time. Another favorite of ours is Thai food at The Palms on Hollywood Boulevard." The Chanana family continues to nourish the world through their creativity. We look forward to seeing what this talented clan cooks up next. @ada.artsntrends | @anjuchanana | @aashish_chanana | aashishchanana.com