The Stark Family: Practice is Everything
October 30, 2018
One of the hardest things to master in life is the concept of "practice what you preach." It is far easier to give someone advice than to put the same concepts into practice in your own life. For Liran and Dana Stark of Calabasas, both licensed marriage and family therapists, each day is another opportunity to integrate the life skills they teach in their practices into their own lives.
Liran and Dana's life journeys both began in Israel, though it would take 20 years— and a move half way around the globe—for the pair to meet. Liran's family moved to sunny California in the U.S. from Israel when he was just 6 years old. He quickly learned English and settled happily into western life. Seven years later, and unbeknownst to Liran, his future wife and her family were beginning the journey that would lead then 13-year-old Dana to her new home in Southern California. "I didn't speak any English," Dana remembers. "I was 13 years old, in 7th grade, and suddenly, I was in an ESL class learning the words for chair, table, and apple. I think it took me about a year to become fluent."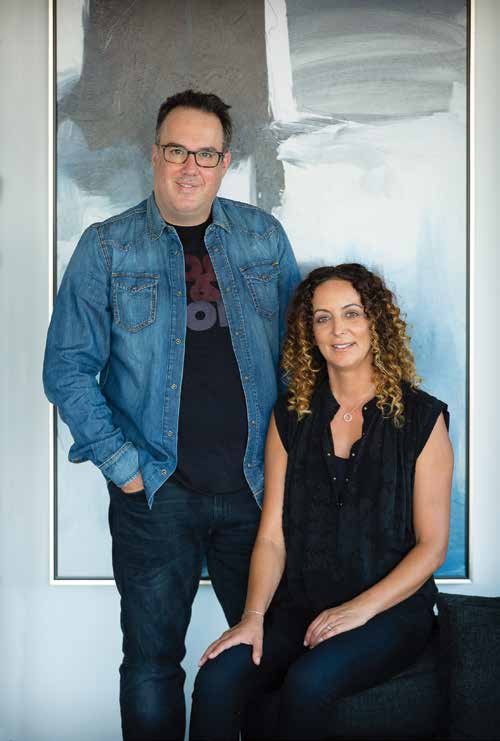 The years came and went as Liran and Dana settled into their new country until it was time for these two fresh young adults to head off to university. What was the college in both of their sights? California State University at Northridge (CSUN)—the point where their two stories became one. Dana and Liran's love and passion for philosophy led the two future therapists to the place where they first met: a first-year philosophy class.
Throughout their time at CSUN, as their love for each other developed and grew, their love for the workings of the human brain and emotional life blossomed into the makings of two successful therapists. They finished their college careers hand in hand, with their collective sights set on a very bright future. The rest, as they say, is history.
Fast forward a few decades to Liran and Dana, now married for 21 years with three amazing children, happy to be living right here in beautiful Calabasas. After moving from Woodland Hills seven years ago, into Mulwood Calabasas, this dynamic duo and their kids were instantly taken with their new community. "I like that there are mountains all over and open spaces," says Dana. "I like the more rural feel of the community."
This incredible family has quickly become an irreplaceable part of the heart of Calabasas. Both Liran and Dana have been practicing as marriage and family therapists for over 20 years. Liran has worked in a variety of direct-care settings, from schools for emotionally disturbed children to individual and couples' therapy to therapeutic groups for children of divorce. He is currently working as an intensive case manager for a leading behavioral health insurance company.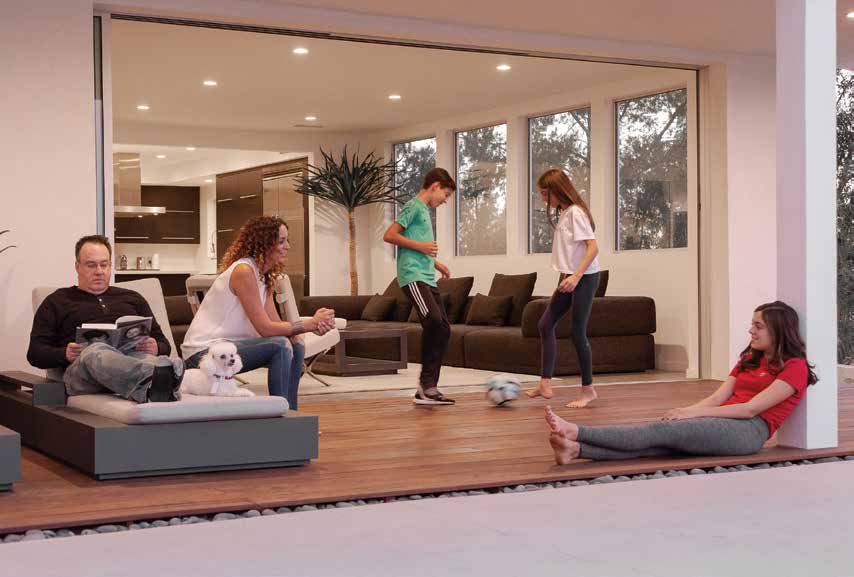 Dana's impressive career has spanned from the L.A. County Department of Mental Health as a responder on the crisis response team for a local outpatient clinic to her very own thriving private practice in the heart of Calabasas. Dana sees clients of all ages and struggling with an array of issues. Many of her clients battle anxiety, depressive disorders, addiction, and grief, to name a few of the myriad of mental health disorders she treats on a daily basis. Dana explains, "I completed my thesis on 'Parental Loss of a Child' where I created a treatment manual for clinicians to use in treating bereaved parents struggling with the pain and loss of losing a child." Dana's incredibly successful practice welcomes all patients no matter what they are dealing with. She frequently works with clients struggling with parenting issues and often leads family therapy sessions. "I encourage my clients to focus on mindfulness," she says. "I guide my clients in reaching their full potential both personally, in their relationships, within themselves, as well as professionally." Dana's passion and love for her work and clients drip off her every word: "I believe in keeping the lines of communication open in your relationships." Seeing over 45 clients per week, Dana somehow manages to juggle her successful practice with her other full-time job: being a mom of three busy kids.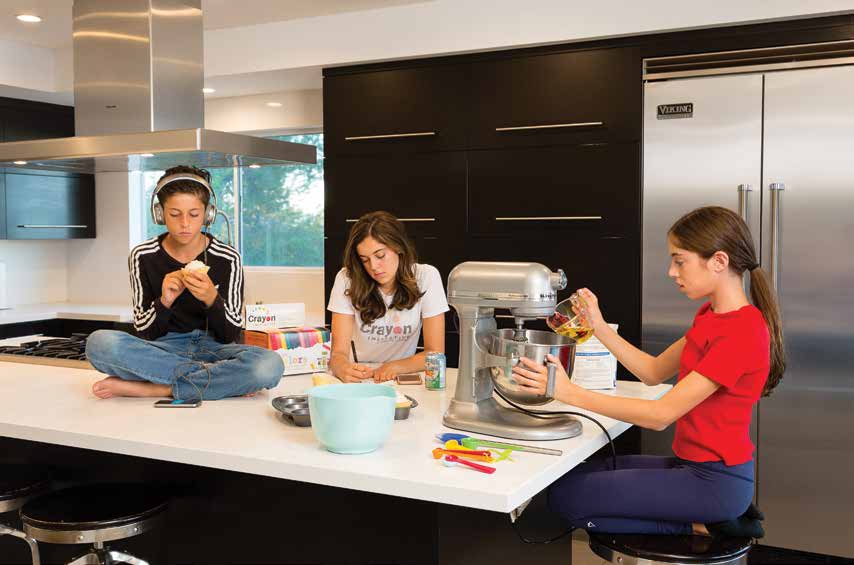 The oldest of the Stark children is 14-year-old Danielle. Determined, goal orientated, passionate, and driven, this incredible teen is clearly going places. Upon graduating from A.C. Stelle school last spring, Danielle received the prestigious Calabasas Chamber of Commerce Award for Leadership. She started as a freshman at Calabasas High School this fall and was recently accepted into the dance program. With all she has going on, this driven young woman still finds time to give back. Danielle recently started the Calabasas chapter of The Crayon Initiative, a nonprofit organization that collects old crayons to be melted and remolded for children's hospitals. Danielle's enthusiasm is revealed as she describes the process: "They send the old crayons to a place near San Francisco called Danville. They remove all the paper and melt the old crayons down and remold them into crayon triangles for the kids. Triangles won't roll off a hospital bed like regular crayons do. And with no paper labels, the hospitals can sanitize the crayons before giving them to the kids." She adds, "If anyone has any old crayons that they want to donate, there will be a donation box at Calabasas High School." The Calabasas chapter of the Crayon Initiative has already collected 13 pounds of crayons as well as $300 for the cause.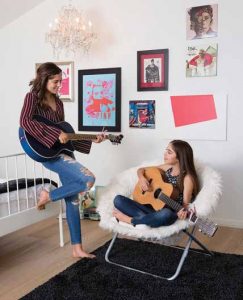 Liran and Dana's 12-year-old daughter Noa is in 7th grade at A.C. Stelle. Extremely smart and a very hard-working student, Noa's true passion lies in art. Whether drawing, painting, sculpting, Noa's artistic nature comes through no matter the medium. While her sister presents as a daring extrovert, Noa comes across as a bit more introverted and introspective. An artist through and through, her craft spills over from canvas to cookie sheet. Noa is an avid baker and loves to create delicious works of art. This talented young woman has also been involved in gymnastics and guitar lessons throughout the years.
Edan, the Starks' 10-year-old son, has dominated the soccer field since he was 4 or 5 years old. He has been playing in Barca Club Soccer under Coach Greg Kaganovsky for the past two years and recently became the captain of the team. Edan played recreational soccer for years before that. His talent for soccer is matched only by his love of the game. Edan is currently a 5th grader at Chaparral Elementary. Like his older sisters, Edan has a wonderful work ethic.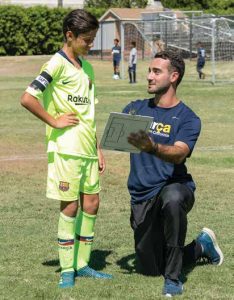 So what is it like inside the family of two marriage and family therapists? "Implementing emotional intelligence into my marriage, parenting, and relationships has been my focus and passion since starting out in the field," says Dana. "We address conflict directly, mindfully, and with empathy and understanding. We practice healthy conflict resolution that brings us closer to each other. We are all about open communication and mindfulness. In terms of parenting, I process concerns and behaviors without judgement or criticism. Using empathic attunement, I put all effort to understand the emotions behind behaviors, guiding my children and attending to their emotional needs." Dana also stresses the importance of family dinners and making time to enjoy each other. In addition to their daily meals together, the Stark family enjoys big, weekly Shabbat dinners cooked by Chef Dana, with all her extended family.
Though things can get hectic for a busy family like the Starks, they never cease to prioritize the important things in life. "We like to host dinner parties that end up in song," says Dana. "My daughters play the guitar, and my husband likes to sing. We put music on in the house and just dance around. It is a fun energy." If there is one thing to take away from this inspirational family, loving mom Dana puts it this way: "It is of most importance to be authentic. Authenticity perpetuates emotional grounding and health. One should not strive towards perfection as it leads to self-destruction and is an irrational, unattainable goal." Instead, Dana advises her children—and her clients—to create balance and be authentic to their true selves.
by Pax Ansley
Photography by Marvin Steindler