The Parmar Family: Giving Back to the Community
September 6, 2023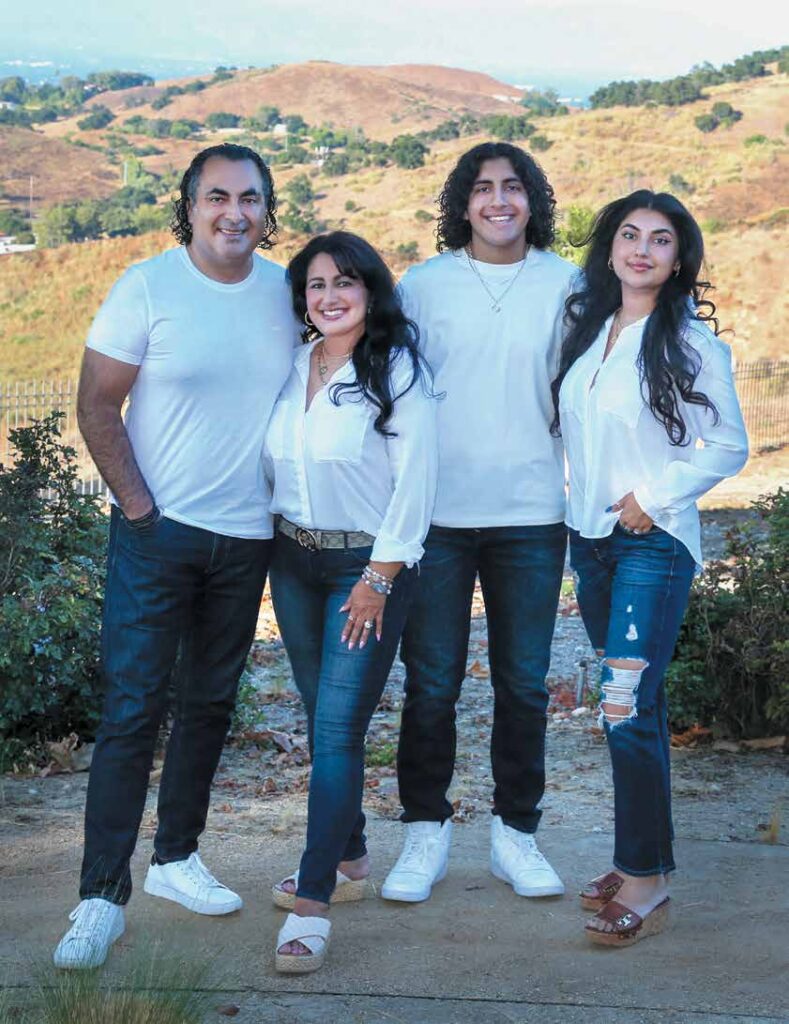 Monica Parmar and her husband, Sunny, were drawn to the allure of Southern California's beauty and wanted to provide their children, Neyha and Navin, with an exceptional upbringing. With its small-town charm and top-notch school district, Calabasas emerged as their clear choice. A dozen years ago, they uprooted from Miami, Florida, and settled into the Oaks of Calabasas, embarking on their West Coast aspirations.
Both Sunny and Monica experienced the benefits of excellent public education in Canada. Monica's upbringing unfolded in a small town on Vancouver Island, British Columbia, where her father served as a public-school educator and a respected figure in the community. Their own children were born in Toronto, Ontario, where Sunny spent his formative years after relocating from the United Kingdom. Following a period in Miami, Sunny and Monica eventually discovered their forever home in Calabasas.
The Parmar's adore Calabasas and its strong sense of community. "We are fortunate to have lived in this wonderful neighborhood for over a decade, surrounded by the exquisite Santa Monica Mountains and convenient amenities," says Sunny. "The Oaks of Calabasas community gym is truly my sanctuary. It's a place for me to tune out and breathe." Sunny and Monica spend time playing tennis with Neyha and basketball with Navin or walking their furry family members, a 7-year-old Siberian husky named Java and adorable 6-month-old Yorkshire terrier, Cafecito. The family also enjoys dining at Crossroads, Pedalers Fork, and King's Fish House and sipping their favorite coffee at Cafecito Cafe. The kids frequent the Barnes and Nobles bookstore and Regency movie theater, followed by Jeni's for ice cream. Sunny and Monica also enjoy listening to cover bands at the Sagebrush Cantina and spending a night in beautiful old town Calabasas with friends.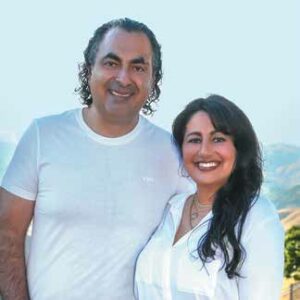 They are also very career minded. Sunny works as Global CFO for Regent LP, a private equity firm in Beverly Hills. After focusing on investment banking in Canada, he decided to delve into the private equity world and never looked back. He now helps transform businesses through operational improvements and strategic deployment of resources. The company's diverse global portfolio spans technology, media, consumer products, retail, and industrial sectors. Retail companies such as Club Monaco, Drybar, Sassoon, Intermix, Alkagen, Diamondback, and Alta Cycling Group are just a few acquisitions on Sunny's roster.
Monica's background in the pharmaceutical industry includes work in Canada in compounding, retail pharmacy, and research and development. After moving to the United States, she decided to stay home to raise their children and become more active in the community. "I've enjoyed every minute of watching my kids grow up and being present in their daily lives," she explains. "Some of my most cherished memories are daily school drop-off conversations, class projects, sports team travel days, and quick bites before tournaments. The days are long, but the years go by so fast. I'm so glad I could share such a huge part of their school years."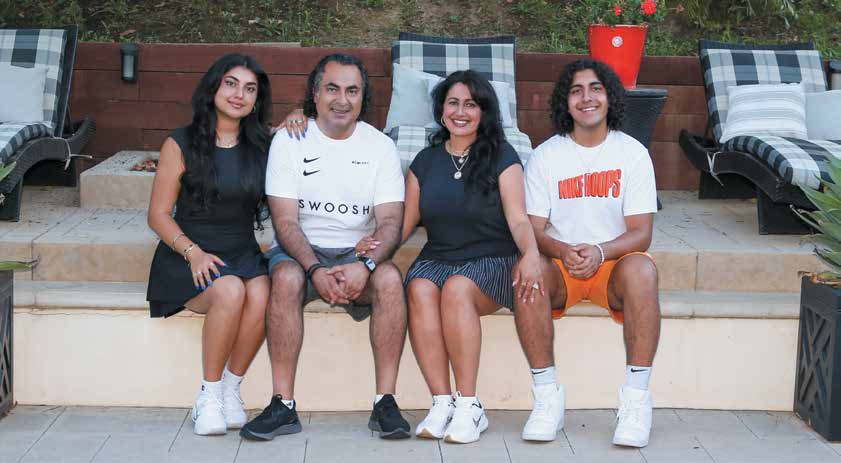 Monica's passion for science inspired her to empower other young women to pursue careers in science, technology, engineering, and math through the "Girls in STEM" project. She also worked with the American Heart Association and its "Go Red for Women" campaign, raising awareness of cardiovascular disease, the number-one killer of women. "This cause is truly personal for our family," says Monica. "Plus, I've made so many wonderful relationships with physicians, philanthropists, and fundraisers through this amazing nonprofit. It was truly a full-circle moment of giving back while getting so much in return."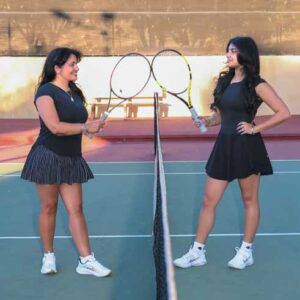 The whole family enjoys paying it forward. Neyha graduated from Calabasas High School last year as a valedictorian, with numerous accolades for her academic success and community service work. She completed the AP Capstone™ diploma program, which helps develop students' skills in research, analysis, evidence-based arguments, collaboration, writing, and presenting. She also received the California Scholarship Federation Gold Medal for outstanding students. Growing up in Calabasas, Neyha has been active in the community. She's been an avid tennis player since the age of 5, competing in many local tournaments and eventually joining the Calabasas High School tennis team. She also served as a Peer Support Executive Member, advocating for student mental wellness on campus, and a tutor for the National English Honors Society. Some of Neyha's fondest memories are the five years she shared with her mom being members of the National Charity League of the San Fernando Valley, working with amazing local philanthropies and new friends. A member of the Calabasas Coyote Girl's tennis team, Neyha also competed with the Calabasas Swim and Tennis Center for years. Upon graduation, she received a scholarship to attend the University of Washington (UW) in Seattle in their honors program, where she currently majors in neuroscience, and she plans to attend medical school. Neyha also is continuing her philanthropic work, joining the University District Street Medicine program that helps the homeless get much needed medical attention.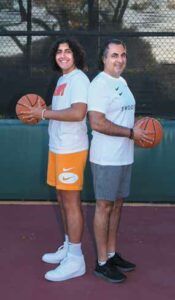 Navin also hopes to make a difference in many lives within the field of medicine. Currently a senior at Calabasas High School, he looks forward to majoring in engineering. He recently completed his AP Capstone diploma, and his paper on the significance of AI (artificial intelligence) in healthcare will soon be published. Navin also coaches basketball, tutors young students, and works with the Calabasas Mayor's Youth Council, where he leads their environmental subcommittee and participates in community leadership.
Navin's passion for the environment began at a very young age, when he was a "green hero" on Bay Laurel Elementary's student green team. He recently helped organize the city's Arbor Day and Earth Day celebrations, spoke about water conservation practices with the Las Virgenes Municipal Water District (LVMWD), and advocated for more sustainable businesses in Calabasas. His goal is to start a community gardening project to improve food insecurity issues at nearby shelters. Navin also believes that the Calabasas Commons sits at the heart of our community and has worked with the Caruso Management team to support additional improvements there. Impressed by their sustainable practices, he advocated for La La Land Kind Café to open.
Navin and his dad also share a lifelong passion for basketball. Sunny played in high school and college and volunteered as a coach with the Calabasas Recreation League. Both Sunny and Navin were involved with the league for eleven seasons. Navin currently plays for SoCal United and the Calabasas High School varsity team. Sunny also volunteers at many charitable basketball programs in inner-city L.A. as well as a nonprofit that teaches young people about the importance of financial independence.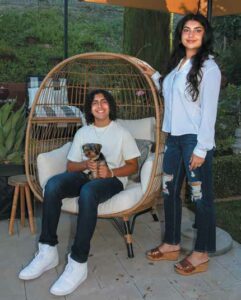 Since the day the Parmars registered their children at Las Virgenes schools, Monica has been volunteering at every level—from room parenting, fundraising, and event planning to sitting on parent-faculty clubs (PFCs) and site councils that develop, review, and evaluate school improvement programs and budgets. She's also served as a board member for nearly a decade and as vice president over the last three years for THE Foundation, a nonprofit parent-volunteer organization that works with the LVUSD and individual school PFCs to ensure that every child in the district receives the best education possible. "One of my favorite yearly fundraising events is The EVENT for LVUSD each June," says Monica. "Through my years of volunteer work, I'm extremely fortunate to have formed wonderful relationships with local businesses and vendors while bring the community together to raise funding for such district-wide initiatives as class-size reduction and supporting much-needed counselors at every school. I am blessed to interface with so many amazing parents who work tirelessly to improve each child's educational experience." Monica's work expanded from LVUSD to the City of Calabasas almost a decade ago. She is currently a commissioner for the city and has always advocated for the environment, small businesses, schools, and initiatives that local families care about.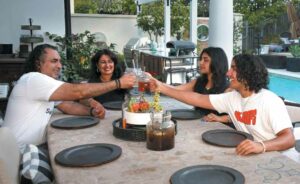 The Parmars love Calabasas and look forward to continuing to support the area's wonderful schools, small businesses, and amazing community programs for many years to come. We look forward to seeing what the future holds for this compassionate, altruistic family.