Living the American Dream, Armenian-Style: The Odjaghian Terteryan Family
November 3, 2023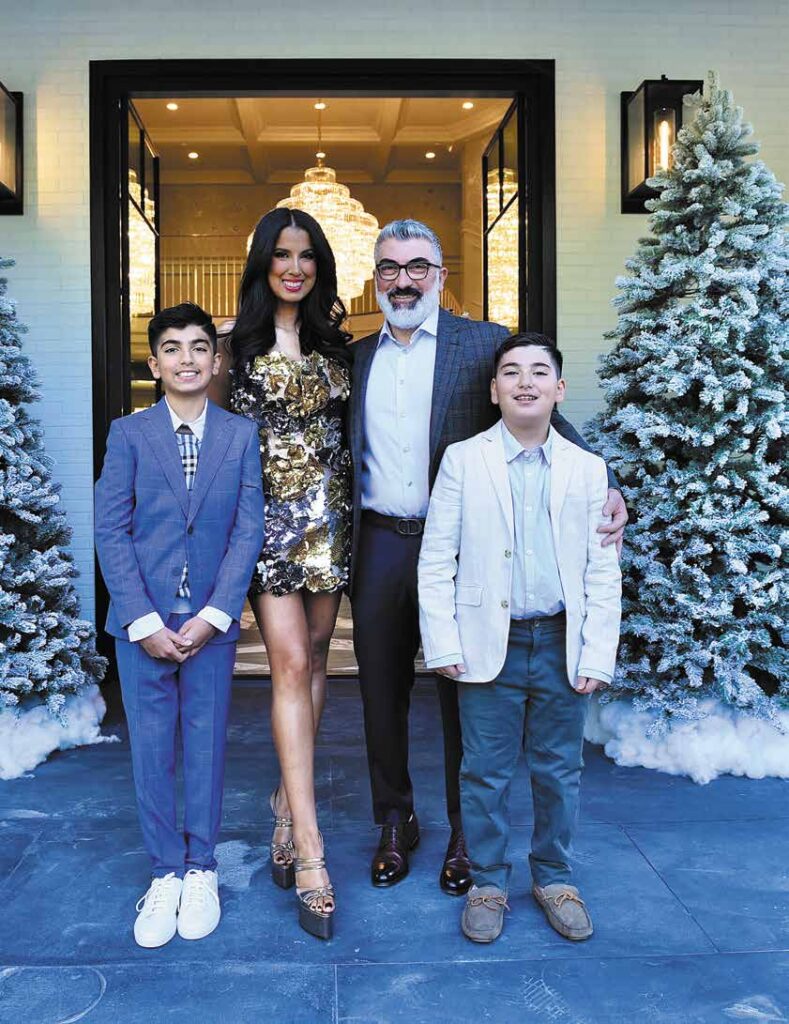 Although Tina Odjaghian and Armen Terteryan both grew up in Glendale and attended Hoover High, these first-generation Armenian high-school students' love story began years later. They now share their lives with two wonderful sons, 11-year-old Charlie and 8-year-old Luca, in Hidden Hills, enjoying all the beauty, safety, and serenity this wonderful community has to offer.
"After we married, we remained in Glendale for a year, then moved into a rental in Toluca Lake," explains Tina. "My first job was as an attorney at an insurance defense firm in Woodland Hills, so we purchased our house in the area. We later relocated to our dream home in Encino. We really wanted to move into a gated community, however, that was more private and secure. Armen and I explored various options and fell in love with Hidden Hills." In order for their new home to truly represent their personal style, they decided to custom build most of it. "It has been a gratifying journey, and we are filled with gratitude to finally settle in," notes Tina, a first-generation immigrant, born in London, who arrived from Iran at the age of 10. Armen, a first-generation Armenian immigrant, journeyed from Armenia at just 5 years old.
The entire family enjoys the small-town feel of this tight-knit community and its peaceful surroundings. They love hiking nearby trails, going to the farmers market, and simply relaxing in their sunny backyard.
"As a litigator, my job can be stressful," explains Tina, "so it's nice to come home to a tranquil environment to spend downtime with our boys. Both Charlie and Luca attend a private Armenian school where they play basketball and soccer. They also participate in local basketball leagues and are obsessed with anything related to the sport.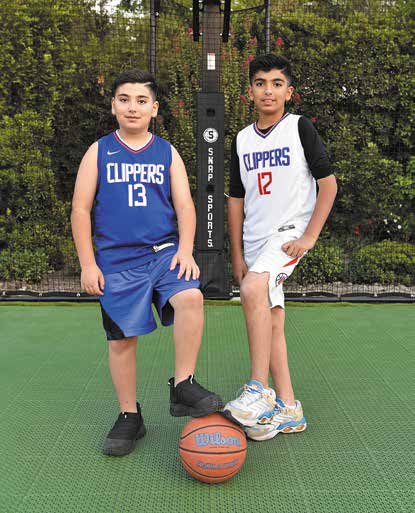 A USC undergrad and dental school graduate, Armen Terteryan spent years as a prominent cosmetic dentist specializing in full-mouth reconstructions in the San Fernando Valley. Due to a severe back injury, however, he was unable to continue. So, this self-taught real estate mogul pivoted to work full time as a real estate investor specializing in California-based multi-family and diverse out-of-state multi-use and residential properties. He also helps his wife manage her San Fernando Valley law firm, Odjaghian Law Group. Tina specializes in catastrophic injury litigation, helping victims who've suffered brain and spinal-cord injuries due to negligence and wrongdoing of others. Her firm has secured some of the highest settlements and awards on behalf of catastrophically injured workers in the state. She also serves on various nonprofit boards, including the UCLA Department of Neurosciences and the Armenian Bar Association.
The couple also gives back to various causes within the Armenian community. "As a first-generation immigrant, I credit the kindness of professors and other guardian angels in my path, who have helped me attain my goals," remarks Tina. "In an attempt to pay it forward, I regularly lecture and mentor individuals and groups of young students and professionals to help them navigate their journey and achieve success."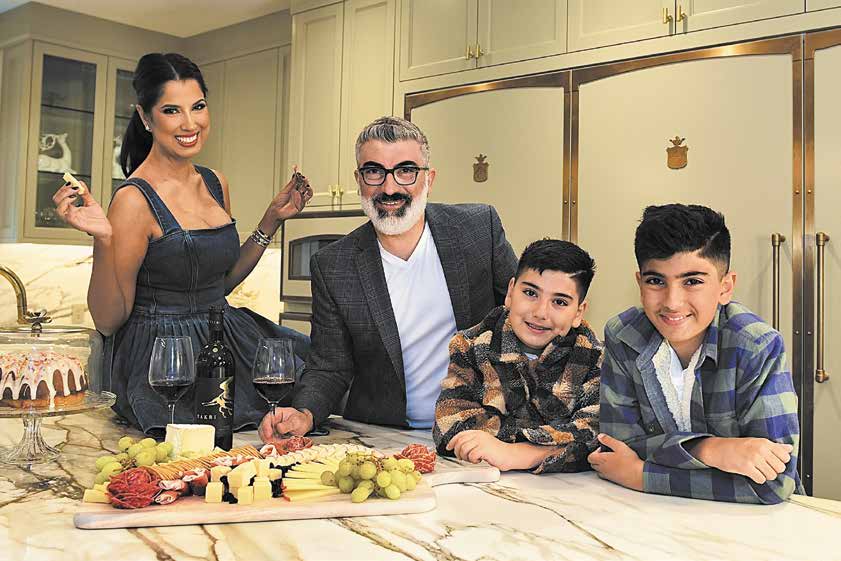 When not working or spending cherished time with their boys, Tina and Armen make it a point to prioritize their health. Looking back, Tina recalls, "My mother worked seven days a week her entire life and never really got to enjoy any time to herself until she had a sudden stroke six years ago. With the grace of God and help of some amazing folks, she is now well. That traumatizing experience made us consider our own habits and adjust our priorities accordingly. In the past few years, we've tried to treat ourselves with the same priority and kindness that we treat others, incorporating more self-care, including regular exercise and healthy eating and time for hobbies that feed our souls."
Their favorite activity is spending time with friends together as a family. "We take our kids with us everywhere, even date nights," explains Armen. "As professional parents with busy schedules, we really appreciate the opportunity to spend time with our kids and give them experiences that we never had growing up. A talented woman cooks for our family during weeknights to keep us healthy. Then, on weekends, we can indulge and dine out. We love Calabasas's close proximity to Malibu, so we often go over the hill for fine dining. We also relish Shibuya Sushi down the street and lunch at Porta Via nearly every day."  He adds, "When the boys' schedule permits, we love driving down to Laguna to spend time at the beach." Although Tina enjoys sipping virgin mojitos in a tropical beach resort, this big city girl's favorite destination is Paris, which they fortunately visit twice a year. Their boys also love Hawaii, where they enjoy acting out a scene from Home Alone, ordering all the desserts from the menu.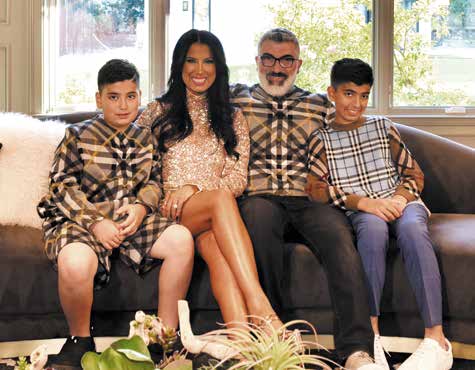 "As a granddaughter of a strong, impeccably dressed, professional woman, who was the only female to graduate from her dental school class in Russia a hundred years ago, my grandmother instilled in me the importance of hard work, dressing well, and caring about both inner substance and outward appearance," notes Tina. "I learned early on that dressing professionally could boost my confidence, thereby contributing to my success. I was honored to join Anna Wintour's Vogue100, and as a hobby, I enjoy chronicling my fashion-related experiences around the world." Tina also uses her social media platform to make an impact for positive social change, raising awareness for her favorite causes, such as empowering women and promoting positive self-image and authenticity. "I make it a point to post about all aspects of my life, good days and bad days alike, as they are both part of the human condition."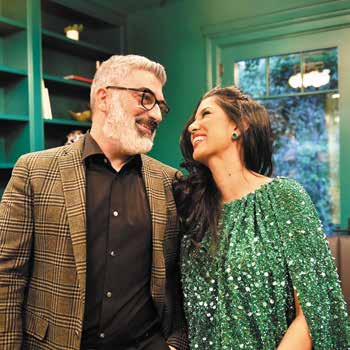 When Tina's family moved to the states, they told her they were simply going on vacation. They arrived here with only one suitcase. Soon, her father revealed that they weren't going back because the Iranian government was enlisting young children to fight in the Iran-Iraq war, and her brother was at risk of being drafted. Her father had to work abroad for the next two decades to help provide for their family, while she and her brother worked in their aunt's flower shop to help make ends meet.
"One of the most powerful pieces of advice I received as a first generation high-school student who moved here from a third world country with nothing," notes Tina, "was that where you start out in life does not in any way dictate where you end up. My husband and I are beyond blessed by the rewards we have received for our hard work. Neither one of us could have envisioned this beautiful home or this life that we have been blessed with—where we get to provide for our family and make a positive impact in the lives of others. We are filled with gratitude to this land of opportunity for affording us the privilege to live out our American Dream." They both agree.