The Lipking Family: Painting a Life Together
May 5, 2023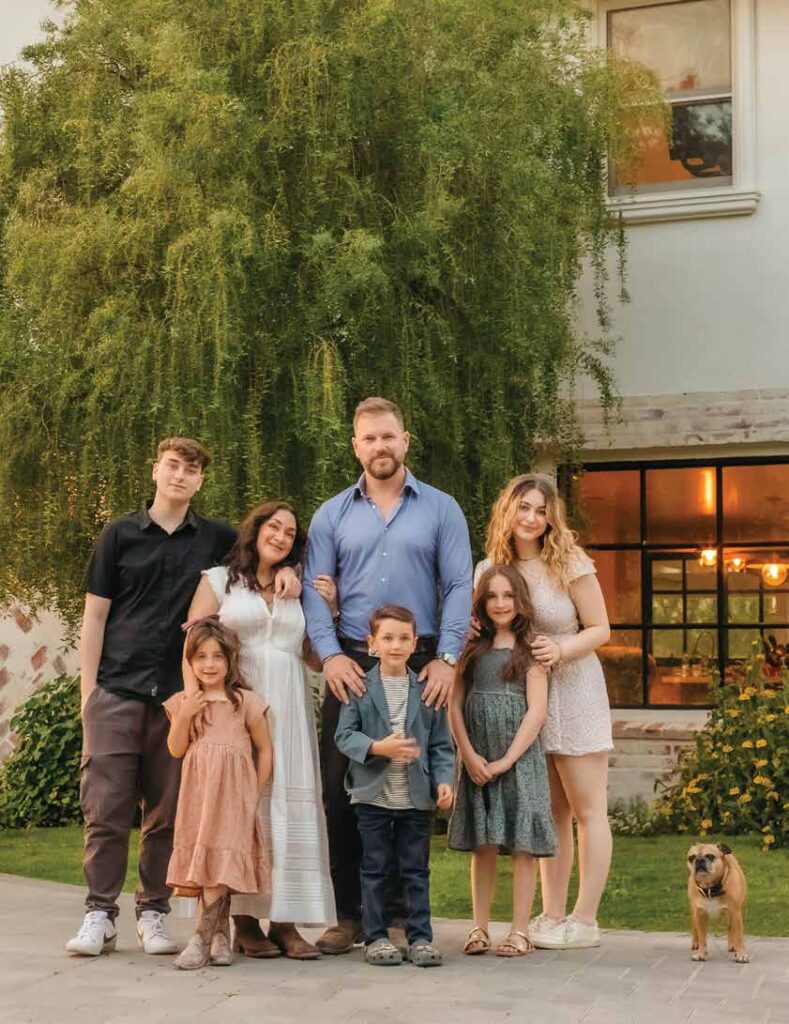 Twenty-two years ago, destiny brought Danielle and Jeremy Lipking together as Danielle, a radiant 22-year-old student, immersed herself in the world of painting under the watchful eye of her skilled 23-year-old teacher, Jeremy, at the California Institute of Art. As they grew closer, the two were delighted to find out that their childhoods were spent not far from each other, with Danielle attending Taft High School in Woodland Hills and Jeremy at Royal High School in Simi Valley. As their bond deepened, love blossomed, and they embarked on an enchanting journey side by side, weaving their own unique tale into the tapestry of art history.

For the initial 15 years of their marriage, Danielle and Jeremy made their home near her parents in Calabasas. Then, fortune smiled upon them as they found their dream house nestled within five enchanting acres in Agoura, just across from the esteemed Paramount Ranch in the Santa Monica Mountains. "We're not traditional," Danielle gently explains. "What you see is what you get with us. At heart, we're just free-spirited souls who dance to our own rhythms."
Danielle lovingly supported Jeremy as he pursued his passion and gained recognition early in his career. She soon became his muse, inspiring him to make a name for himself in the local art community. The couple adored strolling along Santa Monica Boulevard, taking in the vibrant gallery scene. Encouraged by Danielle, Jeremy decided to share some of his work with a gallery, which ultimately led to his first solo exhibition. To this day, Danielle remains instrumental in organizing Jeremy's shows and workshops, while also managing the bustling schedules of their five wonderful children: Skylar (19), Jacob (18), Sierra (9), and twins Juniper and Zion (6).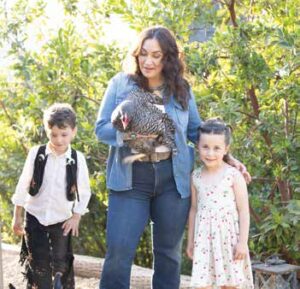 Inheriting the artistic flair from his father, the accomplished illustrator Ronald Lipking, Jeremy began to flourish creatively at a young age. Following his studies at the California Art Institute in Westlake Village, he cultivated his own distinctive style. Drawing inspiration from 19th-century portrait and naturalistic landscape painters, Jeremy weaved his dreamy, classical vision into both portraits and landscapes. He finds particular joy in painting outdoors and was initially captivated by the masterful works of Western artists like Frederic Remington and the talented members of the Taos Society of Artists.
"I've gently refined my painting style over the years," shares Jeremy. "I now dedicate more time to planning each piece. Instead of diving straight into painting, I ponder deeply on the narrative, crafting sketches and thumbnails before commencing each oil painting." His artwork graces the walls of diverse galleries like Arcadia Contemporary in New York City and Legacy Gallery in Scottsdale, Arizona, and has been showcased in numerous art exhibitions and magazines. You can also admire his work at his Agoura studio and online through his web store, Dark Creek Press.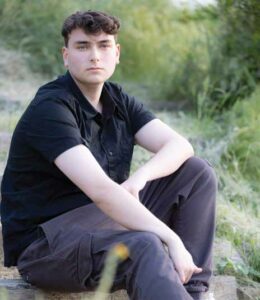 "Over the years, we've somehow found a way to balance it all," reflects Danielle. "I keep a mental checklist that's always in motion. I've come to understand the importance of maintaining momentum, whether we're traveling abroad, exploring local trails, or visiting museums together." She adds with warmth, "There's something truly special about the sweet innocence of young children. With our kids ranging from 19 to our 6-year-old twins, it feels like we've raised two sets of children."
Danielle once pursued modeling and studied at the Fashion Institute of Design and Merchandising (FIDM) in downtown Los Angeles. It's evident that their children have inherited their parents' creative flair. Eldest daughter Skylar, an Agoura High graduate, expresses herself through painting and is attending Paul Mitchell cosmetology school. Their oldest son, Jacob, enjoys playing basketball and engaging with his Xbox and attends Agoura High. Sadly, the pandemic limited much of their in-person high school experience. Sierra, Juniper, and Zion attend the Mariposa School for Global Education in Agoura. The younger girls, Sierra and Juniper, delight in dancing and attend classes at the nearby RAD Dance Studio. They also have a passion for painting.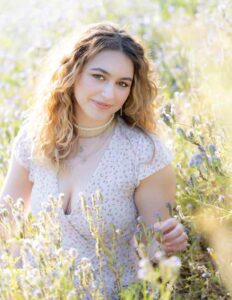 Danielle, the proud mother, observes, "All of our children possess that creative spark. They're wonderfully well-rounded and have diverse interests. They adore singing and dancing, exploring and learning. Our youngest son, Zion, is drawn to basketball, baseball, and climbing anything he can find. We're having a truly enjoyable time introducing them to a wide range of enriching activities and places."
The Lipking family's adventures go beyond their daily life, encompassing extended trips to Europe, where Jeremy shares his artistic expertise by leading painting workshops. One particularly unforgettable family vacation brought them to the captivating lands of the Netherlands, the United Kingdom, and Italy. Each destination offered a wealth of inspiration, cultural experiences, and cherished memories for the entire family.
Back at home, Jeremy continues to share his passion for art by conducting workshops amidst the breathtaking scenery of their own backyard. Their family sanctuary, nestled in the heart of nature, provides an idyllic setting for artists to learn and create. The family's journey with their home has been one of transformation and resilience. They purchased the property just three months before the devastating Woolsey fire swept through the area.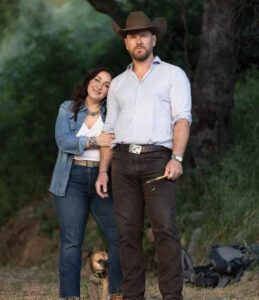 Undeterred by the challenges, the family embarked on a mission to revitalize their home. With the help of talented interior decorator Laura Giuliani from House of G Designs, they've since remodeled the entire first level. The collaborative effort resulted in a warm, inviting, and beautifully curated space that truly reflects the family's spirit and love for art. Today, their home feels just right—imbued with a sense of comfort, belonging, and inspiration.
Through their shared experiences, both at home and abroad, Danielle and Jeremy have fostered a deep appreciation for art, culture, and togetherness within their family. Their adventures continue to strengthen their bond and inspire them to keep exploring the world, creating unforgettable memories and embracing the beauty that life has to offer.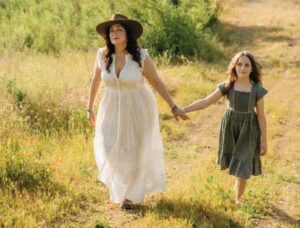 The family has lovingly created private trails from their vast backyard, leading all the way to Malibu State Park. When they're not exploring local hills or savoring meals at some of their favorite nearby eateries, like King's Fish House in Calabasas, this food-enthusiast family gathers fresh eggs from their own chickens and cultivates a variety of fruits and vegetables, such as scrumptious strawberries, carrots, onions, peppers, and asparagus. The children find joy in tending to the garden and playing in the backyard, where they swing on a tire beneath the cool shade of a towering oak. The family also cherishes backyard picnics and barbecues, frolicking with their dogs, including a black lab named Scout, several sheep, and a friendly chicken named Rosie. They're also fond of exploring the beaches of Western Malibu, where Jeremy can discover breathtaking cliffs to immortalize with his brush.
In today's world, it's truly heartwarming to encounter a couple like Danielle and Jeremy, who met when they were young and nurtured their bond, growing stronger over the years. They have beautifully mastered the art of building a loving family. From their first encounter more than two decades ago to raising their five precious children, the journey of the painter and his muse has been remarkable. To admire Jeremy's incredible artwork, including portraits of his wife and children, and to learn more about upcoming workshops, such as The High Sierra Workshop this June and the enchanting South African Painting Safari in August/September, visit lipking.com.