A Perfect Blend of Family and Hard Work: The Napolitano Family
January 1, 2023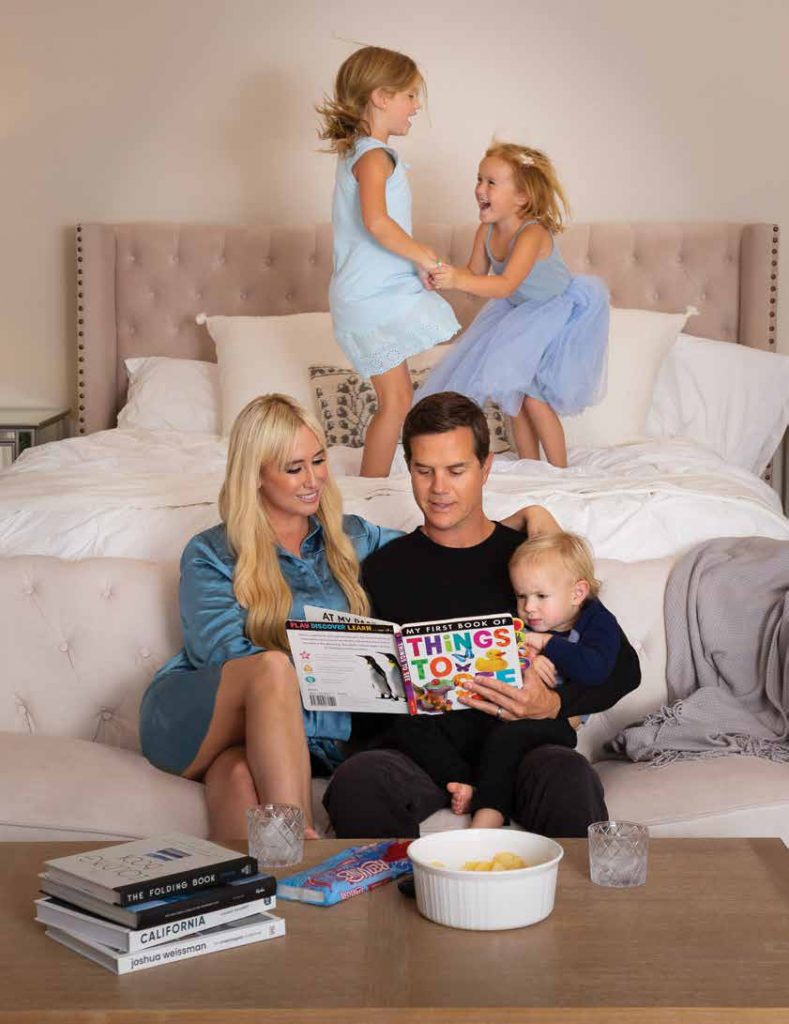 From the moment Casey and John Napolitano met, the two knew they'd found their forever home in each other.

Casey is a real estate expert, hailing from a real estate family. After spending 12 years as director of residential sales at Kennedy Wilson in Beverly Hills, Casey founded her own real estate firm, NDA Real Estate. "It was time for me to start my own company to service high-end clientele who require concierge service and complete discretion when it comes to their real estate investments," explains Casey. She also invests in real estate with her husband, John, who works in sales at Yahoo! Together, they are constantly looking for new projects to revamp and keep as income properties.

Casey's entrepreneurial spirit is genetic, her great-grandfather Verne Winchell founded the iconic Winchell's Donuts. But her true mentors are her dad, Rhett, a real estate expert known as the "Auction King," and her mom, Jennifer, a luxury realtor at Rodeo Realty Calabasas. Casey grew up in Calabasas, admiring her dad's work ethic and mom's hustle, and always hoped to return to her roots when it was time to build a family of her own. "My husband is from the San Francisco Bay Area and lived in Venice when we matched on Tinder," notes Casey. "I grew up here and went to Pepperdine in Malibu, then moved to Hollywood to work as an event promoter and real estate agent. When I met John, I knew he was the one, and we actually talked about moving to Calabasas with dreams of raising kids in a safe and beautiful community right from the start."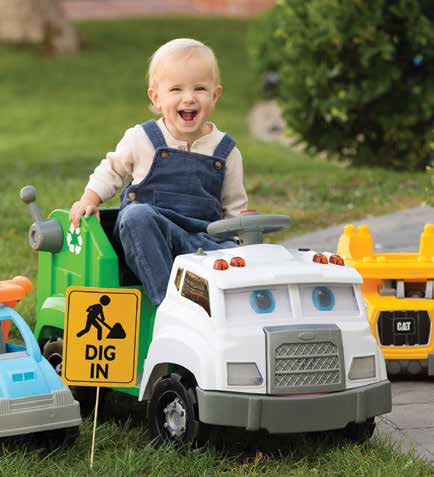 John shares his wife's passion for the area. "We love the small-town feel and the access to outdoor activities like trails and beaches, but we can also easily get to the Comedy Store in Hollywood for a night out," he says. "We love our community and sometimes even throw impromptu block parties right on our driveway. The schools are also really phenomenal. We feel our kids are safe and thriving here, which is our number-one priority."

Siena, age 6, is in first grade. She's also a Girl Scout and loves to sing, dance, cheer, and play soccer and tennis. Gemma, age 4, spends most days at Pre-K, where she loves to make her friends laugh. She also enjoys singing, dancing, and playing soccer. Their youngest, 2-year-old Jack, also attends preschool and is quite loquacious. "He's obsessed with trucks," remarks Mom.
"We all love cooking together in the kitchen. Even Jack's learned to crack eggs." John adds, "We include our kids in everything we do and don't have strict schedules. We like to swim and go to the beach as a family."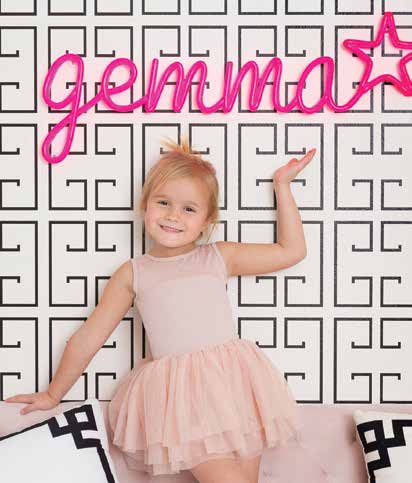 "We love to be involved with the schools and volunteer as much as possible," says John. The family hosts an annual pumpkin patch fundraiser for Bay Laurel at Casey's parent's Calabasas Park Estates property with pumpkin decorating, an ice cream truck, face painting, and more for a crowd of 100-plus participants. They also relocated both of Casey's grandmothers from Marina del Rey and Malibu to be next-door neighbors at Calabasas Lake. "The locale is perfect…they're closer to us, yet still feel like they're on the water with a sense of calm and relaxation," explains Casey. "We throw parties and fundraisers at their houses and invite our friends on their boat. Everyone is always welcome."

John works at Yahoo and has spent 15 years in the advertising technology business. Before that, he spent a few years as an assistant for a demanding literary agent at ICM and says, "I was Lloyd from Entourage."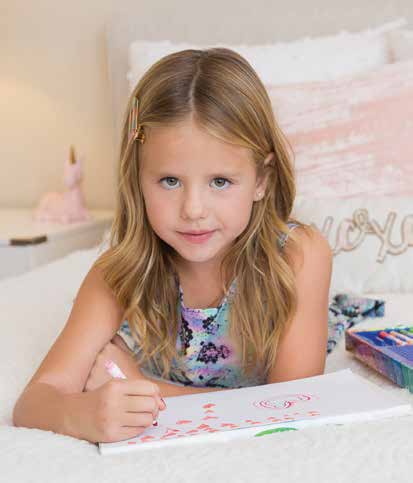 The Napolitano's favorite things to do include spending quality time with friends and family, whether it's dining out at Pedaler's Fork or Taisho or hosting pizza night at their home. Casey loves to shop with the kids at Calakids, Elfin, and Shop Ever. They also enjoy playing with their two dogs, Sadie, an adorable Pomeranian, and Parker, a sweet Jack Russell terrier, and their cool leopard geckos named Ice Cream and Pickles. The family also spend as much time as possible at their vacation rental in Hawaii, aptly called Kauai Dream House. "We spent three months there during 2020 when Jack was only two months old," recalls Casey. "The girls attended preschool where they ran around barefoot all day with local kids. We may like to dress up and host events, but we're truly hippies at heart."

These days, the family relishes going to the movies, comedy shows, concerts, and new restaurants.

Casey also plays tennis, and John remains a serious cyclist and golfer at the Calabasas Country Club. The couple works out at the club after taking the kids to school. "It feels like a date," notes John. "We like to make time for each other every week while the in-laws watch the kids." John and Casey continue transforming properties into gold mines, always looking for the next great opportunity. When they want something, they figure out how to get it. Seven years ago, when Casey was nine months pregnant with Siena, they put a letter in the mailbox of their current home asking if they could buy it off market since nothing was for sale. It was simply meant to be.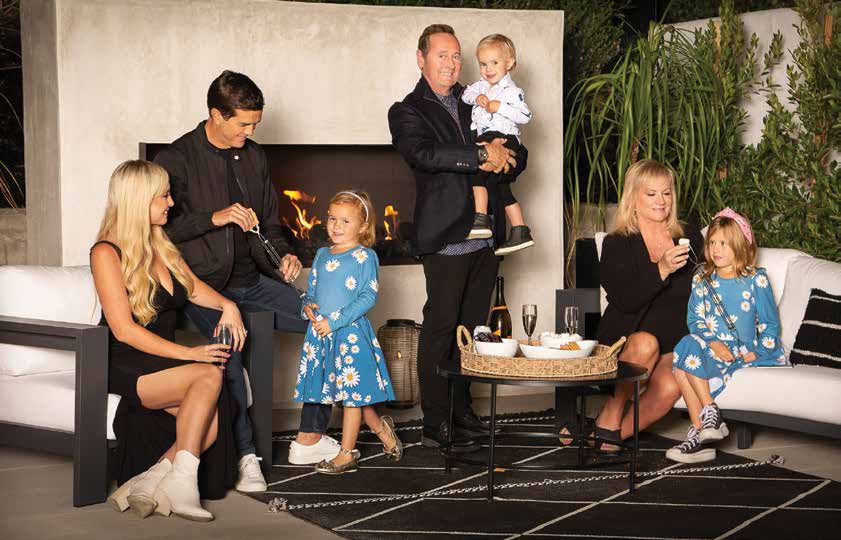 "My family raised me here," explains Casey. "I was in the first graduating class at Bay Laurel Elementary. My mom and dad still live only three streets away, which is also where we got married. And my paternal and fraternal grandmothers are next door neighbors on Calabasas Lake." Then, she adds with a smile, "We could live anywhere as long as we're all together, but we're obsessed with our community here in Calabasas." And their Calabasas community is all the richer for it.