Solving Life's Sweet Mysteries Together: The Kane Family
October 31, 2019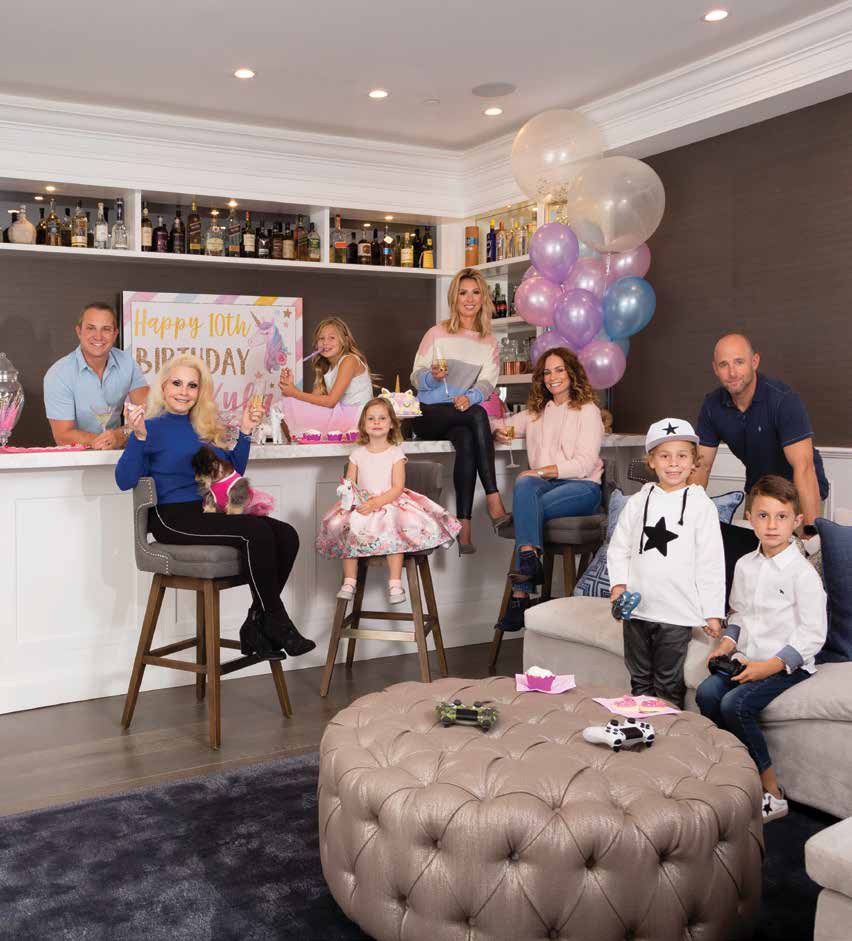 Tabitha and Sean Kane continue to ponder the mysteries of life, health, and family amidst the backdrop of their treasured San Fernando Valley community. Host of a podcast, Housewives of True Crime, Tabitha and her partner in crime, Gretchen Macaulay, attempt to solve an actual crime each week while also conversing about kids, husbands, and whatever life throws their way. Sean, meanwhile, spends much of his time empowering people to uncover the secrets of a healthy life through his company Launched.LA, which develops next-gen brands, offering premium- but-affordable choices in retail and beyond.

Nestled in their lovely Woodland Hills neighborhood, the couple and their three kids—Kyla, age 10; Kaden, age 7; and Colton, age 6—clearly feel right at home. They especially appreciate living close to family and friends. Their extended family includes Sean's mother, Connie, who lives just down the street and taught at St. Mel Elementary School during the 1980s. Tabitha's mom, Debbie, works with Sean at Launched.LA. They both continually lend a hand. The kids also adore their weekly visits with Aunt Michelle, cousin Charli, and Aunt Christine and Uncle David, who work in the music industry. The family loves spending quality time with retired pilot and avid golfer "Papa" Mike and master gardener "MiMi" whenever they come to town from Texas.

"We all enjoy this special place that feels like a little town in a big city," says Tabitha. "In just a short drive, you can be at a sporting event in Downtown LA, a bicycle ride on the boardwalk in Venice, snowboarding on the slopes in Big Bear, or even boating in Castaic. It's hard not to enjoy the great weather that enables us to participate in outdoor activities year-round, such as tennis, concerts, swimming, and dining al fresco at great local restaurants."

Tabitha, originally from Ventura, met Sean in 2003 when they both worked for a tech start-up. Born in Dallas, Sean moved to the area as a child. Now, this active family spends a lot of time together, whether playing tennis at the Calabasas Swim and Tennis Center, sharing Sunday night BBQs with family and friends, or participating in various charity events. They also enjoy dining outdoors at the Malibu Café and celebrating special occasions at Mastro's.

The Kanes share a passion for sports and nature. Both Tabitha and Sean participated in the Malibu Triathlon and the Ventura Half-Marathon. From dog sledding in Alaska to surfing in Hawaii and trail running in the Santa Monica Mountains, they love staying active. "Our favorite vacation spot during the summer is Bass Lake, where our family enjoys water sports, fishing, cooking, and experiencing the great outdoors," notes Tabitha.

"Our favorite winter spot is Mammoth, where we snowboard and ski, sip hot cocoa, and have a ton of fun." They love traveling both domestically and abroad, and look forward to their next trip to Orlando to support a charity called Kidds Kids. They helped send a family with a life-threatening challenge to Disney World. The Kanes will join the family for a weekend of fun.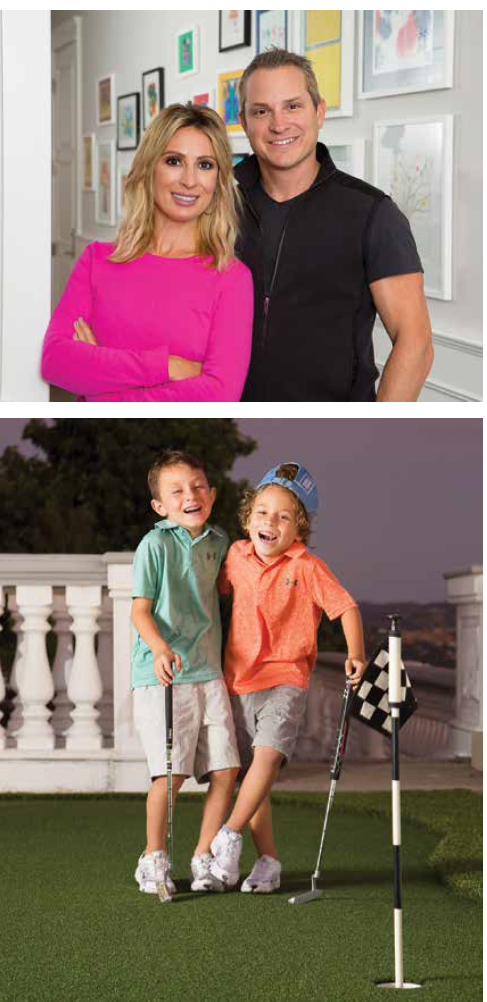 All the Kane kids thrive on staying active. Kyla plays soccer, basketball, and tennis. She also sings and plays piano in her spare time. Kaden is fascinated by computers, coding, and swimming. The youngest child, Colton loves basketball, baseball, tennis, and soccer. Tabitha and Sean spend a lot of time at their children's sporting events.
They also love attending concerts together and playing with their extended four-legged family. This includes two cats, Sweetface and Lala; two hamsters, Fast Feet and Fuzzable; and Foxy and Pepper, two adorable rescue pups. They adopted Pepper during a Viewpoint Gala event last year for the local Thousand Oaks Shelter of Hope. "We knew right away that he would be a perfect addition to our household," explains Sean. "Our daughter, Kyla, is a natural dog whisperer. So the paddle went right up in support of a great cause and sweet pup." They adopted Foxy from a shelter in Palm Springs through the Westin Mission Hills Resort's program. The hotel showcases one puppy at a time for adoption. Families can walk the dog and get to know him or her during their vacation. Tabitha adds, "Foxy was so sweet that our kids just couldn't leave without her. The Westin has placed over 250 dogs in two years through this program."

Family and community remains front and center for the Kanes. A desire to be closer to his roots brought Sean and Tabitha back to the San Fernando Valley where Sean grew up and attended Chaminade High School. In 2010, several years after Sean had completed his MBA at UCLA and following the birth of their baby daughter Kyla, they moved from Santa Monica and never looked back. They love partaking of everything their community has to offer, from extensive hiking trails to healthy, delicious meals at local restaurants. They also enjoy supporting many charitable causes through Launched.LA and elsewhere.
A true entrepreneur, Sean is one of the original cofounders of The Honest Company and continues to focus on helping families stay healthy through Launched. LA. "As a family, we value transparency, health, and wellness," says Sean. "We are thoughtful about our environment and the health effects of the products we use and foods we eat. It was only natural to start a company founded upon similar values."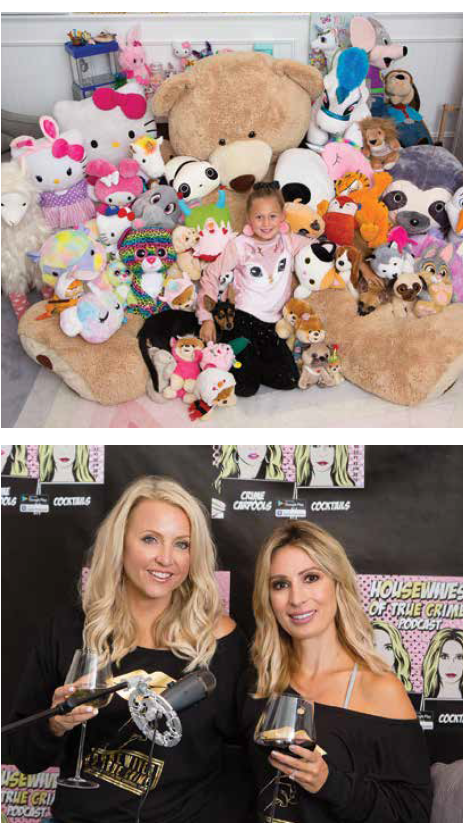 Created with Calabasas resident Jay McGraw—son of popular TV personality Dr. Phil and best-selling author Robin McGraw—Launched.LA includes three companies at present. One is Hello Bello, a baby brand launched earlier this year and cofounded with Kristen Bell and Dax Shepard. They offer premium, plant-based baby products at a not-so-premium price at Walmart and online. Second is Taffer's, cofounded with John Taffer from the Bar Rescue show. Taffer's creates cocktail mixers and low-carb hard seltzers with high-quality, natural ingredients. It's now available at Walmart and other grocery stores. Third is newly launched Tiller & Hatch, co-created with fellow Calabasas resident Chef Bruce Hecker and Jennifer Lopez and Alex Rodriquez. It provides healthy, restaurant-quality frozen meals for families on the go at an affordable price. It's the first frozen food brand of this kind. Meals are ready in minutes using an electric pressure cooker. They're currently sold at Walmart and through a convenient subscription service online.

All of the brands developed through Launched.LA will have a give-back component. In its first seven months, Hello Bello already donated over $125,000 worth of products to organizations like Baby2Baby, Alliance of Moms, and the Red Cross.

Tabitha began podcast Housewives of True Crime almost by accident with longtime friend Gretchen Macaulay. "We started the podcast after literally calling each other while waiting in the carpool line to talk about a true-crime podcast or show we just watched," explains Tabitha. Once their kids grew a little older, they realized the time was right to launch their own podcast, whose apt tagline is "talking crime in the carpool line." Tabitha's family remains super supportive. "Sean listens to all the cases, offering welcome critiques," says Tabitha. "My kids even sing my theme song in the car on the way to school."

It's no mystery that the Kanes will continue enjoying each other and their community for years to come.