Promoting Acts of Kindness: The Smith Family
January 1, 2021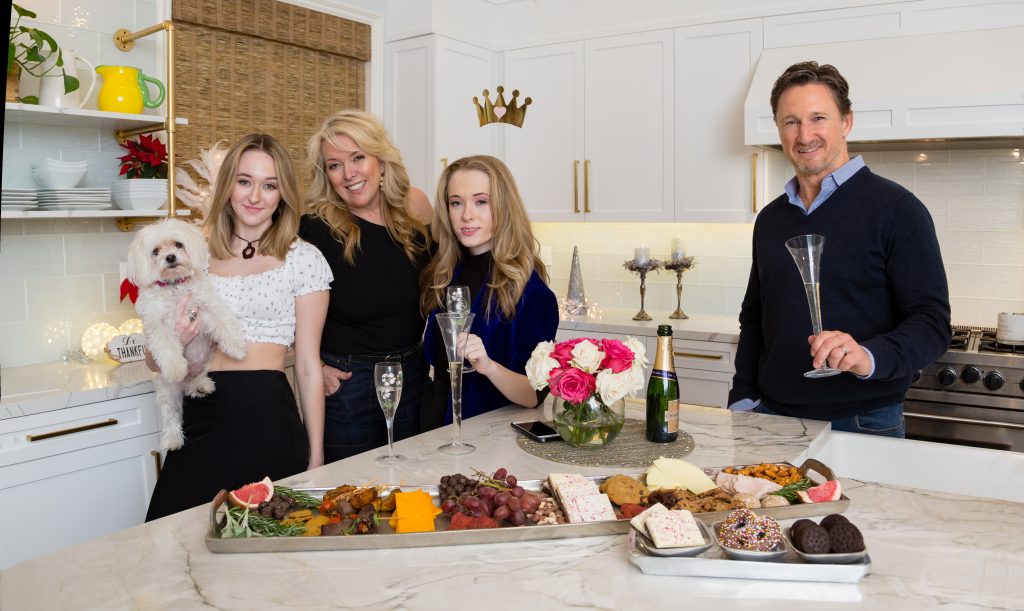 Proud parents and real estate power couple David and Tracy Smith chose The Oaks at Calabasas to purchase their own home. They love the small-town feel and sense of community. "Being from a little town in South Carolina, I really like this feeling," explains David. "Great public schools help keep property values up, which is also great. We love getting to know people and seeing them all over town."

Tracy hails from a suburb of Detroit, Michigan. The couple met while they both lived in Santa Monica. Once they began raising their family, they decided to opt for a home with a pool and yard in Calabasas. Tracy notes, "We truly enjoy the manicured streets, rolling hills, and beautiful homes. Our office is across from the City Hall and behind the Commons. Our kids grew up running around the grassy area of the Commons, so we have fond memories."

Tracy and David have also produced numerous events at the Commons, including four Random Acts of Kindness Parties, that centered around locals doing small, kind deeds, from packing groceries in the local grocery store and reading books at Barnes and Noble to buying strangers ice cream and bringing food to the Fire Department. "We can all be surprised with an act of kindness," explains David. "We keep that tradition yearround. During the holidays, we try to perform small acts of kindness daily. These include anything from holding the door open for a stranger, letting someone go ahead of us in line, donating clothes, or baking a treat for a neighbor. We simply do something to keep our thoughts on gratefulness."

Kindness begins at home for the Smiths, who share their lives with their two daughters, Sullivan, aka Sulli, age 16 and a sophomore at Oaks Christian High School, and Sophia, age 14 in 8th grade at AC Stelle. Both adore music and currently attend the School of Rock in Woodland Hills. They've played some of the most iconic venues, including the Whiskey a Go Go, Troubadour, Rose Bowl, Los Angeles Chargers games, and The Canyon. Sulli sings and plays drums and guitar. Sophia also sings and plays the bass and is learning piano. They both hope to pursue a career in music. "Tracy and I believe that one of our roles as parents is to encourage our kids to pursue their passions," says David. While he previously coached both girls in soccer, he now supports their new love for music. "A lot of families run around to sport practices and games. We run around to music practices and concerts!"

When the couple is not running their incredibly rewarding real estate team at Keller Williams in Calabasas, they enjoy spending quality time with family and friends entertaining at home. They love going to concerts and the Lakers, Kings, Dodgers, and LAFC sporting events and look forward to attending them again once things open up. "We try to do as much together as a family as we can," explains Tracy. They continue to bike, walk, peloton, and kickbox together to stay healthy.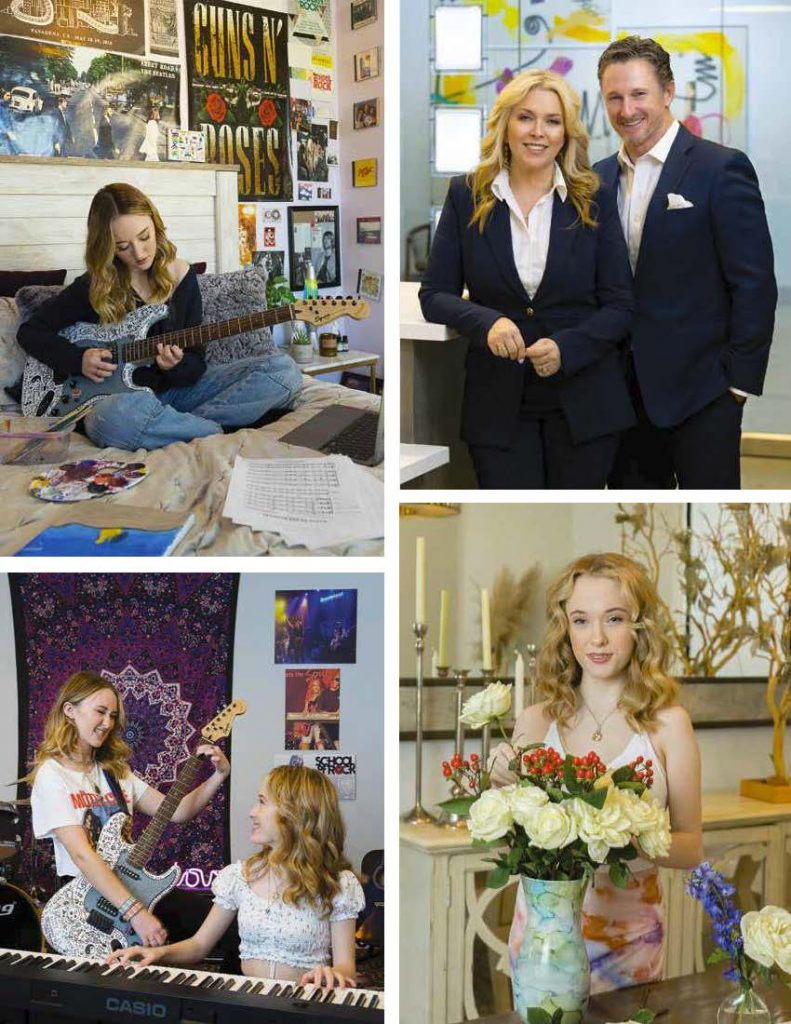 Tracy is a breast cancer survivor who was diagnosed when her kids were 6 and 8 years old. "We fought that battle and are so fortunate to be healthy," shares Tracy. "Those were incredibly trying times. We weren't sure how to navigate raising young children and doing surgeries and chemo. We tried to stay upbeat and protect them." Tracy found solace in a private, international Facebook page called Pink Moon Lovelies, created by breast cancer survivor Nicki Durlester right in Los Angeles. Tracy remains active
on the site to this day to help other survivors or anyone recently diagnosed. She explains, "It's packed with the latest information and articles, along with advice and kind words when needed. We remain big supporters of that community." The couple also assists numerous local charities, from school fundraising to outreach programs at their church. "We just want to give back in any way large or small," says Tracy.

Work is also of prime importance to Team Smith. The couple consistently ranks in the top 1% of real estate teams nationwide. Although their jobs at Keller Williams take up much of their time, they say it feels incredibly rewarding to them to see their clients–who've become friends–raving about the community. Tracy and David continue to build alliances with architects, builders, marketing professionals, photographers, mortgage bankers, appraisers, and others to streamline the entire process for their clients. Whether clients desire to sell a condo or other luxury estate, move up, downsize, build a dream home, purchase for the first time; or invest in real estate, David and Tracy help get the desired results.

"Family is our big why," notes David, "and carving out time to spend with the people we care about most is a must. We love participating as a family in community events and building a sense of community." Tracy agrees wholeheartedly, noting how "being a contributing part of the communities we serve in our real estate business is such a rewarding part of what we do."

Spending time with family for the Smiths also includes two little Maltese pups, Daisy and Harley, and fun family vacations, such as skiing in Mammoth or water sports at Lake Arrowhead. Tracy's mom, Rosalie Cavanaugh, lives nearby at Belmont Village. They wanted her to participate with this article, but due to Covid restrictions, they decided to play it safe.

They also love visiting David's roots in Charleston. Originally from South Carolina, David graduated from The Citadel, The Military College of South Carolina. He grew up in the family construction and development business before relocating to Los Angeles in 1999. Tracy attended Wayne State University before pursuing a business career in New York City and eventually settling in Los Angeles. Prior to real estate, she managed her own successful business, working as a makeup artist for print, film, and television.

The Smiths can be seen visiting some of their favorite local restaurants, such as Toscanova, The Six, King's Fish House, and The Stand, or grabbing gelato with their girls at Tifa Chocolate and Gelato