Making Beautiful Music Together: The Duncan Family
October 30, 2020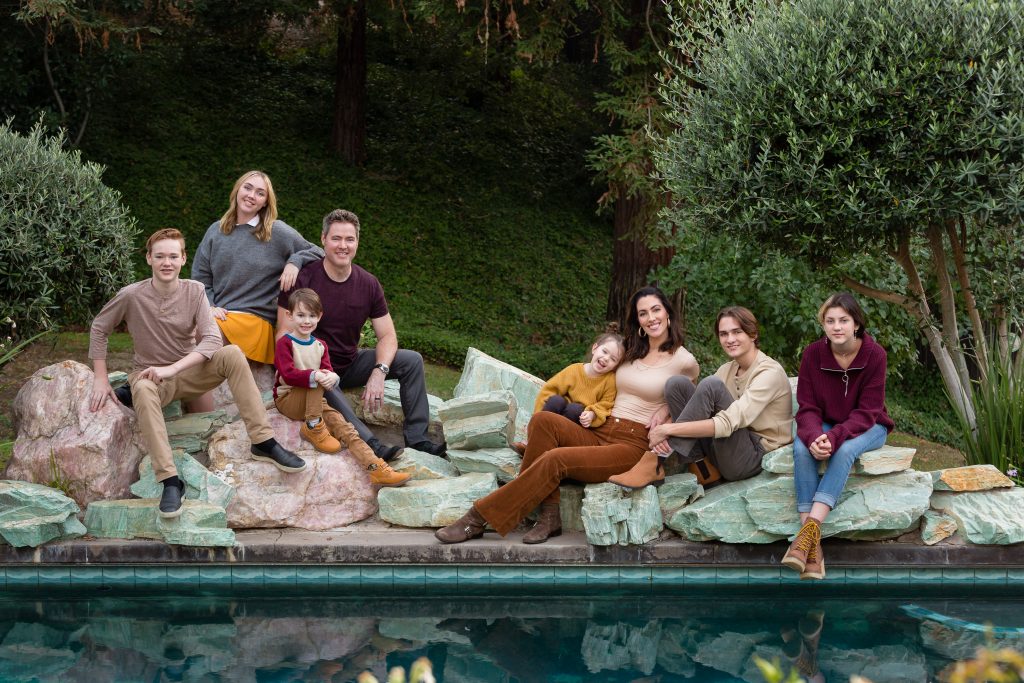 Many couples these days have transitioned into stay-at-home moms and dads. But how many parent six kids under the age of 15? Katie and Rob Duncan manage to hit all the right notes raising six children amidst the rustic backdrop of Monte Nido in Calabasas.

This dynamic duo includes Rob, a renowned television and film composer, and mom-extraordinaire Katie, whose Twitter handle, @mommykatie, and caption, "Mom of six, luckiest wife in the world," says it all. Together, they use their superpowers to raise their six amazing kids in their self-proclaimed "Dunkerville."
"Rob and I run a very large ship here at Dunkerville," says Katie. "Our family blended two kids each from former marriages plus two of our own. They were all quite young at first, and we wanted everyone to feel equally cherished in our new partnership. So, we combined our last names, Duncan and Hauser, to create The Dunkers, which we've used on our holiday cards ever since."

When not participating in such family traditions as noting how tall each child has grown every year on a height-measuring sign at the annual Calabasas Pumpkin Festival or helping the youngest ones maneuver through virtual preschool and kindergarten, Katie tries to mentally reset by working out or enjoying a scary movie. After Rob relocated from Toronto to California two decades ago, the music industry quickly warmed up to this creative talent, offering him the chance to compose music for the long-running television show Buffy the Vampire Slayer. He has since composed music for movies and hit series such as S.W.A.T., Timeless, Castle, Terriers, The Unit, and a myriad of others.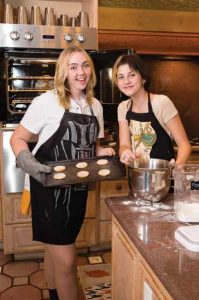 "Buffy was huge for me," says the four-time Emmy-nominated composer and recipient of a Hollywood Music in Media award and six ASCAP awards. "Everything I had been training for was put to the test…I learned the ropes pretty quickly. It was hard work but wonderful." Born into a long line of musicians and composers, including a great-grandfather who created music for silent movies, Rob carried on the family's musical tradition. He collects assorted instruments, such as deconstructed pianos, metal brushes, a hot-rod exhaust pipe, and even a fire extinguisher, to add fresh elements to his scores. He's written music for such diverse artists as Smashing Pumpkins' front-man Billy Corgan and the Cincinnati Pops. He also composes under his own musical venture, The Rebel Philharmonic, and is represented by the Gorfaine/Schwartz Agency.

Katie has been singing her entire life and has lent her delightful vocal talents to her husband's recordings many times. Just recently, she recorded a version of "Ave Maria" that Rob composed, releasing soon. "I love to sing, and Rob is such an amazing musician," says Katie. "It's truly an honor to be able to sing to his music!" Their most cherished creations are, of course, their growing family, which currently includes six kids and two cats, sisters Nala and Violet.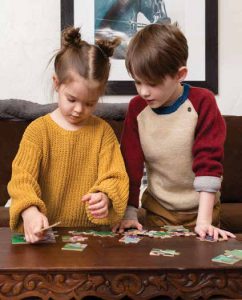 The couple's oldest son, Austin (15), plays water polo at Agoura High School. He's dealing fairly well with distance learning but would definitely love to return. Eldest daughter Drew (14) recently began her freshman year at Chaminade High School in West Hills. She looks forward to trying out for the tennis team once school sports open up again. She adjusted quite well to distance learning but can't wait to return to campus. Son Beau (13) attends 8th grade at Chaminade Middle School in Chatsworth. A penchant for basketball, he also looks forward to participating in school sports as soon as they restart. Alexandria (13) finds remote learning challenging as she finishes her final year at AE Wright Middle School at home. She especially loves art and hopefully can continue pursuing her passion at Agoura High School next year.

The couple's two youngest children are Julian (5) and Kennedy (4). Julian started elementary school this year at Lupin Hill, and Kennedy attended preschool last year. "We couldn't be happier with the way they've handled distance learning," says Katie. "Everyone i s communicative and beyond helpful." Although they were reluctant at first to start Julian in online kindergarten, they are very thankful they did. The 5 year old is thriving and enjoying his classes, although he, too, looks forward to returning to the classroom.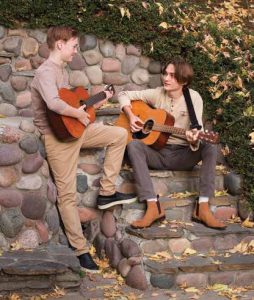 Katie also schools Kennedy at home. "Interestingly enough," notes the proud mama, "when I help Julian with his school work, Kennedy answers many of his questions! Ha! It's sometimes a little hard navigating a toddler while making sure your kindergartner pays attention." She adds, "All in all, we're getting through everything just fine, and Kennedy's learning quite a bit by association."

Pre-pandemic, the family loved to travel to such diverse destinations as Santorini, Greece; Northern California; Turks and Caicos; and Toronto to visit family. These days, they enjoy dining closer to home at such favorites as Wood Ranch BBQ, La Paz, and Sushi Nishi. They also love hunkering down at their Calabasas compound.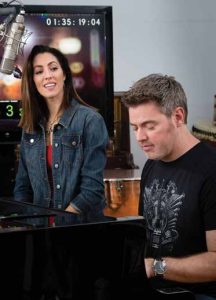 A native Californian, Katie grew up in both Northern California and Long Beach. After dating Rob for two years, Katie and her two kids moved to Calabasas to live with him and his two children. Katie's daughter Alex had just completed a year of chemotherapy at Long Beach Memorial Hospital after battling cancer. "We were really ready for a new chapter," explains Katie. "Calabasas is so beautiful. With my early experiences in Northern California and Rob's Canadian background, we truly appreciate this peaceful pocket of Los Angeles County.

While composing takes up much of Rob's time, he and Katie's favorite hits are clearly their six wonder ful children. Happily, their romance also remains at the top of the charts.