Heroes in Our Midst: The Miller Family
August 31, 2020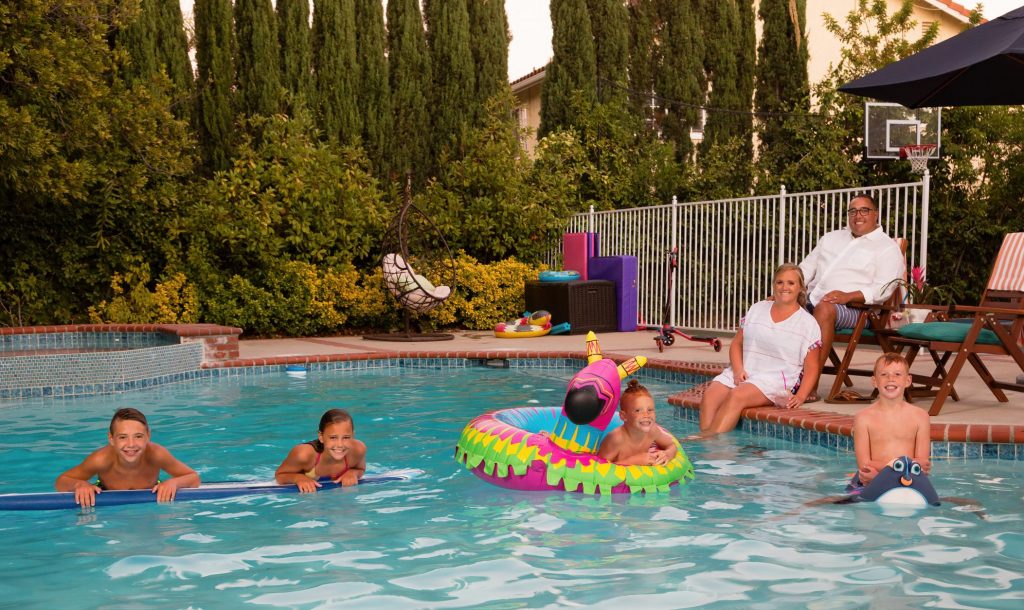 So many brave souls fight on or near the front lines of our current pandemic. One such hero, Mark Miller, relocated with his wife, Shelby, and their four young children to Agoura Hills in 2018 to assume the chief executive officer (CEO) position at West Hills Hospital. Shelby, a dental hygienist by trade, also deserves hero status. She, like so many others, turned in her uniform years ago to assume full-time parental duties, which now include teacher and recreational consultant to her growing children aged 7 through 13.

High school sweethearts Mark and Shelby first fell in love when they both lived in Nashville, Tennessee. Since marrying, Shelby, originally from Indiana, and Mark, born in Chicago, moved extensively with their growing
family. "We lived in Atlanta, Georgia, shortly after we married so Mark could complete his Master's program," notes Shelby. Then, they relocated to Rochester, Minnesota, where Mark completed a fellowship program with the prestigious Mayo Clinic.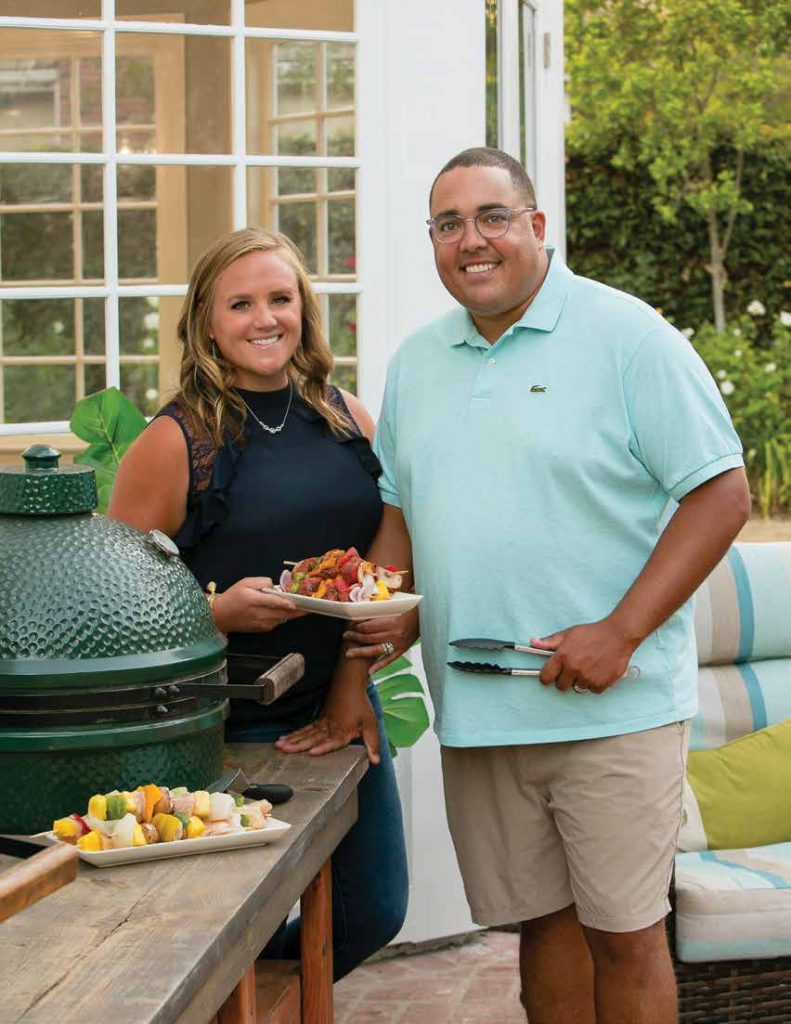 Mark's subsequent career with HCA Healthcare brought the Millers
to Virginia, Florida, and South Carolina. Eventually, the family headed west to their new home in Agoura Hills. "Our four kids are only five-and-a-half years apart from oldest to youngest, yet they were all born in different states," notes Shelby. "Although we really liked exploring different areas of the country, we look forward to putting down roots in our new community."

Brock, age 13, and Ayla, age 11, both attend Lindero Canyon Middle School in Agoura Hills. Nine-year-old Graham and 7-year-old Nolan go to Willow Elementary. Their parents realize one of the major plusses of living in this area is the Las Virgenes Unified School District, which continues to adapt to the ongoing coronavirus pandemic. "Since we've moved around so much, joining sports teams helped our kids adapt to their new home more quickly," explains Mark. "All three boys play soccer. Our daughter, a competitive gymnast, recently decided to pursue other sports." Since moving here, they've all taken part in soccer, basketball, baseball, golf, flag football, and lacrosse. Even Shelby and Mark joined in, coaching basketball and flag football, respectively.

From hiking and surfing to biking and skateboarding, the entire family stays active. They also treat themselves to some of the area's delicious dining options, including Indian delicacies at Lal Mirch and breakfasts at CiCi, Blu Jam Cafe, and Leo and Lilly. They also relish Dan's Subs and Pedalers Fork. More than anything, they appreciate how welcoming everyone has been and the pride people feel for this community.

Mark's work as CEO of West Hills Hospital takes up much of his time. "As CEO, I am responsible for the strategic direction and growth of the hospital. More importantly, I oversee the hospital's quality of care, patient experience, and overall engagement of our employees and physicians," explains Mark. "I take pride in operating a community hospital, helping it become an active part of the community and trusted place to receive care. We continue adding programs and services to reduce the need for patients to seek care outside the area." He stands behind the hospital's mission statement: "Above all else, we are committed to the care and improvement of human life."

The family understands that the hospital is a 24/7 operation. "The kids used to come to work with me and make rounds with our employees, passing out treats and participating in some of our work celebrations," explains Mark. Of course, this all changed due to the current pandemic. Shelby now stays home helping their four kids access virtual schooling while Mark must work even more. She's managed to create a steady routine for the children, incorporating crafts, YouTube challenges, beach days, and other fun outdoor adventures.

"This is unlike anything we've ever experienced in our careers," explains Mark. "The hospital must remain flexible regarding the evolving virus to meet the ongoing challenges of our employees, patients, and community." He adds, "As difficult as it has been, I know I will look back on it as one of the most impactful times in my career. I will be eternally grateful for the bravery and dedication of our employees, the advocacy and collaboration of our physicians, and the outpouring of love and support from this community. Our goal throughout this time is to care for our community, but we have also appreciated all of the ways our community cares for us."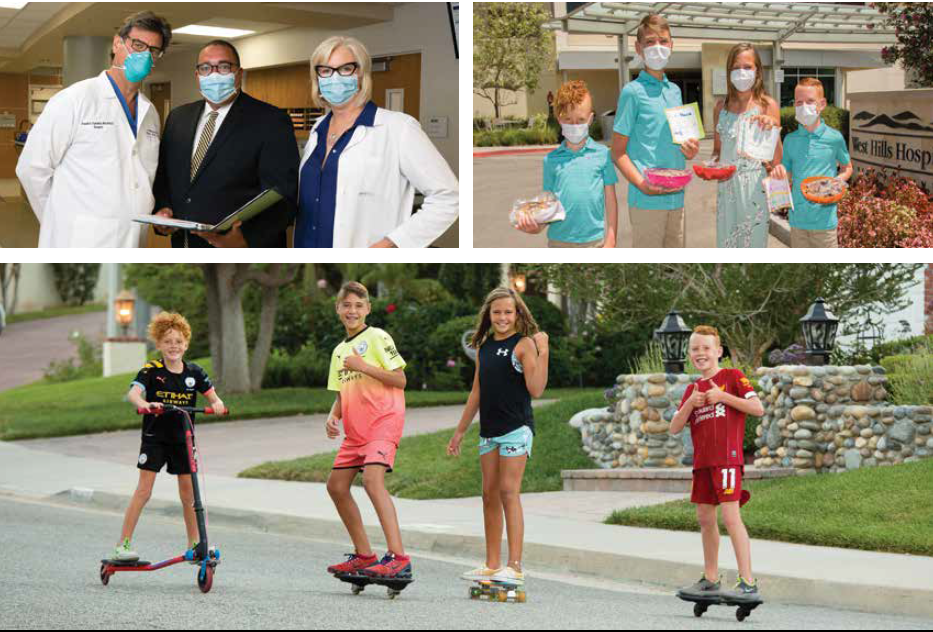 The Millers continue to work towards these goals within their family and community at large. Their faith plays an important role in their lives. The family attends Calvary Community Church in Westlake Village. "Although the coronavirus has brought many new challenges to the hospital,
it has also made us really evaluate our lives," says Mark. "If there is a silver lining to all of this, I think it has given us a reset to focus on the family and be more intentional about how we spend our time."

The Millers all look forward to returning to some of their favorite things, including worldwide travel. "We caught the international travel bug," exclaims Shelby. "Our list of countries to visit continues to grow along with our family." The Miller kids especially love Cancun, and the family was also fortunate to take a dream vacation last Christmas to Paris and London. "We've attended lots of sporting events and concerts," says Shelby. "With our Nashville roots, country music remains our favorite." These days, the Millers find pleasure sharing family game nights, watching classic movies, and telling stories around the dinner table. Most Friday nights, they enjoy biking to dinner, a fun tradition started over the last few months. They immerse themselves in California's outdoor lifestyle as much as possible, exploring local beach towns and nearby mountains and trails in an ongoing effort to feel more connected to this amazing state and its myriad natural treasures.

While the Millers have no pets at present, they've previously maintained quite a menagerie, including horses, cows, goats, chickens, dogs, and even Pogonas, lizards native to Australia, also known as bearded dragons. Whether exploring the history and cultures of faraway lands, going on a family bike ride through nearby streets, working hard, or simply reading, relaxing, and dining on their favorite foods, the Millers clearly know how to make each day count.