Making a Life in Calabasas: The King Family
April 30, 2019
Inspiration can come from many different sources. Some find it in music or a painting. Others find it in a vivid fabric swatch or an intricately designed building. But wherever and however inspiration strikes, one thing is certain: Inspiration tends to lead to creation. For Ernest and Christiane King of the Greater Mulwood area, the love for creating has led them to create a family—and a life for themselves in Calabasas.

Since he was a young boy in Davis, California, Ernest King has loved to build things. He grew up building towering skyscrapers of blocks and impenetrable castles of Legos. When the time came, Ernest's interest in constructing tangible structures– combined with his passion for technology—led him south of his native Davis to the beautiful Cal Poly campus in San Luis Obispo. After receiving his degree in Architectural Engineering and Construction Management, Ernest was offered—and accepted—a position with the well-known Southern California general contracting firm called Morley Builders.

While Ernest continued his journey south down the California coast, he found himself living in Westchester, a southwest region of Los Angeles. As Ernest adapted to life as a general contractor in Southern California, he found himself managing renovations for some of Los Angeles' most famous landmarks—such as the gorgeous seaside Getty Villa Museum, the beloved California Science Center, and the renowned Hotel Bel-Air. As Ernest worked on rebuilding Los Angeles, he had no idea that his next building project would be his most important project to date: building a family with the love of his life.

Christiane Kouaho was a budding fashion designer living in Beverly Hills. Originally from the Ivory Coast—the Côte d'Ivoire— of West Africa, her career in the fashion industry was just taking flight by the time she met Ernest. Not long after, Christiane's eye for clothing and style landed her a much-sought-after spot on American television series Project Runway. Her hard work and dedication to her craft allowed her to make the most of her time on the show, and she went on to create a line of high-end women's wear. Christiane's pieces began to show up in the carefully curated closets of Hollywood's elite. Stars such as Kaley Cuoco, Venus and Serena Williams, Teri Hatcher, and Ashley Tisdale rocked Christiane's unique style on the red carpet and beyond. She also went on to become the main designer on music mogul P. Diddy's clothing line—Sean John Kids.

After getting married in 2008, Ernest and Christiane settled into life together in Westchester. Before long, they added two more Kings to the castle—Jordan first and then brother Jaxon two years later. By the time Jaxon was born in 2013, the Kings knew they needed to find a new place to call home. Ernest and Christiane began to hear talk of a wonderful place to create a family, a place filled with parks and trees, shops, farmer's markets, and million-dollar views. The King family soon set their sights on beautiful Calabasas.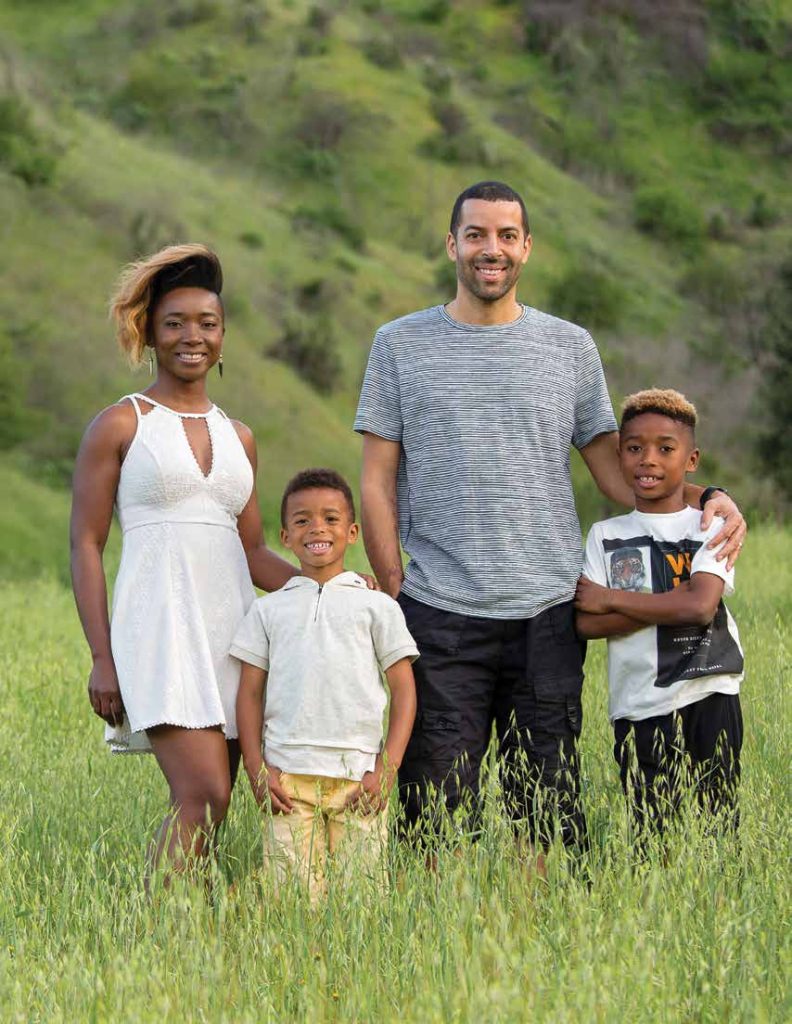 The Kings found themselves in Calabasas on an almost weekly basis. They signed the kids up for gymnastics lessons on the weekends as well as summer swim lessons at the Calabasas Tennis and Swim Center. They dined at the Commons and picnicked at Calabasas Creek Park. Quickly, they realized that this was the place they wanted to raise their children.

By late 2013, a house they knew of in the Calabasas Highlands became available to rent. The Kings knew what they had to do. Ernest, Christiane, Jordan, and Jaxon moved from their Westchester house to their brand-new start in Calabasas. Christiane and Ernest immediately enrolled the littlest Kings in Montessori Too Preschool of Calabasas as well as Calabasas Klubhouse. They quickly recognized that this place they had found was very special. In 2016, the King family's roots grew even deeper into the community with the purchase of their home in the Greater Mulwood area. By the time they moved in, this little family of four was completely smitten with the area. Lovers of nature and animals, the King family took full advantage of gorgeous hiking trails, luscious parks, and the quick drive over the hill to the beach to visit the boys' favorite tidepools.

The King boys now thrive at Chaparral Elementary School—8-year-old Jordan in 2nd grade and 6-year-old Jaxon in kindergarten. The two youngest Kings are incredible athletes and are very into sports, especially soccer and basketball. Known as quite the stud on the basketball court himself, Ernest has loved being able to coach and help out with the boys' teams. Christiane and Ernest are as busy as ever doing what they love to do. Christiane is currently the creative director of fashion design for Jerry Leigh. Her company is responsible for designing licensed apparel for many studios in the area, including Disney, Universal, and Warner Brothers. She has also recently been featured in Elle magazine for creating awe-inspiring fashion illustrations incorporating real flowers.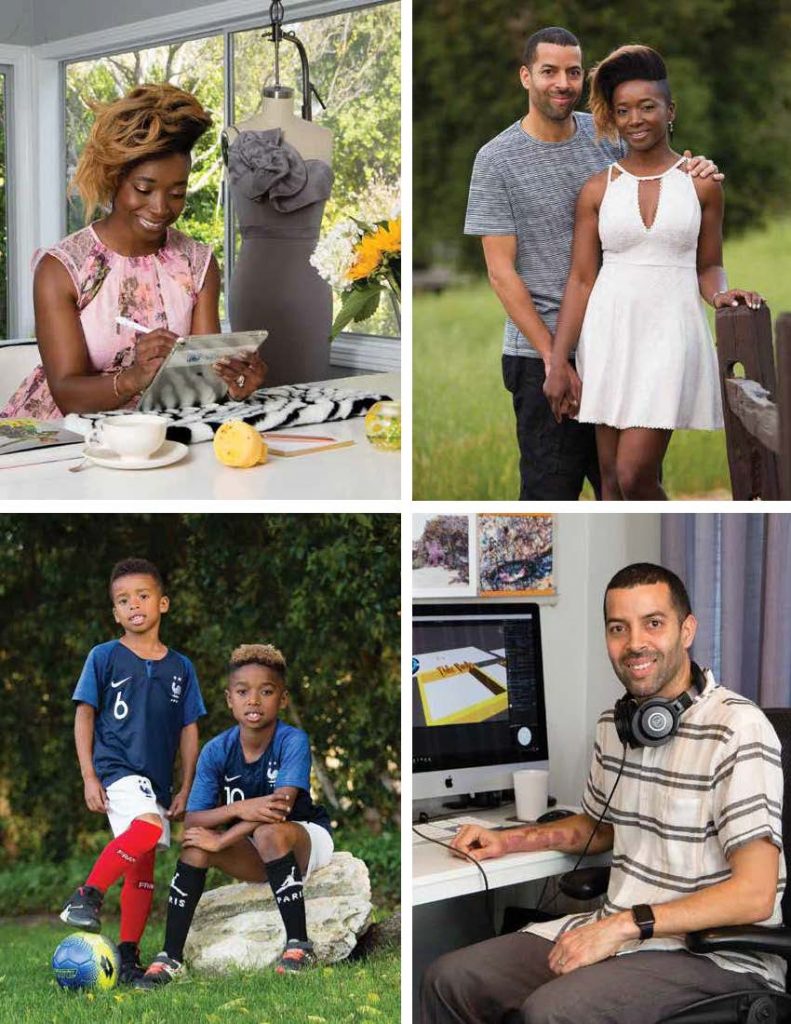 After helping Morley Builders implement 3D virtual reality as a means of introducing clients to their future buildings, Ernest began to catch a glimpse of his own destiny—in virtual reality. He demonstrated this technology to some of the brightest young minds across the state at universities such as his own Cal Poly, USC, and UCLA. Ernest soon realized the huge potential of this virtual reality—and that it could be used in an entirely different way.

By late 2017, Ernest quit his job and created The Far Sight, LLC. He worked with local elementary schools—such as Chaparral, Bay Laurel, and Round Meadow—offering enrichment classes that take children on educational virtual reality field trips. After seeing the enthusiasm and excitement on the kids' faces during their "trips," Ernest decided to take this venture a step further. He created his own series of Augmented Reality books. After learning some coding, he developed a mobile application called "The Far Sight" to coincide with the release of his first book, entitled Tide Pools: An Augmented Reality Book and inspired by his sons' love for the Southern California tidepools. Ernest plans to continue creating his augmented reality books and educational tools as the Kings continue to create their lives in the beautiful community of Calabasas.
by Pax Ansley
Photography by Marvin Steindler