It Takes a Village: Seeing Double with the Murphy-Tuckel Family
November 9, 2017
There is an old proverb that says, "It takes a village to raise a child." While the origins of this saying remain unknown, it is believed to have its roots in Africa. In African culture, family and community are a child's support system, and a child's support system is everything. For Jeff and Christina Murphy-Tuckel and their two sets of twins, it does not take just any kind of village to support their clan, it takes the right kind of village. In March of 2012, this growing family found their village in the beautiful community of Mureau Estates in Calabasas.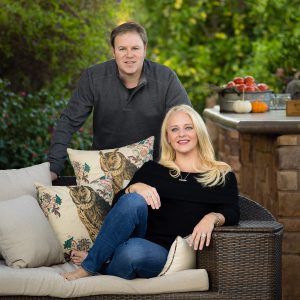 Jeff and Christina were married in 2006 after being set up on a blind date by mutual friends. Jeff, originally from Stamford, Connecticut, graduated from Wharton's School of Business. He received his MBA from UCLA Anderson School of Business. Hailing from Tucson, Arizona, Christina graduated from the University of Arizona with a degree in English and one in history.
It wasn't long before the Murphy-Tuckel family started thinking about adding another little member to their clan. Of course, at the time, they had no idea where this path would lead them or about the four beautiful gifts they would receive along the way. After experiencing fertility issues and struggling for years to conceive, a miracle finally happened. Make that two miracles. In
2011, Christina gave birth to two sweet babies, Tinsley and her twin brother, Aiden. Three years later, Jeff and Christina received the news that they were expecting for a second time, and again, they were having twins. In 2014, twin sisters Tatum and Sutton came into the world and became the fifth and sixth members of the Murphy-Tuckel family. Flash forward a few years, and the Murphy-Tuckel family is happy and thriving in its close-knit Calabasas community. Coming from Beverly Hills, Christina and Jeff wanted a more kid-friendly, suburban community to build their family. They wanted space for their growing family, great neighborhoods, and excellent schools. Fortunately, they had to look no further than the welcoming community of Calabasas. After making the move, the couple immediately made lasting friends in the area. "One of the best aspects of Calabasas is how many families with young children there are right here," Christina recounts fondly. "We have an incredible group of families we have become close with, and they really do feel like an extension of our own family. We live, play, go to school all right here so there is always someone close by to help out. The sense of community is alive and well in this village." They fell in love with the close proximity to the beach and breathtaking outdoor areas. They fell in love with the homey, familiar "village" just 30 minutes from the activities of the big city. They fell in love with the sense of community. They fell in love with Calabasas.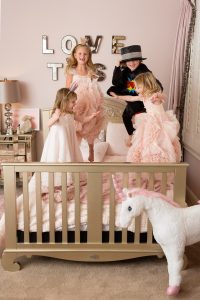 These days, the Murphy-Tuckel party of six is right at home in the Calabasas community. The twins have all grown up as a part of many of Calabasas' various clubs,teams, and troupes. Jeff and Christina are very active in the community as well.
Six-year-olds Tinsley and Aiden are in first grade at Round Meadow. At just 3-years-old, Tatum and Sutton attend Cornerstone Preschool in Agoura. As a professional event-planner-turned-mom, Christina has definitely come to understand the importance of lists and calendars in dealing with six different schedules. Tinsley has been dancing with California Dance Theater for four years, since she was just 2 years old. She is also a second-year member of Calabasas Daisy Troop number 136, in which super-mommy Christina is a co-leader. Tinsley and her brother Aiden, along with their parents, always love to hit the court for a good game of tennis.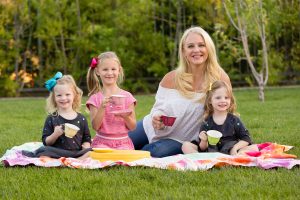 Aiden, like his sister Tinsley, is an active, energetic 6-year-old. He loves to play baseball at West Hills Baseball, and he loves to ride bikes and swim. Aiden also takes parkour classes at Monarchs Gym in Agoura Hills. At just 3 years old, Tatum and Sutton are both finding their talents and interests. They take dance classes at California Dance Theater like their older sister. They also really enjoy swimming like their big brother.
Daddy-of-four, Jeff, works as the managing director of investment banking at Wells Fargo. He works with private equity firms raising debt capital for leveraged buyouts and advises on mergers, acquisitions, and IPOs. Jeff stays active in this beautiful city by taking advantage of the picturesque trails on his mountain bike. When he is not hitting the trails, Jeff loves to golf at the well-known Calabasas Country Club. At home with Christina and the kids, Jeff has worked hard to become the master of the family's outdoor wood-burning pizza oven.
Busy mom, Christina, used to be in the professional event-planning business, but these days, she has her hands full with four very dynamic schedules. Christina assures, "You don't need to be 'born' organized. You can put systems in place and create habits that will make life a lot more peaceful and stress-free. I find that I get the most disorganized when I don't allow enough time to think everything through. I try to take 30 minutes every Sunday to schedule out the week." Christina has put aside the business cards, but in no way has she hung up her planner and schedule book. She now focuses exclusively on raising her children and spends most of her time creating a life that is centered around family. Christina's parents have even moved to Agoura Hills to be closer to the grandkids. Christina's sister, Cynthia Murphy, also lives in the area. Aunt Cynthia is able to help out a lot with the twins. They are all an integral part of the Murphy-Tuckel team.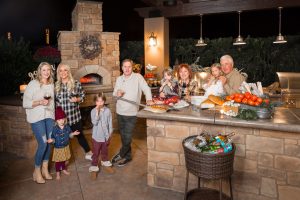 With four busy kids, this organized mama does it all. She is a room parent, a baseball team mom, and a Daisy Troop co-leader, and she is always volunteering to help the kids with their activities. Somehow in her busy schedule, Christina has even found time to launch her own boutique events company and lifestyle brand called "Swirl." When she does find time for herself, Christina enjoys playing tennis with her family and practicing her culinary skills in the kitchen.
The Murphy-Tuckels may perpetually have a lot going on, but they make it a point to always leave room for family time. They enjoy making family memories on their boat and in their home in Lake Arrowhead as well as by traveling around the world with a close group of families to places like tropical Cabo San Lucas and Mammoth and Utah for winter ski trips. A little closer to home, Jeff and Christina love entertaining friends and hosting parties at their gorgeous Calabasas home. Christina even hosts several annual events at her home, including the Holiday Gift Wrapping Lounge. This annual holiday event showcases Christina's extensive collection of over 250 rolls of vintage, designer, and one-of-a-kind wrapping paper.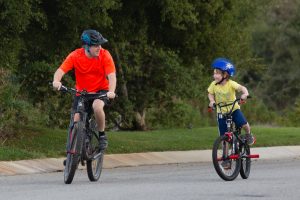 As their twins grow in this dynamic community, Jeff and Christina feel incredibly lucky to be a part of such a tight-knit village. Calabasas has become an extension of family for the Murphy-Tuckels. Jeff and Christina, with the help of their supportive community, are bringing up four lovely little people with the potential for doing great things.
"We just try to go with the flow," says Christina, "do as many things ahead of time as possible, and know that if something goes off the rails, it's not the end of the world. Just get back on track and make a new plan." Sound advice from the mother of two sets of twins. But Christina and Jeff know they are not alone in this journey. They know that their village will always be there to rise up and support them, because that is just the Calabasas way.
By Pax Ansley
Photography and cover by Marvin Steindler
Wardrobe styling: Lindsey Colhoun, Prop styling: Eric Roth
Hair and makeup: Veronica Sinclair