Grounded in the Hills of Calabasas
September 1, 2017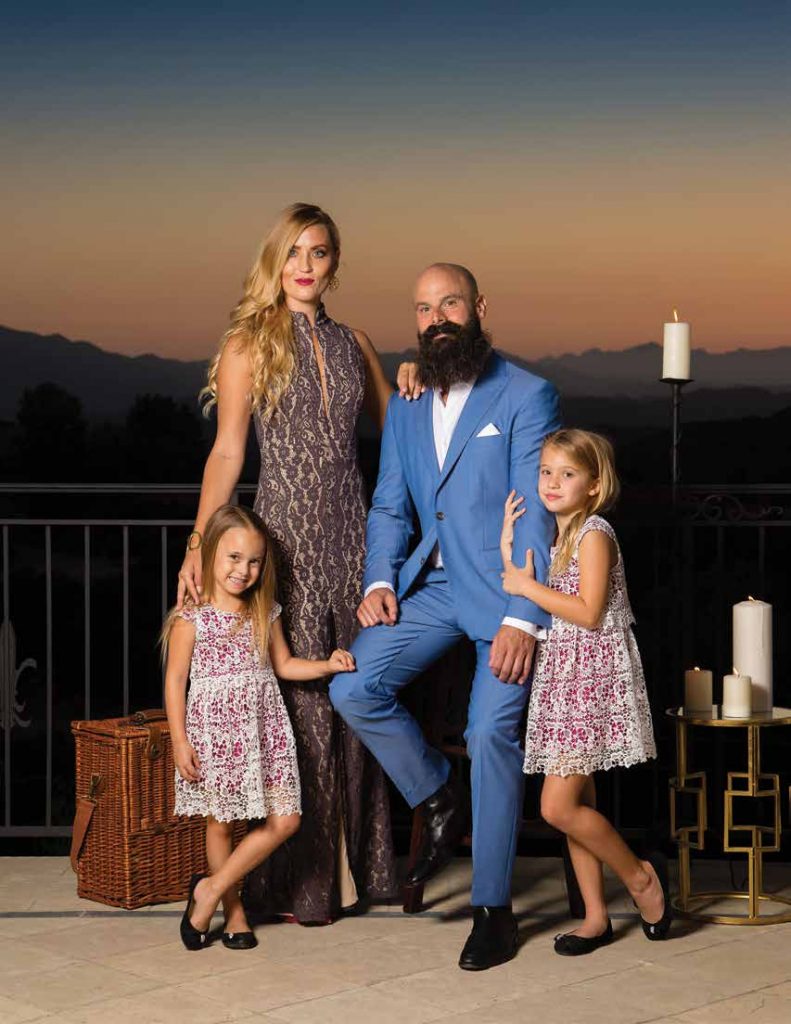 "Blood may be thicker than water, but love is thicker
than anything."
– Goldie Nash
Some say that you can't choose your family, but for others, those the universe bestows turn out to be your biggest blessings. Family is not always determined by DNA—it is, in fact, a choice that once made, quickly envelops your world and becomes the best thing you'll ever do. Family
chooses to be present and to love and support each other no matter what, through the good times and the bad. Family does not fade with circumstance; it is an enduring bond that holds fast through sunshine and storms alike, and keeps the stars aligned. Family ensures that you become the best version of yourself by providing a stable foundation. The true test of family is that you consciously make these choices every day out of pure love and not necessity. Then, you know what family is really made of.
This holds truer for no one more than Jonathan Malinger and Eva Dittrich, a Calabasas couple who lives in a hillside jewel on the Mulholland Corridor with one of the best sunset views around. Their two darling little girls, 8-year-old Isabella and 5-year-old Victoria, bring extra joy and energy to the home, as well as their beloved pets Zeva, the Rottweiler puppy; Napoleon, the mini potbelly pig; and Renegade, the tabby cat. Although Eva is not the girls' biological mother, she has embraced them as if they were her own flesh and blood. "Eva has grown so close to the girls," effuses father Jon. "She loves them like her own, and they trust and adore her."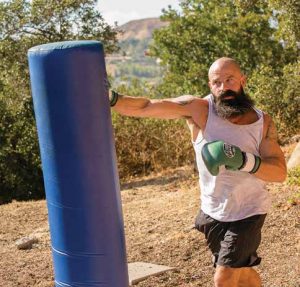 Jon and Eva's relationship is the cornerstone of this happy family. They describe themselves as soulmates who met at exactly the right time. Eva says, "I love that Jon is direct but gentlemanly, stable yet fun, tough but sweet. The first time we stayed up laughing hysterically until 4 AM, I was all in. The girls were the cherry on top." Jon shares the sentiment: "Everything between us comes from the heart. I didn't know love could be this real and good, and I'm grateful that the girls see what that looks like. Eva is an amazing, beautiful creature who has brought life and color to our family. There's only one goofball on this planet for me—we look at each other and know what the other is thinking… usually something hilarious. We're meant to be."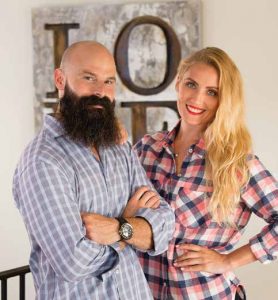 The family made the move to Calabasas for many reasons. Jon wanted to raise his girls in a place accessible to the city but outside of the hustle and bustle, and he found that here. Jon, Eva, and the girls value the solace and beauty of nature, from the rolling hills and deep valleys to the unique wildlife, spectacular sunsets, and vast night sky. They love to watch the sun set over Paramount Mountain from their deck, observe the hawks soaring eye level, and marvel at the clarity and intricacy of the constellations, safe from the garish and glaring lights of the big city. On beach days, they appreciate the way the canyon cuts fluidly through the mountains to the glimmering ocean nearby. The family feels safe and happy living in the quiet, family-oriented city of Calabasas and looks forward to many more years here.
Jonathan, originally from San Carlos, moved with his family to Westlake Village at age 11 so that his younger brother could pursue his acting career. Meanwhile, Jon attended and graduated from Westlake High School and has been living in the L.A. area ever since. Jonathan is Senior Vice President of the publicly traded securities firm Hilltop Securities, where he manages money for individual investors and corporations across the globe, including several clients in the Calabasas area. At Hilltop Securities, he is able to advance people's wealth and protect their legacies while operating on a strong ethical foundation with his clients' long-term best interests at heart. In his spare time, Jon enjoys playing ice and roller hockey in local leagues. When he is not on skates, Jon gets his sweat on in the boxing ring and during his daily runs on the steep hills and stairs around their home.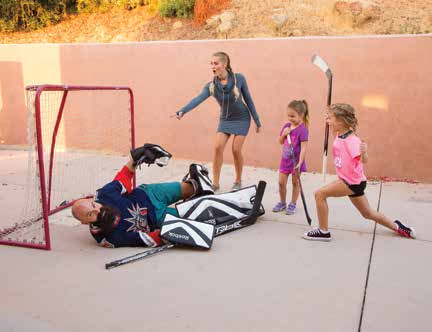 Eva is originally from Shawnee, Kansas, a suburb of Kansas City. At the tender age of 17, she left for college in Germany and later received her BA from a private international university in London. She has since completed graduate programs in humanitarian aid and nonprofit management in London and Jamaica, trauma and violence at NYU, and psychology at Pepperdine, where she is currently a doctoral student in Clinical Psychology. Clearly with a sense of adventure and a heart for the human experience, Eva's studies, work, and traveling spirit have taken her to nearly 30 countries. She wears many hats as a Life Coach and Therapist, and a Rodan+Fields premium skincare business owner. She is simultaneously developing a nonprofit called Shobha to help underserved women with breast cancer in L.A. Eva makes a point to stay fit by running the local hills and taking on the infamous Calabasas stairs. She loves yoga and dance; from ballet to salsa to Brazilian samba, it seems there are no steps this ambitious woman can't handle.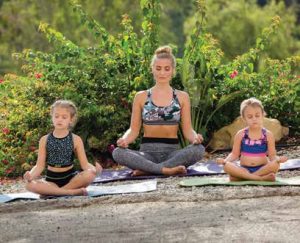 Both Isabella and Victoria attend Viewpoint School in Calabasas. Like Jon and Eva, the girls love being active. Following in Eva's footprints, both girls love to dance and are starting ballet classes; they also enjoy running and learning yoga with Eva. They play hockey and baseball outside at home with Jon while Eva cheers them on, and Isabella is in high demand on her school soccer team. Eva has also introduced the practice of meditation to the family, explaining that, "Meditation helps us to be in touch with our bodies, emotions, and the moment and bonds us closer in the calm."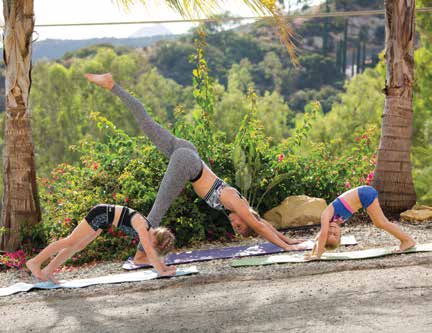 Jon and Eva make sure to find time for just the two of them. The couple loves to make the most of every moment in their beautiful home, from sunset glasses of wine on the deck to catching up on the latest Netflix show. When the urge to travel strikes, they frequent Cabo and wine country, and visit family across the country. They also participate in community events with the girls, such as the Farmers Market, kids' shows, and new movies at The Commons. This devoted family simply loves to be together no matter where they are. The sweet sounds of laughter can be heard throughout their home during dance parties and summertime water balloon fights. On music nights, giggles mix with the silvery sounds of Eva's cello and the inspired, harmonizing voices of Jon, Isabella, and Victoria.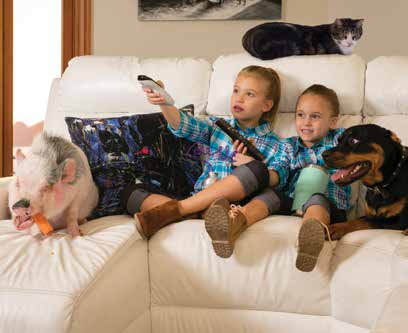 This passionate family believes in love, laughter, and nurturing each other's strengths and areas of growth. "We feel blessed to live in this community," says Eva. "We believe in hard work balanced with fun, genuineness, staying grounded, a sense of humor, and being available and accountable to each other." Clearly, this tight family unit appreciates each other and the time they have together. Most of all, Jonathan, Eva, Isabella, and Victoria know how important it is to enjoy life as it comes and to value family as the best choice anyone could make.
By Brendan Schultz
Photography and cover by Marvin Steindler