The Loss of a Legend
March 12, 2020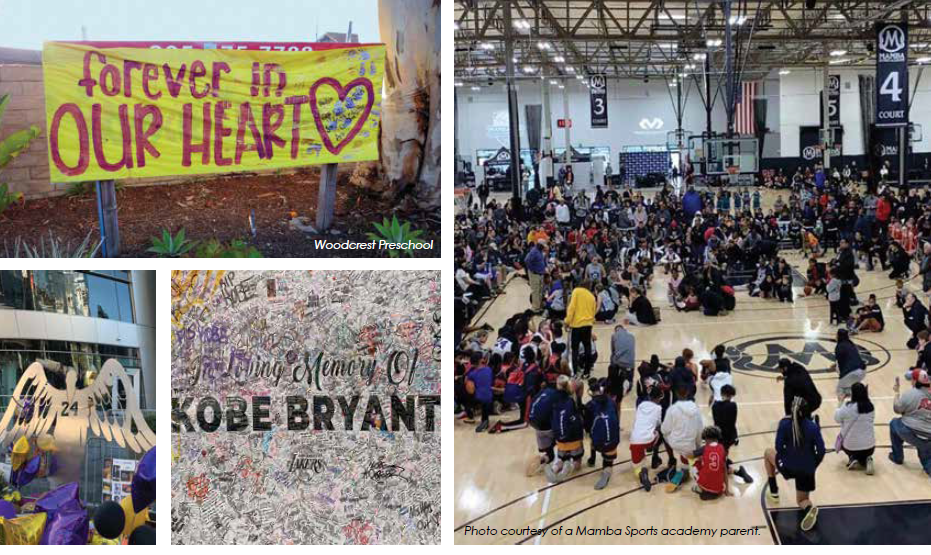 People around the world will never forget exactly what they were doing on the morning of Sunday, January 26, when news broke that a helicopter chartered by NBA legend and father of four Kobe Bryant had crashed in the hills of our Calabasas backyard. Many Calabasas residents heard the crash while some witnessed it firsthand in horror, not yet knowing the magnitude of the tragedy.
The news only worsened as the number of fatalities climbed to a total of nine, with victims including parents and their children – husbands, wives, daughters, sons – all who will be so sorely missed. Kobe's 13-year-old daughter, Gigi Bryant; John and Keri Altobelli and their 14-year-old daughter, Alyssa; Sarah Chester and her 13-year-old daughter, Payton; Christina Mauser; and Ara Zobayan were also onboard, headed to a youth basketball game at Mamba Sports Academy in Thousand Oaks – a place where many of our local children play on a daily basis.

As parents, we watched, stunned as our worst nightmare played out on national television. We live to protect our children who breathe the meaning into our lives. Kobe may have been a hero to most, but to his wife and four daughters, he was their world. Just trying to imagine those final moments between a father and daughter shattered our hearts. And to put ourselves in mother and wife Vanessa's shoes, if only for a moment, was to feel unfathomable devastation.

While fans paid tribute to Kobe and Gigi Bryant at local memorials, including the Staples Center and Mamba Sports Academy, a quieter grief also played out in the homes, schools, and sanctuaries of the four other families affected by the tragedy.

This loss of nine lives was a stark reminder that leaving home and returning safely is a blessing we take for granted. Hugging our children and seeing them later is a gift. Hug your loved ones longer and tighter. At Calabasas Style, our hearts are with the families as they grieve and heal.