Putting Our Best Food Forward
March 15, 2020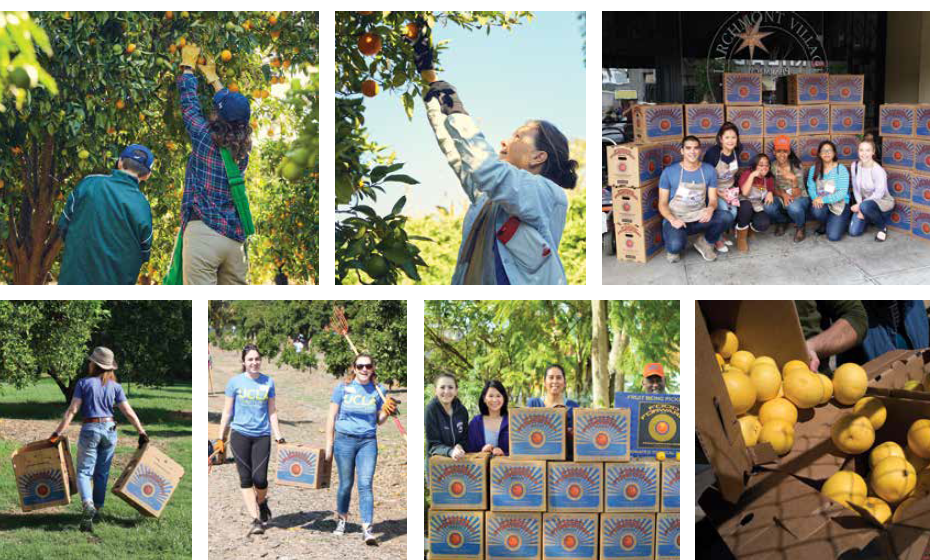 Millions of pounds of produce are wasted each year in this country. At the same time, one in nine Californians lack adequate access to food. Local nonprofit Food Forward provides a great solution by connecting surplus fruit and vegetables with hunger relief agencies.

Food Forward's origins
In January 2009, Food Forward Founder/Executive Director Rick Nahmias was walking through his neighborhood in Valley Glen with his dog and stumbled—almost quite literally—on the concept that became Food Forward. He realized that the vast amount of wasted fruit in his own neighborhood could become a sustainable source of nutrition for those in need. With only two volunteers and a single backyard, over 800 pounds of fruit was produced from the first "pick."

There's currently enough surplus food in our area to feed everyone in Southern California. The real issue is distribution. Food Forward focuses on ensuring donated produce reaches those in need. They collect fresh fruit and vegetables that would normally go to waste from backyard fruit trees, public orchards, farmers markets, and the downtown Los Angeles Wholesale Produce Market and donate 100% of it to hunger relief agencies throughout all eight counties of Southern California.

Creating a bridge between vendors and those in need
Food Forward uses special software to track produce donations collected from vendors at the Wholesale Produce Market. It also tracks the amount of produce being provided to hunger relief agencies across the region. This software has helped the organization grow from that initial 800-pound pick to distributing nearly 90 million pounds (or 360 million servings) of fresh fruit and vegetables to date. "In 2019 alone, the organization engaged 4,000 volunteers and accessed 26 million pounds of produce through our three recovery programs, Backyard Harvest, Farmers Market Recovery and Wholesale Produce Market Recovery," says Food Forward's Outreach & Communications Director Laura Jellum. "All of the fruits and vegetables were donated to 1,800 hunger relief agencies across Southern California, helping feed two million people experiencing food insecurity last year." Food insecurity, a lack of access to affordable and nutritious food, is experienced by more than 15% of U. S. households with children each year.

How can individuals help?
The nonprofit hosts around 200 volunteer-powered events across Los Angeles and Ventura counties every month so they can always use volunteers. They particularly need people to train as Pick Leaders for backyard fruit harvests. They provide training plus a flexible schedule and an opportunity to make a hands-on contribution.

The Food Forward website offers a wealth of information on volunteer opportunities, gleaning organizations, and food rescue groups that recover and donate surplus food. They currently need Glean Team Leaders for their Farmers Market Recovery Program, Community Ambassadors to act as the Food Forward face and voice, and others. To learn more about volunteer positions, visit foodforward.org/pickleaders or foodforwardorg/volunteer.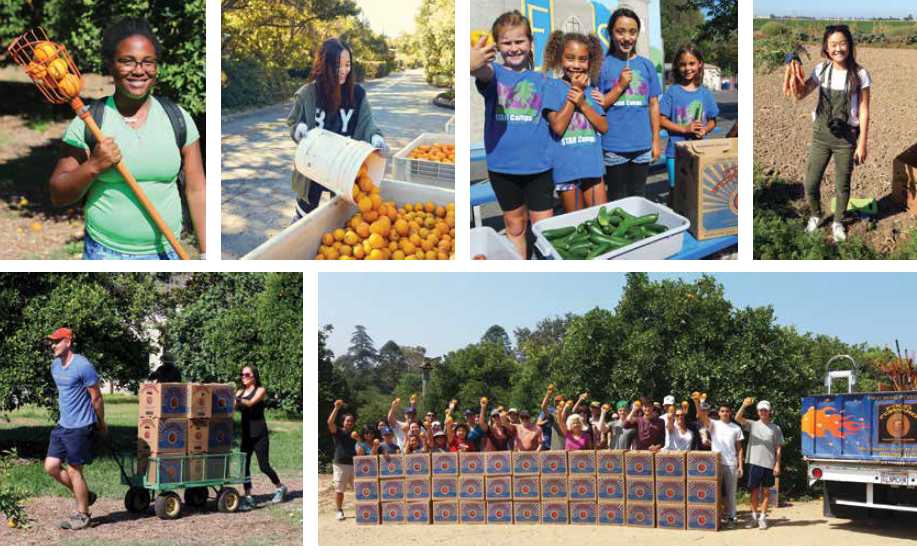 Other ways to help
Food Forward offers tips on food rescue, such as: Donate food, time or funds. Volunteer for Food Forward or other rescue groups. You can begin in your own backyard. Donate leftovers from your fruit trees, vegetable garden, or next catered party. Hire caterers who donate leftover food.

Ask your local grocer and restaurants if they donate food. If they don't, inform them about rescue organizations.

Encourage your kids to participate. It's a great way to bond while giving them a taste of volunteering for a cause that affects so many children and their families.

A win-win for our communities and planet
Food Forward helps homeless, families, children, veterans, elderly, people living with HIV, and many others receive much-needed nutrition from locally sourced fresh fruits and vegetables, and breads and nuts from farmers markets. Over the past eleven years, Food Forward not only provided recovered food to countless people, they also prevented 36,000 metric tons of CO2 equivalent from polluting our atmosphere.

Food waste makes up nearly 18% of California's landfill. Minor imperfections often make produce unmarketable, even though the food is perfectly healthy. Vendors also possess a surplus, which they want to release before newer fruit and vegetables arrive. Food recovery and distribution helps keep produce out of landfills, reducing the release of methane and other toxic substances. To learn more about how you or your organization can help, visit foodforward.org.
Food Forward
7412 Fulton Ave., #3
North Hollywood
818.764.1022
foodforward.org