Skiing for a Reason
March 23, 2020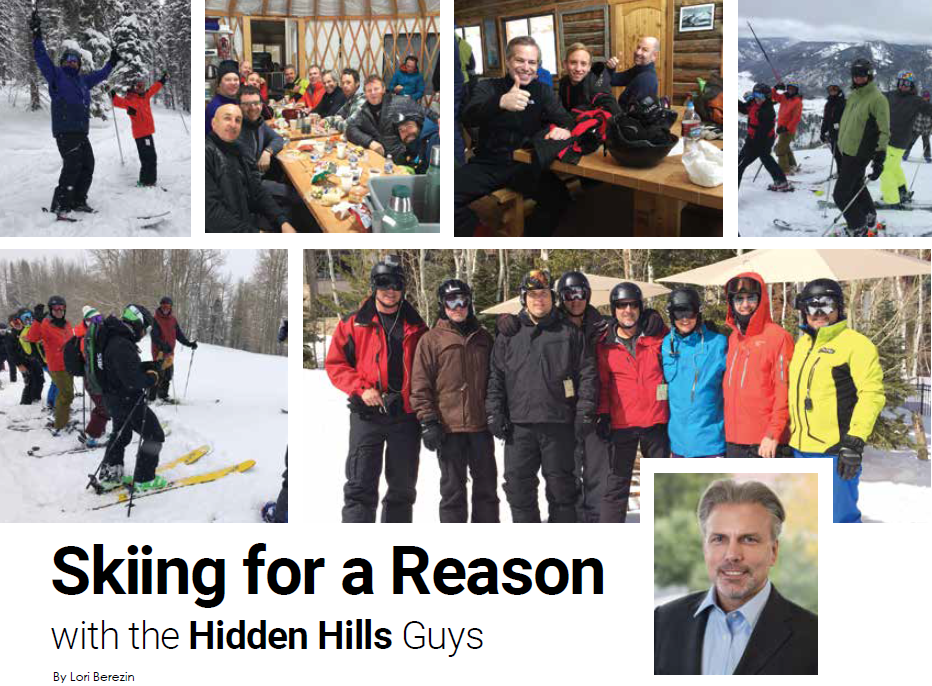 Patrick Finn, who has been organizing a local guy's ski trip since 2011, began combining his passion for skiing with a desire to raise money for a good cause back in 2016. Patrick and his Hidden Hills Guys have been skiing for a new charity every year since.

"I wanted our ski trips to make a difference besides simply coming together to have fun," explains Patrick. He planned his first Hidden Hills Guy's Ski Trip to bring friends and neighbors together to ski. "When one of the guys on the trip, Craig Aaronson, was diagnosed with brain cancer and passed away within a year, I decided that for the next trip, we'd raise money for brain cancer research in his honor," says Patrick. "Ever since, each year, we ski for a different charity."

One of the guys participating in this year's trip has an incurable form of blood cancer. Patrick decided to support his charity, Creatives United, to raise money for blood cancer research. Founded by local ultra-runner Shannon Farar-Griefer, who battles MS with gusto, and her husband, Scott Hartkopf, a cancer survivor who lives with the incurable blood disease, Creatives United donates all money raised to various blood cancer charities. Scott is so committed to making this year's trip a success that for all who donate on behalf of the Hidden Hills Guy's Ski Trip, he has agreed to match all donations up to $100,000 total. If you would like to make a donation, simply go to creativesunited.org and make sure to choose "leukemia" as the charity option. Also, reference "On behalf of Hidden Hills Guy's Ski Trip" in the notes so that Scott will match the donation.

The first Hidden Hills Guy's Ski Trip started out with just 14 guys. There have been as many as 54 guys on the trip. This year, 40 terrific guys attended. Patrick chooses the charity for any given year by allowing one of guys invited on the trip to suggest a cause close to his heart. They've promoted such charities as A Walk on Water, which provides surf therapy to children with special needs or disabilities. They've also supported DIR/Floortime Coalition of California, which works to change laws to help families dealing with autism. Last year's charity was the City of Hope.

Patrick and his Hidden Hills Guys continue to play hard to help others fight the good fight as they ski together for a cause. Please consider joining them in their efforts to raise money this year for a good cause by making a donation to Creatives United.