Take a Malibu Wine Hike
July 2, 2018
Amid Zebras and Llamas and Giraffes, Oh My!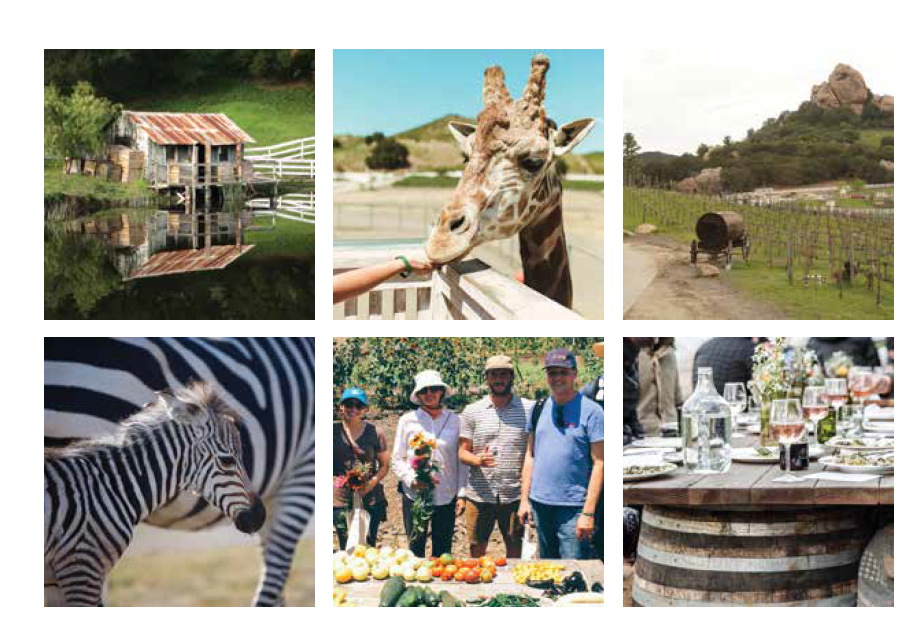 Although most people wouldn't think of combining wine, giraffes, and hiking in one outing, fortunately the folks at Malibu Wine Hikes offer a great opportunity to experience all three. Those looking for fresh air, fun times with friends and family, plus an exhilarating workout in the glorious Santa Monica Mountains above Malibu can stroll through two exquisite miles of vineyards, wild chaparral, and exotic creatures at the private estate of Saddlerock Ranch, located at 32111 Mulholland Highway.
Hikers visit rescued zebras, llamas, buffalo, and horses. For an additional fee, you can even handfeed a giraffe named Stanley. After hiking, guests are shuttled to Malibu Wines to sample five delicious vintages and soak up more stunning scenery. The hike itself lasts about two hours and is rated easy to moderate. Those looking to linger longer can book a table. There is no smoking on the property, and no pets are allowed. Although visitors under 21 are welcome to hike, they are not permitted for the tasting. Guests are free to bring in outside food or non-alcoholic beverages for a relaxing après hike picnic.
Reserve a private hike with a minimum of six and maximum of 15 people. Leave the noisy world behind as you celebrate Southern California life amid bright blue skies and panoramic mountain views. Family owned and operated, Malibu Wines also holds special farm-to-table dinners and events every other weekend during spring, summer, and fall. Visitors can enjoy a rotating schedule of guest chefs sourcing delicious, sustainable food from Malibu Wines' own garden, local purveyors, and farmers markets for a unique Santa Monica Mountains treat.
by Lori Berezin
Photography by Beth Saravo, Daniel Ventura, and Lisa Semler