People to Watch in 2017
April 14, 2017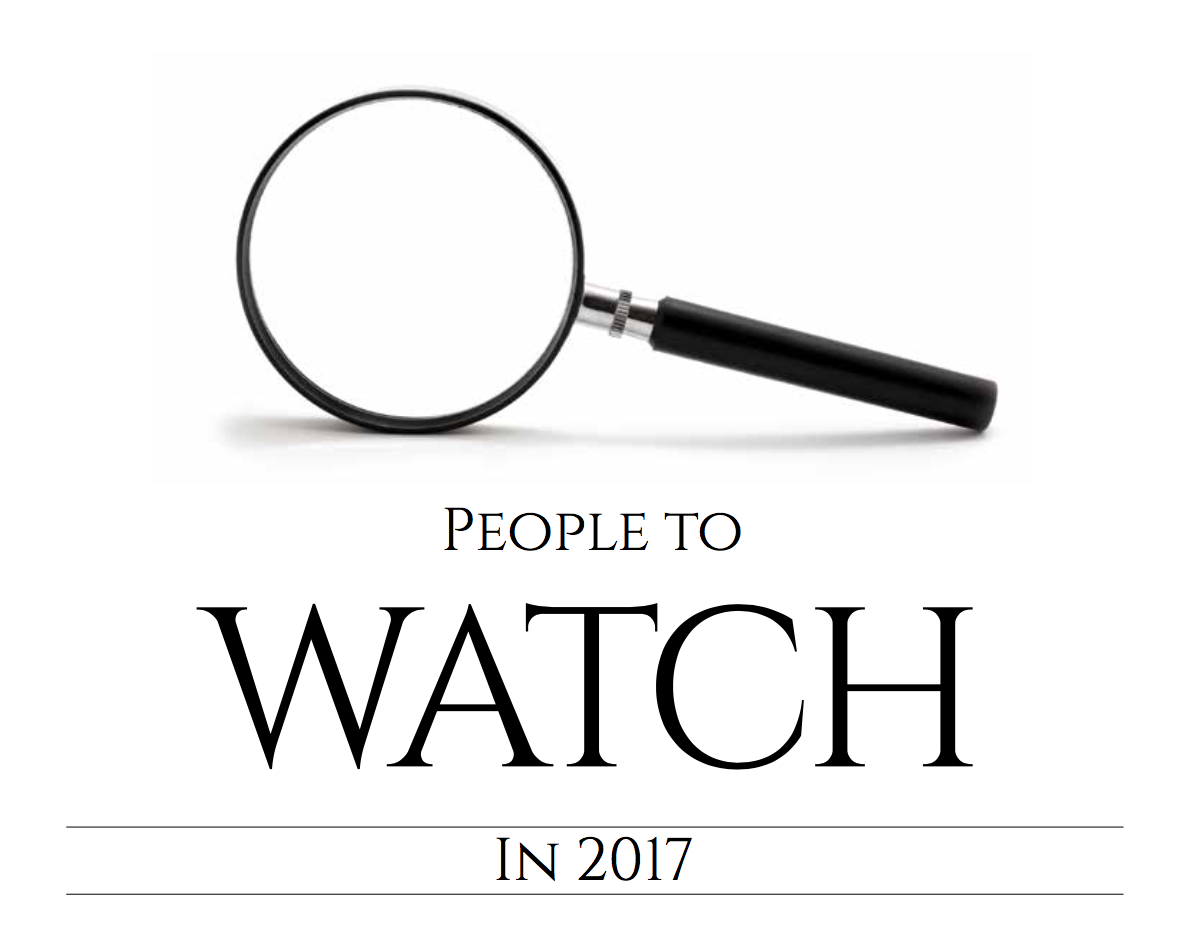 Thousands of books and articles have been written about the different traits and characteristics required to succeed in business. We've identified some of the top professional and business leaders in our community and discovered one element that they all have in common. From them, we learned that "Success is not the key to happiness" but rather, that "Happiness is the key to success." Simply put – If you love what you do and are passionate about your purpose, that's the key to achieving true success. We hope their stories will inspire you in your field of endeavor in 2017.
---
---
John Notter
Chairman: Westlake Properties, Inc.
Owner: Westlake Village Inn
WESTLAKE VILLAGE INN
Almost everyone in our community has been touched by the inspiration and generosity of John L. Notter, chairman of Westlake Properties, Inc., and owner of the four-diamond Westlake Village Inn. Known as the Conejo Valley's most stylish boutique property, the Westlake Village Inn is a European-style hideaway encompassing 17 lush and verdant acres surrounded by its own private lake.
In the summer of 2012, the property launched The Stonehaus, an intimate, all-day enoteca, located in the center of the property's private vineyard, which has become a favorite destination for winetasting, great food, and comradery for guests and locals alike. This past year, Mr. Notter celebrated the remodeling and expansion of Bogies Outdoor Vista Terrace, where guests now enjoy more of the majestic views of the Inn's beautiful lake, fountains, and vistas. The Westlake Village Inn is also in the process of submitting plans for a peaceful boutique spa where guests and locals can enjoy the ultimate spa experience amid the sophisticated elements of the Tuscan countryside.
Beyond overseeing every aspect of this magnificent property, John Notter is also one of the community's most inspirational leaders and philanthropists. He serves as Chairman of the Board for the Ludwig Institute for Cancer Research, an international community dedicated to preventing and controlling cancer, and as a trustee of the Virginia and D.K. Ludwig Fund for Cancer Research. Mr. Notter has also served as chairman of the audit committee as a member of the Hilton Hotels Corporation board of directors and chairman of Princess Hotels International, Inc. He concurrently served as president of Universe Tankships, Inc., and National Bulk Carrier, Inc. Mr. Notter has served on the boards of Financière Crédit Suisse First Boston in Zurich, Swiss American Corporation and Suntory Industries of Japan, and York-Hanover, Ltd., in the U.S. and Canada. Additionally, he served on the advisory board of Chemical Bank of New York, Columbia University, and the Frank W. Jobe Foundation in Los Angeles.
John Notter recently donated $1 million dollars to the Boys & Girls Club to help complete the construction of a club at Redwood Middle School in Thousand Oaks. The John L. Notter Family Club at Redwood is named for the Swiss immigrant, born in Zurich, who came to the United States with his family in 1941, when he was 7-years-old. After serving in the U.S. Army, he graduated from Pasadena City College and California State University, L.A., and in 2006, he received an Honorary Doctor of Laws Degree from California Lutheran University.
31943 Agoura Rd.
Westlake Village
818.889.0230
westlakevillageinn.com
---
Renee Dua, MD
CO-Founder/Chief Medical Officer
HEAL.COM
Dr. Renee Dua has turned her life experiences as a wife, mother of two young boys, and doctor (she is a triple board certi ed physician specializing in nephrology, hypertension, and internal medicine) into a business venture that is radically transforming the healthcare industry. Dr. Dua is the co-founder and chief medical of cer of Heal, the fast-growing startup that provides modern, on-demand doctor house calls.
The inspiration for Heal hit her late one night in 2014 when her infant son was ill with a severe cold and needed to see a pediatrician right away. She waited nearly eight hours in an emergency room — an agonizing experience for anyone, but one that led her to create Heal as a solution. She knew there had to be a better way since the average wait time for a primary-care doctor appointment exceeds 18 days and 80% of Americans delay or forgo going to the doctor because of lack of time and work responsibilities.
Through Heal and the use of technology, Dr. Dua has helped reinvent the practice of medicine and has proven that doctor house calls can improve medical outcomes, improve the physician and patient relationship, and save the healthcare industry billions of dollars. She found that the real key to a better healthcare system is to increase quality by bettering the relationship that physicians have with their patients. Heal is doing just that. Heal doctors are able to spend the amount of time they need in a patient's home, see the environmental factors that may affect their health, and create deeper relationships. Being in the home, enables doctors to uniquely delivery higher-quality, more proactive precision care and to gather more data to help the patient but also to give back to the larger healthcare system.
Heal currently services all of California, has cared for more than 12,000 patients to date, and is in-network with Blue
Shield of California, Anthem Blue Cross of California, Cigna Healthcare, Aetna, and UnitedHealthcare. Heal is available for an in-network co-pay or an all-inclusive, flat-rate $99 fee. Licensed physicians are available seven days a week, from 8:00 a.m. to 8:00 p.m., 365 days a year (including all major holidays) for anything a patient might require during a tra- ditional office visit.
For more information about Heal, visit heal.com and download the Android app from the Google Play store and the iPhone app from the iTunes App Store. If you aren't tech-savvy, you can dial 844.644.HEAL. Heal doctors can be at your location within two hours or you can schedule an appointment for a later date.
Marshall W. WALLER
Attorney at Law
Feinberg & Waller, APC
Marshall Waller is a director and shareholder of the law firm Feinberg & Waller. He is a certified family law specialist through the Board of Legal Specialization, State Bar of California, with more than 35 years of experience as a practicing attorney. He is the author of one of the most comprehensive textbooks in the state of California on the subject of family law and divorce. The textbook, now in its seventh edition, is noted for integrating statutory law and judicial interpretation into a cohesive general discussion of most aspects of California family law. He has also written a guidebook for other attorneys who are studying to become California certified family law specialists.
Waller is a sought-after and engaging speaker and has been a media commentator on family law matters for many years. He has presented for the Regents of the University of California, Continuing Education of the Bar (CEB), on a variety of topics, from trial basics to complex Hague Convention, international child-custody issues. He is an appointed member of the Los Angeles County Bar Association Family Law Section Executive Committee.
Feinberg & Waller has been located in Calabasas for more than 10 years, and Waller has been an active volunteer in the local community. Among other things, he volunteers his time as coach of the Oaks Christian High School mock trial team, which he helped found and organize nearly 10 years ago. He is also a vocalist and guitarist who finds that music is a good way to relax; he has shared his musical performing talent at the Motion Picture and Television Country House and Hospital.
Waller and his associates at Feinberg & Waller are passionate about the field of family law. They understand that all too often families in crisis don't know where to turn for help and that hiring a lawyer is cost prohibitive for many. The firm has ongoing community outreach efforts and recently worked to compile and publish a comprehensive resource list providing information on low-cost, nonprofit agencies in Los Angeles and Ventura County that assist in family law services for families in need. In addition, Feinberg & Waller has released a series of informational videos on divorce and family law topics, such as "What If My Spouse Is Cheating?", "Simplifying Complex Divorce," "Pre-Marital Agreements," and, "Relocation with Your Children." Go to Feinberg & Waller's website at feinbergwaller.com to view this library of valuable resources and to listen to Waller speak on an extensive array of family law topics.
23501 Park Sorrento, #103
Calabasas
818.224.7900
feinbergwaller.com
---
Kim Maselli
Artistic Director
California Dance Theatre Pacific Festival Ballet
 Dream. Inspire. Achieve. This has been the motto for California Dance Theatre (CDT) in Agoura Hills for 30 years and has been a belief system for founder Kim Maselli her entire life.
Born into a theatrical family, Kim was encouraged to pursue her God-given dreams and found herself in New York City pursuing a classical ballet career by age 17. After training at the Joffrey Ballet, Kim danced with American Ballet Theatre II, learning that hard work and perseverance were key ingredients to success. Just as important were the mentors who inspired her. With their encouragement, Kim found herself in Hollywood dancing in TV specials with Baryshnikov and the feature film Girls Just Wan to Have Fun and landing a four- year role dancing on the hit TV series Fame.
Believing her dreams could be achieved, Kim trusted that the right doors would open. One of these doors led to California Dance Theatre, established in 1985 with co-founder Joyce Hurley, who is also her mother, and Lori Sorensen. This trio of professional women brought their expertise and passion for the dance world to the Conejo Valley. Quickly, the studio grew as CDT's commitment to train dancers and instill a love for the arts flourished.
Today's faculty includes an array of professionals with distinguished careers in film and television, on Broadway, and with international ballet companies. Most CDT students dance for the love of movement and music while others become passionate in pursuit of a professional career. Kim and her faculty mentor these young artists, applauding their successes at Juilliard, USC/Kaufman, New York City Ballet, Dance Theatre of Harlem, San Francisco Ballet, and Joffrey Ballet. In the commercial genre, alumni have danced professionally on Broadway and in TV, film, and world tours with various pop stars.
Part of CDT's success is the performing opportunity the Thousand Oaks Civic Arts Plaza provides. As an art advocate in the community, Kim pursued her dream for a regional ballet company. Pacific Festival Ballet (PFB), a nonprofit organization, was formed and awarded the residency status at the Civic Arts Plaza in 2001. To date, PFB is known countywide for annual performances of the Nutcracker, classic and original ballets, and children's educational programs. These productions are instrumental in launching young artists as they share the stage with world-class professionals.
This January, both the school and company, relocate to their beautiful new facility in Westlake Village. With this new era ahead, both Kim and her establishments continue to "Dream. Inspire. Achieve."
2282 Townsgate Rd.
Westlake Village
818.707.3267
californiadancetheatre.com
pacfestballet.org
---
Steven Roseman, ESQ.
Founding Partner
Roseman & Associates, APC
Steven Roseman, Esq., thrives on practicing law. Growing up in South Africa, his passion for ghting for what is right permeates throughout his entire law firm. That ideology, combined with his belief to vigorously advocate on behalf of his clients, is instilled in his staff and colleagues at the firm. Steve is the founding partner of Roseman & Associates, APC, a mid-sized real estate and business law firm based out of Woodland Hills, with offices in Southern California.
Roseman & Associates, APC, was formed in 1996. Steve has been practicing law for 25 years, representing clients, both individuals and corporations, throughout Southern California and Nevada. The rm specializes in the practice of real estate and business law, representing commercial, retail, mixed-use, multi-family, homeowners' associations, and residential property owners in all aspects of real estate legal issues, as well as corporations and LLCs in both transactional and litigation matters. The firm also has extensive experience in negotiating all aspects of real estate and business transactions.
A seasoned trial attorney, Steve has personally handled more than 20 trials and arbitrations, including numerous jury trials. Although Steve believes that going to trial is the last resort, and amicably resolving disputes is almost always the best course of action, when a trial attorney is needed, Steve and his team at Roseman & Associates, APC, are trained and skilled to take on the task.
Steve was honored to be selected in 2015 and 2016 as a California "Superlawyer," which is bestowed to a select number of outstanding lawyers who have attained a high degree of peer recognition and professional achievement. The selection and award process is determined by independent research, peer nominations, and peer evaluations.
Steve and his team are also actively involved in numerous charitable and trade organizations. Professionally, Steve is a licensed and active member of the California and Nevada State Bars, and the firm is a member of several prominent trade organizations in both the real estate and business world, including the Community Association's Institute (CAI) and the California Association of Community Managers. Steve is also very politically active in legislative efforts and is a delegate for CAI's California Legislative Action Committee (CLAC). In 2013, Steve was appointed by the City Council of Calabasas to serve on the City of Calabasas Historic Preservation Commission and chaired the commission.
In 2016, Steve was appointed as a commissioner to serve on the City of Calabasas Planning Commission. Steve also currently serves on the board of directors of the Juvenile Diabetes Research Foundation (JDRF).
21650 Oxnard St., #2000
Woodland Hills
818.380.6700
RAattorneys.com
---
Trish Steele
Founder & CEO
Safe Passage
Safe Passage, DBA of Women Crowned in Glory, Inc., is a nonprofit 501(C)3 corporation with a purpose to shelter, educate, equip, and direct women and children of domestic violence to safety and a new life. Trish Steele, the founder and CEO of Women Crowned In Glory, Inc., started the "Stepping Stones to a New Life" program and founded Safe Passage in 2000 when she realized that more needed to be done for the 3.5 million annual victims of domestic violence.
Trish drew upon her own past experience with domestic violence, overcoming all forms of abuse, hearing loss, and hopelessness with the help of many experts who gave their time and services to rebuild her life and break the cycle of abuse. Trish initially sheltered women in her own home before getting the funds to establish a permanent safe-house residence in the Valley. To date, more than 1700 women and their children have come to Safe Passage looking for shelter and support. Over 60 emergency calls a month are directed every day to the right resources for safety and hope. The Safe Passage program has a 95% proven track record of helping survivors of domestic violence find their way to a stable job, new home, relationship with God, and safe, healthy family.
Safe Passage thrives off its team of experts that includes doctors, dentists, plastic surgeons, career mentors, counselors, image consultants, self-defense teachers, and other professionals in the community that donate their time and services to the women and children in need. Safe Passage also collaborates with other domestic violence organizations in order to increase the donated services, products, and clothing needed for addressing the needs of abused women and their children.
Trish has spent 27 years reaching out to all women, encouraging and directing them to fulfill their calling in life. As author, model, beauty consultant, and spokesperson, Trish brings great awareness to the issues of domestic violence and is an amazing example of how an abused woman can be restored to start a new life of success. Her dedication to helping others has earned her national, regional, and local recognition and awards, including the highest honor of the "President's Volunteer Service Award" from President Obama in April 2011.
Trish and her passionate board of directors have been working hard to see that Safe Passage grows to the next level with a goal to open offices in every major city across the nation. The organization welcomes all new members who are passionate to help carry out this big vision.
P.O. Box 40034
Studio City
818.232.7476
800.799.SAFE
safepassagelives.org
---
Martin Levy, CLU/RHU
Founder
Corporate Strategies, Inc.
Even though Marty Levy, CLU/RHU is a very successful insurance and financial services advisor, humble as he is, he would probably never tell you about it.
Marty founded and runs one of Southern California's most successful insurance and employee benefit agencies, Corporate Strategies. "The amazing thing about our business is that it's organic," says Marty. "We simply do great work, and our people are the best in the business. If we get a client, the odds of us having a business relationship 10 years later is near 95%. I think the retention says a lot about our business."
The agency provides employee benefits, HR technology, and human resource and insurance strategies to hundreds of Southern California businesses. Some people refer to them as the "Kings of Small Group" based upon the number of businesses they insure, but they consider themselves a simple blend of old-fashioned advisory-based insurance brokers and modern technology tools.
The main focus of the agency is protecting professionals, and one of the areas they have been extremely focused on is protecting against the expenses of long-term care, the area where aging meets financial planning. "Most people are underestimating how long they are going to live and where the dollars are going to come from to pay for their care. I'm passionate about this area," says Marty, "because I know and have seen so many people who have consumed a lifetime of savings in an effort to continue to provide a quality life for their family or for their relatives."
The agency uses the most unique ways to address this problem and help business owners and professionals protect a lifetime of accumulation and provide for their families. One of the solutions they offer to address the exposures is called The Perfect LTC Solution. The agency considers it "the best ever," especially since there aren't that many solutions out there to begin with.
Marty, who lives in Calabasas, is a Life and Qualifying member of the Million Dollar Round Table, an elite group of professionals representing the top 1% of insurance professionals in the United States. The firm principals rank consistently among the top producers in the country, and tenured professionals make up his very skilled team.
"I run a very successful business," says Marty, "but it always comes down to a very simple thing: helping people protect and address the greatest exposures in their lives."
21021 Ventura Blvd., #200
Woodland Hills
818.377.7260
CorpStrat.com
---
Geoffrey Rouss
Branch Sales Manager
Wintrust Mortgage
Geoffrey Rouss (NMLS #285987) fuses his extensive real estate and financial experience in his current role as branch sales manager of Wintrust Mortgage. Geof strives to make the mortgage experience virtually effortless for real estate agents and clients throughout Calabasas, Ventura, San Fernando Valley, Santa Barbara, Inland Empire, and West Los Angeles. Lending his broad knowledge of both the real estate and banking industries, he helps those seeking to refinance or purchase a property stay up-to-date with current residential interest rates and news. Whether customizing loans or speaking with underwriters to get quick decisions, Geof ensures clients meet tight deadlines.
After graduating from San Diego State University with a degree in business, with an emphasis on real estate, Geof moved home to the Los Angeles area to work for a "Big 8" accounting firm, Arthur Anderson & Company. He consulted regularly with real estate clients. This position led to his next job as asset manager at Coast Federal Bank. Geof helped dispose of the bank's troubled assets and complete loan modifications. This entry into the retail side of the business prompted Geof to become a mortgage lender.
After Home Savings and Loan acquired Coast Federal Bank, Geof found his next home in real estate brokerage at Fred Sands Realtors. One of the most successful real estate agents in Los Angeles, Geof continually ranked in the top 1% in pro- duction at the company. Geof then opted to take an op- portunity with Wells Fargo Bank as a mortgage specialist. He subsequently moved to Countrywide Financial, earning top sales person awards every year. His customer satisfaction reports also remained in the top 1%.
Geoff began working at Wintrust Mortgage in 2014, after Bank of America took over Countrywide. Always putting his clients first, the knowledgeable and caring professional continues to help realtors and buyers navigate through a sea of successful transactions. At Wintrust, Geoff grants customers access to different lenders and loan programs, enabling them to find the most competitive rates in the industry. He utilizes the company's unique platform as both a bank and mortgage broker/lender, offering in-house processing, appraisal, underwriting, doc drawing, and funding all under one roof.
Passionate about his work, Geoff prides himself on remaining available 24/7. He aims to make fellow realtors look good as he earns his clients' trust. Working with Geof is clearly a win-win situation for all. Geof also takes great pride in his family. He, his wife, and three children live in Calabasas.
Wintrust Mortgage
Equal Housing Lender
23975 Park Sorrento, #350
Calabasas
310.804.8181
rousshomeloans.com
Wintrust Mortgage is a division of Barrington Bank & Trust Company, N.A., a Wintrust Community Bank NMLS #449042.
---
Natalie Waknine
Founder & Owner
NES Property Services, Inc.
Natalie Waknine broke through the glass ceiling when she became a highly successful, licensed general contractor in a predominantly male industry. After initially working in the business alongside her brother to pay for college, Natalie went on to receive her degree in psychology and worked as a behavioral therapist before rediscovering her passion for contracting years later. Believing you should do what you love, Natalie opened NES Property Services, where she has thrived in upgrading and remodeling people's homes or building them from the ground up.
Her company's mission is to go "Beyond Service, Beyond the Competition." Natalie adds, "My number-one goal is a happy customer. So, we do our best to make that happen. I saw people getting hurt by other contractors and wanted to build a business with honesty and reliability."
While NES Property Services always puts the customer first, they also tell it like it is. "Before taking a job, we make sure we click with a client and that the energy is good between us," explains Natalie. Remodeling can also be stressful, so Natalie's therapy and psychology experience in resolving issues plays an important role in ensuring that everyone remains happy throughout the process. They don't employ outside project managers or salespeople – as NES believes in being more personable. "We don't overwhelm our customers. They never need to spend time shopping around. We bring them samples and oversee their project from start to finish, always looking to cut costs without ever cutting corners."
An artist at heart, Natalie uses her eye for design to help clients create their perfect home. Whether remodeling, designing, or building a completely new home, Natalie stays personally involved, never compromising on quality or safety. Clients consider her trustworthy, down-to-earth, and meticulous. Natalie finds good communication is the key. "Most importantly," Natalie notes, "we look to create long-term relationships with our clients. We stay in touch all along the way and even after the job is completed."
Natalie and her family moved to Calabasas nearly four years ago when Natalie was six months pregnant. "I knew Calabasas was where we wanted to raise our kids. We love the great people, atmosphere, and community." As a busy mother of two, she understands that clients can't always work with a contractor from 9 to 5. That's why she doesn't shut off her phone at the end of the business day. She endeavors to work around each client's busy schedule and is always there when her clients need her.
26500 Agoura Rd. #594
Calabasas
877.907.1441
nespropertyservices.com
License #953312
---
Mark Figearo
Co-founder & CEO
Sunpower by Green Convergence
Mark Figearo is the co-owner and CEO of SunPower by Green Convergence, Southern California's #1 solar installer and roofing contractor. Mark himself has been in the construction business for over 35 years and has run his own company, P-H-D Enterprises, for more than two decades. He also holds SunPower advanced sales, design, and installation certifications and is a licensed electrical contractor. In addition, Mark serves on the board of trustees with Trinity Classical Academy, loves spending time with his children and grandchildren, and enjoys world traveling.
Green Convergence first began in 2008 when Mark Figearo met DJ Schramm (Green Convergence co-founder and roofing contractor) serving on the Real Life Church construction team in Valencia – the first USGBC Gold LEED-certified church building in the country. They united Mark's electrical contracting experience and DJ's roofing contracting experience in the solar industry and founded Green Convergence. In starting this solar company, their goal was to converge green technologies and make energy independence a reality.
Green Convergence became a SunPower Authorized Dealer and Owen's Corning Preferred Contractor but continued to grow exponentially. Because of their customer approval ratings and quality workmanship, Green Convergence became a SunPower Premier Dealer and eventually a SunPower Elite Dealer. Then, in 2013, Green Convergence reached a new level of success by becoming SunPower's rst Master Dealer. Now, there are nearly 30 SunPower Master Dealers nationally. This recognition led to Green Convergence branding with SunPower to become SunPower by Green Convergence. Along with becoming a Master Dealer, SunPower by Green Convergence opened the first Solar Design Center in Southern California (located in Santa Clarita) and opened their second Solar Design Center in Calabasas in September 2016. With a Solar Design Center, homeowners and business owners can come to Green Convergence to experience world-class solar, receive a customized solar design within minutes, and meet solar face to face.
With over 60 employees and 1,000 installations, SunPower by Green Convergence continues to grow and make a difference in energy savings for families across Southern California. Today, beyond residential solar, commercial solar, and roofing, Mark and the team are reaching their goal of energy independence by offering energy management services in batteries and smart thermostats. Visit SunPower by Green Convergence in their Calabasas Solar Design Center, call 818.444.3411, or learn more on their website at greenconvergence.com today!.
26799 Agoura Rd., #C-3
Calabasas
818.444.3411
greenconvergence.com
---
Hillary Federman & Samantha Senia
Co-founders
Elite Home Staging
Home staging has been deemed essential by today's top real estate agents, with a proven ability to increase market value and sell properties quickly. No one knows that better than Hillary Federman and Samantha Senia, the co-founders of Elite Home Staging. Since starting their company 10 years ago, this dynamic duo has successfully staged over 10,000 homes and has turned their company into the fastest-growing staging company in Southern California.
The driving element behind their success is that they know how to balance the art of appeal with the science of selling, and they work with each client until their home is sold. Their strategic approach curates environments that inspire homeowners and wow prospective buyers. Whether you are seeking an aesthetic revamp or competitive advantage, Elite transforms potential to perfection!
Working in a sales environment for many years, Hillary has perfected the skills needed to grow a brand, understand market demands, create value in whatever the product, and maintain healthy customer relationships. Samantha has always had a passion for the aesthetics and the visual environment around her. Her eye for all things sexy, sparkly, and bold have given her a great ability to create gorgeous interiors; think Restoration Hardware meets Kelly Wearstler.
Since joining forces, these women have been unstoppable, complimenting each other's strengths, while taking Elite from a home business to a firm with thousands of accomplished properties. Their combined knowledge and ongoing study of the market keeps Elite a credible, relevant, and valuable re- source. Both women also understand the financial and emo- tional aspects of home buying and the need to stage each home strategically to appeal to a wide demographic. Their stunning "to date" furnishings turn rooms into visual stories, sparking the imaginations of buyers who often feel uninspired by vacant properties. Styled yet relatable, each house is staged to captivate attention and leave an unforgettable impression –giving sellers the upper hand over the competition to tip the scales to SOLD.
As a full-spectrum staging firm, Elite offers a wide array of services to satisfy clients' needs. From home staging for real estate to custom interior design, Elite's diversified team brings all of the right qualities and expertise to the table. They also have a residential model homes program for companies that lease apartments, townhomes, condominiums, and timeshares and a corporate relocation program so that whoever walks in the door will feel at home… or wish it was theirs!
21128 Vanowen St.
Canoga Park
310.776.9469
elitehomestagingca.com 
---
Kenneth L. Snyder, ESQ.
Seth Snyder – Administrator
The Law Office of Kenneth L. Snyder
The Law Office of Kenneth L. Snyder was founded in 2003 by two brothers, Kenneth L. Snyder, Esq., and Seth Snyder, administrator. Both brothers began their careers in the legal field in 1990, working for the famous attorney that represented Rodney King in his claim against the City of Los Angeles. It is that case and other cases where justice was needed that inspired them to pursue a career in helping injured people get compensated fairly for their loss.
They knew the moment Ken was sworn in as an attorney that they would never work for anyone else. Their passion is second to none in representing their clients and tending to their needs. By working for themselves, they can dedicate their time to compensating survivors for the nancial and emotional losses suffered as the result of the death of a loved one or those injured through the negligence of someone else.
Both Ken and Seth understand the effects of a serious personal injury or wrongful death. They know that when you are severely hurt or a loved one tragically gets killed in an accident, your life and the lives of your family and loved ones are forever changed. "Losing a loved one is a devastating and overwhelming experience, and if your loved one died as a result of the negligence of another party, we understand all of the emotions they are going through," states Ken. Seth further explains, "Our clients can feel many emotions, such as grief, anger, frustration, stress, and fear about the future, so we want to eliminate as much of this stress as possible." The firm is known for having a resourceful and aggressive litigation department and never accepting low offers from Insurance companies. Because of these efforts and others, they have won multiple awards, including two straight years as the "best personal injury attorney" by the Daily News.
The practice has grown fast and now includes 10 empathetic employees, including lawyers, paralegals, and legal secretaries. Everyone in the firm shares the same goal of giving every client the attention and compassion that he or she needs to get through the legal process without unnecessary additional stress.
Their clients never pay a fee out of their own pocket. "Our fee is always contingent on our settlement," says Seth. "Luckily, we almost always win!" Ken likes riding motorcycles, which gives him another perspective in representing motorcycle victims. Both Ken and Seth love to play golf and have been seen playing at Calabasas Country Club.
21700 Oxnard St., #2080
Penthouse Suite
Woodland Hills
818.703.0379
kensnyderlaw.com 
---
Kirk A. Bell, CFP®
Managing Member
Riverflow Wealth Mangement, LLC
Kirk A. Bell, CFP, began working in the wealth management business in 1996 with Smith Barney after running his family's manufacturing business for 17 years. He fell in love with nancial planning while learning all about the business as executor of his grandfather's estate, which included investments, properties, and a business. Kirk pursued his passion at Smith Barney. Then, in 2009, he opened Riverflow Wealth Management.
As a wealth planner, Kirk manages his client's finances using the Four Pillars of Wealth Management: Lifestyle Management, Liability Management, Debt Management, and Asset Management. Using a goals-based process, he examines cash flow, net worth, and personal balance sheets to design efficient financial planning techniques.
Money remains one of the top three areas of importance to most people, along with family and health. Kirk builds longterm relationships by helping clients achieve their financial goals, incorporating estate planning, charitable giving, and tax-effective investing.
"To help clients the most, you have to be a conscientious listener and have a constructive impact," stresses Kirk. "Sometimes I feel like I am more a psychologist than wealth planner. I have to create trust and loyalty to be effective." He aims to understand the feeling behind his client's words. "I never learn anything when I am talking, but I do when I am listening."
Kirk also customizes each client's plan to fit his or her comfort level. Kirk's ability to help clients achieve their financial goals has resulted in his company's yearly 30% growth. He works with many baby boomers planning for retirement. He also oversees a lot of wealth transfer as that generation's parents pass on.
Potential clients can nd a wealth of information on the Riverflow Wealth Management website. Kirk posts articles ranging from "How I Used Real Estate to Completely Fund My Kid's College Education" and "Six Steps Women Can Take to Achieve Retirement Security" to "How Much Do You Need to Retire? Four Ways to Achieve That Magic Number" and "7 Questions to Ask When Interviewing a Financial Adviser." Kirk also finds time to volunteer through the Calabasas Chamber of Commerce. In 2015, he served as their chairman for the Special Olympics when Britain came to Calabasas in preparation for the games. He was also president and board member of the community-based Character and Ethics Project and a member of the Military and Family Life Consultant Program, where he provided financial counseling to the men and women of the armed forces.
26610 Agoura Rd.
Calabasas
818.224.2269
riverflowwealthmanagement.com 
---
Dylette Davis
Founder & CEO
Loving Home Hospice for Children, LLC
Dylette Davis has worked in the healthcare industry for over 20 years. She began in her hometown of Atlanta and then went to Washington, D.C., before moving to Southern California. Over the years, Dylette recognized the need for quality hospice care, especially for underserved youth. Young children are usually left out of the hospice system that caters mainly to the elderly.
Building upon her background and passion for children, Dylette founded the Loving Home Hospice for Children in Agoura Hills in 2008. Her number-one goal was to develop a safe space where children facing life-threatening illnesses could receive inpatient and home hospice and palliative care.
Loving Home Hospice for Children provides nursing care 24 hours a day, seven days a week, for youths under 21 and their families. Their compassionate team, coordinated by professional nurses and physicians, along with spiritual leaders and trained volunteers, provides medical, psychological, social, and spiritual assistance.
"The death of a child is an unimaginable loss. Having a support system really makes a huge difference during and beyond," Dylette explains. "It is very rare that hospice and palliative care are focused solely on children. Many people find it too heavy to deal with," noted the mother of two. "But, it must happen in order to find a peaceful place for both those in care and their families to receive help with counseling and grieving."
According to the nonprofit's website, less than 1% of children needing hospice services in the United States receive it. This often leads to an increase in job loss, alcoholism, and drug abuse by their survivors. "No family or child should have to be alone during these times," Dylette stresses. It is her goal to help those suffering live as comfortably and fully as possible during their final phases of life.
The center strives to allow families to grieve as a whole while focusing on the quality rather than length of life and even the joys of the family bond. As William Wordsworth wrote in his poem Intimations Of Immortality From Recollections Of Early Childhood, "…Though nothing can bring back the hour of splendour in the grass, of glory in the flower; we will grieve not, rather find strength in what remains behind."
Future goals include a new 30-bed facility to be located in Calabasas. Dylette and her staff continue to fundraise for the facility to open in 2017 as they remain a constant voice for those with little or none.
5126 Clareton Dr., #206
Agoura Hills
805.210.5916
lovehomehospice.org 
---
Steve H. Hornstein CPA, LL.M., CFP®
Attorney at Law
Hornstein Law Offices
Steve Hornstein, an Estate Planning Attorney and Certified Public Accountant, opened Hornstein Law Offices and Hornstein Financial in Woodland Hills in 2002. Now, with a staff of seven, his office prepares tax returns and assists clients in setting up estate plans as well as navigating through the entire estate and trust administration process when a loved one passes, including filing probate and other court petitions when necessary. Over the years, Hornstein Law Offices has prepared thousands of trusts and estate planning documents and has successfully litigated nearly a dozen estate planning cases at trial. Steve is the author of the comprehensive book on estate planning, Creating Your Estate Plan – 18 Rules To Make Sure Your Estate Plan Will Work When It Needs To.
Steve resides in Tarzana with his wife Bryna and their two children, now eight years old. The Hornsteins are active members of the Rotary Club of Woodland Hills, having hosted exchange students from France and Brazil. "Our kids loved looking at the globe with the students and talking with them about their lives abroad," says Steve. Steve is also active with the West Valley-Warner Center Chamber of Commerce, having served as its president for the past two years and now serving as CFO. Steve also served as co-chair of the chamber's Fine Wine and Food Tour for the past ten years. "I am so proud that our chamber's Fine Wine and Food Tour just celebrated its 10th year and has grown to become such a valuable event, helping its members connect with local businesses in the San Fernando Valley." Steve enjoys helping raise money for organizations vital to our community. To raise funds for art programs in our community, he danced the tango at the Valley Cultural Center's Dancing with Our Valley Stars and took home a second-place trophy! He also sang at a fundraiser for the Valley Women's Center. An avid runner, Steve enjoys running 5K races for charities with his dogs Bailey and Riley.
Steve's focus for the year 2017 is to make the estate planning process as comprehensive, efficient, and affordable as possible. Through his HornsteinTrust.com online trust-preparation system that he developed, people can create a low-cost, "do-it-yourself" estate plan for themselves or they can choose to meet with Steve or his staff for more comprehensive planning. "Too many people don't have a proper estate plan, and this creates turmoil for their families and unnecessary litigation in our already overcrowded courts. I see it every day. I want to help people protect their families and, in the process, help society as well."
20335 Ventura Blvd., #203
Woodland Hills 
818.887.9401
hornsteinlawoffices.com 
---
Ernie Sandlin
Director of Marketing
University Village Thousand Oaks
On 65 rolling acres in Thousand Oaks, there's a senior living community bustling with active residents. The campus includes 367 apartments and villa-style homes plus an adjacent health care center. Their success can be attributed to the many dedicated staff members who work toward bettering the lives of seniors at the community. One of these staff members is Ernie Sandlin.
As Director of Marketing at University Village, Ernie is one of the first people prospective residents meet, and then a team of Residency Counselors takes them through the advantages of choosing this benefit-rich CCRC (continuing care retirement community).
By choosing University Village, hundreds of older adults have made the decision to downsize their homes and expand their opportunities. This is a vibrant community with countless activities for people of all interests. There's a heated pool and fitness center, a billiards room, a library, an arts and crafts studio, and plenty more. Residents have access to assisted living, memory support, and a skilled nursing center at the adjacent health center. "At its heart, a life at University Village is much more than four walls and a beautiful residence," says Ernie. "It's a lifestyle and a life plan, all wrapped up in one package. No other experience offers the long-term coverage in a quality setting where you can also receive care if and when you need it."
Before coming to University Village in 2004, Ernie spent nearly two decades in university enrollment management. He sees parallels between that position and his current role. "Recruiting high school seniors to colleges and attracting older adults to experience the benefits of a CCRC turned out to be extremely similar," he says. "Both groups are looking for the best way to position themselves for the future."
In his official capacity, Ernie builds relationships with those weighing their senior-living options and stays close to residents once they move into their new home at University Village. He has the advantage of having met almost everyone before they even move in and has become friends with many of them. In fact, outside of working hours, he's a full-fledged member in a resident tennis group that plays weekly.
Ernie has seen so many residents embrace the freedom to fill their days as they choose, with activities they like and new friendships they've made. "It means I've done my job well when someone is happy here," he says. "It's a special place where people can thrive – myself included."
3415 Campus Drive
Thousand Oaks
805.241.3300
uvto.com