Calabasas High School: Spices up its Curriculum with Culinary School Classes
May 18, 2017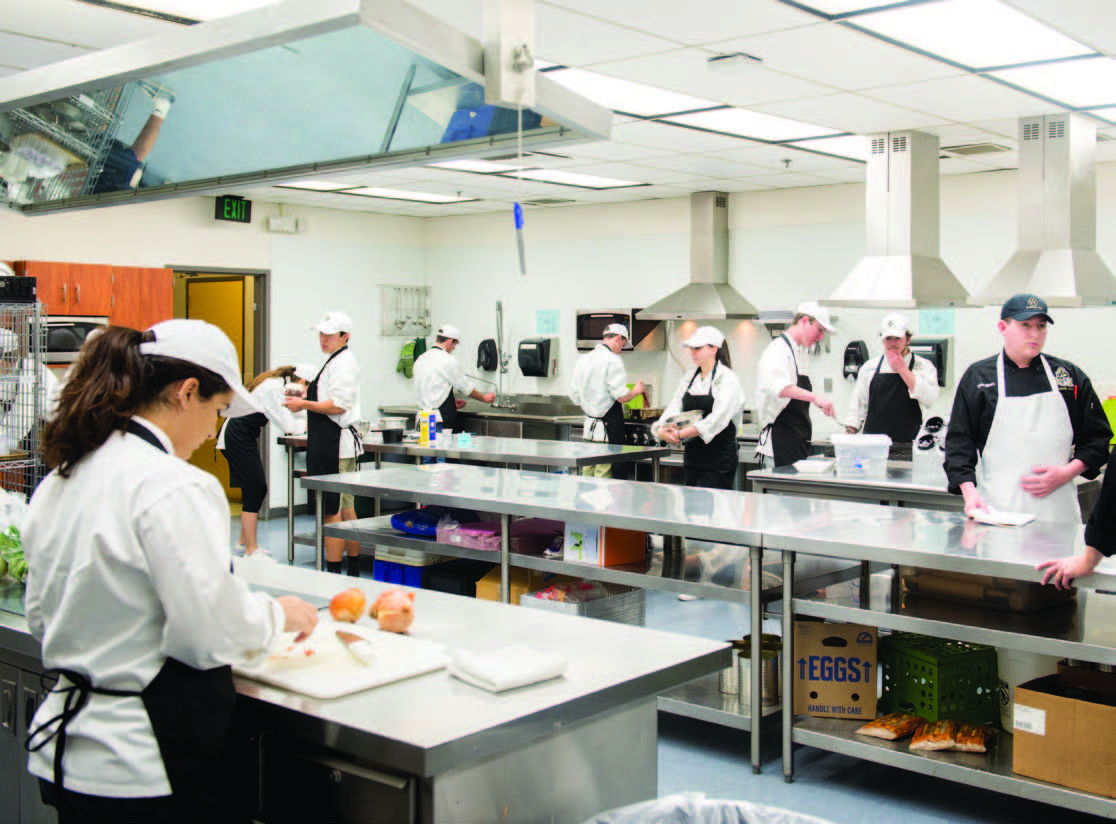 There's something sensational brewing at Calabasas High School. Since 2005, Chef Kerrie Allen has trained students to cook. What began as a single course has blossomed into a three-year food and beverage production program that gives students a deeper taste of teamwork and the ABCs of the culinary world.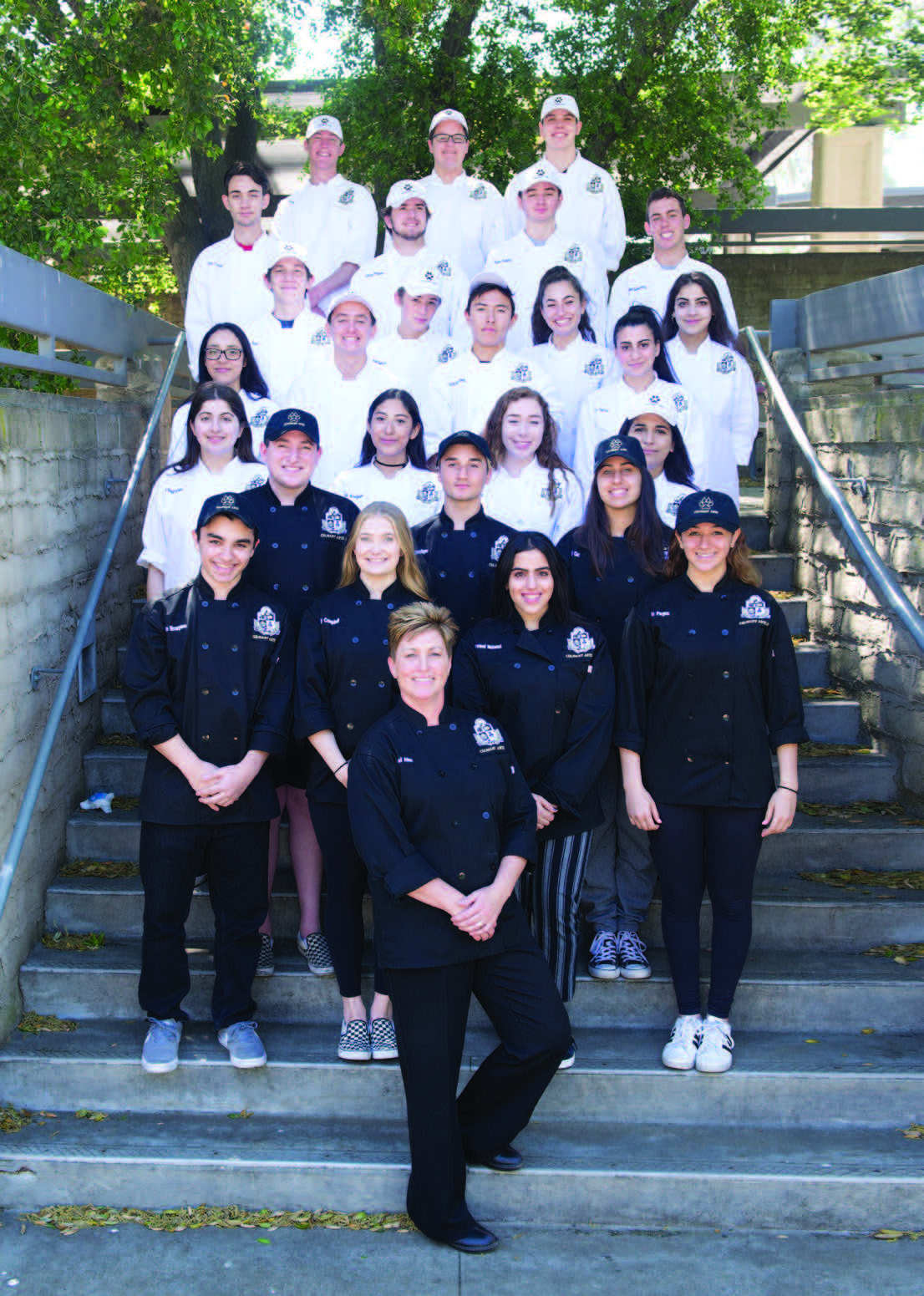 Chef Allen teaches students fundamental skills for planning, preparing, and evaluating various foods within the Food Guide Pyramid. She explains, "Students learn food science, sanitation, and food presentation. Spring semester incorporates a culinary sampling of foods from around the world, with regional etiquette, table and buffet layouts, and student cooking demonstrations. As they advance, students develop guidelines for meal and menu planning and shop-ping lists and calculate menu and food costs. They finish the year exploring food customs of American regional cuisine. Advanced students work different food job positions within a restaurant-like setting and explore recipe and menu themes for parties and special occasions."
Chef Allen graduated from Le Cordon Bleu culinary school in Pasadena. She worked at an array of hotels and restaurants during her school years. Teaching came later. She continues to inspire students, such as Leanne Pagus, who remarks, "Chef Allen taught us how to express ourselves through the food we make and helped us get out of our comfort zone by trying new foods from different cultures. We've be-come a family who loves cooking and eating together."
Each class offers curriculum geared towards students at different skill levels. Beginners, for instance, learn all about egg basics and omelets, while level-two pupils make quiche and crème brûlée and third-year students create sweet and savory soufflés. The week's lessons are showcased on Mondays. On Tuesdays and Wednesdays, students learn new recipes and watch cooking demonstrations. They then prepare these dishes on Thursdays and Fridays to share with the class.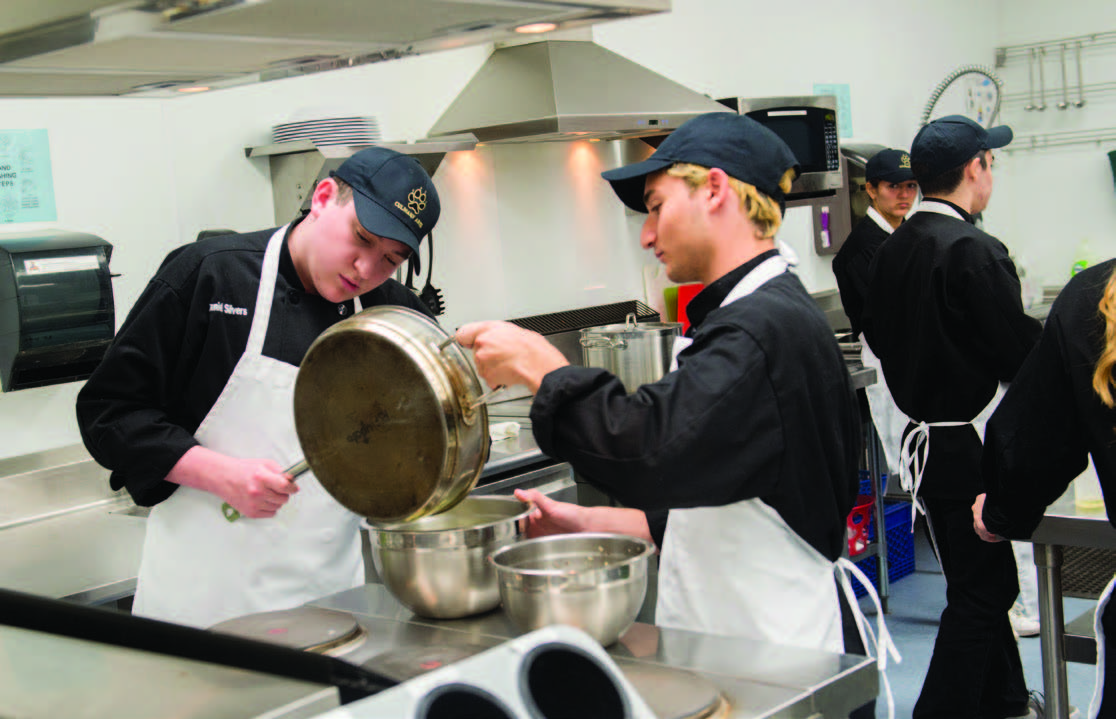 "Many students sign up for Culinary Arts assuming it to be an easy class," notes Chef Allen. "What they don't expect is the rigorous curriculum. Yes, we cook, laugh, and have some fun doing it, but what they don't expect is the safety course they must pass first." The training is both rewarding and demanding…"like the dishes they wash, dry, and put away. There is no cleaning fairy that does it for them…They learn to work in teams, become a leader, work on public speaking skills, make new friends, and become a culinary family." These classes clearly inspired student Daniel Silvers. "Before I became truly invested in our school's culinary program," he says, "I had no idea that it would completely change my life. I would've never thought in a million years that I would continue my studies after high school and want to major in culinary arts and hospitality and restaurant management."
The program puts some students on the path towards a culinary career. All learn valuable techniques and how to work better in a group. Chef Allen sums it up best with a quote she displays on her class wall: "Culinary Arts is not just cooking… It's a life experience with challenges…Where you decide to take it is up to you."
By Lori Berezin
Photography by Ivan Hive: Pristine Portrait