Celebrate the Season
November 5, 2019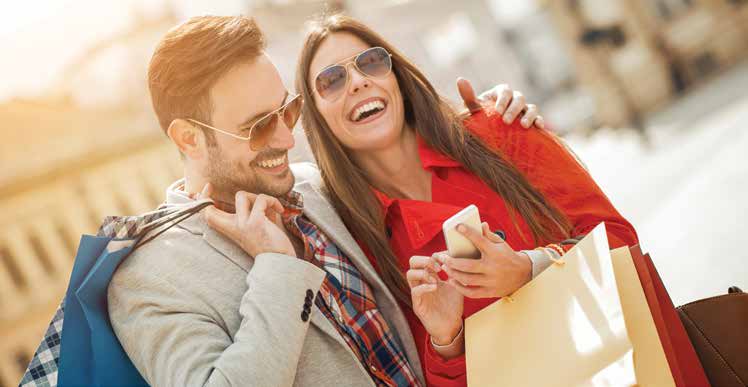 No matter how early we promise ourselves we'll start next year, holiday shopping always seems to creep up on us before we know it. Fortunately for us, our community has some of the most amazing small businesses, offering a variety of options—from the tastiest holiday treats to the most dazzling pieces of jewelry—guaranteed to spread joy to absolutely everyone on your shopping list. Calabasas Style enjoys curating a special list of options to alleviate some stress and keep you and your family and friends—whether naughty or nice—merry this holiday season.
With November 23 designated as Shop Small® Saturday, there is no better way to spread community cheer than kicking off your shopping at local businesses, especially with so many unique shops and enticing gifts throughout the area. There is nothing that beats the personal attention and customer service provided by our local merchants or the websites of many locally-based businesses that allow us to skip the lines and shop online.
We love to promote local businesses and share some our favorite things. As you browse the following pages, let them inspire you to make your gatherings even more tasteful and bright.
If you're shopping for the accessory lover, head to The Kingdom, where you will find every must-have heel, sneaker, and handbag on the market. The premier destination for luxury shoes and handbags, owners David Lipp and Jason Salstein bring designs straight off the runways of Milan and Paris to their stunning store at The Commons at Calabasas. This high-end boutique promises only the finest goods and most-sophisticated styles, with a list of brands sure to appease the chicest tastes.
Across the way, you'll find another great place to shop: Blush Boutique! Owner Sherry Thomas truly believes that "beauty isageless" and has a knack of filling her boutiques with moderatelypriced clothing and accessories reflecting the contemporary,sophisticated, yet comfortably chic elegance of Los Angeles.The Calabasas and Thousand Oaks boutiques are filled withgreat merchandise for your winter and holiday wardrobe needs,along with fashion accessories, jewelry, hats, and bags great for gift giving.
With 35 years in business, M.Fredric has a first-class reputation. They have constantly evolved to provide an exciting experience for everyone—from the trendy fashionista and edgy male to the stylish child. Their top-notch service, luxe lines, and trendsetting Southern California appeal attract customers from across the United States. Frequented by celebrities, wardrobe stylists, and sophisticated shoppers, there is no doubt you'll find everyone's favorite gift here. To top it off, this retailer gives back to the community daily. Shop at one of their many local boutiques or online.
Raiman Rocks never disappoints if you are looking for that sparkling, one-of-a-kind gift for someone special. You will find the most amazing, custom-made jewelry using the finest diamonds and rarest-colored diamonds to satisfy the most exquisite tastes of the savviest jewelry lovers. Their flawless integrity and outstanding customer service only add to the design experience, making you not only a lifelong customer but family. Dazzle your loved one with high-end jewels that will last a lifetime.
Recently under new ownership, SIANY is taking over the scene, offering the latest in women's fashion with a variety of price points on jewelry, gifts, and clothing. With a selection of pieces from local, trendsetting designers to many of your favorite, well-known brands, Randi Hertzberg and her staff of stylists ensure every client finds exactly what they need to look and feel great. Shop the Westlake boutique for every fashionista on your list to see why SIANY has continued to be a community staple for over 20 years.
Take a few steps down the shopping center path to find Sugar. Their contemporary yet sophisticated collection will make you want to buy everything in sight. Stella Campbell and her friendly staff make sure the family-owned business stays totally relevant with the most current trends from head to toe. With designer denim, cozy sweaters, and more, you are apt to find something for everyone this holiday season—even yourself! And don't forget to take advantage of the complimentary gift wrapping to make gift giving even more fun.
Watches are timeless gifts, and Dejaun Jeweler recognizesthis with over 25 brandsand one of the largest selections of sports, fashion, classic, and high-complication timepieces plus designer-made Swiss watches. You'll also find an impressive collection of stunning engagement rings, wedding bands, and pieces from popular jewelry designers. Shop locations in The Village at Westfield Topanga and The Oaks Mall to discover the ideal gift for every watch and jewelry enthusiast.
El Mio Boutique is the friendly little shop on the corner. The boutique, located in the Regency Salon Suites in Woodland Hills, is a well-kept community secret with its discreet location. Carrying a variety of clothes made in the United States, France, and Italy, El Mio Boutique has something for women of all ages for every occasion. Owner Sherry Tamjidi prides her store on offering some of the most chic and comfortable pieces available, with beautiful jewelry, handbags, and accessories to complement your personal style.
If you are looking for a special slice of history, Beaver's Den Antiques has an incredible stock of meaningful vintage treasures. Collectors and enthusiasts get lost for hours in this historic heaven with a specially curated collection of antiques that hold heritage, warmth, and character of the past. For over 51 years, owner Barbara Cavaleri has specialized in silverplate flatware pattern matching and satisfying every client with individual attention—finding the perfect gift for any occasion. Visit Beaver's Den Antiques in Woodland Hills to take a step back in time.
Whether you're giving a gift or hosting a party this holiday season, Nothing Bundt Cakes lets you skip the hassle of baking with everyone's favorite holiday cakes. Their perfect Bundt cake begins with handcrafted recipes made with the finest premium ingredients, including fresh eggs and real butter. Every decadent cake is baked daily and topped with signature cream cheese frosting. Choose from nine classic flavors, seasonal featured flavors, and festive holiday designs, with bakeries in Woodland Hills and Thousand Oaks.
Another perfect "foodie" gift can be found at Olive Alchemy in Calabasas—a family-owned extra virgin olive oil and balsamic vinegar tasting room and retail store offering directly sourced, fresh olive oils available on tap. Gift yourself or friends with a custom basket full of flavor and color or choose one of the handcrafted gift baskets, hand-painted serving dishes, olive wood boards, utensils, or other kitchen accessories. You'll also find organic, EVOO-based body lotions, oils, scrubs, and scents.
Your CBD Store Woodland Hills offers the highest quality CBD products in our local market as we continue to learn the multitude of its benefits. Setting the standards in the industry, the store formulates only the best tinctures, edibles, skin care products, topical creams, and more—created with each customer's needs in mind. With holiday stress running high, it is important to make sure your family and friends are in good spirits. Visit Your CBD Store Woodland Hills to find gifts that heal or supplement a wide variety of conditions.
Looking for a unique gift? The Flower Apothecary offers products that have the power to heal. Flower essences are botanically based healing systems, existing since ancient times. This noninvasive, subtle body medicine interacts with negative emotions to gently and safely bring a person back to a positive state. Flower essences differ from essential oils as they contain no scent, inherent taste, or allergens. Available at Erewhon Markets, Lazy Acres Markets, Agoura Meadows Vitamin Shops, or online.
It's important to make sure you take time to indulge in self-care during the holidays, which is why we recommend one of the best-kept secrets in the area—Complexions Calabasas. Owner Natasha Vaneski provides something to pamper every skin type with a menu of unique and enticing treatments, including miraculous facials like the latest "non-surgical facelift," the CACI Synergy Facial that banishes your wrinkles instantly with little to no recovery time. This must-visit spa offers gift certificates so you can share the gift of great skin with everyone.
Another great and simple idea for the self-care and wellness lovers in your life is purchasing a gift certificate from CQ Nails or TK Nails in Calabasas. And don't forget to treat yourself, too! Who doesn't enjoy a relaxing manicure, spa pedicure, or both? Men and women of all ages are pampered by expert nail technicians in the luxurious salons. And these gift cards, available in all denominations, are thoughtful gifts for friends, co-workers, teachers, or anyone to show how much you care.
For a different aspect of self-care, those who enjoy spiritual connections, meditation, and chakra alignment will surely embrace the gifts and services offered at Crystal Visions Spiritual Center. Favorites include custom chakra sprays, used for balancing and aligning chakras, promoting positive energy, and supporting meditation. Healing crystals and intention-setting candles for good fortune make thoughtful gifts. Visit Crystal Visions to personally choose gifts and learn more about the services offered at the spiritual center. Gift certificates are available.
Rock Paradise is a crystal lover's dream come true. From one-of-a-kind jewelry to extraordinary home décor, the creators of Rock Paradise have traveled the world to curate an incredible selection of ethically sourced rock pieces and exclusive art designs. Visit their new 5,000-square-foot store today to see the variety of great gifts they have to offer. With custom creations available by request and new products added to the store daily, this is a one-stop shop for almost any gift.
Online shopping has become increasingly more convenient, making it the preferred method for more people than ever before. Although BDI Furniture is available in select stores, such as Rapport in Los Angeles, it is also easily accessible by web. The BDI design is a step away from the norm—so if you have a funky furniture collector on your list, BDI pieces are sure to impress with their combined levels of style, function, and innovation, all at a practical price point. Visit their website to shop the variety of modern-yet-functional pieces for home and office.
If you're in the market for an above-average candle and an elevated sensory expression, the perfect shopping experience is right at your fingertips, literally. FVITH is currently an online-only retailer that creates luxury home and body fragrances and ships them directly to your front door. The roll-on oil body fragrances, bottled in Italian glass with stainless steel rollers; artisanal candles poured in two sizes; and elegant room sprays bottled in glass have been noted to transform your body and room, amplifying the refined free spirit.
When you want to skip the lines without compromising quality, shop Canna River online. Their line of CBD tinctures contain hemp grown in the United States, organic MCT oil, and natural terpenes. They are non-GMO, alcohol-free, and sugar-free, and they even offer a line designed specifically for our favorite furry friends. The products are created to enrich a range of lifestyles. With the goal of making CBD more accessible, the designers of this high-quality product are cost-conscious, so you won't have to break the bank for a top-tier present this year.
There are so many ways to show your appreciation for your loved ones not just during the holidays but throughout the year. Of course, nothing is more important than simply spending quality time with your family and friends, sharing meals, stories, and laughs. But the joy of gift giving is inexplicable—watching a smile bloom across the face as a thoughtfully chosen gift is unwrapped is a feeling of true euphoria, too.
Best wishes for the happiest of holiday seasons from our Calabasas Style family to yours.