Beauty Tips for Men
July 1, 2018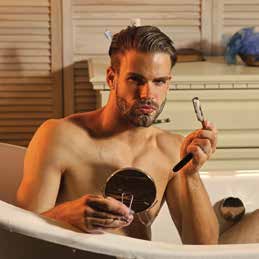 Call it beauty or grooming. Call it whatever you want, but men are getting in on the beauty scene more than ever before. Whether men consider themselves metrosexual or not, they want to look good, and many have interests in clothes and grooming tips. So for the men in our lives, we came up with some beauty advice.
BROTOX:
The number of American men getting Botox injections had greatly increased. Men are more open to the idea of Botox to address their concerns about their appearance, and they want to be proactive about prevention. If you decide to give Brotox a try, discuss the effect you're hoping to achieve with your doctor.
HAIR DYEING:
What is the big deal for men to dye the grey in their hair? Some men want to keep a younger look, while others just want to experiment with color. Just realize it takes time for touch ups and it is a good idea to have some sort of color direction you would like before you see your stylist.
MEN IN MASKS:
Guys in face masks have been showing up all over social media. There are different types of sheet masks that combine several ingredients that work harmoniously together to give you brighter and younger-looking skin, and clay masks can clean out your pores and improve your skin tones.
DRY SHAMPOO:
Dry shampoo is best for guys with style-able hair. If your hair is very short, then you won't get any benefit fro it. Dry shampoo works well for men with straight or slightly wavy hair that is normal or fine in thickness. The oil absorption restores volume, so if you have thick hair, it will only give you bigger hair. Dry shampoo can be good to use at the end of a long work day, before a night out, or after a workout.
THINNING HAIR:
Men who have thinning hair need to follow three fundamentals: short haircut, matte products, and light shades. These give the illusion of thicker, fuller hair, unlike longer hair, shiny styles, and darker tones.
COOL CUCUMBERS:
You may already know to cut up a cool cucumber and press the slices against your eyes in the morning to reduce puffiness. Follow that with a few dabs of eye de-puffer cream. Use eye cream immediately after removing the cucumbers– that's when you'll see the best results.
PRE-SHAVE OIL:
By showering first, steam and warm water make hair easier to cut and prevent tugging. Next, apply a pre-shave oil. This may seem like something to skip, but it softens stubble and lubricates for a smooth razor glide. The benefits of a closer and less irritating shave will make you glad you took a little extra time.
Before starting any new health-related treatments or supplements, please consult your doctor. 
by Irene Marshall