Enrich
September 1, 2017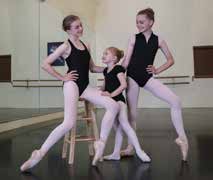 CALIFORNIA DANCE THEATRE
2282 Townsgate Rd., #4,5,6
Westlake Village, 91361
818.707.3267
805.906.2087
californiadancetheatre.com
Founded in 1985, California Dance Theatre (CDT) celebrates 32 years of dance excellence. Recently moving to Westlake Village, their beautiful new facility houses five studios spanning 10,000 square feet. With 30 instructors teaching students of all ages and levels–from beginners to professionals–CDT encourages and trains both recreational students as well as career-minded dancers. California Dance Theatre seeks to inspire dreams of movement, dance, and performing style in boys and girls. The school offers a full curriculum in classical ballet, jazz, lyrical, contemporary, modern, tap, musical theatre, and hip-hop, with a special emphasis designed to introduce these dance forms to young children.
The daily preprofessional ballet program grooms the advanced dancer for a future career or an exclusive university dance program. California Dance Theatre offers a highly credentialed faculty with experience in international ballet companies, Broadway credits, television, and film backgrounds. In addition, select students perform with Pacific Festival Ballet, the resident ballet company at the Thousand Oaks Civic Arts Plaza Performing Arts Center.
---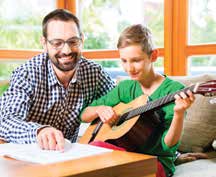 MUSIC SCHOOL TO GO
818.914.4950
musicschooltogo.com
Established in 2007, Music School To Go is one of the leading sources for in-home music lessons for kids, teens, and adults in the San Fernando and Conejo Valley areas. Specializing in private, in-home music lessons, their team is made up of professional university-trained instructors that travel directly to the student to provide music lessons in the comfort and convenience of the student's home.
Offering a variety of music lessons, including piano, guitar, voice, violin, drums, and more, the professional instructors at Music School To Go customize and tailor lesson plans geared towards the unique goals and interests of each student. Offering instruction in all styles of music, ranging from classical to rock, pop, jazz, and more, customized lesson plans include everything from fundamentals, like reading music and learning music theory, to playing fun songs from the students' favorite bands.
With over 20 professionally trained teachers and flexible scheduling options seven days a week, the team at Music School To Go is sure to bring out the best in any aspiring musician. Email us at: info@musicschooltogo.com.
---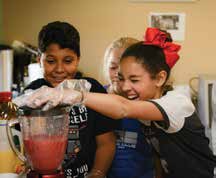 BOYS & GIRLS CLUBS OF GREATER CONEJO VALLEY
30343 Canwood St., #200
Agoura Hills, 91301
818.706.0905
bgcconejo.org
The Boys & Girls Clubs of Greater Conejo Valley offer quality programs throughout the school year and summer, serving over 4,200 members annually. They have a total of nine clubs located in the Conejo Valley and Las Virgenes School Districts, with seven middle school clubs and two elementary clubs located on school campuses. They also offer lowcompetitive, coed Sunday basketball leagues for ages 3 to 12.
Afterschool programs at each of the clubs give members the opportunity to participate in enrichment classes, including science, fine and performing arts, and sports, as well as leadership programs, educational classes, and more. Each day qualified staff work with students on homework. The clubs are equipped with the latest technology that ensures members can learn techniques in STEM programs.
Clubs provide a safe place to play, laugh, discover, and learn. Caring, trained staff and volunteers work with members in a supervised, safe, and structured environment. No child is ever turned away due to an inability to pay. Scholarships are available.
---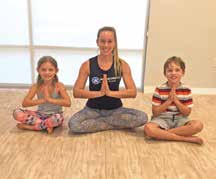 WARRIOR&CO. A YOGA STUDIO
21015 Oxnard St.
Woodland Hills, 91367
818.625.1986
warrriorandcoyoga.com
WARRIOR&CO. is a two-studio yoga space, the first of its kind, with one hot studio and one non-heated. With a variety of classes for all ages, WARRIOR&CO. is one of the few places in the community to offer kids and teen yoga and joint parent/kids yoga classes. For kids age 4 and under, they offer Parent & Mini Warrior class, which is a fun, enriching class for kids to connect with their parents. The caring and experienced instructors guide children and parents through an enjoyable experience. The Junior Warrior class (ages 5 to 8) is set to music in a creative and playful environment, empowering cognitive, emotional, and behavioral presence in kids.
Lastly, the Tween Warrior class (ages 9 to 14) helps tweens learn to be present and calm through breath, movement, and meditation. Teen Warrior is a great escape from the pressures of school and technology.. WARRIOR&CO. is passionate about teaching kids of all ages to experience the healthy benefits of yoga and physical activity in a non-competitive, stress-free environment.
---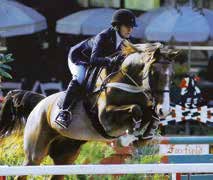 FOXFIELD RIDING SCHOOL
1250 E. Potrero Rd.
Lake Sherwood, 91361
805.495.5515
foxfield.com
Foxfield Riding School opened its gates in 1967, on twenty-nine acres at the base of Lake Sherwood in Westlake Village. Founded by Bill and JoAnn Postel, along with twin sister Nancy Turrill, Foxfield has offered group lessons to anyone willing to try. The year-round school teaches beginners to advanced riders in a program that emphasizes good horsemanship, sportsmanship, and above all else, safety. Students enjoy camaraderie and fun through a combination of group lessons, private lessons, and special programs, like Foxfield's Little Sisters Program.
Over the past 50 years, Foxfield has become a world-renowned school of equitation. They also take pride in their riders' accomplishments in the show ring, where students compete regularly at A-rated horse shows locally and throughout California. The Foxfield Equestrian Team is a world-famous drill team whose riders perform a special skill and talent by riding without the aid of bridles or saddles. The team has performed all over the country, delighting audiences with its exciting routines.
---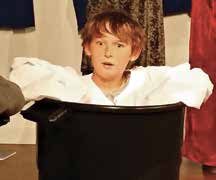 GOLD COAST THEATRE CONSERVATORY
1414 Thousand Oaks Blvd., #111
Thousand Oaks, 91362
805.427.5314
goldcoasttheatreconservatory.com
Gold Coast Theatre Conservatory presents Saturday Conservatory for students in grades 3 through 12. Saturday classes have been the cornerstone of the Conservatory since 1994. Learn real acting skills. Learn the art of comedic timing. Take on a real character that you can sink your teeth into. Work with an ensemble and hone your talents. Present a comedy at the end of the session.
Each Saturday begins with a vocal and physical warmup followed by master classes in comedy, audition technique, and more. Then, students dive into rehearsal for a published one-act comedy chosen specifically for them, presented on December 16. Classes run Saturdays from 9:00 a.m. to noon, September 9 through December 16, 2017. Extra rehearsals will be held in the two weeks prior to the performance. There will be no class on Thanksgiving weekend. Students are expected to attend all classes. Classes are held at Four Friends Gallery, 1414 Thousand Oaks Blvd., #111, Thousand Oaks, CA 91362. To enroll please email GoldCoastTheatre@ gmail.com or visit the website at Goldcoasttheatreconservatory.com. Tuition is $350 for the session.
---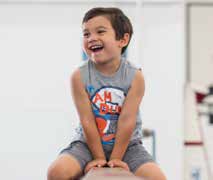 MONARCHS GYM, PARKOUR & PRESCHOOL
5331 Derry Ave., #C-I
Agoura Hills, 91301
818.889.3634
monarchsgym.com
Monarchs, a children's center dedicated to inspiring kids to grow through developing their minds and bodies. Visit them at Agoura Hills, Newbury Park, or catch a Mobile Gym bus around town Monarchs offers curriculum based physical instruction programs designed to cultivate your child's active lifestyle through kinder gym, recreational and competitive gymnastics, tumbling, cheer, trampoline, flips and tricks, and parkour and freerunning, all for children ages 15 months – adult, plus daily preschool.
Additionally, their non-curriculum based programs are geared towards fostering learning through fun. Camp is also offered year-round in the summer, winter, spring, and holidays. Monarchs also offers private birthday parties in addition to weekly themed Friday night bashes, "Parents Night Out," which comes complete with open gym, a DJ, and pizza. MonarX Parkour, a specially designed indoor parkour complex, for budding traceurs ages 6+, provides curriculum based and freestyle options. Monarchs Mobile brings the gym to you! They help kids grow motor skills through foundational gymnastics, sports, and life skills. Happy Kidz Preschool is a full service preschool open 9a.m. – 3p.m. weekdays!
---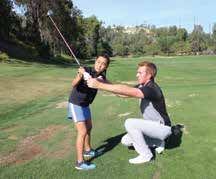 JUNIOR GOLF ACADEMY CALABASAS COUNTRY CLUB
4515 Park Entrada
Calabasas
818.444.5547
calabasasgolf.com
Calabasas Country Club offers the perfect environment for young golf enthusiasts. The Junior Golf Academy program is the only program in Southern California with level-4 certified Hank Haney instructors. Hank Haney is a professional golf instructor best known for coaching Tiger Woods. The Junior Golf Academy program is structured using the Operation 36™ Junior Development Framework. The mission is to provide a programming roadmap to progress juniors towards shooting par or better and to have them play the game from a hole-out perspective.
With the main focus on scoring, juniors progress through six divisions and compete against themselves by trying to shoot 36 or better for nine holes. The program also includes fitness training with Titleist TPI-certified professional Nikos Starks. The Junior Golf Academy welcomes ages 6 to 17 and players varying in ability from beginners to college- bound competitive players. Classes are offered for different levels Tuesday through Saturday. Calabasas Country Club also offers "Golf for Tots" for children age 3 to 6 from November through April. This program focuses on tots learning putting, chipping, and full swing, with games every week.
---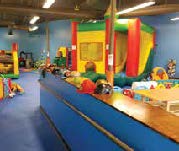 THE PLAY DESTINATION
28501 Canwood St., #3E
Agoura Hills, 91301
818.292.8644
theplaydestination.com
The Play Destination is an indoor play center and private party venue where kids come to play, create, and "imaginate." This facility is family owned and operated and has been part of our community since 2012. The owners are dedicated to the enrichment of kids, parents, and the community as a whole; their goal is to create an atmosphere where kids can explore and
families can gather.
Children are encouraged to be physically active and engage in imaginative play. As parents themselves, the owners understand the importance of your childrens' health and well-being and are committed to keeping the space clean and germ-free. They maintain the place every night and have it deep-cleaned regularly. Soft-foam flooring covers the play space, ensuring your kids' safety.
The Play Destination boasts a 5,000- square-foot space that offers a variety of interactive activities, including Toddler Time Tuesdays, heART & Craft Wednesdays, and Story Time Thursdays. They also specialize in making memorable and enjoyable birthday parties for your little ones. Let The Play Destination be part of your kids' journey.
---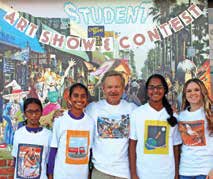 ART IS OUR PASSION
1321 Thousand Oaks Blvd., #126
Thousand Oaks, 91362
818.991.5514
artisourpassion.com
Art Is Our Passion loves beginners! Their hands-on approach encourages individual progress. Each student starts in a program based on their age and skill level. Most students start with Fine Arts Basics. Their talented team of instructors are motivated by their love of creating art and have the passion to share their knowledge and skills with students just starting to create their own works.
Each student's progress is charted by completion of a defined list of projects in all of their kids and adult classes. They ask only for a month-to-month commitment and maintain a maximum of four students per instructor. All Art is Our Passion instructors have a bachelor degree in art or design.
Now in their 12th year of teaching visual art to students of all ages, Art Is Our Passion, Inc., provides one-of-a-kind drawing and painting classes in Thousand Oaks. Past students have graduated from well-respected college design programs and are working locally as graphics and fashion designers, architects and engineers, as well as fine artists.
---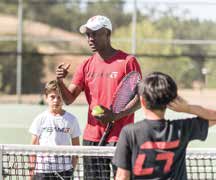 TEAM G TENNIS CALABASAS HIGH SCHOOL
22855 W. Mulholland Hwy.
Calabasas, 91302
323.979.8417
teamgtennis.com
Team G seeks talented athletes and tennis players from all backgrounds who have the passion and desire to achieve national recognition. They are given the support and skills needed to achieve their dreams. Gerald Mathews is head tennis coach at Calabasas High School and owner of Team G Tennis, where he works with nationally ranked junior and college players. Gerald has established a system of training that equips athletes with the skill set to move and perform at an elite level. Going on its ninth season, he offers season clinics year-round for different levels and ages. Team G Tennis Camp creates players that achieve consistently at the top levels in the sport through movement training and tennis fundamentals.
Team G students go on to achieve the top-level ranks and the notoriety needed to be recognized by top colleges and compete professionally. Team G Tennis is currently participating in local enrichment classes for elementary schools and introducing the fundamentals of tennis to youth groups. If you are interested in having Team G at your school or creating your own group lessons, contact them directly for a schedule and rate review.
---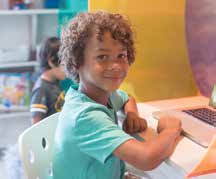 WEVILLAGE DROP-IN PLAYCARE
13335 Ventura Blvd.
Sherman Oaks, 91423
818.233.8218
wevillage.com
WeVillage is a modern childcare facility with flexible day, week, and monthly options for busy families. As a WeVillage member, you set the schedule according to your needs. Bye-bye lengthy contracts, hello first-class care! WeVillage aims to accommodate. Maybe your care needs require set daily hours or maybe they vary per week. Either way, they've got you covered. Flexibility is their founding principle and all of their offerings are adaptable to your schedule.
They have designated play areas for infants, toddlers, big kids, and preteens. They also have academic programs for toddlers and preschool children ages 2= to 5 and afterschool programs for ages 6 to 12. WeVillage is happy to provide childcare to their community, offering many late-night, weekend, event, and birthday party services to their members. With their modern space custom-designed to engage young minds, their environment and the experiences they provide are of the highest caliber. From infant care to preschool to afterschool programs with homework help to school-break day camps to organic meals and even French lessons, they've got it all covered. Your children will thrive on every level at WeVillage. Call now to schedule a tour and become a member.