'Tis the Season
November 15, 2018
As I write this, I stare out my window looking at a gloomy sky. What happened to the sunshine? Oh, that's right, it's winter again; time to think about the holidays, holiday shopping, and heavy eggnog drinking (non-alcoholic, of course).
The joy of technology giving is that there is always something new and exciting; it allows you to be creative and fun all at the same time. Let's take look at what's available this year.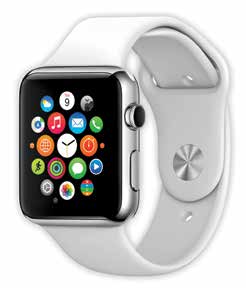 This is the year that smart devices and health technology seem to be converging; I bought the original Apple watch a few years ago and have resisted the annual upgrade until the most recent Series 4. I caved because it contains some very useful tools to keep us healthy. It has an EKG monitor which allows you to keep track of your heart rhythm and electrical current. This can allow an early warning sign to a potential heart attack. I have used the watch exerciser app and it provides a great deal of useful information about your workout. One of the best features of the watch is that it is a standalone unit; you no longer have to carry your phone with you. It is actually an independent phone, providing most of the things you need to use. The retail price starts at around $400.
If you haven't purchased a smart TV yet, the Roku Streaming Stick for around $50 is a great device because it allows you to access Amazon, VUDU, Netflix, Hulu, Google Play, and other online streaming sites. It comes with its own remote and mobile app and can be moved to any TV with an HDMI port. It even has a private listening mode that can connect to your smart device, which means no fighting with your loved ones about the volume being too loud!
If you are dedicated to your fitness program and want to watch your weight, the Fitbit Aria Smart Scale will automatically sync through your home Wi-Fi network, though you do have to have a Fitbit for all the syncing features. It can recognize up to eight different users and will share your data privately. It tracks your weight, lean mass, body-fat percentage, and body-mass index (max weight capacity is 350 pounds).
The Amazon Echo Show is a creative device that I personally use all the time. You can ask thousands of questions. For example, "What is the weather like?", or "What is the score of the Dodger game?" and "How old is Brad Pitt?" It's fun and useful and has a visual color monitor that allows you to show videos and pictures. The price is around $129, but they recently released a newer and bigger version that retails for around $229.
The Plantronics Voyager 6200 UC is the top of the line if you are looking for a Bluetooth headset. It's expensive at $299.95, but it is far superior to the less-expensive models. The battery life is outstanding, and the sound quality is excellent. It hooks up flawlessly to my Apple Watch and allows me to listen to Audible books as I exercise. Enjoy the holidays and try not to gain too much weight. The last thing you want to hear from the voice scale is "one at a time please!"
See you on the radio!


Marc Cohen