Let's Get Back Out There
July 21, 2020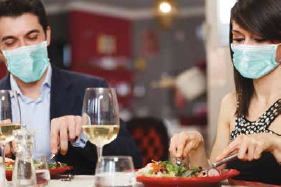 To say the least, it has been a terrible start to 2020. Too much pain and suffering, business disruptions, and the dramatic altering of our lives. While being locked up in our homes, we have missed going to our local restaurants and calling service industry professionals to our homes. Slowly but surely, we are seeing a bit of light at the end of the tunnel. Now is the time to get our local establishments back on their feet.
Food is a source of joy for most of us, and though I've reviewed some of these in the past, let's reacquaint ourselves with the best ways to get back to normal living, while exploring new and old restaurants in our neighborhoods.

LocalEats is a bit different than some of the other apps; it will give you restaurants that are locally owned (avoiding big chains) and will help you find locations all over the country. More importantly, it does so by using the nearest location to your home, which is really critical since the mom-and-pop shops have been hurt the most during the pandemic. It locates a large number of local res-taurants, and best of all, the app is free. If you are not ready to venture out into the world, you can get pickup or delivery from most locations.
We have talked about Yelp before and the standard cautions apply. Make sure you patronize businesses that have multiple reviews to avoid ones that have been written anonymously (and sometimes by the actual owners themselves). Yelp is a great source for getting local craftsmen, like carpenters, plumbers, or just about anything else you might need for your home. If you decided now is the time to remodel your home, check the stores like Home Depot that have design centers in-store or online. Often, they can refer you to a craftsmen in your local area.
Although I sometimes find Next Door annoying, it can be a great source for just about everything you are looking for; ask neighbors to recommend a television repair com-pany and they will give you someone they have personally used. Next Door also alerts you to goings on in your local area. Download the app—it's free!
If you frequent chain stores, try to give your business to those chains that have continued to pay their furloughed employees. Many have joined in this practice, and they deserve our respect and support.

I hope these suggestions find you and your families safe and healthy. I hope very soon that we can have a big Calabasas Style party where we can once again shake hands and have a large group hug. Boy, do we need one.
See you on the radio!

Marc Cohen