Exceptional Real Estate Professionals of 2023
November 2, 2023
Anyone working in or following the news on the current housing market in our communities knows we are facing challenges. Demand from new home buyers has slightly slowed thanks to rising prices and interest rates, causing an affordability issue for some. That variable is offset by the fact that supply is equally low. Millennials are eagerly hoping to find homes for their growing families, while today's Baby Boomers continue the trend of aging in place. According to multiple reports, we are in a neutral or "balanced" housing market, which means it's still a great time to buy or sell. The most important consideration is to seek and entrust expert advice from top real estate professionals who know how to help their clients navigate these challenges. The following section highlights some of the most exceptional Realtors in our community with the experience, knowledge, and integrity to guide homeowners during this transitional period. By sharing their profiles, we hope to help you determine the real estate agent or agency best suited to fit your individual needs and objectives.
---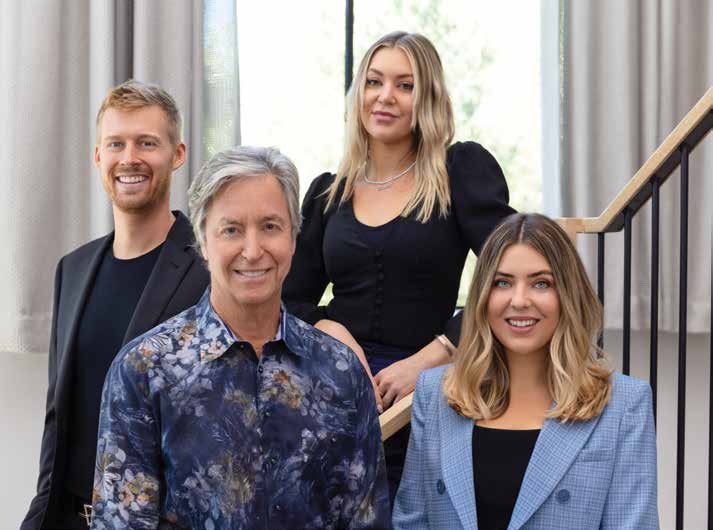 Douglas Elliman
Marc Shevin
Sara Shevin
Hanna Shevin
Grant Leichtfuss
24025 Park Sorrento, Calabasas
Marc: 818.962.7123 | DRE #00559629
Sara: 818.985.6284 | DRE #02038247
Hanna: 818.918.6115 | DRE #02099901
Grant: 818.286.3891 | DRE #02118987
theshevins.com
"Combining family, local knowledge, and hard work has been a very successful combination for us."
In our local real estate market, the Shevin Team is widely acknowledged as area experts. Specializing in the cities of Calabasas and Hidden Hills, they are noted for their years of consistent success in the marketing and sale of luxury estates. With over 40 years of combined experience, they average over $200 million in residential real estate sales every year and consistently rank in the Top 10 Agents of Douglas Elliman nationwide. Representing a wide range of clients from local families to high-profile clientele to property developers and more, the Shevins have a unique ability to connect and communicate with their extensive client base. Their hard work, market knowledge, and attention to detail have produced many satisfied and loyal clients. 
What separates you from your competitors?
We are a well-known family team that has worked consistently in the Calabasas area for over 30 years. We have a long-standing reputation for integrity, providing great client service and being reliable and dependable when working with our fellow agents. This trust and mutual cooperation with other agents has enabled us to be successful on behalf of our clients, especially in this competitive market.
What areas are your specialty?
We specialize in selling homes of all price ranges in Calabasas and Hidden Hills. Whether you are interested in buying or selling a cozy townhome on Calabasas Lake, a beautiful home in one of the gated Calabasas developments, or a custom Hidden Hills estate, we are ready to work with you to help meet your specific needs.
Why should potential clients choose you? 
We truly believe we have an unsurpassed knowledge of the area and this marketplace. Being a small family team enables us to work together on a daily basis to provide great client service and give each client the time and personal attention they deserve. Our clients know they can count on all of us and our expertise to ensure a smooth transaction.
---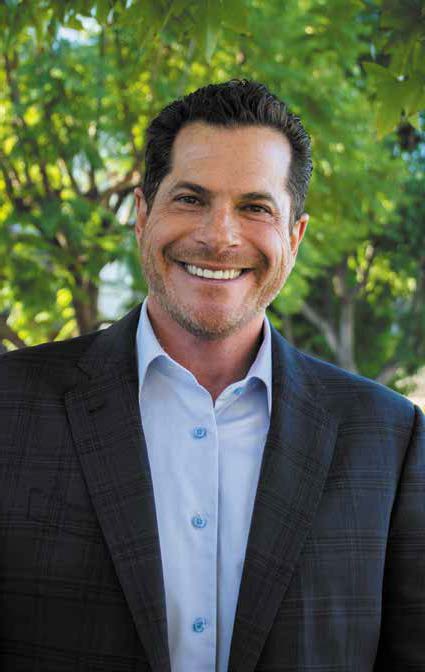 RE/MAX One
Jordan Cohen
30699 Russell Ranch Rd., #100
Westlake Village
818.435.5220
jordancohen.com
DRE #01103362
"I am honest, ethical, fair, and very aggressive with my approach."
Jordan Cohen is the six-time #1 RE/MAX Agent worldwide and the winner of the prestigious Inman Top Luxury Agent Award for all companies. Jordan recently wrote a #1 best-selling book entitled The Agent's Edge, published by HarperCollins Leadership. He has worked hard to establish himself in the sports and celebrity market, representing over 150 professional athletes and numerous actors, entertainers, and film executives. Annually, he closes over $300 million in residential sales. Through high-end magazines, internet, and social media, he is able to aggressively expose his listings locally and globally. Jordan is also a verified real estate influencer on Instagram with over 500,000 followers: @jordancohen1.
What about you/your team would you like potential clients to know?
Unlike most seasoned realtors, I choose not to employ a "team." I truly believe that I give my sellers the very best chance to sell their home so I handle all showings and negotiations. I employ two full-time assistants to help with computer work, etc.
Why should potential clients choose you?
To sell a home for top dollar, it takes extensive marketing, skill, and experience. I passionately invite homeowners to interview me so they can see exactly what I do in order to sell my luxury listings.
What should potential clients know about you?
I am honest, ethical, fair, and very aggressive with my approach. I only get paid when I sell a home, so I will work relentlessly until the job is finished and everyone is happy. I am happily married for 31 years and have two wonderful children. My 27-year-old son is a graduate from Chapman University, and my 24-year-old daughter recently graduated from NYU.
---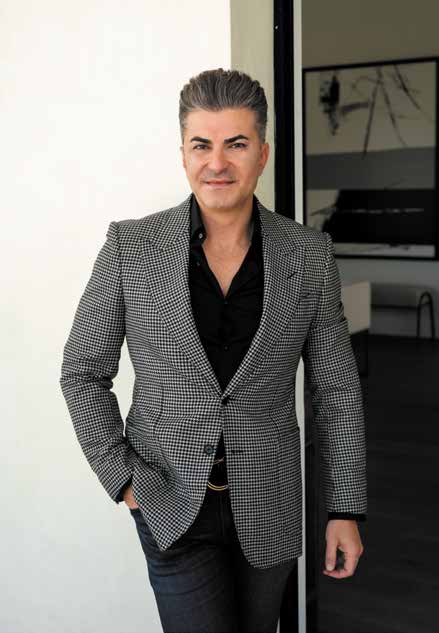 The Agency
Emil Hartoonian
23975 Park Sorrento, #120
Calabasas
310.990.0063
theagencyre.com/agent/emil-hartoonian
DRE #01796925
"It's been said that luxury is not just a price point, it's an experience, and we prove that every day."
Emil Hartoonian provides his clients in Calabasas and beyond with an exceptional understanding of real estate transactions and a high level of personalized service that has placed him in the top 1% of agents in the area. His wide range of clientele at The Agency's Calabasas office includes high-profile personalities, heads of industry, and business executives across the entertainment, medical, and hospitality industries. Emil's experience with such diverse profiles has inspired his ability to cater to every expectation and adapt his style to deliver a personalized experience to each individual client. He is an active member of the Southland Regional Association of Realtors and firmly believes in empowering his clients with the latest market knowledge and consistent updates to better enable them to make sound real estate decisions. Follow Emil on Instagram: @emilhartoonian.
What would you like clients to know about your team?
As managing partner over three offices in the Valley, including Calabasas, Sherman Oaks, and Studio City, I am proud of how far we have come. We have expanded our reach globally while still maintaining the one-on-one boutique approach locally. We strive to maintain an office full of diverse talent, all with incredible backgrounds who collaborate daily and build opportunities.  
What areas are your specialties?
As a resident in Calabasas with my wife, Ellie, and three sons, I can cover the area with great experience. I have broken multiple records in Calabasas with dollar per foot and sales price. When representing buyers, I have a strong hold on the community's pulse—where I can work opportunities for buyers with homeowners who are open to selling off-market. Aside from Calabasas, I have extensive experience working in Westlake Village, Thousand Oaks, Malibu, Porter Ranch, Sherman Oaks, Encino, Studio City, and various areas of the Westside. 
What should potential clients know about you?
Eighteen years and counting, I bring an unparalleled level of experience to the real estate trade. Sellers can be assured that I will deliver top representation, strategic negotiation, and awe-inspiring marketing. Buyers earn the best opportunities, inside options, global access, superior negotiations, and solid representation. As we say, it's not about the price point, it's about the experience. 
---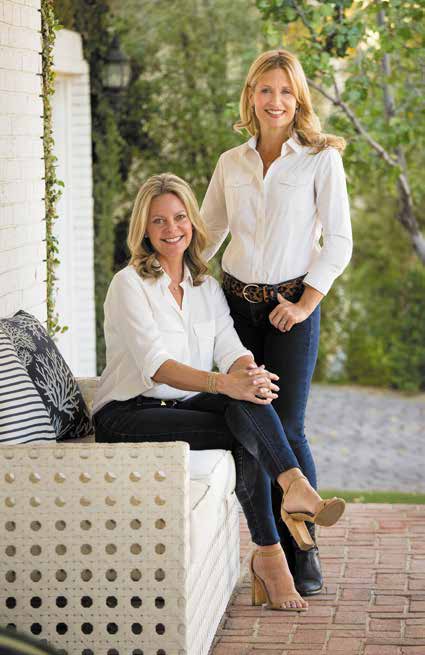 Coldwell Banker Residential Brokerage
Stephanie Shanfeld
Shari Huntington
23647 Calabasas Rd.
Calabasas
818.521.8689 : 818.635.0310
stephanieandshari.com
DRE #01947954
DRE #01147237
"With so many factors affecting the current market, it is crucial to hire an expert to navigate our clients through their real estate transactions."
Stephanie and Shari are a highly successful residential real estate team consistently ranked as a top team at Coldwell Banker and top 6 percent internationally. With over 40 years of combined experience ranging from real estate appraisals to complex negotiations, deal structures, and diverse client circumstances, they pride themselves on helping people seamlessly navigate what are often major life changes. Both are longstanding, active members of their community, raising children of similar ages in Calabasas. Working closely together over the years as volunteers quickly brought them together as close friends. Seven years ago, they decided to team up professionally to combine their complimentary skillsets to benefit home buyers and sellers all over the San Fernando Valley and the Greater Los Angeles area.
What have you been doing differently in this changing market?
We are no strangers to change. We've seen multiple cycles in the real estate markets over the past decades. As experts in our field, we continue to educate and prepare buyers and sellers. Our advice may be different, but our methods are the same. We've always viewed ourselves as long-term real estate advisors. Our job is to guide our clients in making the most educated decisions based on current market conditions. As always, we keep up with trends, inventory, and rates and adjust accordingly.

What do you like about being a team?
Isn't two better than one? Our clients truly benefit from having us both onboard. There are so many facets to a transaction, and we are very hands-on. We don't believe in sending an assistant. We like to divide and conquer so that one of us is able to handle every piece of the many sales we transact each year. The business of real estate can be a 24/7 job, so having a partner with a similar work ethic who is also a best friend is a pretty great way to spend that time. Plus, we have a lot more fun together!
---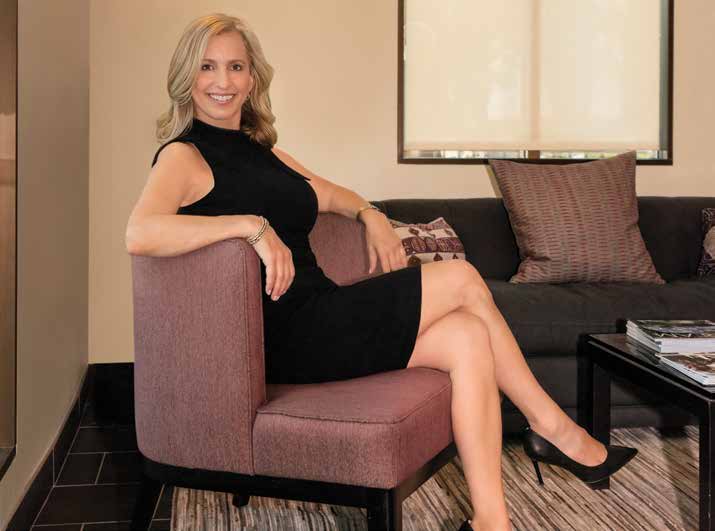 Berkshire Hathaway HomeServices
Valerie Punwar
23925 Park Sorrento
Calabasas
818.618.8291
valeriepunwar.com
DRE #01491245
"My clients come first, no matter what. That is the key to my success."
Valerie Punwar, an award-winning Realtor with Berkshire Hathaway based in Calabasas, is an 18-year veteran of the real estate industry. With over $345 million in sales, Valerie has a reputation for tenaciously protecting her clients' interests with uncompromising integrity. Valerie has built a solid foundation of clients in Los Angeles and the surrounding areas through her professionalism, attention to detail, and commitment to always putting her clients' needs first. A Calabasas resident for over 28 years, she provides a wealth of knowledge about the local area and schools, specializing in luxury proper ties all throughout beautiful Southern California. Valerie studied at the University of Wisconsin-Madison and then began work in high-level network TV media sales from coast to coast, where she developed her superior negotiating skills.
What are the biggest obstacles your clients face today?
For sellers, the market is shifting. In the past few years, it seemed like there was no barrier to high prices. Rising interest rates, uncertainty about the economy, and challenges with insurance have slowed down the market in the luxury arena. At Berkshire Hathaway, we have a multitude of resources to help address these obstacles. For buyers, the combination of higher interest rates and homes selling top-dollar can be a challenge. We are advising buyers to be creative and negotiating for the sellers to buy down their interest rate or suggesting they look at homes look at homes that they may not have considered before. I help buyers pivot and negotiate around these obstacles.

What makes you one of the best in real estate?
Experience matters. So does putting my clients' needs first and navigating this shifting landscape with finesse and a determination to make clients either find their new dream home or sell their current home.
I always offer an honest opinion based on facts and experience, and most of my clients are referred to me by past clients. I also excel at marketing and home preparation. Having the solid brand of Berkshire Hathaway and the company's resources at my disposal has helped me build my stellar reputation in the market.
---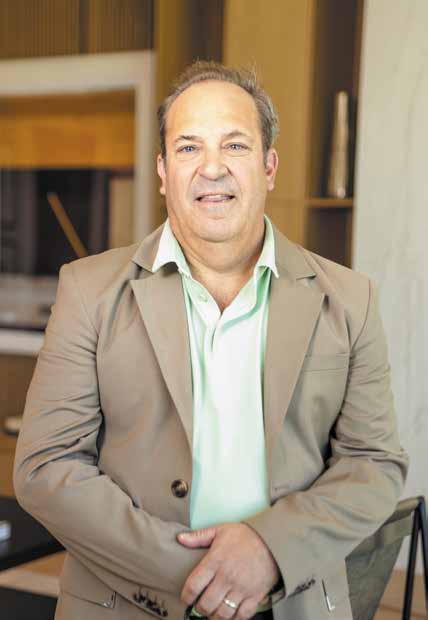 The Agency
Michael Bloom
23975 Park Sorrento, #120
Calabasas
818.207.2088
michaelbloomhomes.com
DRE #01188440
"Nothing gives me more pleasure than helping my clients find their dream home in this community I love."
Known for his entrepreneurial spirit, strong work ethic, and genuine love for people, Michael Bloom brings a detailed knowledge of L.A.'s Hidden Hills and Woodland Hills neighborhoods to The Agency in Calabasas. Michael began his real estate career as an intern at Grubb and Ellis in 1993 and then at Prudential California Realty in Woodland Hills from 1994 to 1998. A Hidden Hills resident since 1977, Michael obtained his real estate license in 1995 and was promptly named "Rookie of the Year" for his quick success. "Real estate requires creativity, salesmanship, follow-up, patience, perseverance as well as a 'never give up' attitude," Michael says. "I love being a part of a major decision in people's lives—it's an honor to provide guidance, and I do whatever it takes to help my clients achieve their goals."

How did your early years prepare you for being a realtor?
I pride myself on being a true local L.A. real estate agent. I grew up in Hidden Hills and graduated from Calabasas High School in 1986. Living in Hidden Hills, going to school in Calabasas, and formerly working in Woodland Hills has given me a unique perspective on the best local areas to canvas in my search for homes and properties. I am constantly immersed in all three of these real estate communities and have become an expert in the area. I'm honored to be part of The Agency, which is one of the most outstanding firms in the country.
How do you give back to the community?
I remain deeply involved with our local community—I'm an ambassador to the Calabasas Chamber of Commerce, a board member for the Foundation for the Las Virgenes Schools, and Commissioner of Public Safety Hidden Hills. I've also served as Los Angeles County Commissioner of Public Social Services for more than a decade.
What unique skills do you provide your clients?
I'm fluent in both Spanish and Japanese. I have also acquired a strong set of negotiation tactics that are crucial when helping my clients find their "dream" home!
---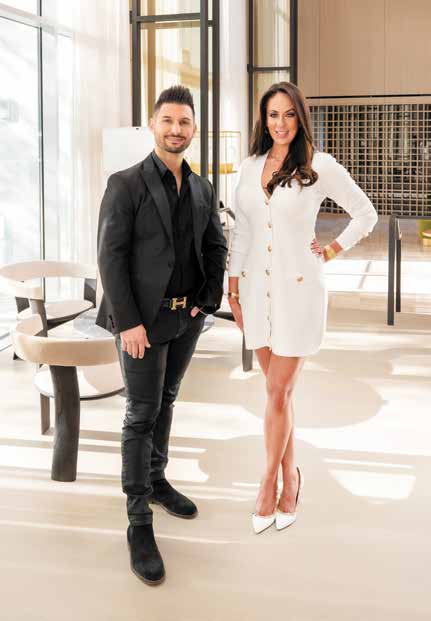 The Agency
Gina Michelle
George Ouzounian
23975 Park Sorrento, #120
Calabasas
818.900.4259
818.850.1458
theagencyre.com
DRE #01503003
DRE #01948763
"Who you work with matters."
George Ouzounian and Gina Michelle specialize in the L.A. luxury market with a focus on the Valley. Their team has achieved over $1 billion in career sales. Both are recognized among the top one percent of real estate agents nationwide and named among Los Angeles Business Journal's Most Dynamic Brokers in Los Angeles. They were also ranked #22 Small Team in California by Real Trends. Additionally, the team has been named Top Team in the Valley and one of Los Angeles Magazine's Real Estate All-Stars for four consecutive years. Within the last year, Gina and George have sold over 231 units. Even in the changing market, with inventory as low as it is, there are still huge opportunities for both buyers and sellers in Los Angeles.
What sets you apart from other agents?
We catch up on everything that's active, pending, sold, and off market daily. We talk to other agents, consistently prospect, and utilize a huge database of sellers. Our success hinges on our deep knowledge—investing significant time in understanding micro-markets with unique dynamics, like price per square foot, developer preferences, homeowner priorities, and school district data. With this information and an extensive inventory, serving buyers, sellers, or developers becomes second nature. Our extensive background, encompassing roles as mortgage brokers, developers, investors, and construction experts, equips us to excel in all aspects.
When it comes to pockets and neighborhoods, how do you advise clients where to buy?
Initially, we assess the budget and how it aligns with different areas. We inquire about work and commuting preferences and family considerations—especially if they have children, which requires exploring public and private school options. We also help them plan for the future, anticipating how family dynamics may change. For clients like public figures with unique security needs, we evaluate whether gated communities or guard gates are necessary. Our primary objective is to understand our clients' needs thoroughly and guide them to neighborhoods that not only suit their lifestyle but also fit within their budget while ensuring safety and practicality.
---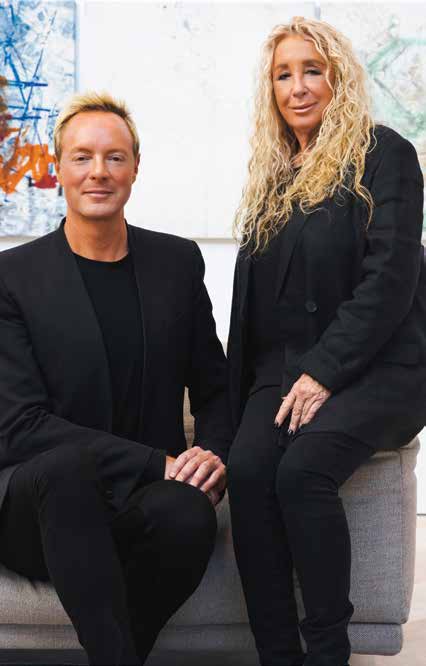 The Fridman Group International at Compass
Tomer & Isidora Fridman
9454 Wilshire Blvd., 4th Fl.
Beverly Hills
310.919.1038
thefridmangroup.com
DRE #01750717
DRE #01192964
"Exclusive representation, unparalleled global reach, exceptional luxury estates, concierge-level service."
Recently receiving The Hollywood Reporter 2023 Award of Celebrity Property Portfolio with over $6 billion in career sales and breaking the $840 million mark for closed sales in 2022, Tomer and Isidora Fridman are co-founders and managing principals of TFG International at Compass Beverly Hills and co-chairmen/founders of Israel Sotheby's International Realty. Tomer and Isidora specialize in the representation of architecturally significant homes, branded collections, land development sales, and marquee estates around the world. Their team continues to break records and rank on top agent lists, recognized as the #1 medium-sized team on the West Coast in 2023.
What is the most rewarding aspect of your work?
Over the years, we've been able to tour some of the most iconic homes across Los Angeles, hear some of the most memorable accounts from our renowned clients, and stand in rooms with centuries of architectural significance and unparalleled character. Being able to live these moments while representing homes and connecting someone to their dream estate is a rewarding experience we are so grateful to enjoy.
What separates you from your competitors?
Something we really focus on is the tailored nature of how we present our properties. Our "less is more" approach keeps us efficient, flexible with our strategy, and able to work through the market, connecting the right buyer to our clients' homes.
How do clients benefit from your knowledge of the community and local culture?
With over $6 billion in total sales and 30+ years of combined experience, we are continuously immersed in luxury real estate. By having our finger on the pulse of the local, domestic, and international markets, we're able to leverage our thorough, analytical, and sophisticated marketing-based approach with our personal network and experience to provide a successful, enjoyable experience for anyone we work with. We simply strive for that, in all that we do.
---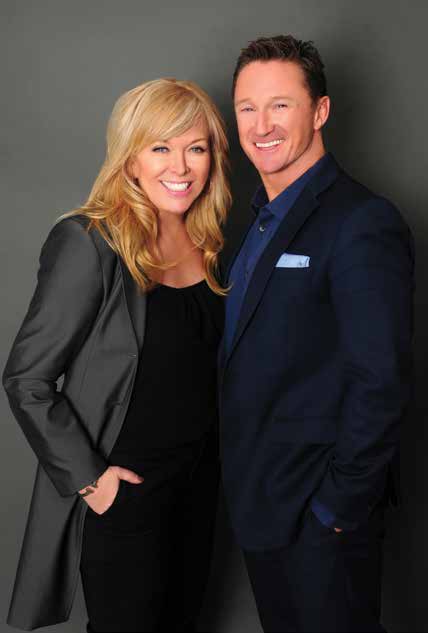 Keller Williams Luxury International
David & Tracy Smith
23975 Park Sorrento, #110
Calabasas
310.480.7523
310.804.7079
teamsmithca.com
DRE #01503210
DRE #01898036
"We've perfected our solution-based concept to guide buyers, sellers, and investors to achieve their goals."
David and Tracy Smith, also known as "Team Smith," are consistently ranked in the top 1% of Realtor teams nationwide. They have lived in Calabasas for the past 17 years and have two decades of real estate experience and a long history of success. David and Tracy work with numerous buyers and sellers in the greater Calabasas area, but also collaborate with many clients living in other parts of L.A., especially the Westside. They are highly respected among their peers and have a history of establishing strong relationships with their clients. David and Tracy participate in many community organizations and charities, including breast cancer awareness, the March of Dimes, and the VA. They are also proud parents of two teenage girls and love the Calabasas lifestyle.
What makes you among the best in real estate?
Simple. It's our proven methods, strategies, and processes that we have employed for both buyers and sellers no matter the market conditions. Every client is different, and we don't offer "cookie-cutter" solutions. Once we truly understand the client's goal, we help them achieve it at their pace and on their timetable. Our job is to play an advisory role and support our clients through each step of the process.

What are the biggest obstacles your clients face and how do you help navigate through this environment?
There can be so much noise in the market that often buyers and sellers cannot tell truth from fiction or the hype from reality. We know from experience what the market trends are, and we offer honest and realistic advice and have strategies to get the job done.

What are your interests outside of work?
We work hard so we can spend time with our family, whether it is going to concerts or hanging out in the backyard for movie night. We also love spending time with our closest of friends, trying out and supporting our favorite or new restaurants. Our daughters are also very active in pursuing their passions in the arts, so we love supporting them and discovering the great music and film venues across L.A.
---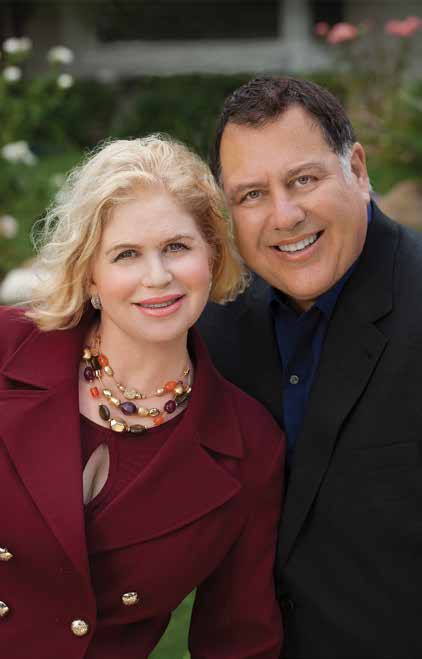 Team Sorrentino
Sotheby's International Realty
Lisa Sorrentino
Scott Sorrentino
4764 Park Granada, #101, Calabasas
10110 Riverside Dr., Toluca Lake
818.355.4751
818.355.4750
teamsorrentino.com
DRE #00974656
DRE #00973692
"Our goal is making clients for life."
Lisa and Scott Sor rentino, also known as Team Sorrentino, have been a top-producing husband-and-wife team since 1987 and have sold nearly $2 billion in residential real estate. They are truly icons in the industry, possessing a natural repertoire of dynamic qualities that set them apart and enable them to successfully procure the goals of their discriminating sellers and buyers. Personal service and attention to clients' every need creates an enormous base of referral and repeat business. Distinguished sellers and buyers entrust Lisa and Scott to guide them through every step of the real estate process, ensuring all objectives are met with exceeded expectations. Team Sorrentino's goal is: "Making clients for life."
What sets you apart from the competition?
We think long term. Even though this business is transactional, our goal is to be here for every transaction our clients have in the future for themselves, their children, their parents, and their friends and colleagues. We are trusted real estate advisors, always here for advice and guidance. We consider it an earned privilege to be referred.

What areas do you serve?
Wherever our clients' needs are in California. We specialize in representing sellers and buyers from Calabasas and Hidden Hills to Toluca Lake, Beverly Hills to Newport Beach, and everywhere in between, including those who desire second homes in beach communities.

Why should someone consult Team Sorrentino?
We have more experience and practical knowledge than other real estate professionals. We've bought, sold, flipped, built, and developed all levels of single-family homes and residential income properties. When representing our clients, our advice and recommendations come from real experience. Team Sorrentino negotiates as if we are representing ourselves. Our goal is to bring the highest sales price for our sellers and negotiate the lowest purchase price for our buyers. Many buyers and sellers question what to do in today's real estate market. They can call Team Sorrentino for solid advice.
---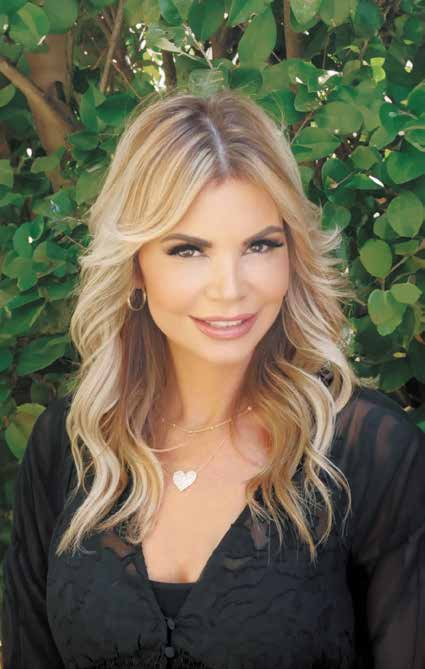 Keller Williams Luxury International
Denise Marks
23975 Park Sorrento, #110
Calabasas
818.292.5340
denisemarks.com
DRE #03100442
"Twenty-three years and hundreds of transactions have taught me that attention to detail is everything!"
A master negotiator, Denise is celebrating 23 years in real estate in 202e. As a California real estate broker, Denise has brought her passion and professionalism to every property her clients have bought or sold in her native Los Angeles. Denise and her growing team of licensed agents represent local buyers and sellers, national and international clients, and builders/developers. Denise and her team are dedicated to researching their clients' needs, identifying neighborhoods that meet each client's price, lifestyle, school, investment, and community requirements. Denise's extensive knowledge of construction and design make her the ideal advisor to buyers looking for a perfect buildable lot or fixer or an opportunity to build an ADU. Closing transactions in a rising market is easy. Great Realtors distinguish themselves by getting transactions closed in declining markets.
What characteristics distinguish you?
Education, experience, perspective, and resources. First, I am a real estate broker. I did not stop my professional education at the agent level. Second, I have 2e years of experience successfully negotiating and closing sales for both sellers and buyers. Third, as the co-owner of two commercial real estate companies, I bring an owner's perspective to every transaction and an extraordinary array of resources and analytical tools.

How does experience matter?
Whether buying or selling, my first duty is protecting my clients' interests. Beyond the numbers and contracts, experience has taught me how to negotiate difficult issues in order to hold transactions together. The difference between a good and great agent is how they handle inspections that reveal problems, title defects, or properties that don't appraise.

Where do your clients come from?
I am referral based. Half of my transactions are repeat business. The other half are client referrals of friends/family and referrals from professionals—business managers, attorneys, and accountants. The process of buying or selling a home builds a trusting bond that can last a lifetime. I am honored that many of my real estate clients have become my closest friends and many of my closest friends have become my real estate clients.
---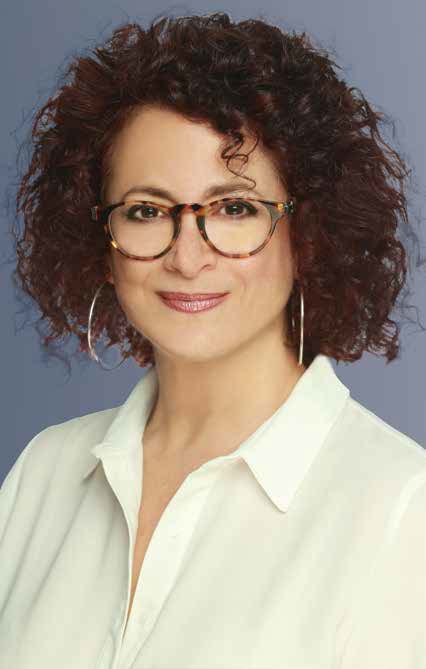 Beverly & Co. Luxury Properties
Anat "Cookie" Erster
818.943.8001
CalabasasRE.com
LALuxuryHomesSpecialist.com
DRE #01313529
"I help my clients gain access to private, off-market properties to ensure they find the perfect home."
Anat "Cookie" Erster has been a resident of the community for 33 years and has been a consistent top producer throughout her career of more than 21 years. Her commitment to excellence, combined with her expertise, knowledge, and aggressive marketing techniques, attracts people looking to work with an honest, dedicated professional that works in all Calabasas and Conejo Valley neighborhoods, in all price ranges. Anat represents a wide range of clientele, including high-profile celebrities, health professionals, executives, entrepreneurs, investors, and many others. Her business is built on referrals, which is a true testament to her outstanding performance and results. Professionally, Anat is known for her caring demeanor, impeccable communication, and artful negotiation skills. In her personal time, Anat loves traveling domestically and internationally, spending time with her family, and enjoying the company of her closest friends in a variety of activities.
What should potential clients know about you?
I'm extremely committed to my clients and diligently work to make every transaction as easy and seamless as possible. While this is my career and how I make a living, I'm not a commission-driven agent; I find more satisfaction in helping my clients achieve their dreams and goals.

What is the most rewarding aspect of your work?
I've been in this business for a really long time, and many of my longtime clients have turned into lifelong friends. Meeting new people, forming lasting relationships, and seeing the excitement my clients experience after a successful transaction are golden to me.

What are some obstacles your clients face today and how do you help them navigate these challenges?
In the current real estate market, you will see homes selling off-market, which means that buyers may not have access to exclusive inventory if they are not working with a well-connected professional. I help my clients gain access to private, off-market properties to ensure they find the perfect one. My clients can also take advantage of my vast local, nationwide, and international networking—which enables me to obtain the highest offer with ideal terms and conditions on any property they are looking to sell.
---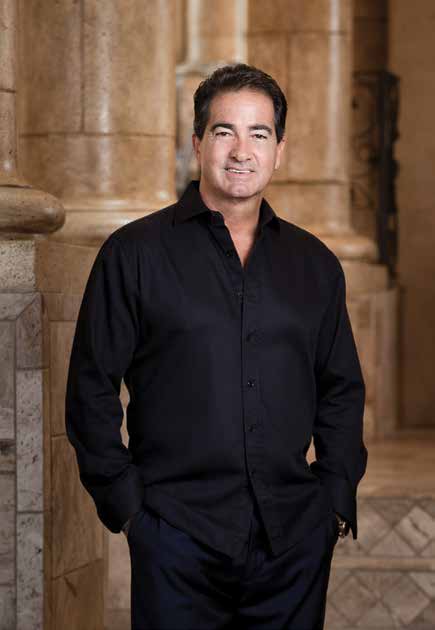 CORE Real Estate Group
Kevin Cordasco
250 N. Canon Dr.
Beverly Hills
310.308.9539 : 818.726.8791
cordascoestates.com
DRE #00969966
"One of the most recommended names in the industry for more than 30 years."
Kevin Cordasco of CORE Real Estate Group is celebrating his 37th year of award-winning service in the real estate industry. A 23-year resident of Calabasas, Kevin actively represents the people, properties, and homebuyers of his community. His hands-on, one-on-one approach and genuine interest in every transaction set Kevin apart from other agents, especially those merging to groups or teams, continuously making him one of the most recommended names in the industry. Kevin has been named a Top 100 agent of Southern California numerous times and is consistently ranked in the top 2% worldwide. He is a supporter of our schools and their programs as well as the founder of the Kevin Cordasco Foundation: Something Yellow, a nonprofit organization dedicated to supporting children and families affected by childhood cancer.
What should potential clients know about you?
One reason that I'm among the most recommended names in the industry is that I put people first. I give clients the most honest and best advice available, and I'm respected as reliable and trustworthy. On a good day, a real estate transaction is a complicated process that requires problem solving. At a time when we are experiencing a shift in the real estate market, it is more important than ever to have an experienced professional handle your business. After 37 years in the industry, I know how to successfully maneuver transactions in all types of market conditions.

Why have you been so successful?
It is because I take care of people and I believe that they notice that. I'm also an exceptional problem solver—a critical skill when navigating clients through the escrow process. I have had clients refer me to their friends, employees, family members, and even their children. Those referrals are the ultimate compliments—they show how satisfied these clients are with the value, expertise, and service I provided and that they trust that the people they care about will be well taken care of.
---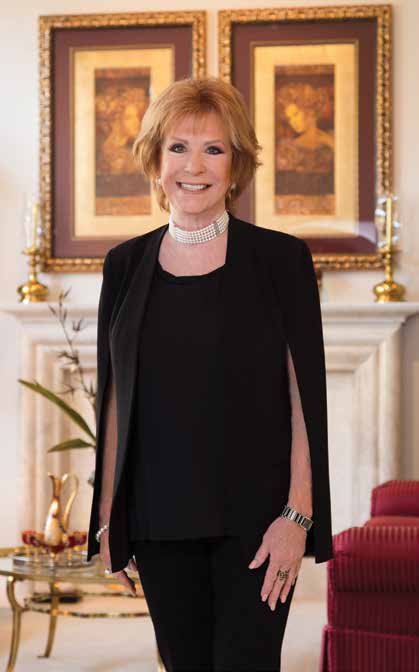 Coldwell Banker Residential Brokerage
Barbara Alpert
23647 Calabasas Rd.
Calabasas
818.625.1377
DRE #01199909
"I'm passionate about my work and get the best results for my buyers and sellers!"
Barbara has lived in Calabasas for over 27 years and has specialized in gated luxury estate communities. She was one of the original homeowners in Mountain View Estates and has long held the position of being the #1 Resident Realtor® in this premiere and esteemed gated Calabasas community. She is intimately familiar with every home on every street, where she also serves on the architectural committee. Barbara is consistently in Coldwell Banker's top 4% worldwide. She is known for her strong negotiation skills, proven results, and hundreds of highly satisfied clients. Her remarkable success rate and proven sales record help her clients net top dollar. With hundreds of millions of dollars in residential real estate sales, Barbara has a stellar reputation.
What sets you apart from other Realtors in the market?
I've been specializing in gated, luxury properties since 1995, so I have a deep breadth of knowledge in this area. But I also have investment properties in Malibu and a lot of experience in other areas of the Valley, and I list and sell condos to castles from Studio City to Westlake Village.

What do you want prospective clients to know about you?
I'd want them to know that I am totally committed and that no one will work harder for them. From start to finish, every detail is clearly communicated to provide them with the peace of mind they need to make informed decisions in a timely manner.

Why have you been so successful?
With my extensive knowledge, I offer my clients an exceptional depth of information and outstanding service. There is nothing more gratifying than helping families sell their home and find their new dream home. It's about building relationships and getting my clients the best deal possible. A philosophy of honesty and hard work attributes to my outstanding reputation and success. That's why so much of my business is repeat and referrals.
---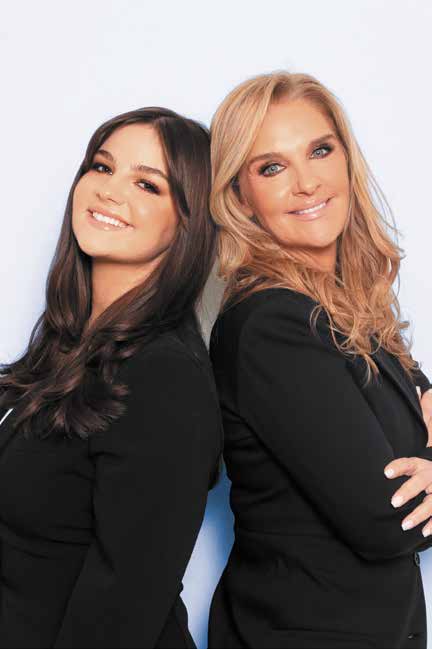 The Mardell Group at Coldwell Banker Residential Brokerage
Patti Mardell
Autumn Mardell
23647 Calabasas Rd.
Calabasas
818.262.3787
818.746.5906
DRE #01944823
DRE #02195174
"We have a proven track record of directly impacting our clients' financial successes."
Two generations with one mission: to make your real estate dreams come true! Meet Patti and Autumn Mardell, the mother-daughter real estate duo of The Mardell Group, who bring a unique set of skills and expertise to the local real estate market. With over 25 years of living in the community, they possess a wealth of knowledge about the local market. They are known for their master negotiation skills, unique marketing techniques, and dedication to getting their clients top dollar for their homes. Patti and Autumn believe that building a relationship with their clients is necessary to meet and exceed expectations. Additionally, this mother and daughter duo prioritize clients' needs and are highly trustworthy—diligence, professionalism, and discretion are key. They deliver only excellence.
Why should buyers and sellers work with you?
We each have our own unique skill set that gives us a competitive edge. Patti has a Master of Accounting (MAcc) from USC, which allows her to analyze data and provide clients with accurate financial information. Patti also works with her clients' lawyers, CPAs, and business managers. Autumn's experience in the performing arts has made her a skillful communicator, and her artistic skills help buyers visualize creative design aesthetics. Autumn has keen insights working with younger, first-time homeowners, while Patti's vast experience is appreciated by growing families looking to upgrade to a larger home, empty nesters who are ready to downsize, and professionals looking to make sound real estate investments.

What are your exceptional skills?
Market knowledge is key in this everchanging market. Patti has over 25 years of residential real estate experience in the local market and has worked with hundreds of buyers and sellers in the community. She also specializes in the purchase, rehab, and sale of profitable investment properties. Having been raised in Calabasas, Autumn is uniquely equipped to share her love and passion of the community with new homeowners looking to raise their families here. Both mom and daughter are active volunteers in the community, raising funds for charitable organizations.
---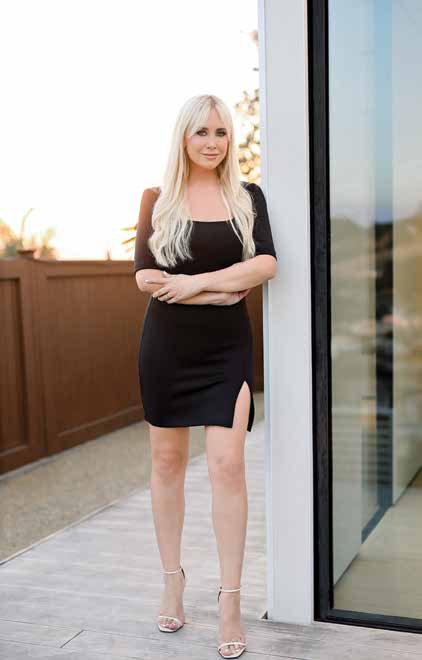 NDA Real Estate
Casey Winchell Napolitano
9465 Wilshire Blvd., #300
Beverly Hills
818.404.5090
nda-re.com
DRE #01910249
"For me, the client always comes first."
Casey Winchell Napolitano is the founder of NDA Real Estate, a full-service luxury real estate firm that focuses on securing, selling, and protecting client investments with the utmost privacy and discretion. Its exclusive-yet-approachable methods appeal to everyone, from entertainers and executives to influencers, first-time home buyers, and investors. Born and raised in Calabasas to a multi-generational real estate family, Napolitano is a licensed real estate broker with over 15 years of experience and an innate real estate intuition. With hundreds of Los Angeles sales in the corporate brokerage landscape, it was time for Napolitano to venture out with her own brand. NDA Real Estate has reimagined the brokerage dynamic with innovative marketing and elevated hospitality.

What about you and your team would you like potential clients to know?
Our clients are loyal to us because we prioritize their privacy. We are focused on helping make smart investments in a fast-moving market. We are the only real estate company that protects and prioritizes privacy, specializing in NDAs and private trusts. It's so important to make sure that nothing gets leaked when we are working with a celebrity client. I work tirelessly to protect my clients' privacy before, during, and after a deal closes.
What makes you one of the best in real estate?
I like to turn properties into goldmines. When considering potential properties for my clients, I not only visualize their own happiness and lifestyle, but envision the investment potential. I am a residential real estate investor with income-producing properties in Los Angeles and Hawaii. I want my clients to make smart decisions that they can benefit from forever.
What do you like to do outside of work?
I am obsessed with real estate…and my family. My husband, John, and I are having a blast raising Siena, 7; Gemma, 5; and Jack, 3, in the city I grew up in, Calabasas.
---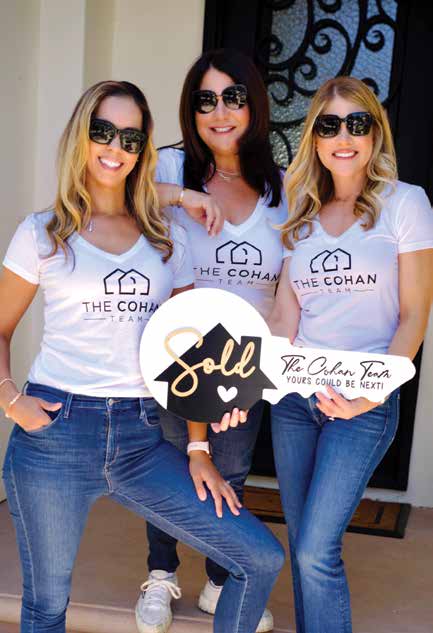 The Cohan Team at Coldwell Banker Residential Brokerage
Michelle Cohan
Semira Knight
Shellee Dyne
23647 Calabasas Rd., Calabasas
Michelle: 818.335.9777 | DRE #01208350
Semira: 310.927.4004 | DRE #01491785
Shellee: 818.613.8847 | DRE #02142388
thecohanteam.com
"We work hard to make real estate easier."
With Michelle's background as an attorney, Semira's in finance and marketing, and Shellee's in business and development, clients who choose The Cohan Team for their real estate needs are offered an enhanced experience. As an attorney, Michelle has intimate knowledge of contracts and negotiations and has earned top agent awards in her more than 20 years in the real estate business. Semira offers the perfect complement, developing marketing strategies that are smart and effective. Shellee's knowledge of business coupled with her development experience in real estate makes her the perfect addition to The Cohan Team. Together, they are passionate about what they do and are dedicated to ensuring successful transactions for their clients, while always providing service that goes above and beyond. The Cohan Team prides itself on dealing with clients honestly and fairly, while creating relationships that last far past the transaction. As they like to say, "We work hard to make real estate easier."
Why are you so successful?
We provide our clients with stellar service. They deserve nothing less! With over 30 years of combined
experience, our backgrounds in law, marketing, and business and our expertise in contracts, negotiations, and relationship building have allowed us to provide our clients with superior service. Our goal is to understand our clients' needs and make their experience as stress free and seamless as possible.

How do clients benefit from your knowledge of the community?
With nine children between our three families, we have broad knowledge of the community, local schools, extracurricular activities, and more. We love our community and are all very involved. From volunteering at our schools to community service and our relationships with local government officials, we provide clients with valuable information and useful insights to living in this area.

How do you help clients navigate today's obstacles?
One of the biggest challenges today is navigating the instability of the market. Having been through unpredictable market shifts several times in our career, The Cohan Team has the knowledge and experience to help guide our clients through this market.
---