My Gym: Creating Moments That Matter
May 1, 2019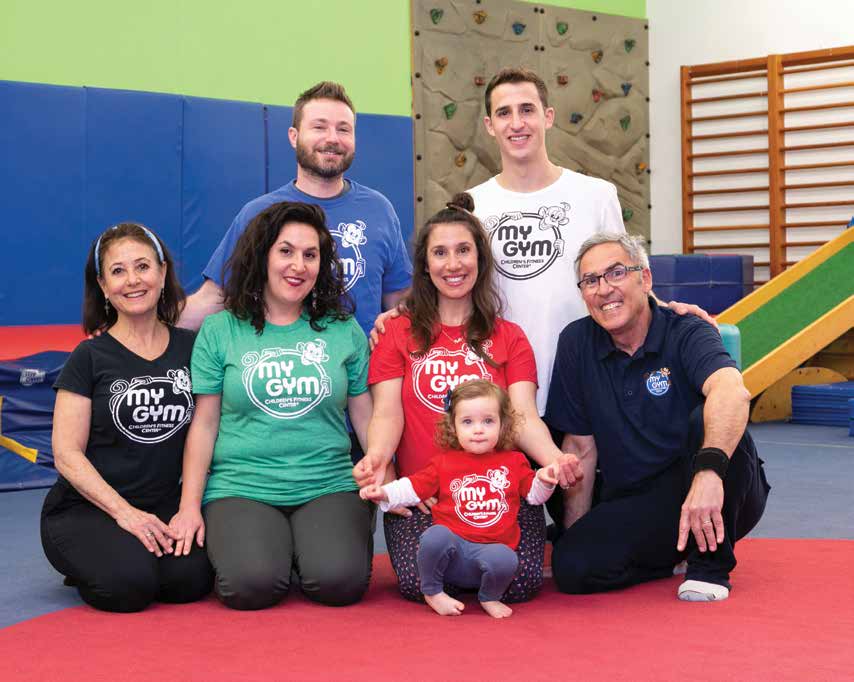 Susi and Yacov Sherman, along with their partner Bill Caplin, founded My Gym in Van Nuys in 1983 to provide a safe haven where children can grow, explore, and learn, physically, cognitively, and emotionally. The Shermans created additional gyms in Woodland Hills and Thousand Oaks, and Bill opened spots in Santa Monica and Beverly Hills. The team's initial locale has since evolved into a worldwide franchise with over 600 locations.

Susi and Yacov combined their backgrounds in dance, gymnastics, acrobatics, physical education, special education, and movement to create a fun-filled environment where kids aged 3 months to 13 years can thrive. They developed a full schedule of enriching, age-appropriate classes in gymnastics, tumbling, sport skills, games, relays, puppet shows, song, and dance to keep each child fully engaged. Many students that started taking Tiny Tykes classes as early as 3 months old have continued all the way through to Cardio classes at age 13.

My Gym more than lives up to its promise to "create moments that matter." "Our business is like a home away from home to all of our families," says Susi. "The children's smiles say it all… and the parents have an equally amazing time bonding with their child and socializing with each other." Former students take full advantage of their lifetime membership, often returning with their own children and even grandchildren.


My Gym's strong focus on family was evident from the start. Susi was pregnant each time they opened a new gym. The couple, who recently celebrated their 37-year anniversary, brought their three grown children into the fold. Daughter Talia, a graduate of UC Berkeley, helps with marketing, teaching, and training. She and her husband, Ryan Schneiderman, have a little girl, Nella. Following in her mom's footsteps, she is again pregnant. Susi and Yacov's daughter Yael, who received her master's degree at Cal State Northridge, is an assistant director for the Bright Horizons preschool at Paramount Studios. In her spare time, she leads birthday parties and classes and creates art projects for My Gym camps. Susi and Yacov's son, Ceevan, became owner of their Thousand Oaks My Gym after graduating from Sonoma State College. Susi and Yacov are thrilled with all the energy and inspiration their children have brought to the family business.

The gym's primary goal is to create an environment where children feel loved and supported so their self-esteem and confidence can flourish. Families can celebrate special birthdays packed with plenty of games and physical activities. They also hold dynamic community parties and events. You don't need a special occasion to enjoy the gym. When school is out, My Gym Camp offers a drop-off program with pay-by-day options plus volume discounts for affordable, no-stress fun. They'll keep your kids moving with energizing games and gymnastics, cool arts and crafts, and engaging music.

Folks looking to own a piece of the pie can open their own My Gym franchise and improve the lives of local children. In today's world of decreasing school budgets and fewer well-maintained parks and physical fitness opportunities, kids need more arenas for structured play. Franchise owners can build upon Susi and Yacov's years of experience to open a gym in their hometowns. The franchise office is in Sherman Oaks. Kids as far away as China and as close as Woodland Hills can enjoy fitness and fun at one of the myriad My Gym locations.

"Through innovative and carefully structured programs, along with our ideal student/teacher ratio and noncompetitiv atmosphere, My Gym allows children to discover what great things they can accomplish," explains Susi. My Gym continues to enrich young lives every day as kids run, jump, dance, and sing their way towards joyous physical fitness and lifelong self-esteem.


22027-B Vanowen St.
Woodland Hills
818.702.6946

2701 Thousand Oaks Blvd.
Thousand Oaks
805.494.4154
mygym.com