Illuminate Educational Therapy Group
September 5, 2020

Is Your Child with Learning Differences Experienceing the COVID Learning Gap?
During distance learning, many parents watch their children struggle with focus, lesson comprehension, procrastination, and low frustration tolerance in addition to difficulties initiating, following through, and completing assignments. These high-stress scenarios leave students feeling anxious and/or depressed, engaging in constant battles with makeshift teacher-parents who are already stretched thin between working and managing their children's educations.

For kids diagnosed with learning differences, or for those who simply learn differently, this next year will be crucial in preventing and mitigating the "COVID Learning Gap." For all students, it's been a rough transition to adapt to virtual learning. However, those with learning disabilities are not only dealing with their relative weaknesses and varied learning profiles but also with the struggles of executive functioning with the new online format of schooling. Students also lack the support they usually receive due to theb current focus being on providing basic academic classes in a completely different, two-dimensional manner. To be clear, this is no one's fault, and all educators and students are trying their best. However, as a Zoom square amongst over 25 other Zoom squares, kids with learning differences cannot get what they need academically to progress.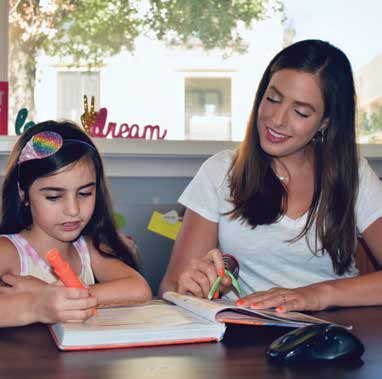 Not only have we heard that students are not receiving targeted interventions to strengthen their stretches, but we also know that they are falling behind because of the inconsistent nature of virtual learning (including difficulties with navigation and management). Whether children are in traditional school, a pod setup, or virtually learning, they must be supported on a deeper level to strengthen weak areas of their learning profiles before the gap widens further between grade-level peers.

As a small group of educational therapists, learning specialists, and executive functioning coaches, we can help. We work to improve and enhance the learning lives of those with ADHD, executive functioning disorder, dyslexia, reading disorders, dysgraphia, processing disorders, weaknesses in written expression, dyscalculia, and many other learning differences. We help your children learn how they best learn, advocate for themselves, and approach their schooling with individualized and functional strategies. Students become the best versions of themselves by rising to their potentials with our concentrated interventions, scaffolding, and warmth.

We are currently booking for the 2020-2021 school year. Consider setting your kids up with support as soon as possible so that we can get to know your learner. A rapport can then be established, and we can hit the ground running once classes begin. We are so excited to collaborate with families, schools, and other allied professionals in best support of our students!

Illuminate Educational Therapy Group
4768 Park Granada, #106
Calabasas
747.888.3330
illuminateedtherapy.com
andrea@illuminateedtherapy.com