Empower 2021
August 30, 2021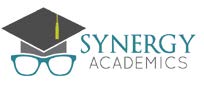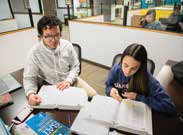 SYNERGY ACADEMICS
6700 Fallbrook Ave., #101, West Hills | 818.888.8665 | synergyacademics.com

Synergy Academics is a comprehensive, state-of-the-art learning center serving students at all educational levels, from elementary school through college. Students benefit from knowledgeable and compassionate tutors who care about their success and self-confidence. Tutors strive to build students' confidence by developing their natural strengths and turning challenges into triumphs. All students are evaluated and matched with tutors who truly understand their learning styles. Combining nurturing tutors with a positive and focused environment, Synergy proves to be successful in helping students achieve more than they might have ever thought possible. A full-service academic resource center, Synergy not only provides students with one-on-one subject tutoring but also has an onsite study center, standardized test preparation, college admissions counseling, financial aid services, and post-college and career counseling. Services can be booked by reaching out online or calling the office for all your tutoring or homework assistance needs and customized scheduling to work around your busy life. Synergy makes it easy to be a great student!
---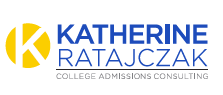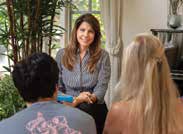 KATHERINE RATAJCZAK COLLEGE ADMISSIONS CONSULTING
Calabasas | 818.585.7149 | kradmissions.com | kathy@kradmissions.com

For almost a decade, Katherine Ratajczak College Admissions Consulting has been helping students achieve their college admissions aspirations in an increasingly competitive landscape. Kathy works closely with each of her clients to identify best-fit schools and the most effective action plan to craft a standout college application. 94% of Kathy's students have been admitted to at least one of their top-three colleges, often to the most selective colleges and universities. Kathy's approach is to get to know each student and his/her unique strengths and achievements to ensure nothing is missed on this momentous journey. Her experience, skills, and attention to detail aid in alleviating much of the stress associated with the college admissions process. Kathy is the trusted, go-to expert in the field. She is an ethical and dedicated professional. As a member of National Association of College Admissions Counselors and other professional organizations, Kathy is committed to professional development and best practices. Call for a complimentary phone consultation.
---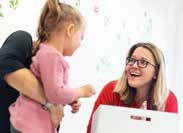 MINDS2GROW THERAPY SERVICES
Accepting new patients in the greater Calabasas area | 818.798.3330 | minds2grow.com

Minds2Grow Therapy Services is a new multidisciplinary, pediatric therapy clinic in Calabasas. They treat children ages 2 to 14 and specialize in autism spectrum disorder, ADD, ADHD, ODD, anxiety/depression, behavioral issues, and Occupational/Speech Therapy. Minds2Grow focuses on treating a wide variety of concerns under one roof to alleviate undue stress on parents and children having to get various therapies at different locations. Co-founder and clinical director, Georgia Scheible, LMFT, has over a decade of experience diagnosing and treating mental and emotional disorders in children. She is also well versed in designing, implementing, and managing behavioral therapy for children and adolescents in both clinical and educational settings. Georgia and her team of various therapy professionals take a holistic approach to create individualized plans to treat the needs of the whole child. This approach enables the therapists, parents, and educators to understand each child's needs in a comprehensive manner and provides a place of care and comfort for the entire family.
---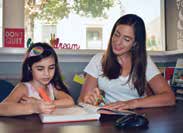 ILLUMINATE EDUCATIONAL THERAPY GROUP
4768 Park Granada, #106, Calabasas | 747.888.3330 | illuminateedtherapy.com

At Illuminate Educational Therapy Group, the therapists' and learning specialists' expertise lies in working with students who learn differently. They hold intensive, individualized, one-on-one sessions to remediate the deep, foundational academic skills that students need in order to be successful in the classroom and in their lives. Illuminate lives for that "lightbulb" moment as they boost self-esteem, confidence, and happiness while helping students navigate their learning environments. They pride themselves in ensuring that their students are working with the right educator because they feel strongly that rapport, chemistry, and specialization are all necessary for success. It has been a challenging time to be in school during the COVID-19 pandemic. Illuminate has supported its students every step of the way, scaffolding them through unanticipated and unimaginable obstacles faced both in and out of school. Educational therapy has been key while students recover academically, socially, and emotionally from the pandemic's trauma.
---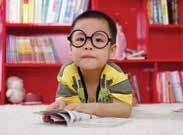 KUMON MATH AND READING CENTER OF CALABASAS – WEST
4774 Park Granada, #9, Calabasas | 818.224.3264 | kumon.com/calabasas-west-ca | IG: @kumoncalabasaswest

Let Kumon Math and Reading Center help your child have a successful year. Kumon's academicenrichment program has helped children achieve success worldwide for over 60 years. The Calabasas West location currently offers in-person sessions at the center as well as virtual sessions via Zoom. Whether children are seeking enrichment, need help catching up, or are just beginning their academic career, Kumon can help them become focused, motivated, and self-reliant. Kumon's emphasis on individualized learning allows each student to advance through the program at his or her own pace. The center's vision is to instill a lifelong love of learning in children and to help shape their futures as well as the world's future. This vision is in line with Kumon's mission of achieving world peace brought about by education. With a strong academic foundation, critical thinking, and problem-solving abilities, your child has the potential to achieve whatever he or she desires.
---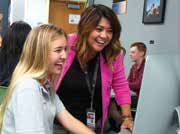 OAKS CHRISTIAN LEARNING CENTER
31255 Cedar Valley Dr., Westlake Village | 818.824.9449 | oakschristian.org/oaks-learning-center

Remote or on-campus, students thrive at Oaks Christian (OC) Learning Center. The OC Learning Center is open to all public and private school K-12 students and has a full program of offerings from one-on-one tutoring to standardized-test preparation, both virtually and onsite. The program has proven successful in helping students become independent learners using skills such as goal setting and time management. Help is available for math, English, science, social studies, history, and foreign languages. Support is also available for online students and homeschool students. The OC Learning Center has served over 800 students in the areas of academic tutoring, SAT and ACT test preparation, and cognitive skills development. Oaks Christian also offers a performance-based, brain-training center with technology previously only available at top universities. This technology can physically improve networks in the brain that are involved in ADD/ADHD and memory processing issues, focus, attention, organization, and stress.
---