Educate 2021
August 30, 2021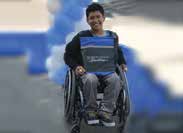 MOORPARK COLLEGE
7075 Campus Rd., Moorpark | 805.378.1429 | moorparkcollege.edu/together

Grounded in equity, social justice, and a student-first philosophy, Moorpark College values diverse communities. It empowers learners from local, national, and global backgrounds to
complete their degrees, certificates, transfers, and career education goals. Through innovation and customized student support, the programs at Moorpark College are designed to achieve equitable outcomes. Moorpark College offers in-person classes, online classes, and everything in between. Fall semester classes are underway. However, they also have fall classes that start in September, October, and November. Moorpark College helps people follow their path through higher-education goals, whether it's learning new skills for high-demand jobs, earning a certificate or an Associate's Degree, or transferring to a four-year university. They also have full wrap-around student support. Anyone can start there and go anywhere. This is world-class education right in your own backyard, and now is the best time to enroll with more choices than ever. Find out more at MoorparkCollege.edu/together.
---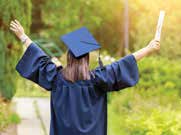 LAS VIRGENES UNIFIED SCHOOL DISTRICT
4111 Las Virgenes Rd., Calabasas | 818.880.4000 | lvusd.org/enrollment

Las Virgenes Unified School District (LVUSD) is ranked among the nation's top districts and encompasses 15 schools spanning preschool through high school and serving the cities/areas of Agoura Hills, Calabasas, Hidden Hills, and Westlake Village. LVUSD is a destination district, with superior academics, award-winning music and art programs, and championship athletics. They offer a myriad of innovative programs, including AP Capstone, Arts and Media Academy, International Baccalaureate, independent study, Early College Academy, GATE, dual-language immersion, and a Waldorf-Inspired school. LVUSD students are accepted into the most prestigious colleges and universities. Their mission is to provide the highest quality education in a personalized environment, ensuring that all programs are dedicated to enhancing student success. LVUSD's accolades include California Distinguished Schools, U.S. News Best High Schools, U.S. Blue Ribbons, California Gold and Green Ribbons, and AP Honor Roll District of Distinction.
---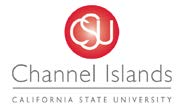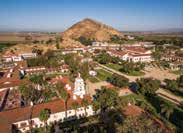 CALIFORNIA STATE UNIVERSITY CHANNEL ISLANDS
1 University Dr., Camarillo | 805.437.8400 | csuci.edu

CSU Channel Islands (CSUCI) is reimagining higher education for a new generation and era. They are an innovative higher-education institution that enables students to succeed and thrive—serving as an engine for social and economic vitality that provides the intellectual resources necessary for a thriving democracy. The campus is nestled on 1,200 acres at the base of the Santa Monica Mountains, blending 1930's Mission-Revival and Spanish Colonial-Revival architecture with state-of-the-art facilities. In addition to the main campus, academic programs are also offered in Santa Barbara/Goleta and a research station at Santa Rosa Island. Students benefit from small class sizes and a strong sense of community. The curriculum emphasizes a real-world approach in which students tackle community problems, conduct meaningful research, and make a difference in its communities. With 7,000+ students, 1,000 employees, and 20,000+ alumni, CSUCI is poised to grow in size and distinction while maintaining one of the most student-focused learning environments in public higher education. Visit csuci.edu.
---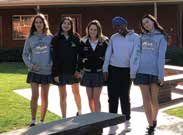 LOUISVILLE HIGH SCHOOL
22300 Mulholland Dr., Woodland Hills | 818.346.8812 | louisvillehs.org

Louisville High School in Woodland Hills is a Catholic all-girls high school founded by the Sisters of St. Louis in 1960. As a single-gender institution, Louisville challenges girls to develop in confidence, integrity, and faith while allowing them the freedom to take healthy risks that encourage growth. Louisville offers an academically rigorous curriculum with exceptional one-on-one attention from dedicated faculty that nurtures a unique, tightly-knit community. Its students discover and develop their passions through opportunities in athletics, student leadership, the arts, competitive academic teams, innovation, and more. Enrollment at Louisville ranges from 300 to 340 and graduates attend top universities and colleges throughout the country. The 8th Grade Visit Day on November 5 is an opportunity for 8th-grade girls to experience a morning as a Louisville Girl. Open House on December 5 is an opportunity for the entire family to experience Louisville life. Visit louisvillehs.org for more information.
---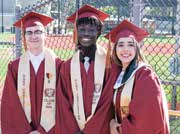 OAKS CHRISTIAN SCHOOL
31749 La Tienda Dr., Westlake Village | 818.575.9900 | oakschristian.org

Oaks Christian School is a nondenominational, co-ed, college-preparatory, day and boarding school serving grades 5 through 12. The high school was founded in 2000. The school is committed to the promotion of academic excellence, artistic expression, and athletic distinction within the context of Christian values and leadership development. An impressive 100% of graduates receive college admission, often to highly selective, top-tier schools. The high school hosts 26 sports and over 100 school teams. Teams have earned 169 league titles, 51 CIF titles, and nine California state titles. The middle school has won several league titles and boasts student participation rates as high as 92%. The visual and performing arts departments stage numerous performances and exhibits, many which garner prestigious awards. Residential boarding opened to 40 international and domestic students. The hall has state-of-the-art dorms, computer and study lounges, and high-tech security. Additionally, the 13,000-square-foot IDEA Lab (Innovation, Design, Engineering, and Aeronautics) features engineering, robotics, 3D printers, physics, electrical engineering, computer science, and flex classrooms.
---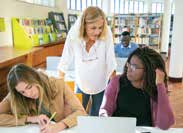 OAK PARK UNIFIED SCHOOL DISTRICT
5801 Conifer St., Oak Park | 818.735.3200 | oakparkusd.org

Oak Park Unified School District (OPUSD) is a high-performing K-12 school district nestled between the cities of Agoura Hills, Westlake Village, and Thousand Oaks. This comprehensive public school district serves approximately 4,400 students and comprises a preschool, three elementary schools, a middle school, a high school, an independent school, and a continuation school for students with unique needs. Students are drawn to attend Oak Park schools with about 35-40% of students coming from neighboring districts via the District of Choice program and inter-district transfers. All of the district's schools are California Gold Ribbon and Blue Ribbon schools. The district has also been recognized as the first Green Ribbon school district in California for its focus on environmentally progressive policies and practices. OPUSD offers a program in which students learn in a climate of care exemplified by the food served in the cafeteria, the modern facilities, the people that educate and care for students every day, and the extensive counseling programs that nurture students' mental health and wellbeing.
---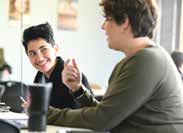 QUALIA: THE SCHOOL FOR DEEPER LEARNING
4345 Las Virgenes Rd., Calabasas | 310.478.9900 | qualiaschool.org

Calabasas is home to a new private school, Qualia: The School for Deeper Learning, opening this fall. At Qualia, high-capacity, highly curious kids chart unique paths based on a deep love of knowledge and ideas. An intentional community as well as a school, Qualia is a model and incubator for a world based on authentic dialogue, joyful inquiry, and democratic decision making. Qualia inherits the highly regarded Areté Learning Model of passion-driven learning with a rich college-preparatory curriculum, developed over 14 years in West L.A. Under this model, 95% of graduates at the West L.A. campus were admitted to their first-choice colleges. Building on that foundation, Qualia will offer new programs in game-based learning and individualized exploration. Currently serving grades 6 through 12, the school's discussion-based seminars, boasting an average class size of just six, allow passionate learners to ask deep questions embedded in provocative dialogue. If you believe your child would thrive in an intellectual playground for passionate learners, drop Qualia a line to set up a campus tour and interview.
---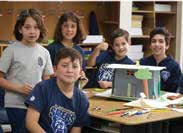 ST. BERNARDINE OF SIENA SCHOOL
6061 Valley Circle Blvd., Woodland Hills | 818.340.2130 | stbernardineschool.org

St. Bernardine of Siena School was founded in 1964 by Msgr. Richard Murray. Well-known for providing an academically rigorous and faith-filled curriculum, St. Bernadine's promotes and molds spiritual, service, and academic leaders. The K-8 school prides itself on its diversity, inclusion, and well-rounded students, focusing on preparing students for college preparatory high schools and beyond. In addition to core academic classes, students participate in enrichment programs, including music, art, physical education, and Spanish courses. Other opportunities include theatre, choir, chess, piano, and an athletic program where fundamentals and good sportsmanship are taught. The departmentalized junior high program prepares students to perform at top levels in high school. St. Bernardine's credits its success to its amazing community that offers continuous support. New this year is an enrollment initiative where new families to the school system can qualify for up to 50% off tuition. This program is renewable each year for up to five years. Prospective students and families are welcome to schedule private tours by appointment.
---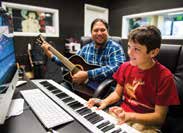 FUSION ACADEMY WARNER CENTER
21650 Oxnard St., #100, Woodland Hills | 818.712.9521 | fusionacademy.com

Fusion Academy Warner Center is embarking on its 11th academic year and currently serves 100 middle and high school students. Fusion is proud of the numerous student-led clubs, service projects, and showcase opportunities that contribute to the full school experience. Fusion's passionate teachers believe that each student deserves a completely customized academic experience geared toward that student's individual strengths, interests, and learning style. This is achieved through the philosophy of "love, motivate, and teach," while instructing with a one-to-one student-teacher ratio in a private-classroom experience. Fusion offers more than 250 courses, including enrichment programs ranging from recording arts in a professional-level studio to digital media with green-screen technology to foreign language options. The goal at Fusion is to meet the needs of all students so they can achieve their academic and social goals. Students may attend full-time for middle and high school or part-time with classes for credit, tutoring and mentoring, post-secondary counseling, and more. Fusion is open yearround, and students can start at any time.
---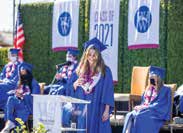 WESTMARK SCHOOL
5461 Louise Ave., Encino | 818.986.5045 | westmarkschool.org

Westmark School transforms lives…for both its students and its families. Westmark students from grades 2 through 12 have diagnosed learning and attention issues like dyslexia, dysgraphia, dyscalculia, and other related language-based learning differences. They also have bright minds and unique learning styles but have not been fully served in a traditional school environment. Since the students learn differently, the school teaches differently. The college-preparatory curriculum is based on proven research-based methodologies that differentiate instruction and build on individual student strengths, allowing each student to learn and achieve academically, socially, and emotionally. Westmark's multimodal approach integrates assistive and educational technologies to promote executive functioning and help students access the curriculum, enabling them to explore their world and love learning again. Students discover their personal academic styles, affinities, and areas of need. They develop new interests, character, and confidence and learn to advocate for themselves and fulfill their potential. Visit their website to find upcoming events for prospective students and families.
---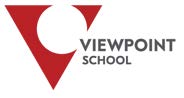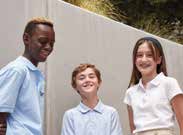 VIEWPOINT SCHOOL
23620 Mulholland Hwy., Calabasas | 818.591.6500 | viewpoint.org

Viewpoint School is committed to creating exceptional readiness for extraordinary futures by cultivating the critical skill set, courageous mindset, and resilient identity of each individual student. Beyond its legacy of academic distinction and college preparedness, their commitment is to yield world-ready graduates who are ready to excel, lead, thrive, and serve. The school's 40-acre, scenic campus provides young people in grades TK-12 with an ideal setting to grow and learn, where each student is known, respected, and included. Explore the school's programs and you will find endless ways for students to engage in new and favorite activities and subjects with a breadth of offerings to challenge children and develop their talents and interests. Learn about the community and you will find a foundation with core values of love, honor, excellence, imagination, and optimism. Visit viewpoint.org to discover a school where "tradition connects us and innovation propels us."
---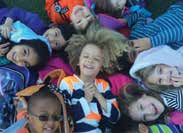 WOODLAND HILLS PRIVATE SCHOOL
Toddler & Preschool | 22322 Collins St., Woodland Hills | 818.712.9966 | WHPSchool.com
Preschool & Elementary | 22555 Oxnard St., Woodland Hills | 818.348.6563

Woodland Hills Private School (WHPS) is one of L.A.'s most coveted schools, with an individualized program that fosters each child's individual talents and interests. Located on two unique campuses that blend state-of-the-art and natural environments, WHPS has an exclusive science and nature center (teaching zoo) with over 75 animals and a unique Animal & Nature Studies program. WHPS is a developmental program that identifies each child's unique learning profile and places equal emphasis on advanced academics and social-emotional learning (SEL). ELEMENTARY (TK – 5th grade): Students receive individualized small group instruction in core subjects and take part in a project-based, STEAM-enriched curriculum, including robotics, fine arts, and outdoor education. Children receive lots of individualized attention with two teachers in every classroom and expert specialists for enrichment. PRESCHOOL & TODDLER PROGRAM (18 months – Pre-K): Teachers design rich, thematic studies around children's interests using a child-centered and teacher-facilitated approach, allowing for children to grow and discover through deep, meaningful learning experiences in a loving environment.
---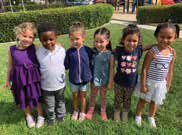 THE BOULEVARD SCHOOL
23022 Victory Blvd., Woodland Hills | 818.883.0607 | boulevardschool.com

For over 40 years, The Boulevard School has specialized in early childhood education. Their program is so effective that second and even third-generation families are enrolling their children at The Boulevard School in Woodland Hills. Why? Because everyone at The Boulevard School works hard to provide an environment that nurtures academic learning, creative expression, growth, and development. The Boulevard School is an extension of home and a place where students, siblings, parents, teachers, and administrators are like family…a place where they encourage caring for others, kindness, respect, honesty, responsibility, courage, integrity, initiative, and creativity. The campus features an outdoor, heated pool; four age-appropriate, park-like playgrounds; and a camera security system. In addition, The Boulevard School's COVID safety protocols exceed CDC, California, and Los Angeles County requirements. To learn more, visit boulevardschool.com or call 818.883.0607 to schedule a tour.
---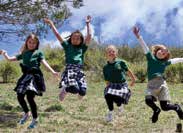 ST. PATRICK'S EPISCOPAL DAY SCHOOL
1 Church Rd., Thousand Oaks | 805.497.1416 | stpatricksdayschool.org

St. Patrick's Day School is a private, independent elementary school committed to the education of each student's mind, body, spirit, and heart. Their mission is to inspire and equip children to courageously transform the world. Since 1963, St. Patrick's has established a legacy of exceptional teachers partnering with diverse parents to educate and develop the whole child based on four foundational principles: Academics: Stimulating critical thinking in a collaborative environment; Creativity: Growing students' confidence through individual expression in a loving community; Service Leadership: Fostering a commitment to social responsibility and global citizenship, and Spiritual Foundation: Guiding each child to develop a moral character based on Episcopal traditions. St. Patrick's welcomes families of all faiths and traditions, for there is something to be valued and respected living in a community that proclaims the unique worth and beauty of all human beings. St. Patrick's is the only elementary school in the Conejo Valley that is CAIS accredited.
---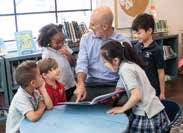 SIERRA CANYON SCHOOL
11052 Independence Ave. | 20801 Rinaldi St. | Chatsworth | 818.882.8121 | sierracanyonschool.org

Sierra Canyon School is a complete pre-kindergarten through grade 12 experience that fully equips students to rethink the familiar and embrace the unknown. It is a place where ingenious teachers, intrepid students, and forward-thinking leaders work together to shape an education on the adventurous edge. Teachers create meaningful, hands-on learning experiences in the classroom, on the stage, on the playing field and court, and on lifechanging journeys. Sierra Canyon is one of the most diverse private schools in California. The community is authentically inclusive and cosmopolitan, with diversity representing 54% of the student enrollment. Graduates are primed to excel at the finest colleges and universities, forge purposeful careers, and employ their unshakable optimism to improve the wider world. At Sierra Canyon School, students gain unstoppable momentum to learn and explore, propelling them toward a lifetime of self-directed success.
---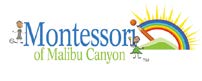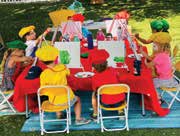 MONTESSORI OF MALIBU CANYON IN WEST CALABASAS
4029 Las Virgenes Rd., Calabasas | 818.880.0555 | calabasaspreschool.com

Montessori of Malibu Canyon is a Calabasas-based early childhood education center that offers daily full-day and half-day programs for children 2 to 6. The programs include preschool and full-day traditional kindergartens aligned with California state standards, with a limited class size of 10 students per class. The school has made several extensive COVID-19 safety measures, including UV lights, blue-ray nano steam spray, molecule air purifiers, and daily disinfection. The beautiful campus is nestled in the Malibu Canyon scenic corridor with over an acre of flat, tree-shaded playground space where many outdoor activities and classes take place. The experienced, creative, and credentialed staff is proud to present an interdisciplinary approach to early childhood education that incorporates the best of Montessori coupled with the Reggio Emilia and Waldorf pedagogies. They offer a rich and diverse program that provides children with a solid foundation in math and language arts—with geography, science, music, dance, fine arts, cooking, gardening, yoga, language labs, and more.
---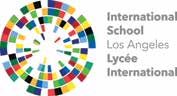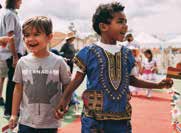 INTERNATIONAL SCHOOL OF LOS ANGELES
WEST VALLEY, BURBANK, LOS FELIZ, PASADENA
818.994.2961 | internationalschool.la

The International School of Los Angeles is a nonprofit, independent, international school committed to bilingual education and academic excellence in a nurturing environment. With over 65 nationalities and 40 spoken languages represented across its multiple Los Angeles- area campuses, the school invites its students to study and live in a diverse global community every day. An offshoot of the school's original 1978 San Fernando Valley home, the West Valley campus serves preschool through 5th-grade students. Aided by SMARTBoard- equipped classrooms, a well-stocked dual-language library, a learning garden, and more, faculty members deliver a unique French-English bilingual education that encourages personal initiative, creativity, and curiosity. Each year, the campus community celebrates its cultural, ethnic, and linguistic diversity during International Day, an integral part of campus life that includes a lively parade, global delicacies, and great school spirit. If you envision your child growing up to be a confident, caring, and open-minded critical thinker who embraces the world in a truly connected way, visit internationalschool.la today.
---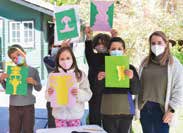 STARS ACADEMY
7353 Valley Circle Blvd., West Hills | 818.835.4962 | starsacademyschool.com

The mission at STARS Academy is to successfully educate all students through deep academic inquiry and creativity in the arts (collaborative music, dance, performing arts, and design disciplines) with small, flexible, multi-age groupings. STARS Academy aims to inspire a love of learning in students through cooperation, critical thinking, and self-direction. A STARS Academy education is designed to inspire a love of learning through an engaging curriculum, a musical theater emphasis, project-based learning, elective classes, and more. Aligned to the Common Core and NGSS standards, the curriculum consists of core subjects and elective/research study times. Students work at their appropriate instructional levels regardless of age—an effective means of educating students by focusing not only on academics but on social-emotional learning as well. Afterschool programs include soccer, basketball, arts and crafts, set design, advanced art, comedy improv, dance team, and STARS theater.
---