Calabasas Style Holiday Entertaining
November 16, 2017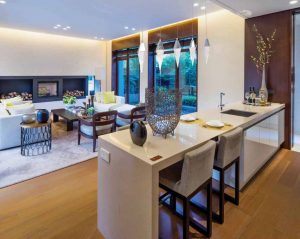 As the seasons shift, holiday entertaining and preparing your home for family and guests become top of mind. Beyond menu selections and making space, the decisions of where to start the remodel and which upgrades in décor and appliances to do can be daunting. The experts at Ferguson Bath, Kitchen & Lighting Gallery can help. Knowing what's on trend and the leading technologies available, combined with a tailored shopping experience, help customers make selections that bring out the very best in their homes.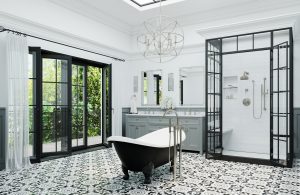 In the Details
Dressing your house up for the holidays isn't limited to the dining room and entryway anymore. "We're seeing nuances of luxury displayed in opulent textures, rich finishes, distinctive details, and sparkling gems that beg to be touched throughout the entire house," Woodland Hills showroom manager, Stephanie McInnis, says. "Customers are asking for opulent faucets and fixtures, designer hoods and ranges, and hidden under-counter or drawer options that tuck away appliances so backsplashes, counters, and gathering or prep areas can take center stage. Powder rooms are also getting a polish with touch-on/touch-off faucets, striking pedestal sinks, and vanities in stone or brass with leather accents or crystal handles."
Illuminate the Holidays
Ferguson offers expert tips and premier lighting selections. Artistic LED, clustered lighting, and artisanal glass are all statement-making options to illuminate the holidays. "Our showrooms focus on products that are well-made and on trend," says McInnis. "We're seeing an upswing in luxury, increase in scale, and linear patterns for lighting key entertaining areas such as the dining table, kitchen island, and entryway."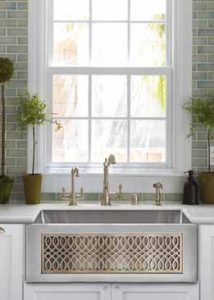 A Smart House is a Happy House
There are so many smart solutions in the kitchen today to help prepare for entertaining during the holidays, even when on the go. Connected home appliances use technology to simplify routine  chores and let your home do the thinking for you. "The ultimate luxury is having appliances that adapt and offer convenience," says McInnis.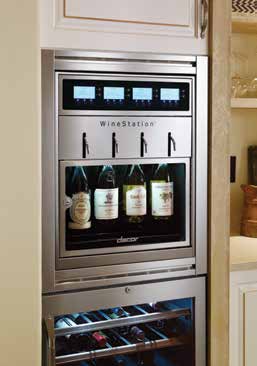 Ferguson offers everything from voice-activated grills, Wi-Fi enabled appliances for remote monitoring, and high-powered faucets with Shield Spray technology to fingerprint-resistant ranges with Scan-to-Cook technology for the right settings every time. "Customers love appliances with Wi-Fi enabled IQ Remote View™ cameras, like the Dacor Modernist Refrigeration Collection that lets you check what's in the fridge from your smart phone or tablet," says McInnis. "You don't even need to be home to know what's missing in the fridge, which makes it easy to know how many last-minute bottles of bubbly you really need. Now, that's service. You can also eliminate the hassle of serving water bottles to guests with products like the Pfister Lita Filter Faucet that delivers healthy, great-tasting water at the touch of a button from your kitchen faucet."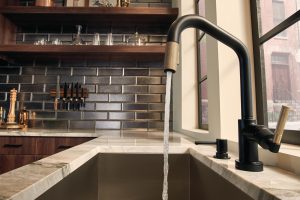 Know What's Next
Preparing your home for the holidays can be effortless when you're informed. The Ferguson Trends & Influences curated lookbook of the top plumbing, lighting, and appliances gives customers vital suggestions for what's on trend. "Oversized island pendants and gold and matte black are on trend in addition to brass this year," says McInnis. "Our lookbook details the best of these trends with an up-close look at the products and lifestyle settings so customers can imagine these looks in their own homes." The lookbook is a helpful tool for the discerning homeowner, builder, or designer with an appetite for the best and a flair for the trending and distinctive. For more information, go to fergusonshowrooms.com/trends.